Nasdaq futures are up a bit as we approach cash trade in the US.  Each session this week, whichever party appears to have controlled the overnight session has been unable to sustain their edge throughout the session.  Thus this gap higher is suspect to a fade lower and perhaps even a down close.  However, just as soon as we suspect we find a pattern it often diminishes.
The economic calendar is quiet during today's session.  We had Building Permits, Housing Starts, and Continuing and Initial Jobless claims at 8:30am which on the net did little to affect prices.  Traders are likely to pay attention both the BABA IPO and the Scottish independence vote taking place today.
Below you can observe the intermediate term balance.  These conditions are frustrating to many day traders who are having trouble with chop and indecision.  However, swing traders can revel in this environment for as long as it remains in place, up here near the high of the year.  I have highlighted the key levels inside this zone, including the MCVPOC at 4066.  If around 3,500 more contracts trade at this price, then we will see a major VPOC shift on the net composite profile.  The current composite VPOC is down at 3889.25 (not pictured).  If this occurs we need to be keen on who it entices into the marketplace.  Price and value will always converge.  It is our job to discern who it motivates to act.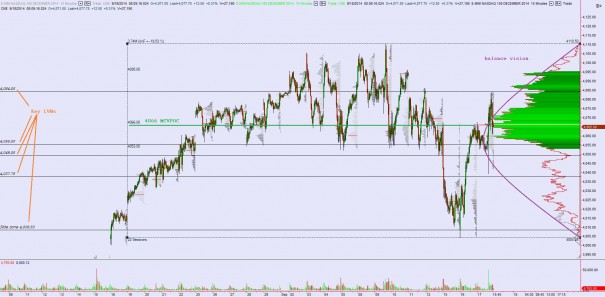 I have highlighted the short term levels I will be observing on the following market profile chart.  Note also that I split yesterday's profile at the TPO where The Fed response began: