Greetings from America's fertile crescent!
After a morning spent toiling away in the laboratory, it is will a sense of relief that we observe the latest results of the Index Model, which has flipped back to neutral after two weeks of bullish signalling.
Despite the precipitous fall in market prices last Wednesday, having a long bias has served our team well.  We pressed our longs and were rewarded.  Interestingly enough, there were subtle cues before the Wednesday liquidation to start working the other side of the tape.
If your inputs are objective and logical, you can confidently switch your bias in the heat of the action.
Hypo 3 morphs into primary hypo PLUS were neutral aka intra day sell opportunities #nq_f https://t.co/jWjGqB9aEe

— RAUL (@IndexModel) May 16, 2017
All of the planning that goes into my approach—the Sunday Strategy Sessions, the morning reports, Switchboard—is what allows me to trade well.  By doing my homework in public forum, it is my hope that something about what we do can make sense to someone starting out.  Like a nudge in the direction of what works for me.
There is so much garbage out there about trading.  So many people are basing their decisions on news reports or worse, gut instinct.
Every opportunity taken by the good folks of iBankCoin laboratory is decided by the algorithms inside Exodus and the scores generated by the Index Model.
With that being said, and heading into the last full week of May, we may raise some cash.  There are no clear bearish signals being offered.  However, June is the most bearish month of the year, per the $QQQ, see below: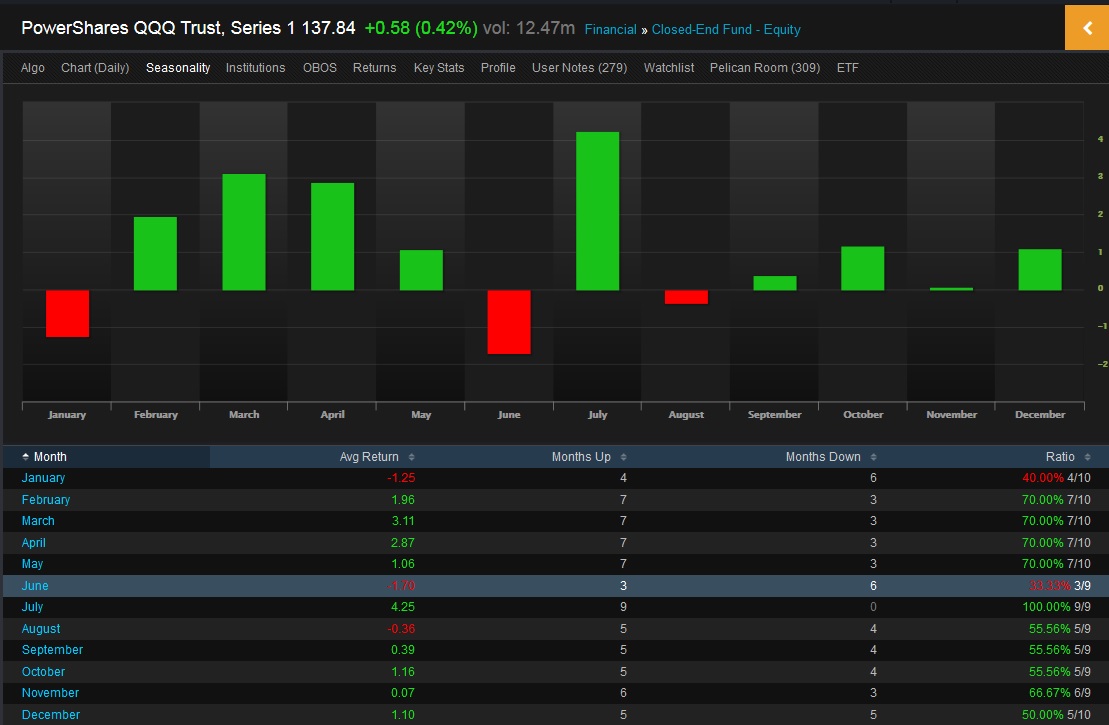 Pair the upcoming seasonality with some of the bearish undertones noted in the 132nd Edition of Strategy Session (Exodus members, it is live now, go check it out) and you have a logical reason to raise a bit of cash.
When and how we shall do so, as always, is TBD.
There are FOMC Minutes out Wednesday afternoon.  Perhaps the reaction to this economic event will help to tilt the debate of whether or not to sell IN May.
Comments »