Signals are all jumbled up heading into next week. I am not feeling inclined to take on risk in either direction.
Long-term book will remain untouched. Our Dear Leader Elon will keep fighting the good fight on our behalf, for better-or-worse.
I need to turn my data back on. Story of 2022. But I've been taking stock of my emotional state and just haven't felt mentally prepared to step back in the arena. I'm like Cougar or something. I'm on week six of weight training after abandoning my muscles at the start of the pandemic. Those first few weeks activating major muscle groups releases tons of hormones and turns me into an animal.
Things are starting to stabilize.
I know better than to practice my craft when my minds off. Blown up way too many accounts that way. I'm old now. Grey whiskers began to form on my left cheek this month. There is no need to accelerate that transition via shoddy impulse control in the futures arena.
Not sure why. But I cannot seem to focus. Perhaps I've been in the fish tank way too long and the water is so cloudy but I don't even know it.
Charts looks bearish. Semiconductors and transports are both lingering on range low for longer than any permabull ought to feel comfortable about.
Crypto charts look somewhat more bullish.
Stocklabs is bullish.
Sometimes when the charts look their most bleak, you just have to grab your sledge hammer and mash some buy orders in. Swings often look so obvious after-the-fact.
Wish I had my heckin' market profile charts. Fuck.
Happy Easter.
Raul Santos, April 17th 2022
And now the 382nd edition of Strategy Session.
---
Stocklabs Strategy Session: 04/18/22 – 04/22/22
I. Executive Summary
Raul's bias score 2.98, neutral*. Sellers put pressure on the tape through Wednesday. Then look for earnings out of Tesla (Wednesday, after-market-close) to either accelerate the selling or pivot price higher.
*Rose Colored Sunglasses [RCS] bearish bias triggered, see Section V.
II. RECAP OF THE ACTION
Downward pressure into Monday morning and throughout Monday. Then choppy for the rest of the week with the NASDAQ probing its lows into the end of the short week while Dow and Russell showed some divergent strength.
The last week performance of each major index is shown below: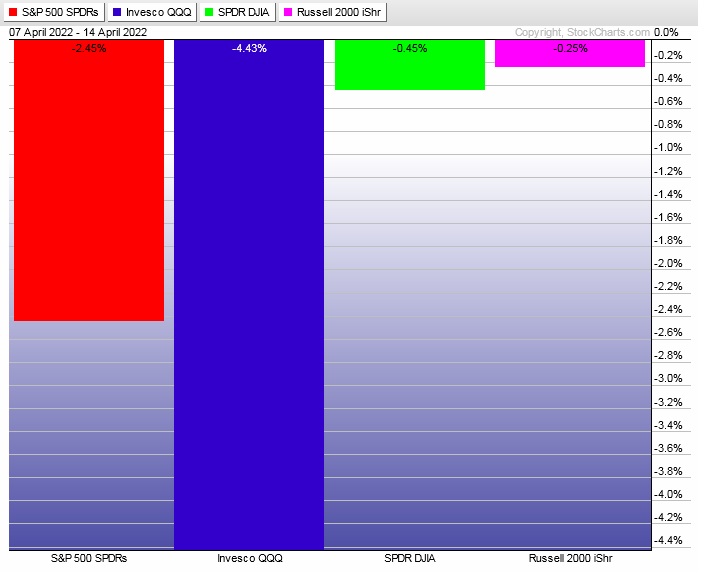 Rotational Report:
Fourth week of bearish rotations. Material and Energy positive along with Staples.
bearish
For the week, the performance of each sector can be seen below: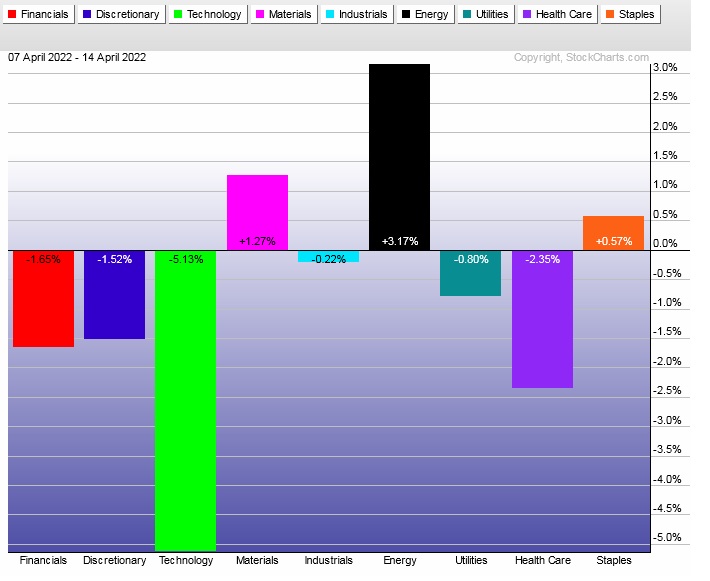 Concentrated Money Flows:
Bulls took back control of money flows five weeks back after sixteen weeks dominated by sellers, dating back to mid-November.
But then two weeks ago sellers negated that control.
Last week's rotations were more balanced, but slightly skewed negatively.
slightly bearish
Here are this week's results:

III. Stocklabs ACADEMY
Signals once again crossed
Indexmodel is bearish heading into the second-to-last week of April. Stocklabs is halfway through a bullish cycle that runs through to end-of-day Monday, April 25th. The S&P 500 is down -3% on the month and the NASDAQ is down -6.6%, not adhering to past bullish seasonality statistics.
Do we snap back higher into month-end or does the selling continue. With the statistics all jumbled up like this, I feel no urgency to take risk in either direction.
Note: The next two sections are auction theory.
What is The Market Trying To Do?
Week ended searching for buyers.
IV. THE WEEK AHEAD
What is The Market Likely To Do from Here?
Weekly forecast:
Sellers put pressure on the tape through Wednesday. Then look for earnings out of Tesla (Wednesday, after-market-close) to either accelerate the selling or pivot price higher.
Bias Book:
Here are the bias trades and price levels for this week:

Here are last week's bias trade results:

Bias Book Performance [11/17/2014-Present]: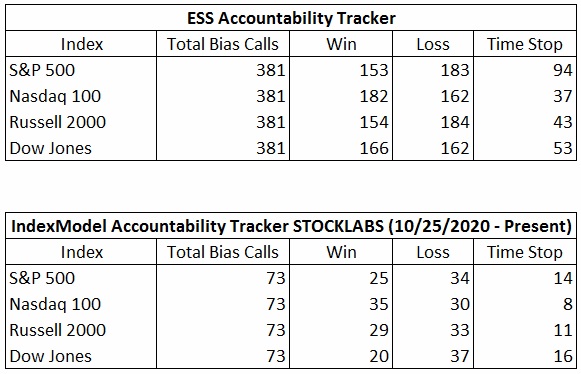 Right on the edge
Markets fluctuate between two states—balance and discovery. Discovery is an explosive directional move and can last for months. In theory, the longer the compression leading up to a break in balance, the more order flow energy to push the discovery phase.
Market are most often in balance.
Every week this newsletter uses auction theory to monitor three instruments, the Nasdaq Transportation Index, PHLX Semiconductor Index and ethereum. Readers are encouraged to apply these techniques to all markets.
Transports are at risk of losing intermediate-term range. The way price is lingering on the lower bracket increases the likelihood of a probe lower.
See below: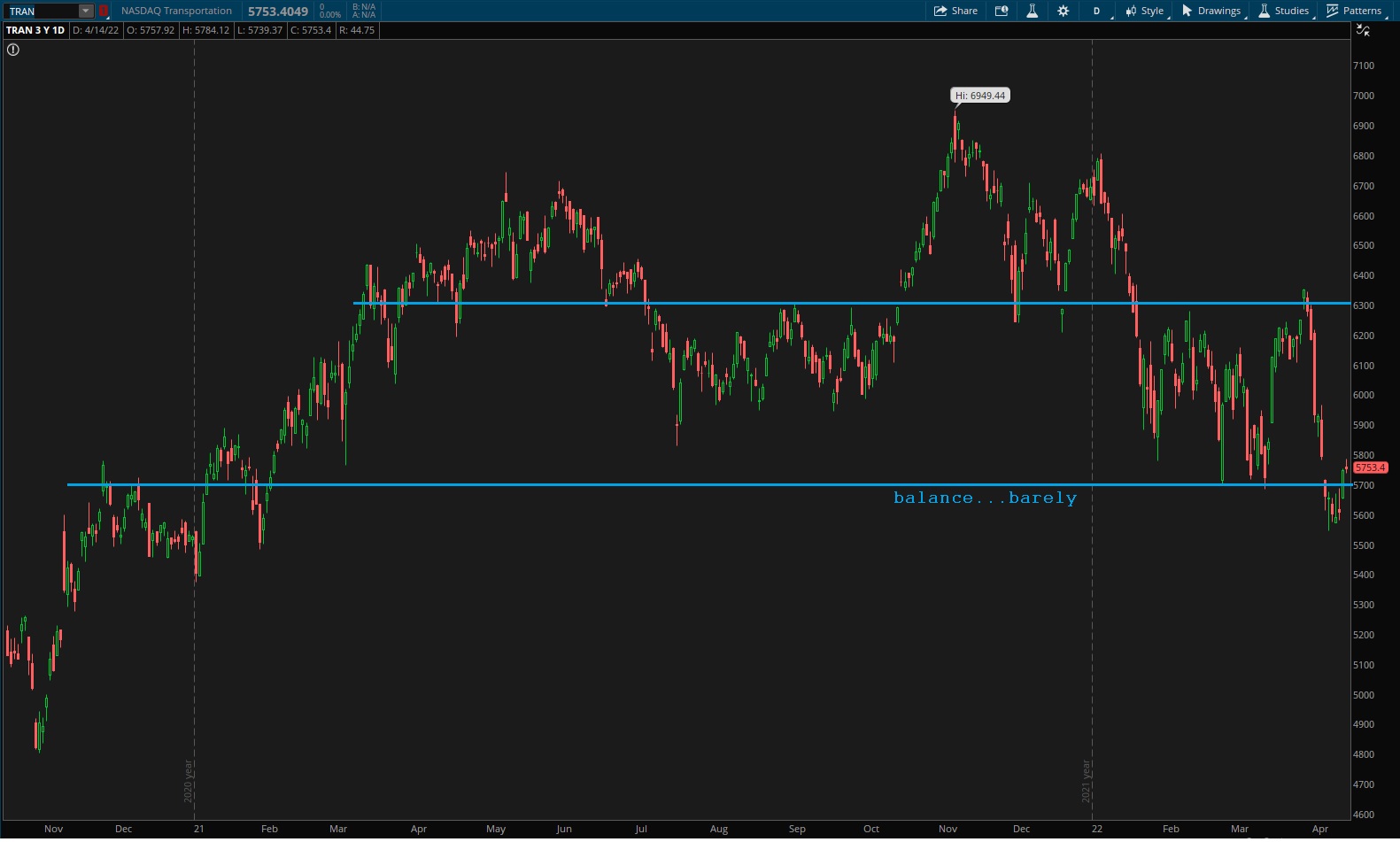 Semiconductors same story, lingering on the low, could break down.
Ether looks less bearish than the other two charts. Had a big rotation higher and is still sort of retracing the move. Could be in discovery up or balance but certainly not discovery down. Yet.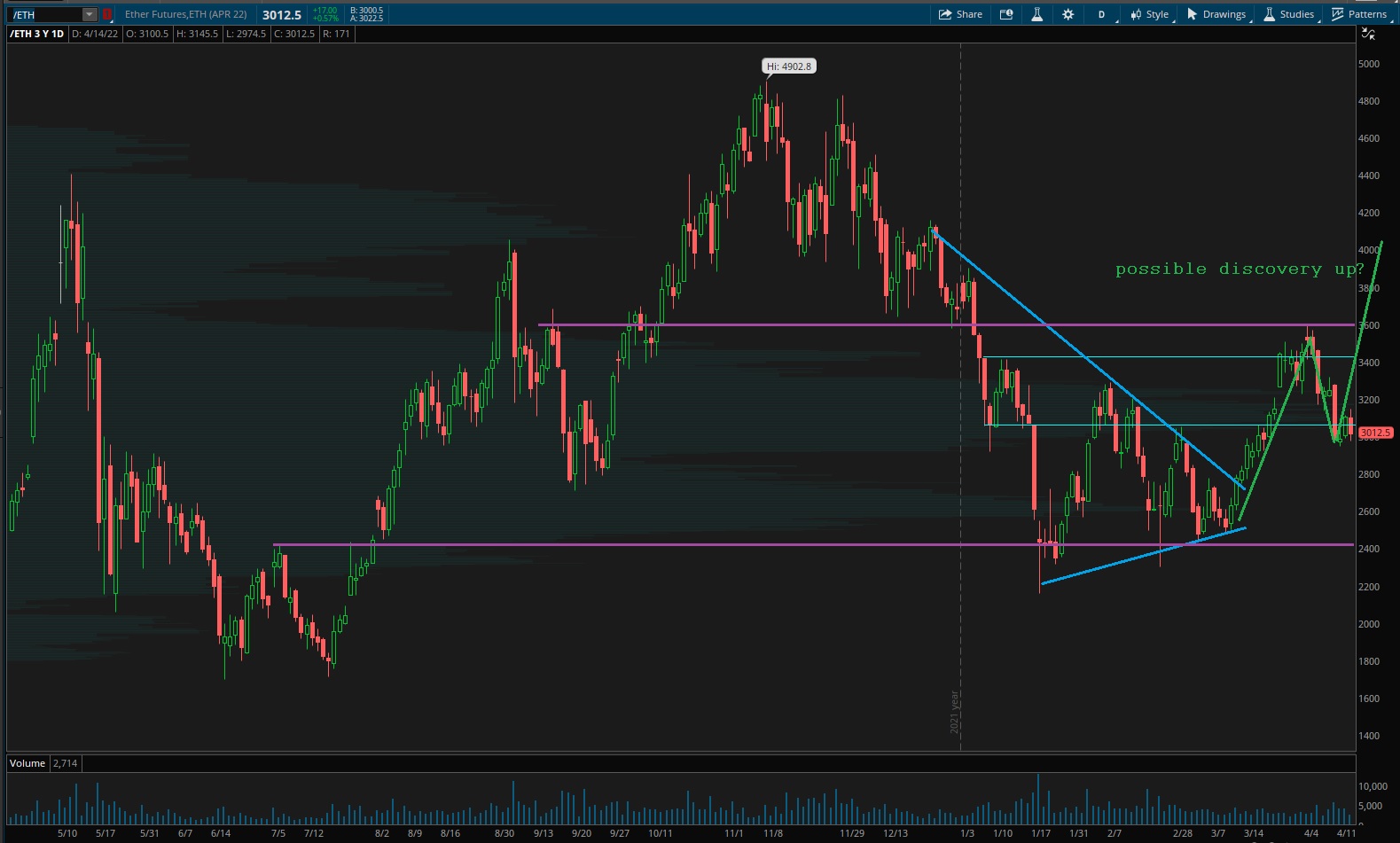 V. INDEX MODEL
Bias model is rose colored sunglasses bearish for a third consecutive week after two consecutive weeks of extreme RCS bullishness. This is a bearish signal that expects sellers to control the tape for much of the week.
We were Bunker Buster twelve reports back. This is the second Bunker Buster in recent history, with the previous one being twenty reports back. The Bunker Buster before these recent two was fifty-eight weeks ago.
Rose Colored Sunglasses calls sellers to pressure the tape lower throughout much of the week.
Here is the current spread: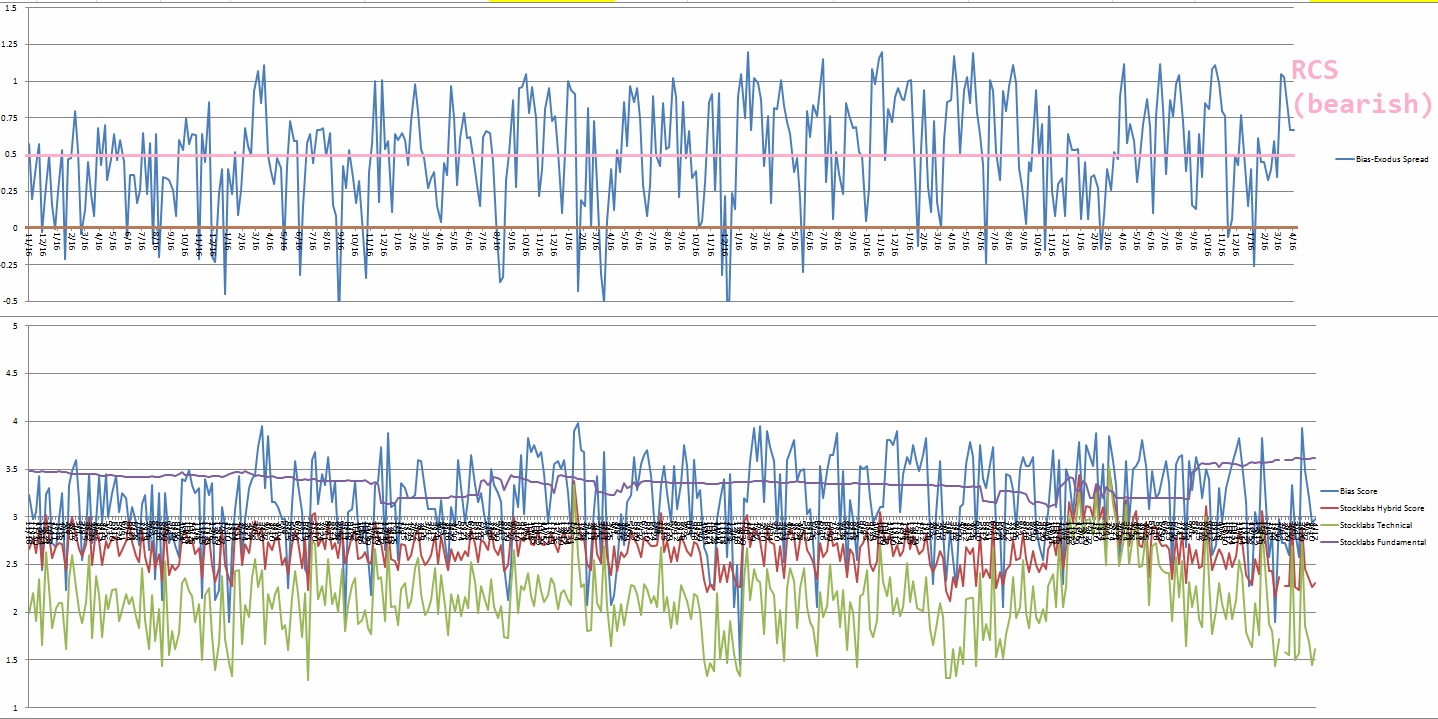 VI. 12-month Technical Oversold
On Friday, April 15th Stocklabs signaled technical oversold on the 12-month algo. This is a 10-day bullish cycle that runs through Monday, April 25th. Here is the performance of each major index so far: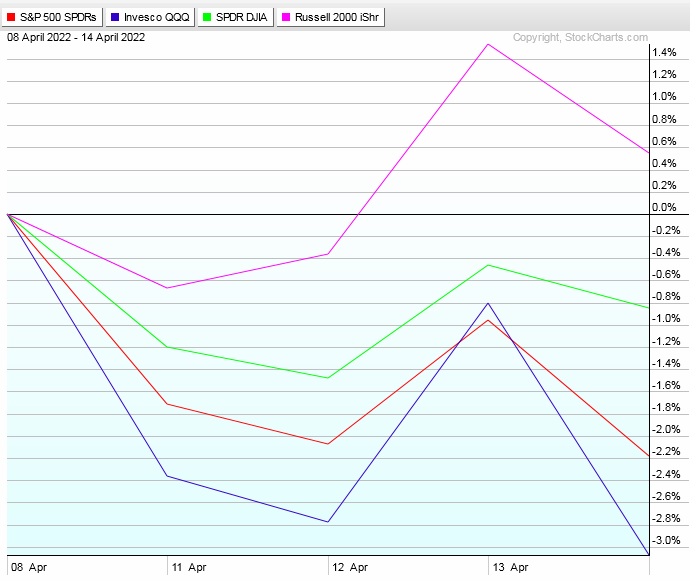 VII. QUOTE OF THE WEEK:
"It is not enough to have great qualities; we should also have the management of them." – La Rouchefoucauld
Trade simple, reign in your impulses
Comments »