First off shout-out to all the hard working lads doing their best to clean up the damage caused by mother nature these last few weeks. Lots of water been falling from the sky. Mamma mia.
Next a quick note on the metaverse. These heckin' NFT speculators are some of the most deranged gamblers I've met to date. How, in their minds, they expect to 'flip' these jpegs in a matter of days. The spreads on these things are as wide as the soo locks and not nearly as liquid as, the…soo locks.  Years. Think in years and choose the jpegs you want to stare at, for years, accordingly.
Moving on.
I've held the bag on Twitter since IPO. You hear me? Almost a decade. I still have shares that I bought in late 20'o'13 for about the same price they're trading at today. I've been buying more and more Twitter along the way.
I live like a pauper.
Diamond hands.
Get the fuck outta here.
I'm stupid.
But I've always been addicted to Twitter. Last week they settled an old dispute dating back to the legacy executive team. Folks I'd nearly forgotten about old Dicky Costello. What sort of a name is that? Why did I invest in someone named after a penis and an Elvis impersonator?
Do you see how stupid I am?
And yet you read my diary. Hopefully for your own benefit. I like to think there's some wisdom in these entries. Or at least affordable entertainment.
$810 million dollars. That's how much the Twitter settlement was for.
A few days prior that jack-off Goldman Sachs banker downgraded Twitter to sell with a piker mother fucking price target of $60 when it was trading at like $63 like bitch? What kind of soft-handed tomfoolery is that?
We faded it.
Then the $810 million dollar settlement news hit. Oh and the news wires really played it up that morning. Big numbers are good for clicks. But the news man doesn't understand that it was a fiat number and we're transitioning away from a time when fiat number matters. What matters today is attention and keeping up with the internet.
JACKED DORSEY. Now that's a name worth investing in.
The all mighty internet. Undefeated it is.
So Twitter rallied despite a cycle of negative news. So maybe my decade old bag of Twitter shares might return some meaningful gains soon.
We don't know.
Do I deserve gains? I deserve nothing. I deserve to work while I can and then accept when I cannot.
Right now my mind is sharp, muscles strong and my fortitude is steeled.
***One last note***
We're coming into the week with our signals crossed. IndexModel is bearish. Stocklabs is bullish. Too messy for me to press my edge aggressively. Trading will be light all week.
Month-end is all messy too. All ending on a Thursday. That's not a good look. I like months to end on Fridays or Sundays like an american dammit. They're not even releasing nonfarm payroll data Friday. Like they normally do on the first Friday of a month. And you can be sure OPEX will sneak up on us all willy nilly.
So we have a real mess on our hands, data-wise.
At least we'll put this retched month in the books and press headlong into spooky season.
Okay for now.
Raul Santos, September 26th 2021
And now for the 357th edition of Strategy Session. Enjoy
---
Stocklabs Strategy Session: 09/27/21 – 10/01/21
I. Executive Summary
Raul's bias score 3.30, medium bull*. Sellers pressure the tape most of the week. Then look for Thursday morning GDP and jobless claims data to pivot the tape higher into month-end.
*Rose colored sunglasses [RCS] bearish bias triggered, see Section V
II. RECAP OF THE ACTION
Major gap down Monday across the board. The rest of the week saw price steadily claw back the weekend losses and the week concluded with price at the weekly highs.
The last week performance of each major index is shown below: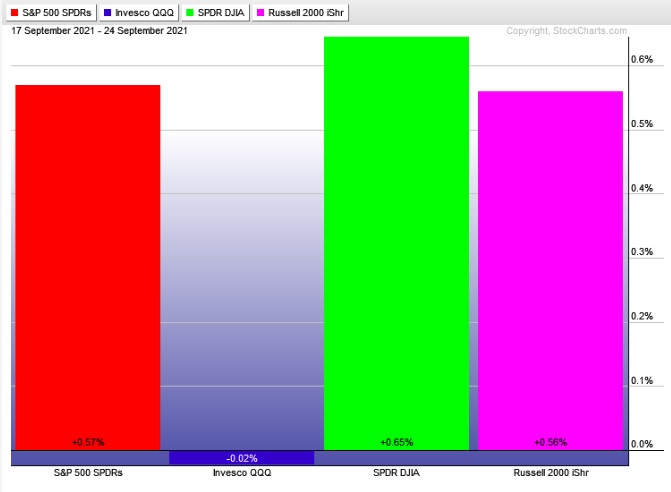 Rotational Report:
Board sector strength though leadership from the Financials is not ideal. Energy continues to trade independently from the overall market. Utilities lagged along with Staples.
slightly bullish
For the week, the performance of each sector can be seen below: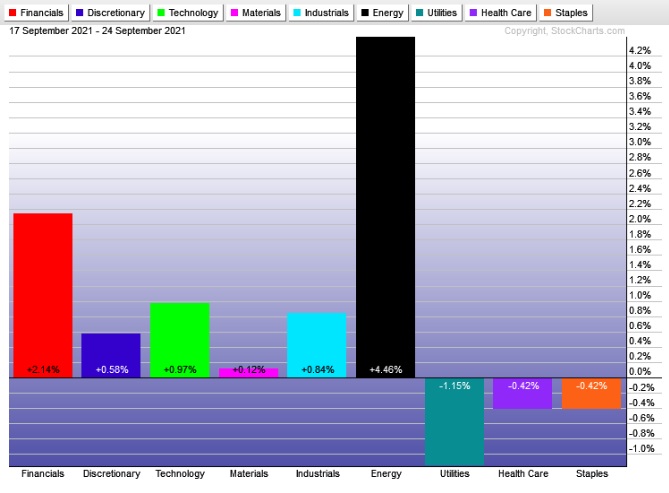 Concentrated Money Flows:
Money flows skewed slightly positive though neither side of the ledger is populated with important industry groups. Four weeks back we had a major positive skew that has not been out done yet.
slightly bullish
Here are this week's results: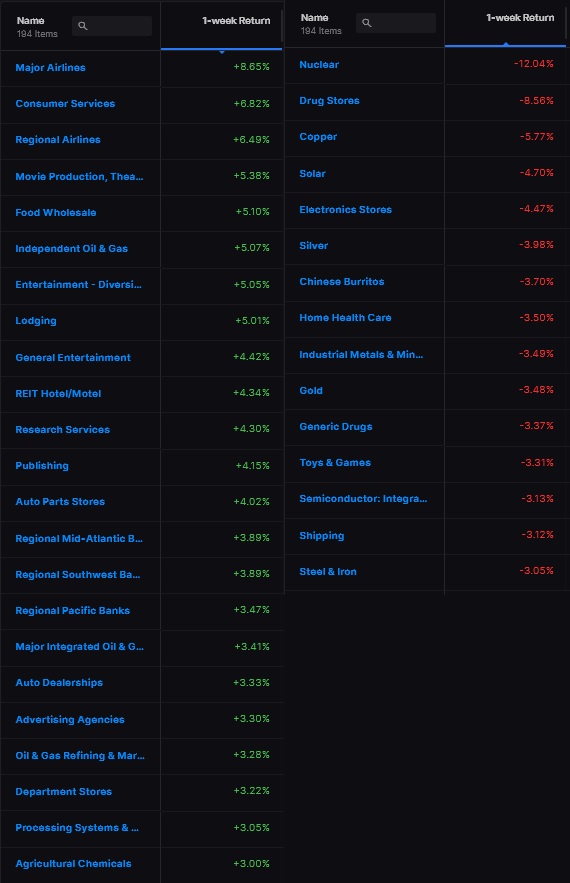 III. Stocklabs ACADEMY
Signals crossed
My edge is diminished heading into month-end. Stocklabs kicked off a bullish overbought cycle Thursday but IndexModel is flagging Rose Colored Sunglasses bearish on the upcoming week. When the systems I use to generate a directional bias cross I do not carry the necessary conviction to trade with full size. Or the conviction to press directional bets like I need to to be profitable.
Therefore I will still be around this week but trading will be light.
I will look for open gaps inside the prior day's range to fill and will scalp price levels from the morning trading reports.
Note: The next two sections are auction theory.
What is The Market Trying To Do?
Week ended searching for sellers
IV. THE WEEK AHEAD
What is The Market Likely To Do from Here?
Weekly forecast:
Sellers pressure the tape most of the week. Then look for Thursday morning GDP and jobless claims data to pivot the tape higher into month-end.
Bias Book:
Here are the bias trades and price levels for this week:

Here are last week's bias trade results:

Bias Book Performance [11/17/2014-Present]: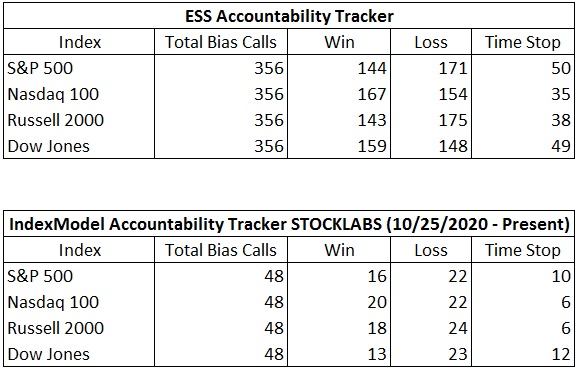 Semiconductors compressing and rallying
Markets fluctuate between two states—balance and discovery.  Discovery is an explosive directional move and can last for months.  In theory, the longer the compression leading up to a break, the more order flow energy to push the discovery phase.
We are monitoring two instruments, the Nasdaq Transportation Index and the PHLX Semiconductor Index.
Transports still holding range.
See below: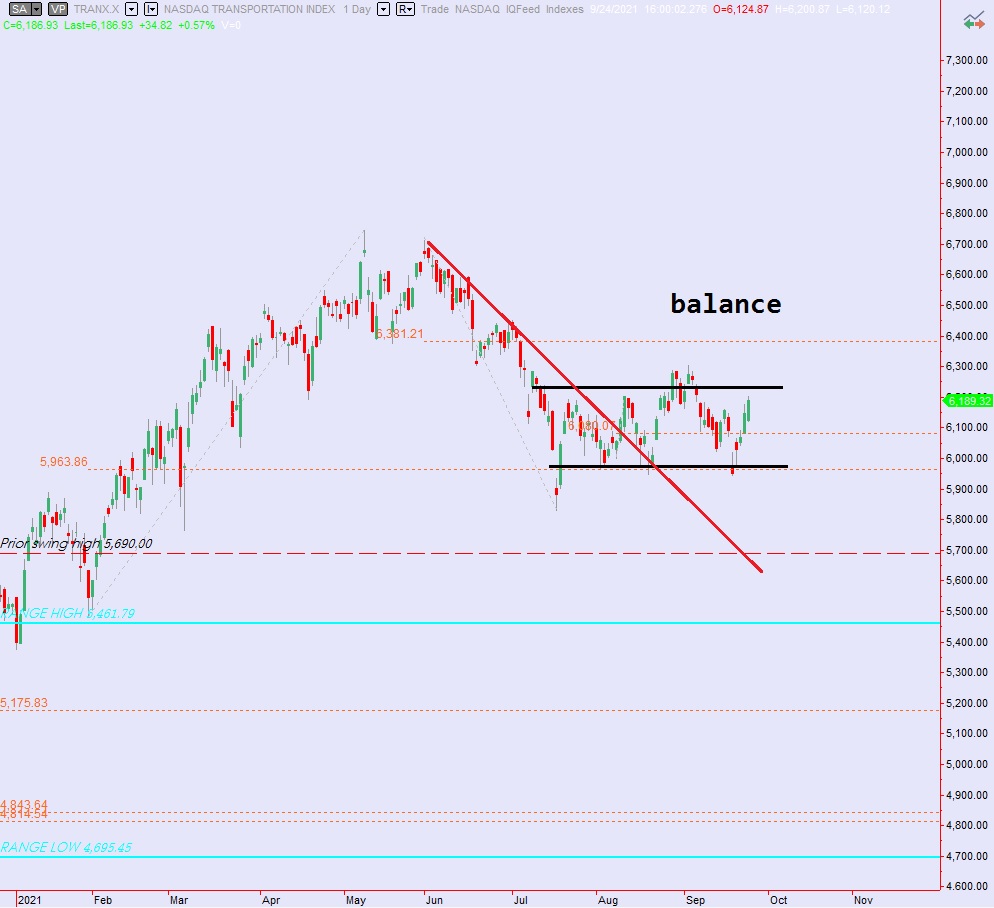 Semiconductors are sort of forming a rising wedge as price continues to hold record highs. Historically this type of chart pattern eventually resolves with a strong blow-off rally to the upside. For now, as we can see, discovery up continues.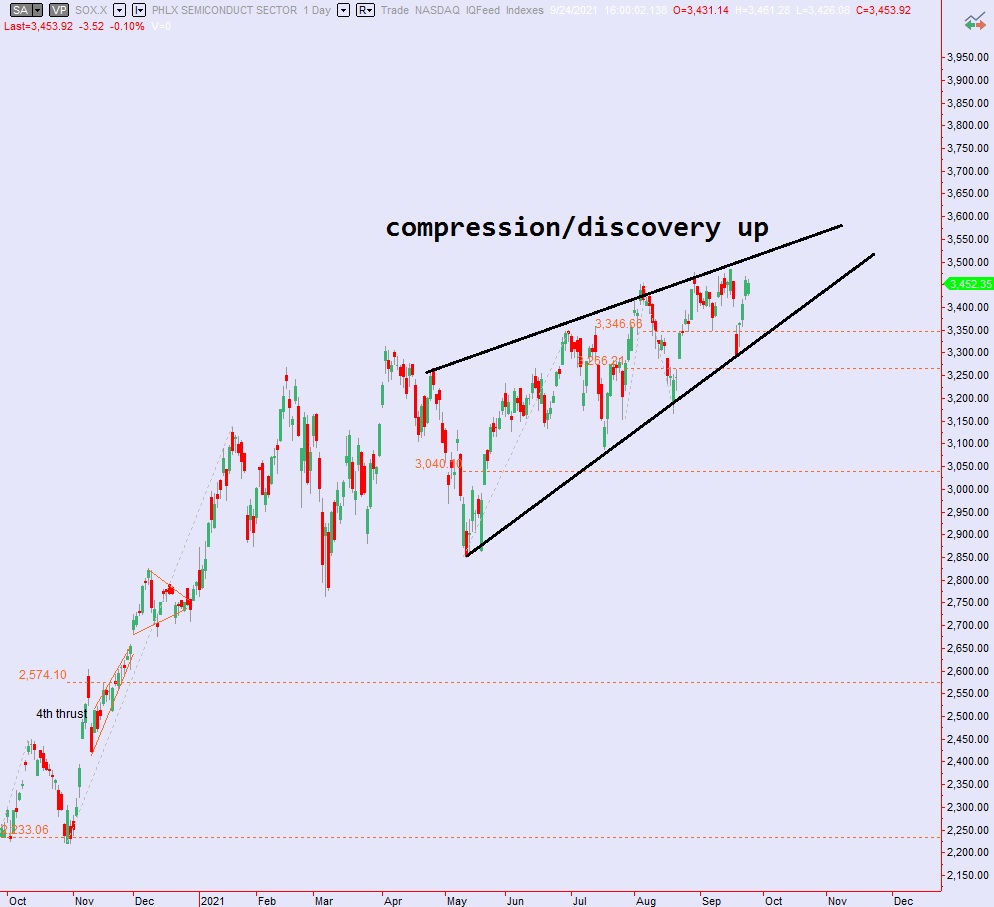 V. INDEX MODEL
Bias model is signaling Rose Colored Sunglasses [RCS] bearish. It was neutral the prior two weeks after being Rose Colored Sunglasses [RCS] bearish three weeks back after being neutral four reports back and Rose Colored Sunglasses bearish for the two consecutive weeks prior to that.
We had a Bunker Buster thirty weeks ago.
RCS calls for sellers to work prices lower all week. There has been an interesting cluster of bearish signals coming out of the index model lately. Definitely grounds for being cautious.
Here is the current spread: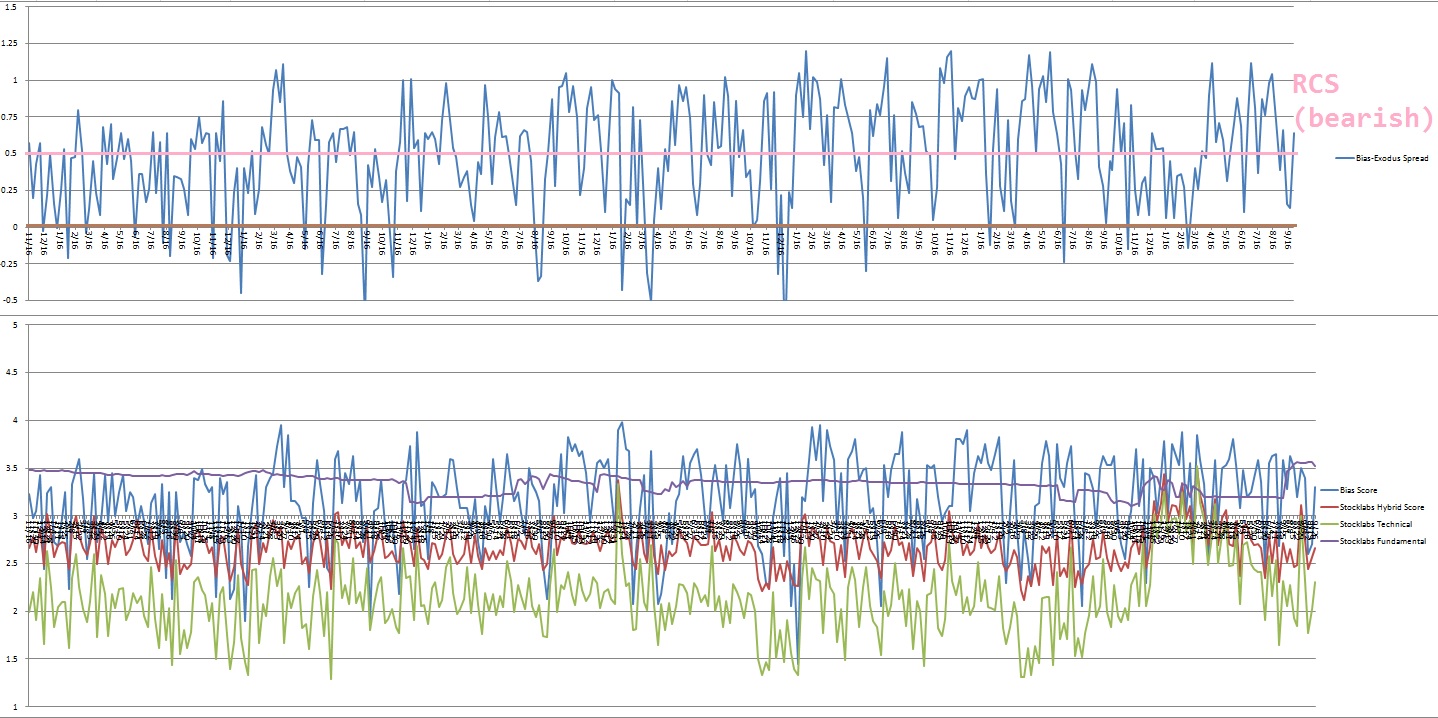 VI. Twelve Month Technical Oversold
On Friday, September 10th Stocklabs went technical oversold on the 12-month algorithm. This signal has bearish statistics. The cycle ran through Friday, September 24th end of day. Here is the final performance of each major index during the cycle: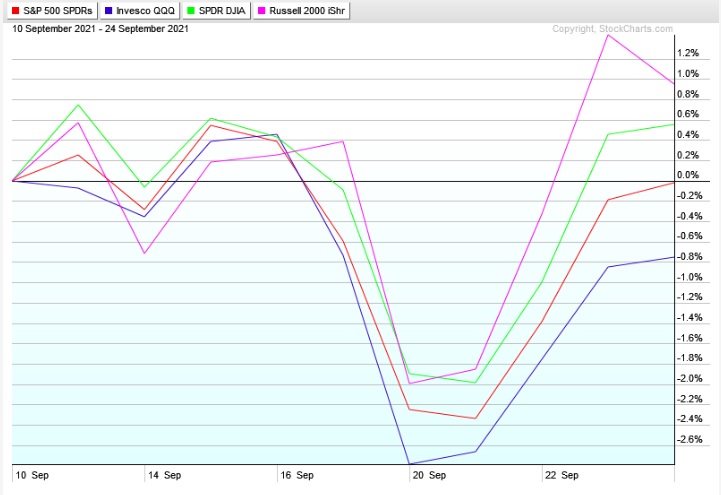 VII. Six Month Hybrid Overbought
On Thursday, September 23rd  Stocklabs went overbought on the 6-month algorithm. This is a bullish cycle that runs until Thursday, October 7th end-of-day. Here is the performance of each major index so far: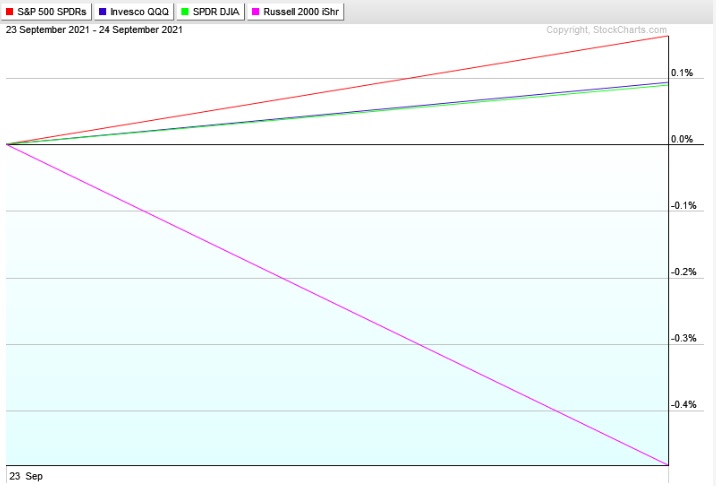 VIII. QUOTE OF THE WEEK:
"Art depends on luck and talent." – Francis Ford Coppola
Trade simple, do the work
Comments »