Married my dear friends yesterday and then danced with the fire worshipers and you know what? It took me like four hours to put the weekend research together. But it is my duty and I shall adhere to it until my dying breath.
By the way, I really don't care that the Fed is dismantling risk assets. Soon I'll be driving my cybertruck to and from the most absurd bug-out farmstead in the heart of America's rust belt. Right by the dump. I'll be wearing a Meta Quest Pro and augmenting trippy pictures over anything I'd rather not see. Listening to whale noises and growing punkin.
And along the way, I'll ride META for a 10x.
It's all so tiresome, but alas, this is the life of a space cowboy speculator touched by the gods.
See you in the so called metaverse buddy.
Raul Santos, October 16th 2022
And now the 405th edition of Strategy Session.
---
Stocklabs Strategy Session: 10/17/22 – 10/21/22
I. Executive Summary
Raul's bias score 2.75, medium bear. Choppy and indecisive through Wednesday. Then look for Tesla earnings after the bell to put direction into the overall market.
II. RECAP OF THE ACTION
Choppy and indecisive though Thursday morning. Then a strong sell and subsequent recovery when CPI hit. Rally though Friday morning then more selling pressure into the weekend.
The last week performance of each major index is shown below: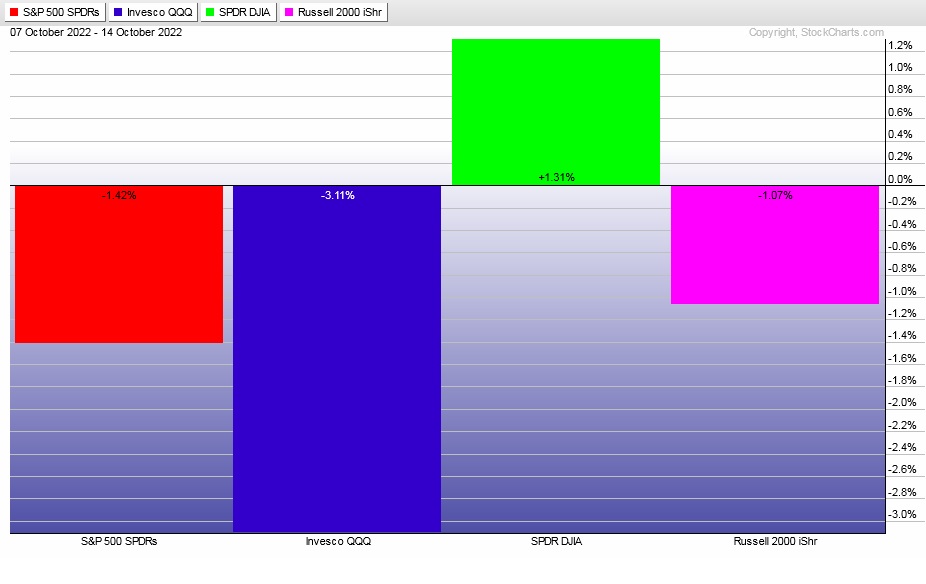 Rotational Report:
Hard week for Tech and Discretionary.
slightly bearish
For the week, the performance of each sector can be seen below: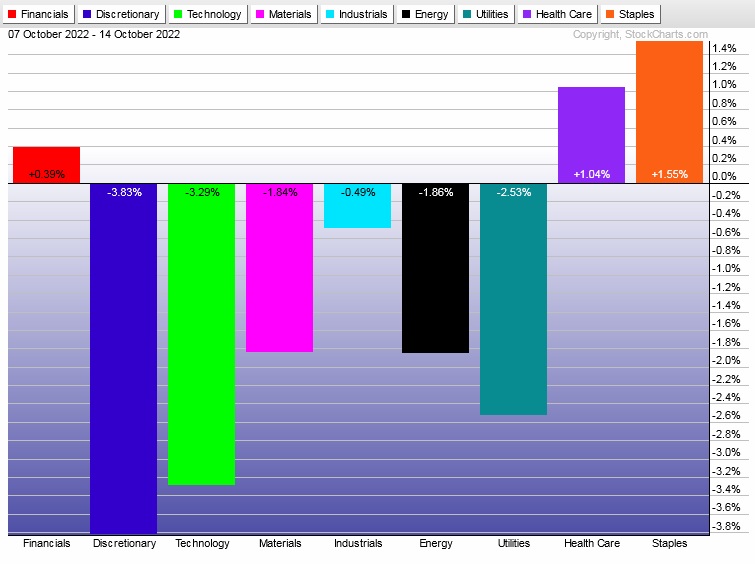 Concentrated Money Flows:
Money flows skew back to the sell side.
neutral
Here are this week's results:

III. Stocklabs ACADEMY
Trading the CPI
Thursday morning the CPI data was met with extreme volatility. Traders and their algorithims have discovered how to really move the markets during this data point, which is so closely watched now that the Fed is targeting inflation. These types of moves are great to catch as an active trader. They key is having rock solid risk management in place. Because these big moves can just as quickly become a nightmare. Even if they reverse, they may result in an account liquidation along the way.
There's nothing wrong with being on the sideline, but familiarizing oneself with trading 'hot' data points can be quite a lucrative venture.
Note: The next two sections are auction theory.
What is The Market Trying To Do?
Week ended searching for buyers.
IV. THE WEEK AHEAD
What is The Market Likely To Do from Here?
Weekly forecast:
Choppy and indecisive through Wednesday. Then look for Tesla earnings after the bell to put direction into the overall market.
Bias Book:
Here are the bias trades and price levels for this week:

Here are last week's bias trade results:

Bias Book Performance [11/17/2014-Present]:
Transports really trying to stay in range
Readers are encouraged to apply these techniques to all markets. Markets fluctuate between two states—balance and discovery. Discovery is an explosive directional move and can last for months. In theory, the longer the compression leading up to a break in balance, the more order flow energy to push the discovery phase.
Market are most often in balance.
Every week this newsletter uses auction theory to monitor three instruments, the Nasdaq Transportation Index, PHLX Semiconductor Index and ethereum
Transports saw buyers defend range low again Thursday, printing a fairly strong conviction candle after making a new short-term swing low. The thing is, sellers reversed much of it Friday. As of right now the range still appears in tact.
See below: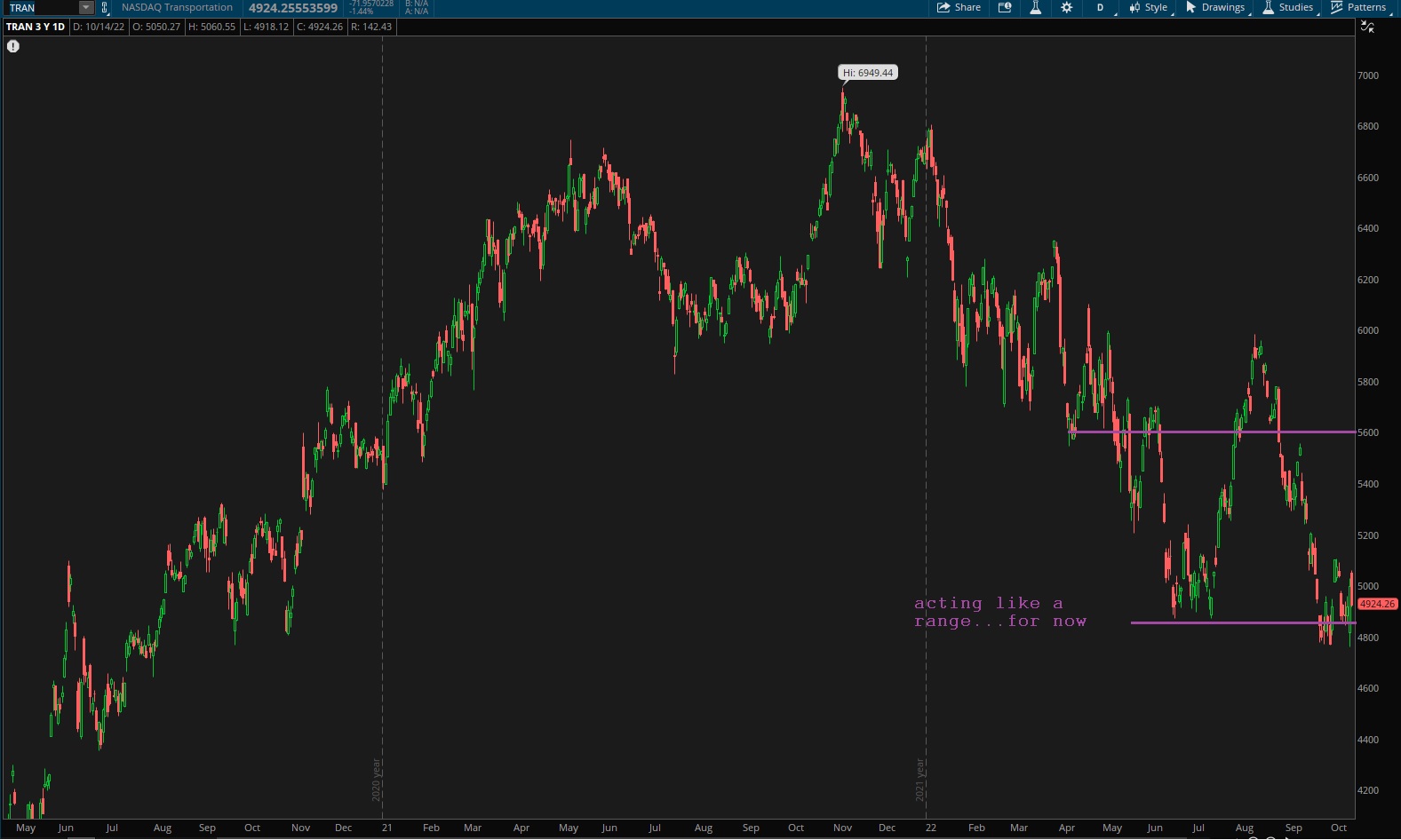 Semiconductors are in discovery down until otherwise noted.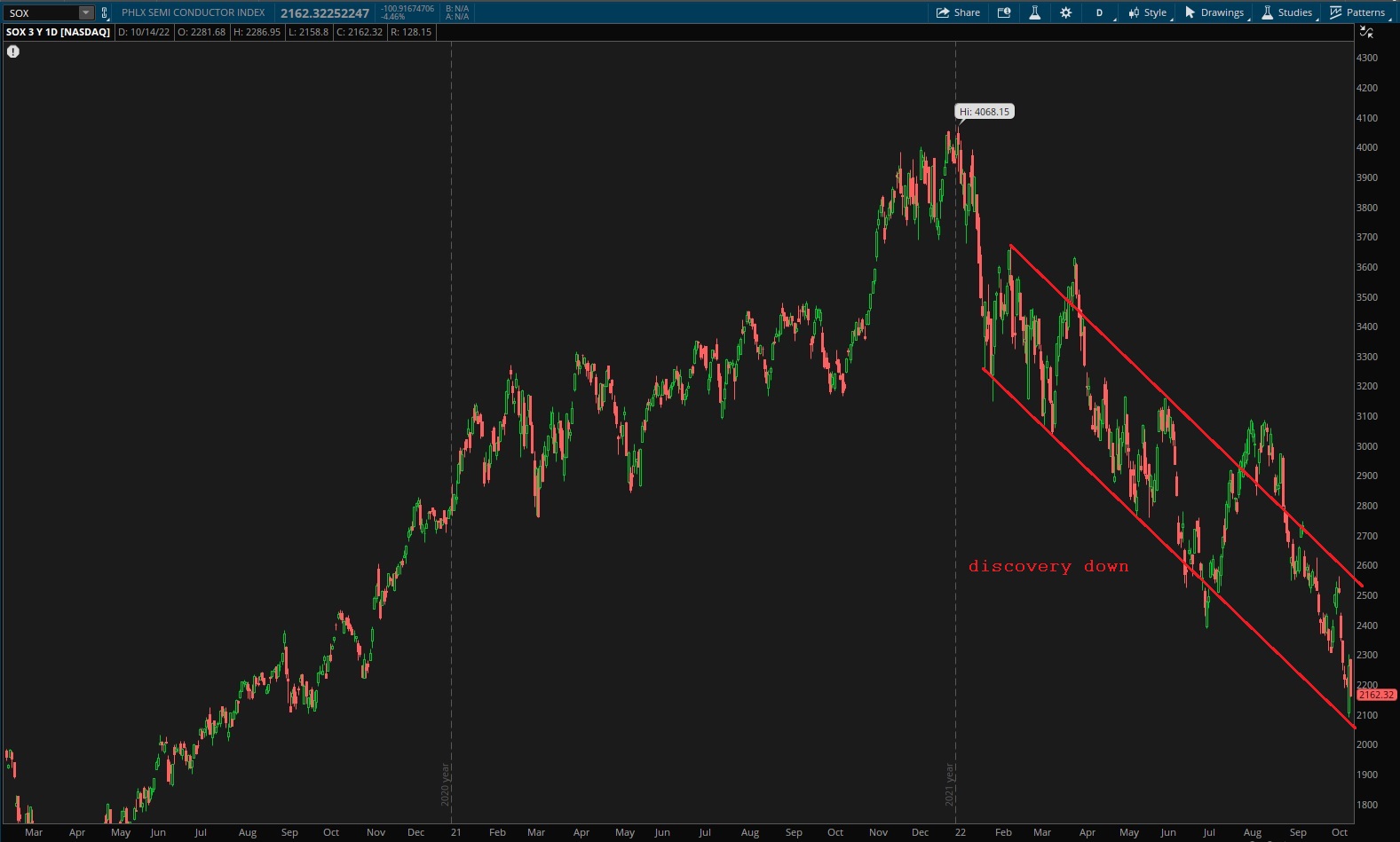 Ether still balancing and more stable then equities.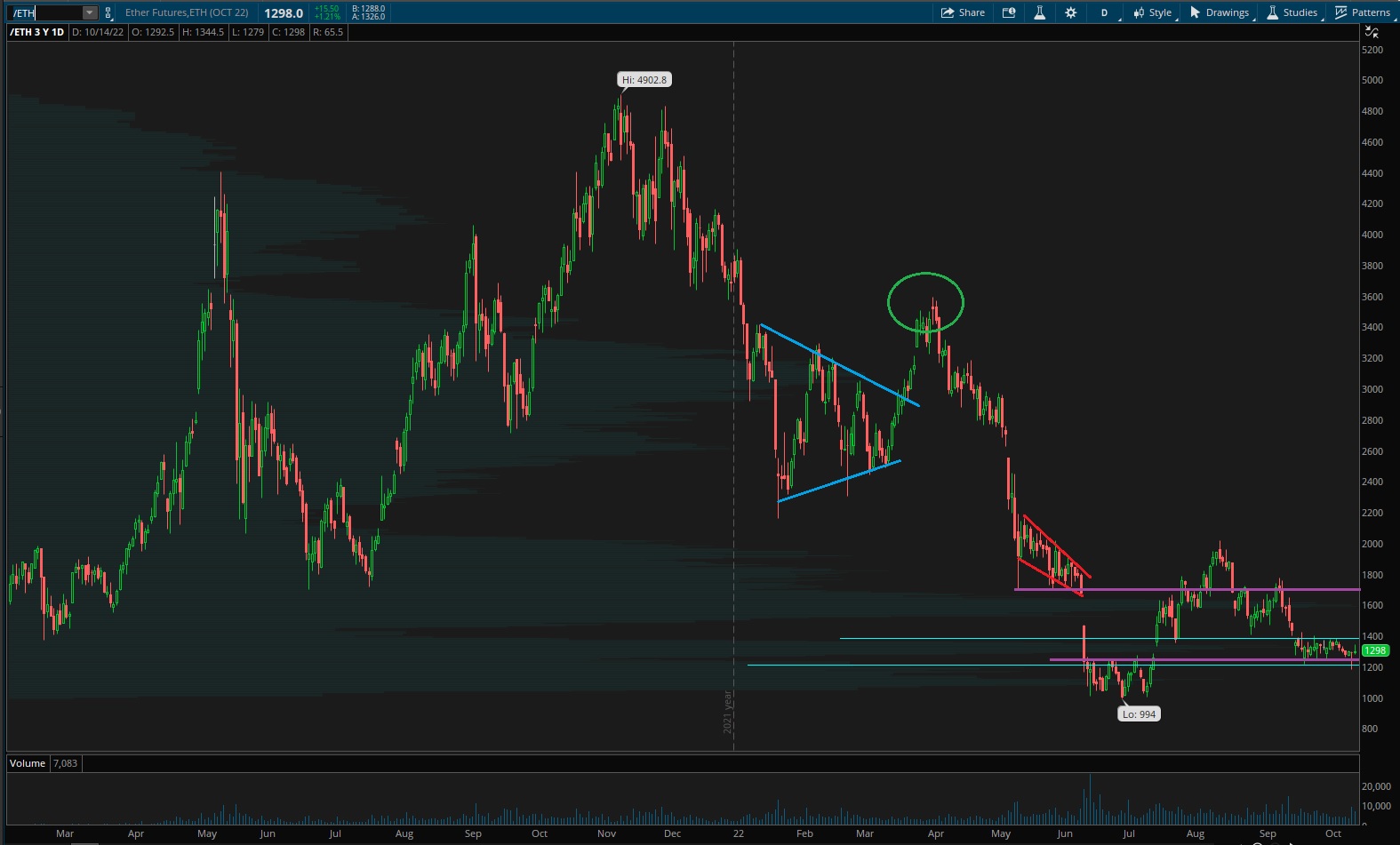 V. INDEX MODEL
Bias model is neutral heading again. The fifth consecutive neutral reading. No bias.
There were five Bunker Busters in recent history — six weeks ago, fifteen weeks back, twenty-two weeks ago, thirty-five reports back and thirty seven reports back.
Here is the current spread: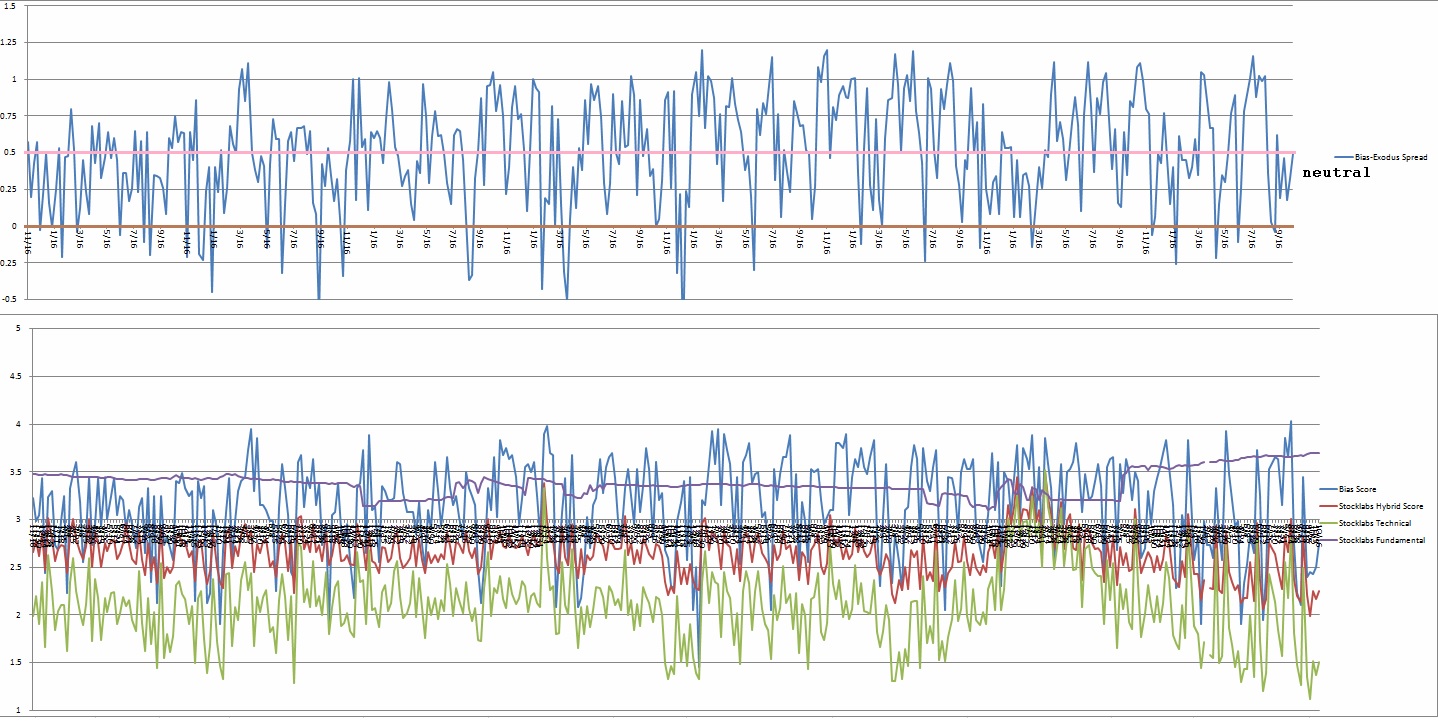 VI. QUOTE OF THE WEEK:
"It is impossible to live without failing at something, unless you live so cautiously that you might as well not have lived at all — in which case you fail by default." – J.K. Rowling
Trade simple, accept the setbacks
If you enjoy the content at iBankCoin, please follow us on Twitter