The new information out of the equity markets last week is that prices were too high. They went lower and now we don't know whether they'll continue going lower but we do know they were apparently too high a few weeks back.
That's my intellectual analysis. Real bearish mf could probably contrive something that sounds more intelligent. Some 'why'. But that is not my game. I am a Big Tech perma bull and I am being punished for keeping false idols.
Nevertheless, it is difficult to kill me as I am already dead. This market has gutted me at least 4-5 times in my life and the good news is I'm still here and overall the numbers on the screen that say what I am worth are up up up.
They don't want some free speaking, independent thinking vagabond roaming around america, growing tobacco and securing deeds on chunks of earth, but here we are.
I have to put 60 shiseido peppers in the ground and it's about 86 degrees. So I must bid you adeau.
For now.
Raul Santos, May 15th 2022
And now the 386th edition of Strategy Session. Why the heck not? Enjoy
---
I. Executive Summary
Raul's bias score 2.85, neutral. Buyers actively control the tape throughout the week. Watch for volatility Tuesday with Walmart set to report earnings before the bell and Powell on deck to speak in the afternoon.
II. RECAP OF THE ACTION
Equity markets were already under heavy selling pressure by Monday morning. Price was choppy through Wednesday then started to sell of Thursday. There was a strong ramp higher late Thursday into closing bell and that carried through to the weekend, with Friday strong across the board.
The last week performance of each major index is shown below: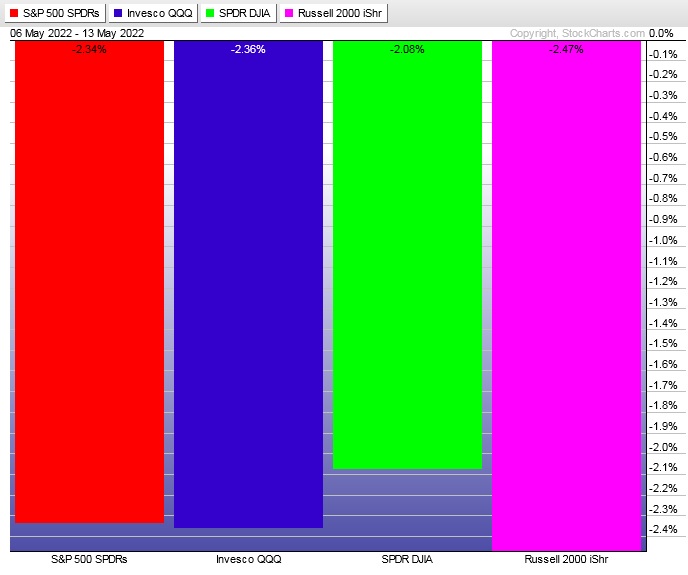 Rotational Report:
A bit of relative strength from Staples. Otherwise continued strong selling rotations.
bearish
For the week, the performance of each sector can be seen below: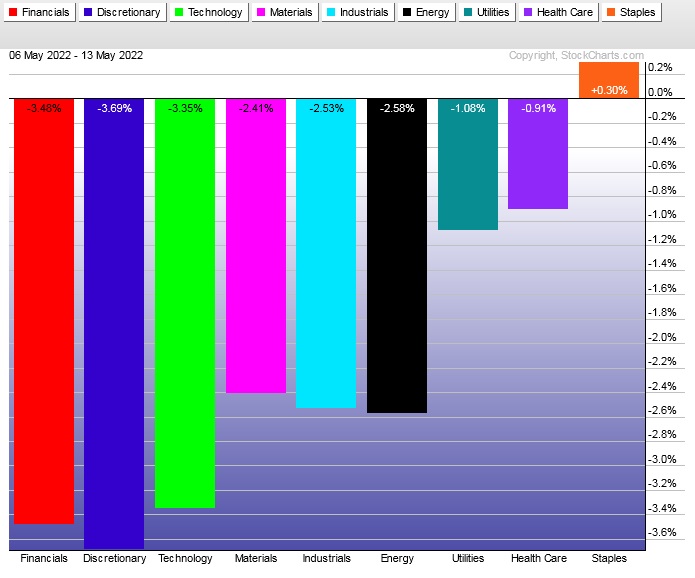 Concentrated Money Flows:
Bulls took back control of money flows nine weeks back after sixteen weeks dominated by sellers, dating back to mid-November.
But then six weeks ago sellers negated that control.
Sellers dominated the money flows again last week. Ledger is skewed to the sell side.
Sell flows becoming a bit extended here, which has me on the lookout for a 'relief' rally.
neutral
Here are this week's results:

III. Stocklabs ACADEMY
Nearly six months off the trading desk
One of my earliest mentors in active futures trading was an Australian chap who used to always tell me trades were like busses, that another one was always coming.
Because at the time I was hot wired to want to catch every single little oscillation in price. I would magnify the chart to a scalping time frame and sometimes execute over 50 trades in a matter of minutes.
It was a bit excessive.
The more I honed my skills, the more selective I became. I still rapid fire when I am actively trading, but most of the time I just sit and wait for an algo to tell me to go live.
Now this latest sit, me going offline in December and not trading for almost six months now. It has been a mental challenge. But I know I am not in a position to trade well right now. I have this dang year two farm project and it is demanding a lot of my brain power.
These markets were here long before me and will be around long after I am gone. I am excited to get back to work, but honestly it has been nice to be an observer during this high volatility slide lower.
I see active traders who love volatility. My approach actually does best when we're sort of lazily drifting.
So perhaps by the time I go live those conditions will return. We don't know.
Note: The next two sections are auction theory.
What is The Market Trying To Do?
Week ended searching for sellers.
IV. THE WEEK AHEAD
What is The Market Likely To Do from Here?
Weekly forecast:
Buyers actively control the tape throughout the week. Watch for volatility Tuesday with Walmart set to report earnings before the bell and Powell on deck to speak in the afternoon.
Bias Book:
Here are the bias trades and price levels for this week:

Here are last week's bias trade results:

Bias Book Performance [11/17/2014-Present]: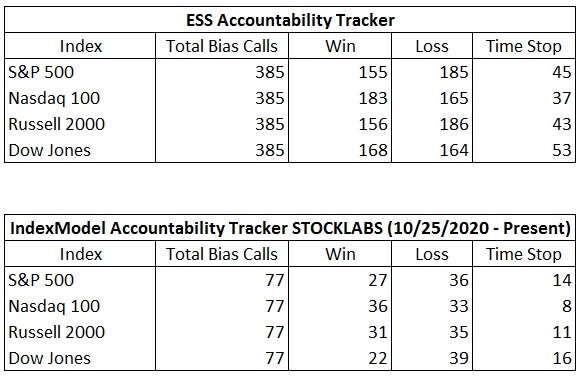 Sellers blow out ranges
Markets fluctuate between two states—balance and discovery. Discovery is an explosive directional move and can last for months. In theory, the longer the compression leading up to a break in balance, the more order flow energy to push the discovery phase.
Market are most often in balance.
Every week this newsletter uses auction theory to monitor three instruments, the Nasdaq Transportation Index, PHLX Semiconductor Index and ethereum. Readers are encouraged to apply these techniques to all markets.
Transports and pretty much everything else were sold hard last week, sending price out of range. Now it appears this chart is in a downward channel. Discovery down.
See below: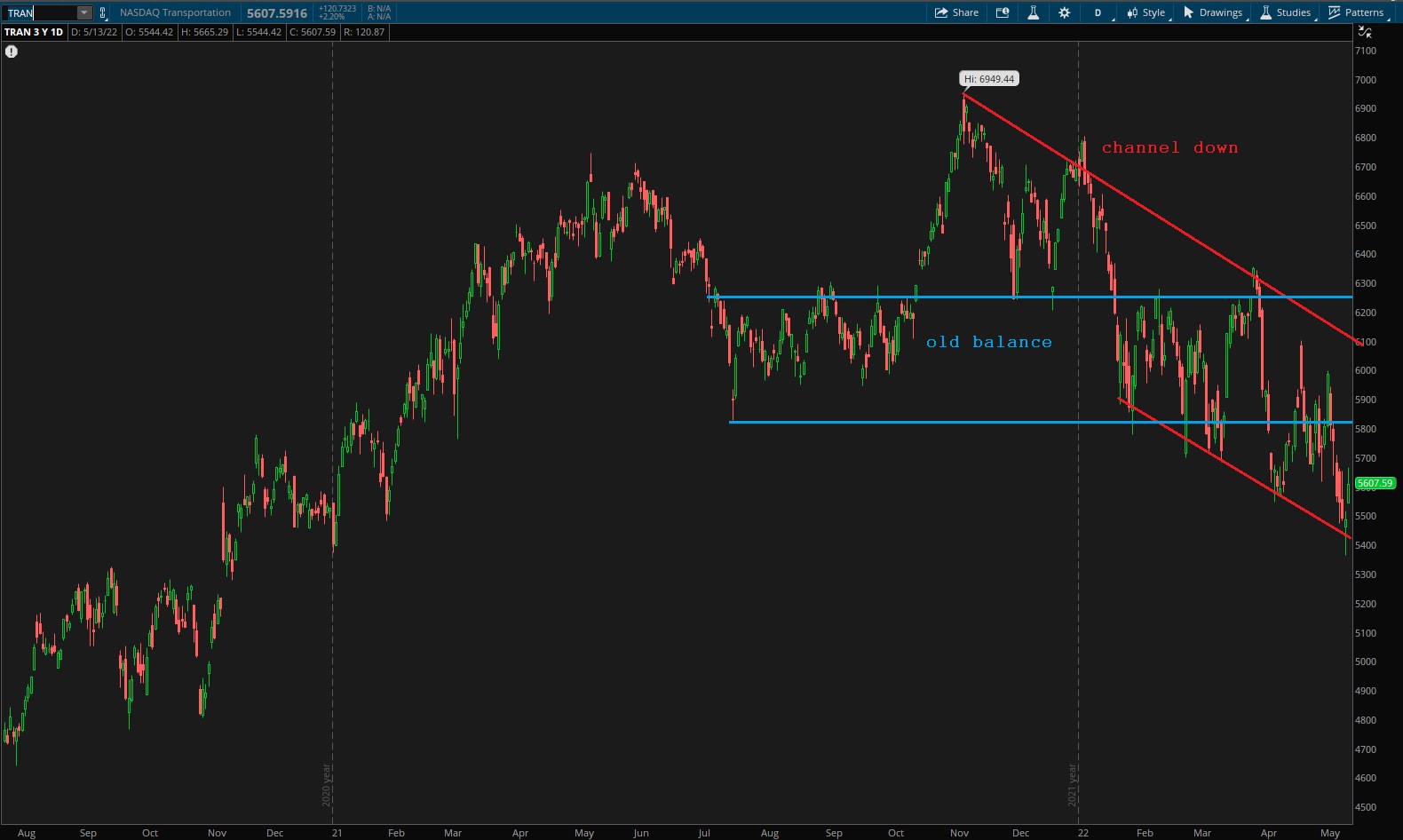 Semiconductors lost range. There may be a new range here but overall it was a discovery down move to arrive here.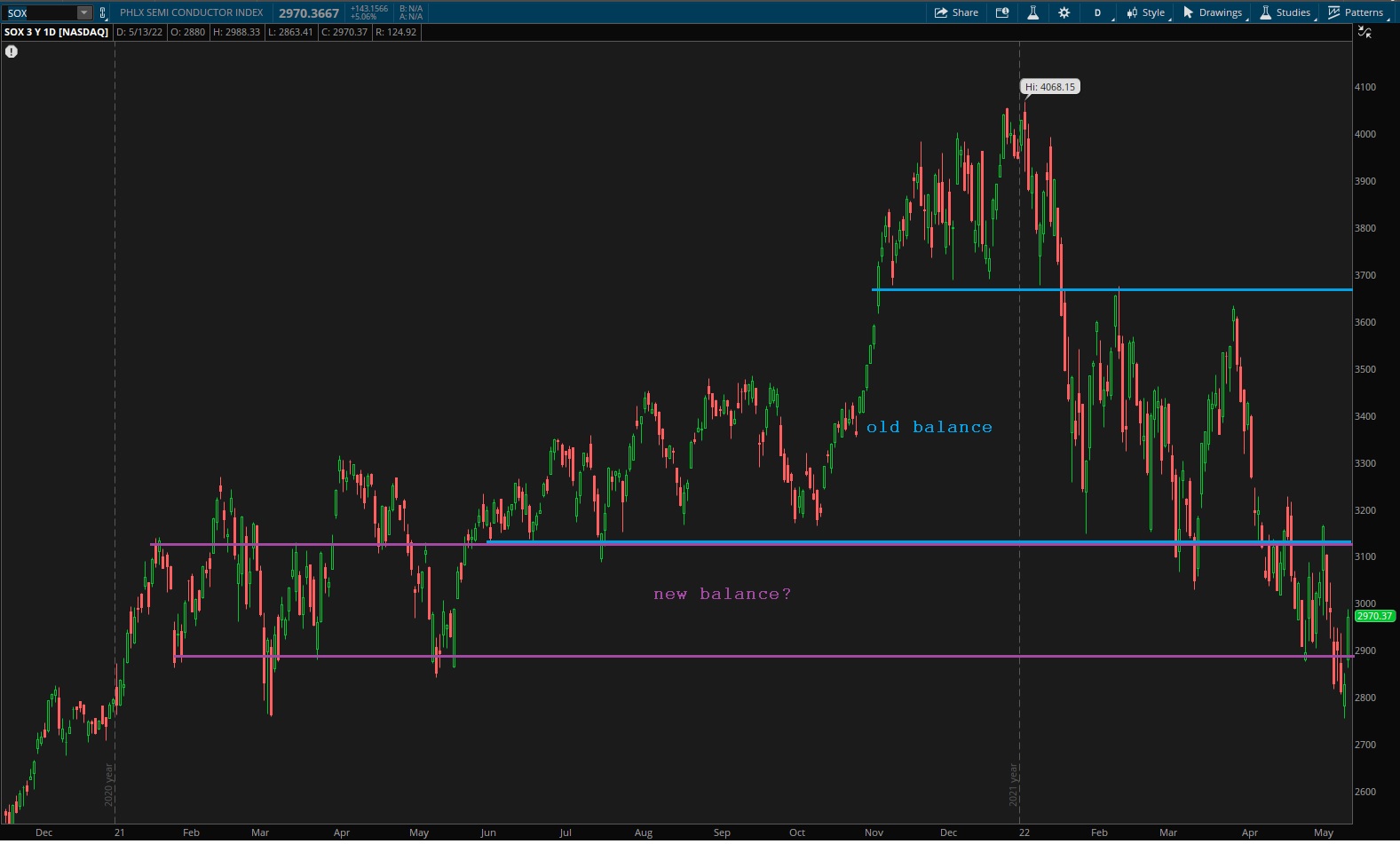 Ether sort of messy. Perhaps finding a new range.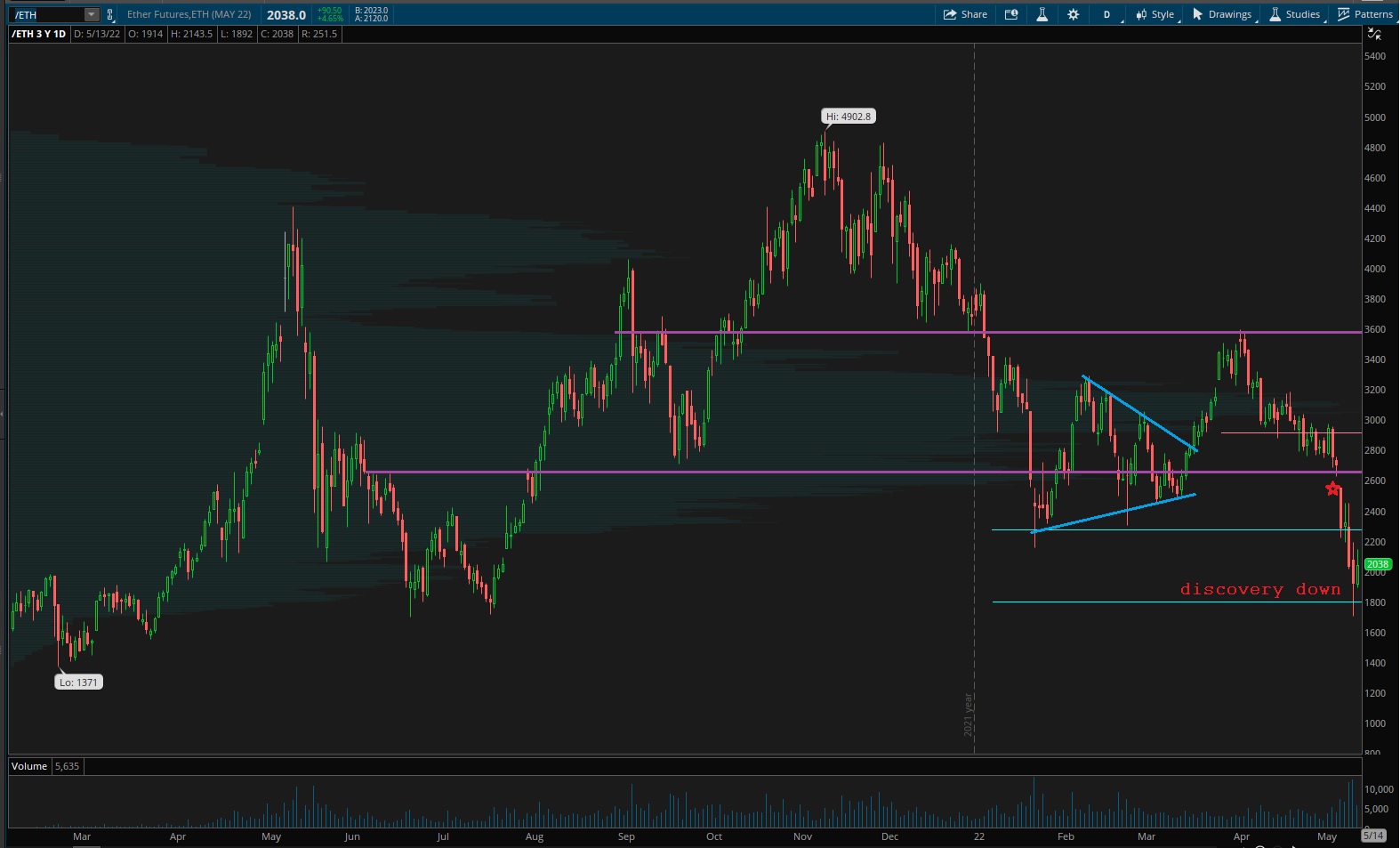 V. INDEX MODEL
Bias model is neutral for a third consecutive week after going Bunker Buster three weeks back after three consecutive rose colored sunglasses bearish signals after two consecutive weeks of extreme RCS bullishness.
We've had three Bunker Busters in recent history, three weeks ago, sixteen reports back and a third twenty-four reports back. The Bunker Buster before these recent three was sixty-two weeks ago.
Here is the current spread: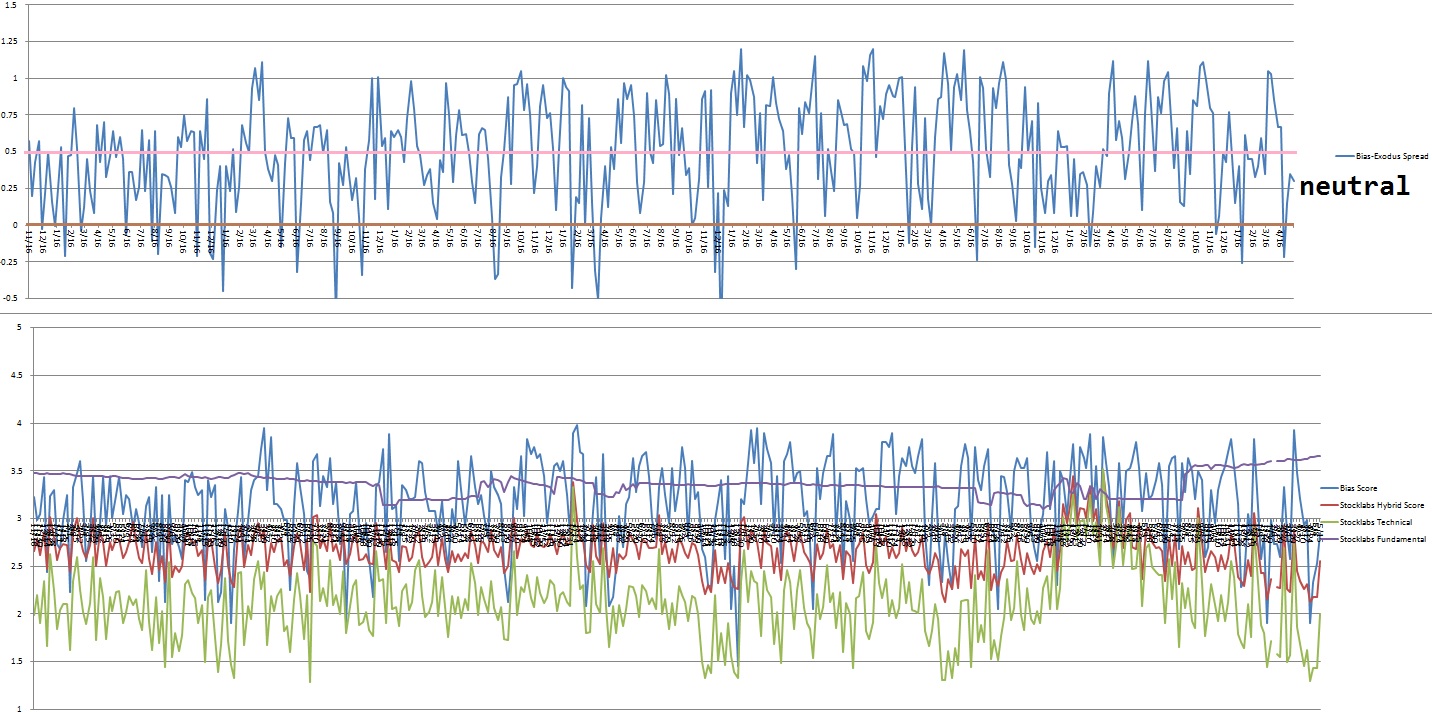 VI. 12-month Technical Oversold
On Monday, May 9th Stocklabs signaled hybrid oversold on the 12-month algo. This is a 10-day bullish cycle that runs through Monday, May 23rd end-of-day. Here is the final performance of each major index over the cycle: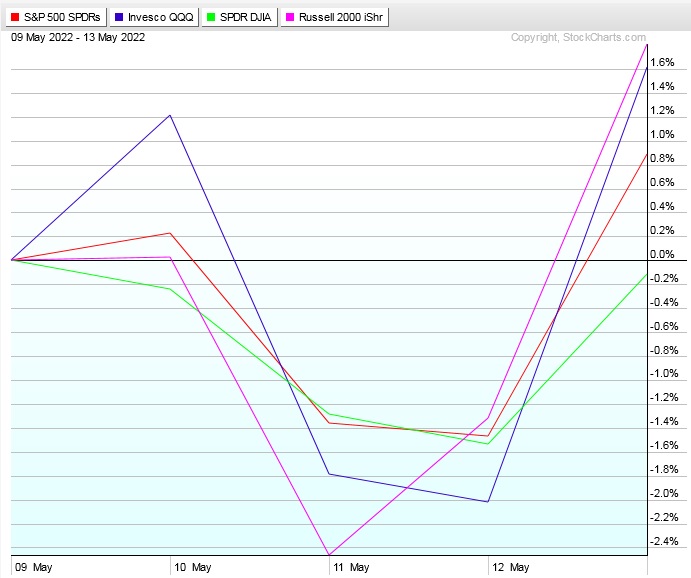 VII. QUOTE OF THE WEEK:
"He will face a battle he knows not, he will ride a road he knows not." – Gilgamesh
Trade simple, we don't know
If you enjoy the content at iBankCoin, please follow us on Twitter