Listen chaps, we're really into it now. The markets are dipping and dipping and have room to keep dipping. The Feds are hellbent on putting inflation in place with rate hikes. The Rooskis are settling in for a long summer battle. The conservatards are bleeding back onto Twitter. And the north is finally heating up.
We're barrelling full speed into 90 days of intense heat, hedonistic gardening and disco raves.
My knees and ankles have gone bust Punishment for three hard years of laboring in the name of financial freedom.
Part of me wants to hang it all up and beg my old employeer to re-enstate me at 75k/annum as an excel spreadsheet jockey.
In esence, I am nearing desperation lads. These very well could be the emotions of a market nearing a local bottom.
We don't know.
But it certainly feels that way.
At a minimum, I need to stop running around building gardens soon and instead sit in a chair and click orders in-and-out of the NASDAQ futures. This pain in my heckin' legs is telling a story. I work too hardt.
All that said, the one duty of son Raul is to present an air of complete success and order to the women in my life on Mother's day. Women, in general, worry too much. Let cook them some chicken meat and set their minds at ease.
Okay for now,
Raul Santos, May 8th
And now the 385th edition of strategy session.
---
Stocklabs Strategy Session: 05/09/22 – 05/13/22
I. Executive Summary
Raul's bias score 2.53, medium bear. Buyers show up early in the week and work price off of last week's lows. Then look for third reaction to Wednesday morning's CPI data to dictate direction into the second half of the week.
II. RECAP OF THE ACTION
Choppy week. Essentially marked time until the FOMC announcement (50bp hike) then rallied. Thursday morning the entire Fed rally was reversed and we were probing the weekly lows into the end of Friday, but overall a rough marking of time.
The last week performance of each major index is shown below: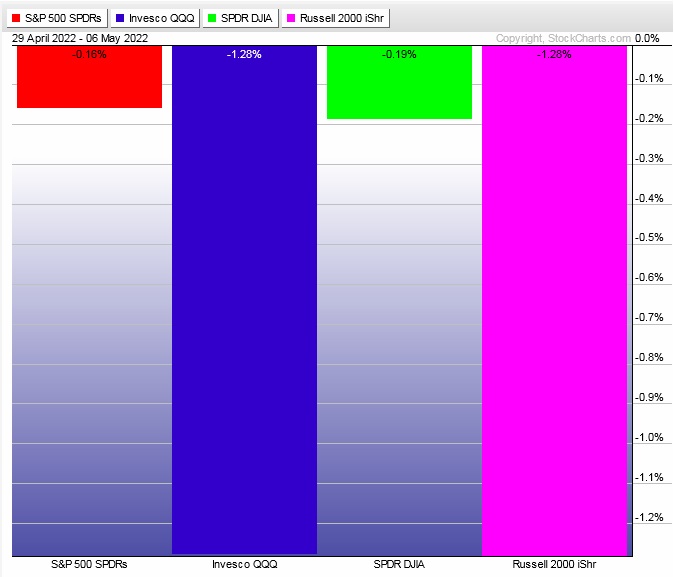 Rotational Report:
Energy sort of dwarfed the action in other sectors, but we can see Utilities and Financials showing divergent strength which speaks to the lack of conviction amongst market participants.
bearish
For the week, the performance of each sector can be seen below: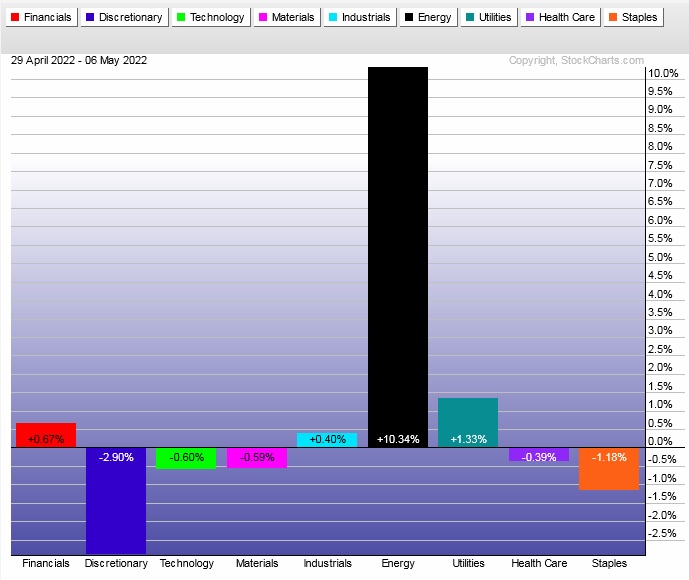 Concentrated Money Flows:
Bulls took back control of money flows eight weeks back after sixteen weeks dominated by sellers, dating back to mid-November.
But then five weeks ago sellers negated that control.
Sellers majorly dominated the money flows again last week. Ledger is skewed to the sell side.
bearish
Here are this week's results:

III. Stocklabs ACADEMY
Bleak bounce, what next?
Next week is much lighter in terms of earnings and economic events. The CPI data might put some volatility into the tape, but overall the markets will be left to their own devices for price discovery.
We have been bouncing along range low in several key areas of the market for many weeks. The longer we do so the more likely it becomes we make another leg lower.
The big spike last week post Fed was completely faded and it seems to have soured the mood of speculators quite a bit. What this all means heading into the second week of May we don't know.
The process of finding a low has been a challenge recently. It has to be around here somewhere.
Note: The next two sections are auction theory.
What is The Market Trying To Do?
Week ended searching for buyers.
IV. THE WEEK AHEAD
What is The Market Likely To Do from Here?
Weekly forecast:
Buyers show up early in the week and work price off of last week's lows. Then look for third reaction to Wednesday morning's CPI data to dictate direction into the second half of the week.
Bias Book:
Here are the bias trades and price levels for this week:

Here are last week's bias trade results:

Bias Book Performance [11/17/2014-Present]: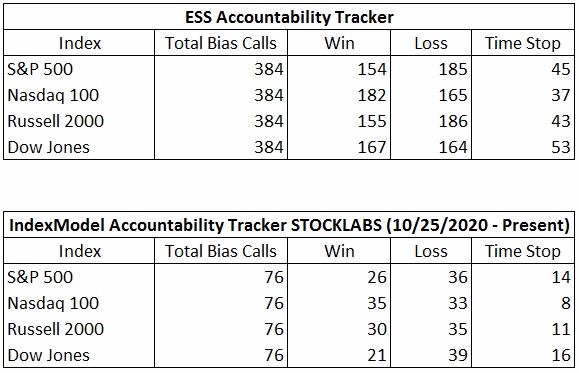 Ranges are still in tact
Markets fluctuate between two states—balance and discovery. Discovery is an explosive directional move and can last for months. In theory, the longer the compression leading up to a break in balance, the more order flow energy to push the discovery phase.
Market are most often in balance.
Every week this newsletter uses auction theory to monitor three instruments, the Nasdaq Transportation Index, PHLX Semiconductor Index and ethereum. Readers are encouraged to apply these techniques to all markets.
Transports printed a nice wick Friday, an excess low along range low could set the stage for a bounce next week.
See below: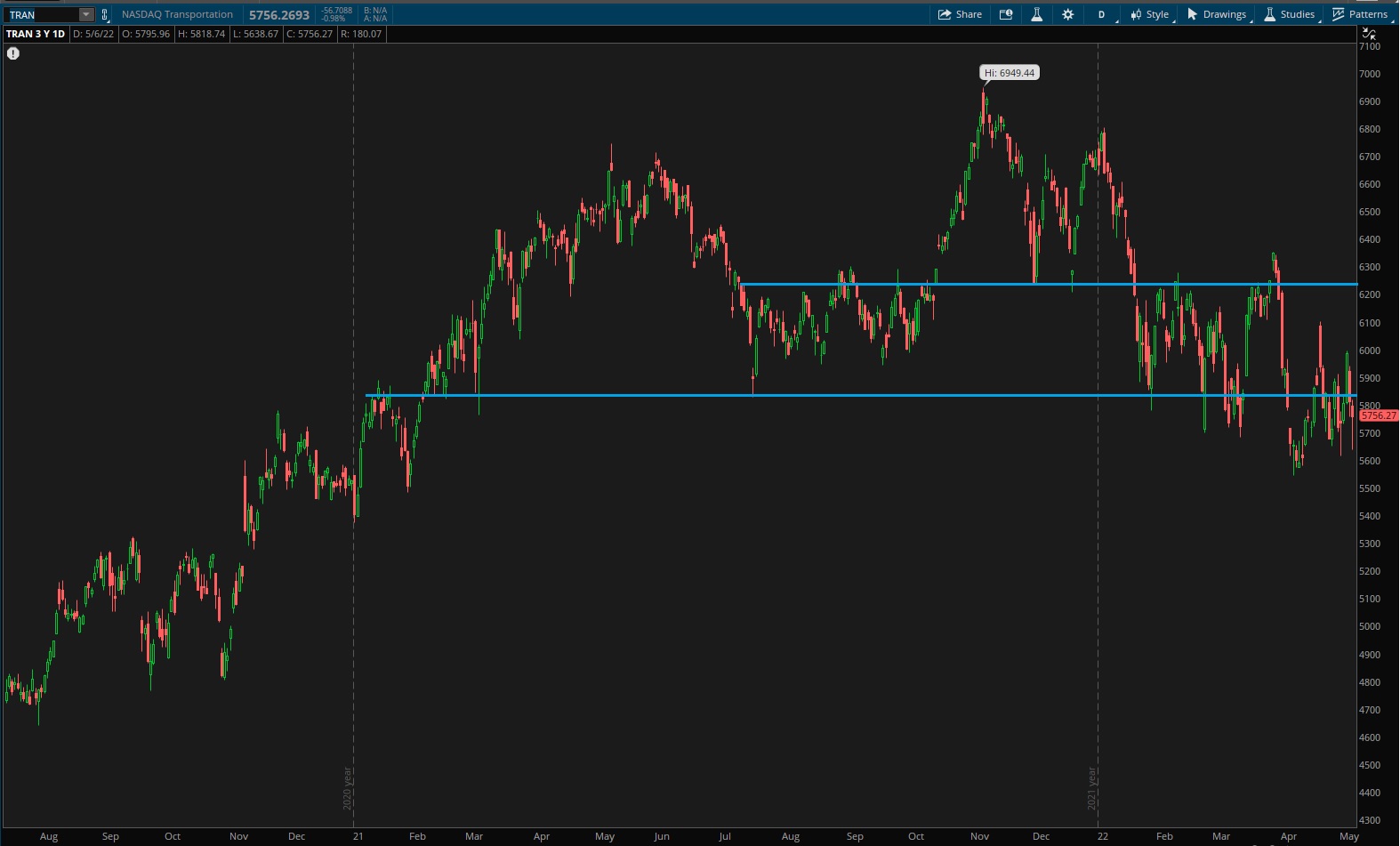 Semiconductors seem to be building energy down at range low. The next explosive move could be soon. Range is still in play.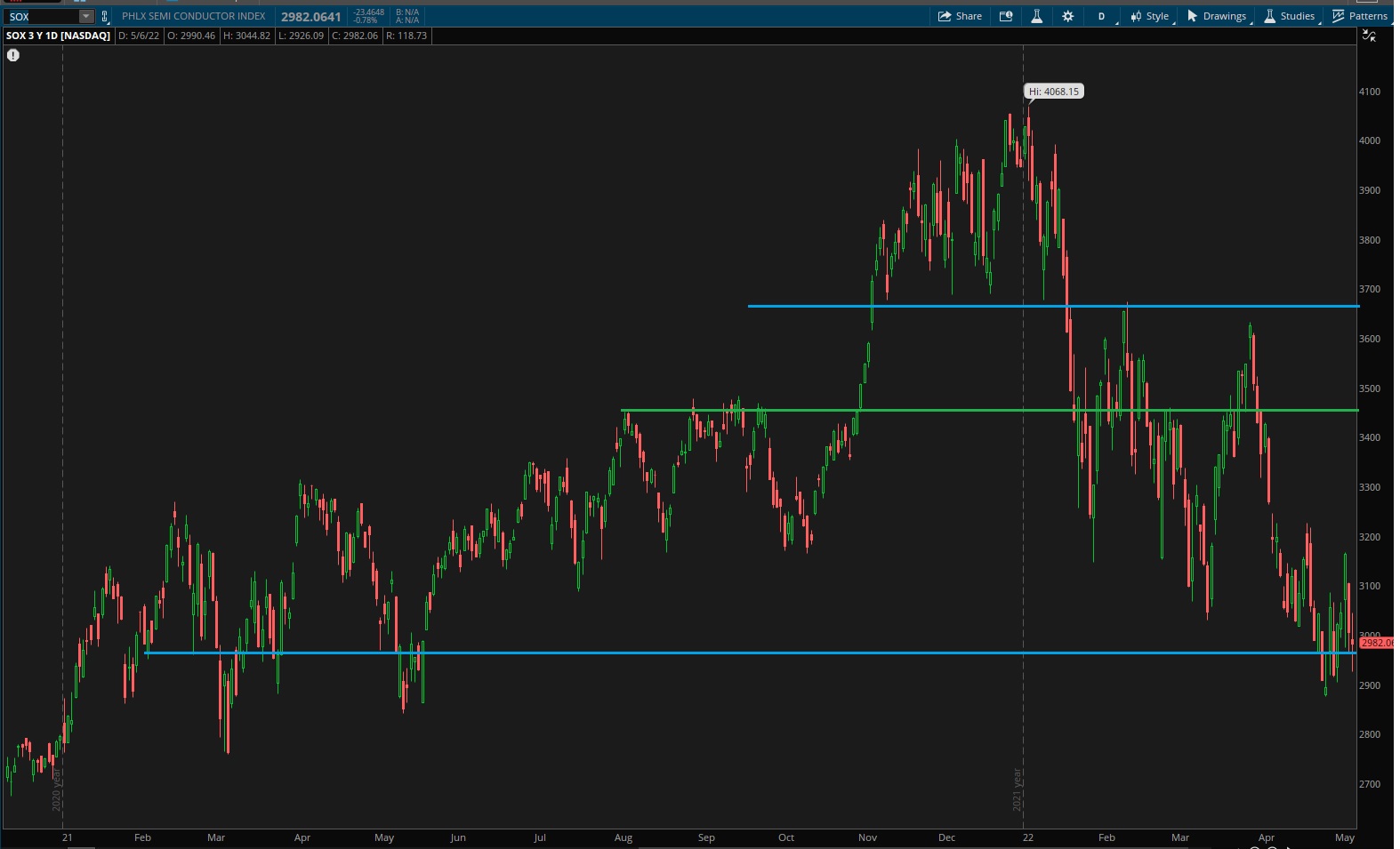 Ether looking less bullish than it had in prior weeks, but is still in range.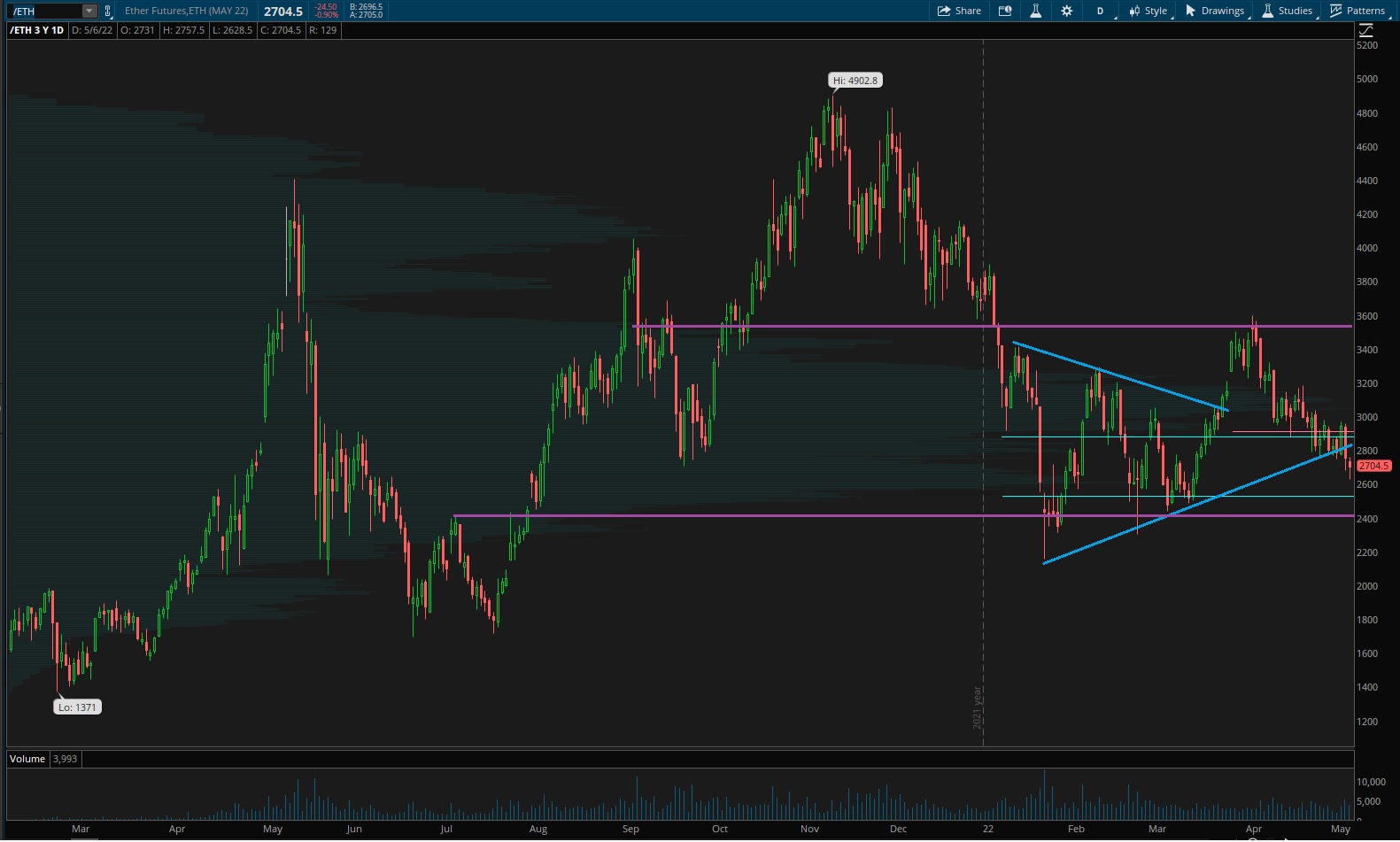 V. INDEX MODEL
Bias model is neutral for a second consecutive week after going Bunker Buster two weeks back after three consecutive rose colored sunglasses bearish signals after two consecutive weeks of extreme RCS bullishness.
We've had three Bunker Busters in recent history, two weeks ago, fifteen reports back and a third twenty-three reports back. The Bunker Buster before these recent three was sixty one weeks ago.
Here is the current spread: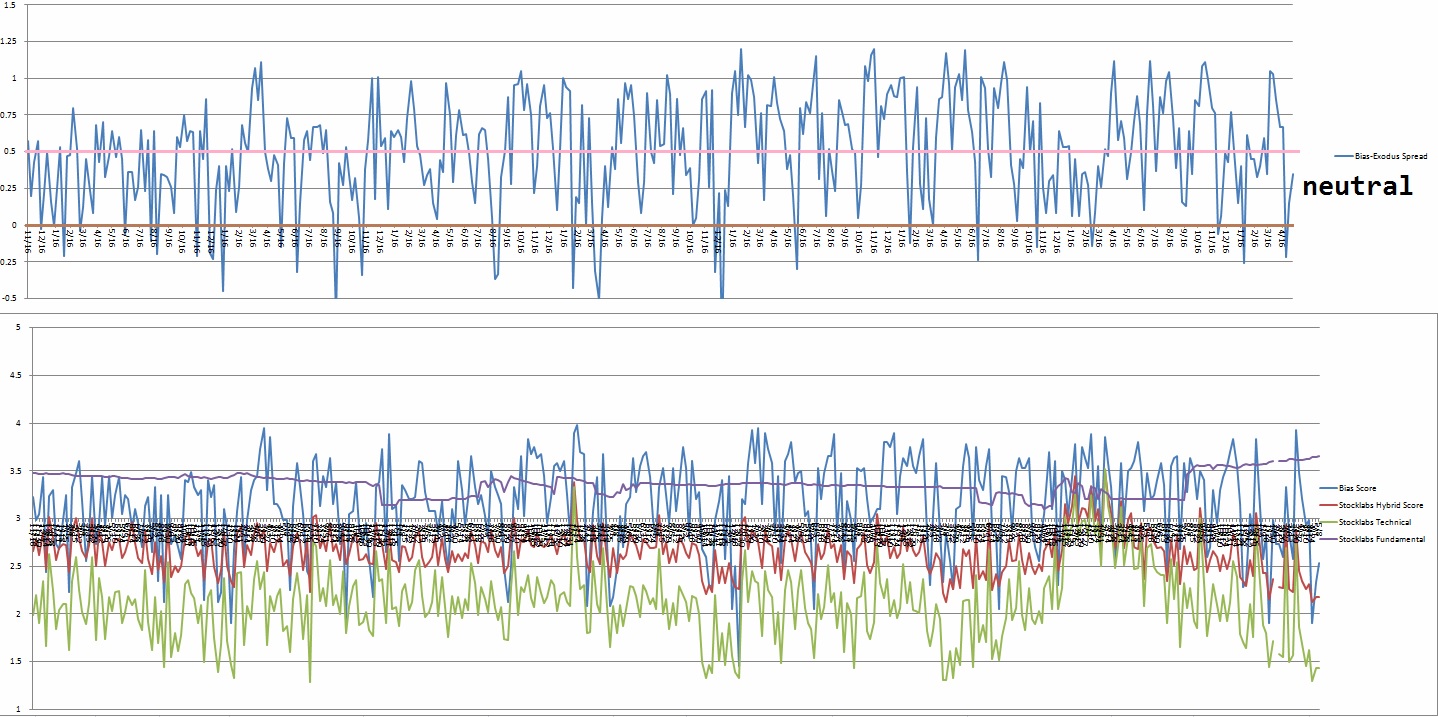 VI. 12-month Technical Oversold
On Friday, April 22nd Stocklabs signaled hybrid oversold on the 12-month algo. This is a 10-day bullish cycle that runs through Friday, May 6th. Here is the final performance of each major index over the cycle: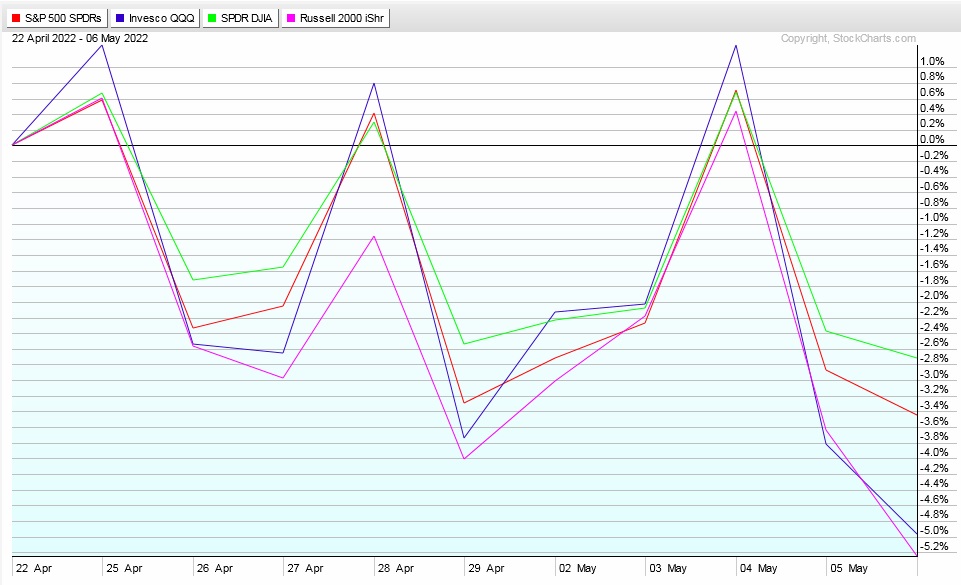 VII. QUOTE OF THE WEEK:
"What matters to an active man is to do the right thing; whether the right thing comes to pass should not bother him." – Goethe
If you enjoy the content at iBankCoin, please follow us on Twitter