Walked around Anned Arbored yesterday wearing a Stocktwits cap and it sparked a few conversations about the markets. Interesting discord with intelligent youths curious about the state of this leaky old ship.
Ann Arbor on the first warm Saturday in April, after the Friday before featured 35 degree overcast, was a vibe.
Sometimes, when you're so deeply emerged in a dystopian hellscape like post-industrial Detroit you forget there are people who live on nice hills nearby clean rivers they can swim in whilst academic types develop their intellect at an institution of learning that keeps the barbarians at bay.
I like both settings. I feel like a tomcat with total freedom inside Detroit. In Ann Arbor, I am a student. An observer and sponge.
The whole town is like a giant Abercrombie and Fitch commercial lolz. Homos.
Folks are freaked out. They've been averaging into names like Nvidia that they assumed with sound money. I'm telling you—the whole crypto/nft movement really skewed the younger generations idea on risk. They look at individual tickers like they're t-bills. Set and forget.
Whatever and moving on.
We are bunker buster for the third time in recent history. Either the whole shit house is about to go up in flames or we'll look back on these days come the FOURTH OF JU-LY and be like, "Look at that obvious move off the lows."
I plan to average into the great next week. Perhaps earnings will help create better entry points. I normally buy a little before and after earnings, to average my price between the binary moment.
Thus we ought to be hella aware of the fact that some of the greatest investments in the world are set to report earnings next week.
I shall plan my buys accordingly.
Okay for now mfs. Godspeed and trade them well.
Raul Santos, April 24th, 2022
And now the 383rd edition of Strategy Session.
---
Stocklabs Strategy Session: 04/25/22 – 04/29/22
I. Executive Summary
Raul's bias score 1.90, STRONG BEAR*. Sellers continue the pressure the tape early in the week. At some point a sharp, excess low forms and the auction reverses higher.
Big Tech earnings on the docket: Microsoft and Alphabet (Google) Tuesday after the bell. Meta (Facebook) Wednesday after the bell. Apple and Amazon Thursday after the bell.
*Bunker Buster triggered, see Section V.
II. RECAP OF THE ACTION
Strength through early Thursday. Heavy selling Thursday morning through Friday to effectively erase the week's gains.
The last week performance of each major index is shown below:
Rotational Report:
Fifth week of bearish rotations. Slight bullish divergence from Staples.
bearish
For the week, the performance of each sector can be seen below: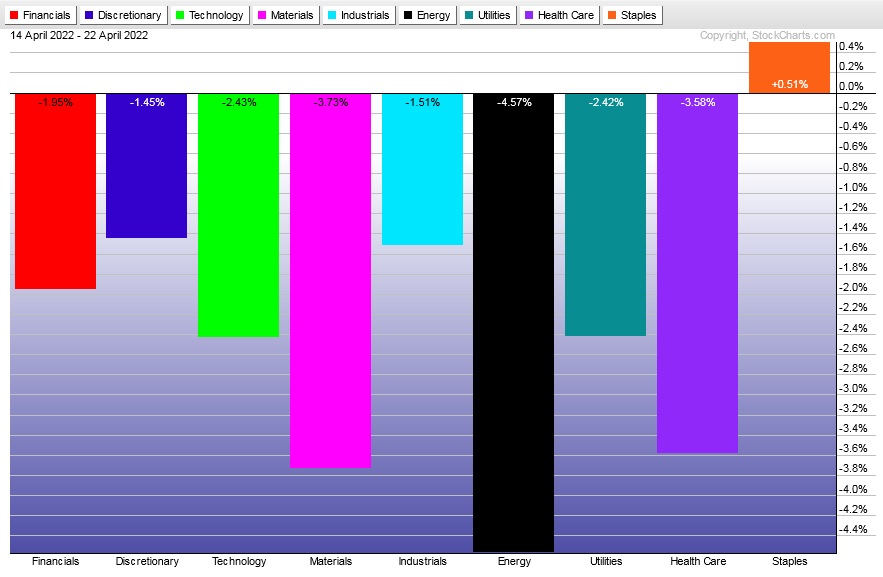 Concentrated Money Flows:
Bulls took back control of money flows six weeks back after sixteen weeks dominated by sellers, dating back to mid-November.
But then three weeks ago sellers negated that control.
Last week's money flows were again sellers dominated, however a few interesting cyclical industries managed to populate the positive side of the ledger. Transports and Lumber.
slightly bearish
Here are this week's results:

III. Stocklabs ACADEMY
Signals sort of lined up for a low to form
We have a bullish 12-month oversold cycle as of Friday and it will run into May.
We also have Bunker Buster. The third in recent history. Either the whole house is about to go up in flames, or this one could mark the low as we head into summer.
I have not actively traded futures this year. I have been rebuilding my emotional confidence and putting my affairs in order. Things have to be immaculate for me to make 30-40 trades in the span of a few hours.
And I just haven't been there mentally.
Regardless, even if I were day trading, I would not be day trading the upcoming week. The Bunker Buster has been a difficult signal for me to trade historically.
Sometimes it seems like the low is in, then we keep plunging lower.
Other times the low prints Monday morning and I'm sitting there, fighting the tapes up move, shorting, until I finally hit my weekly stop.
Nope.
I have found Bunker Buster weeks are the best time to audit my long-term book and decide which companies I will still be holding stock in ten years from now. Then I add some fresh capital to those names.
Dollar cost averaging into my favorite names and waiting for prevailing conditions to return.
Sticking to the process has kept me in this game for over a decade. This research. Morning reports. Dollar cost averaging when indexmodel goes Bunker Buster.
No sense in changing things now.
Note: The next two sections are auction theory.
What is The Market Trying To Do?
Week ended searching for buyers.
IV. THE WEEK AHEAD
What is The Market Likely To Do from Here?
Weekly forecast:
Sellers continue the pressure the tape early in the week. At some point a sharp, excess low forms and the auction reverses higher.
Bias Book:
Here are the bias trades and price levels for this week:

Here are last week's bias trade results:

Bias Book Performance [11/17/2014-Present]: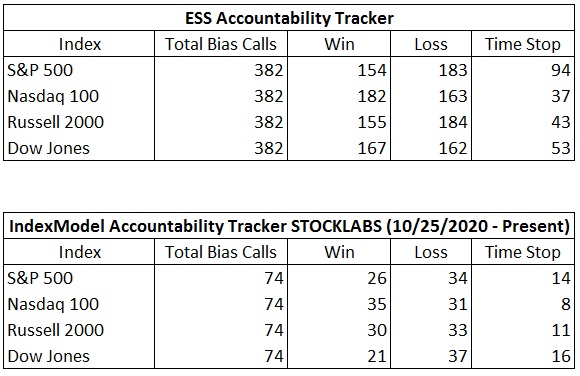 Still on the edge
Markets fluctuate between two states—balance and discovery. Discovery is an explosive directional move and can last for months. In theory, the longer the compression leading up to a break in balance, the more order flow energy to push the discovery phase.
Market are most often in balance.
Every week this newsletter uses auction theory to monitor three instruments, the Nasdaq Transportation Index, PHLX Semiconductor Index and ethereum. Readers are encouraged to apply these techniques to all markets.
Transports saw a bit of gains last week. They are still on the edge of range low, but looking a bit stronger than semiconductors. Primary expectation is for range low to hold in the upcoming week.
See below: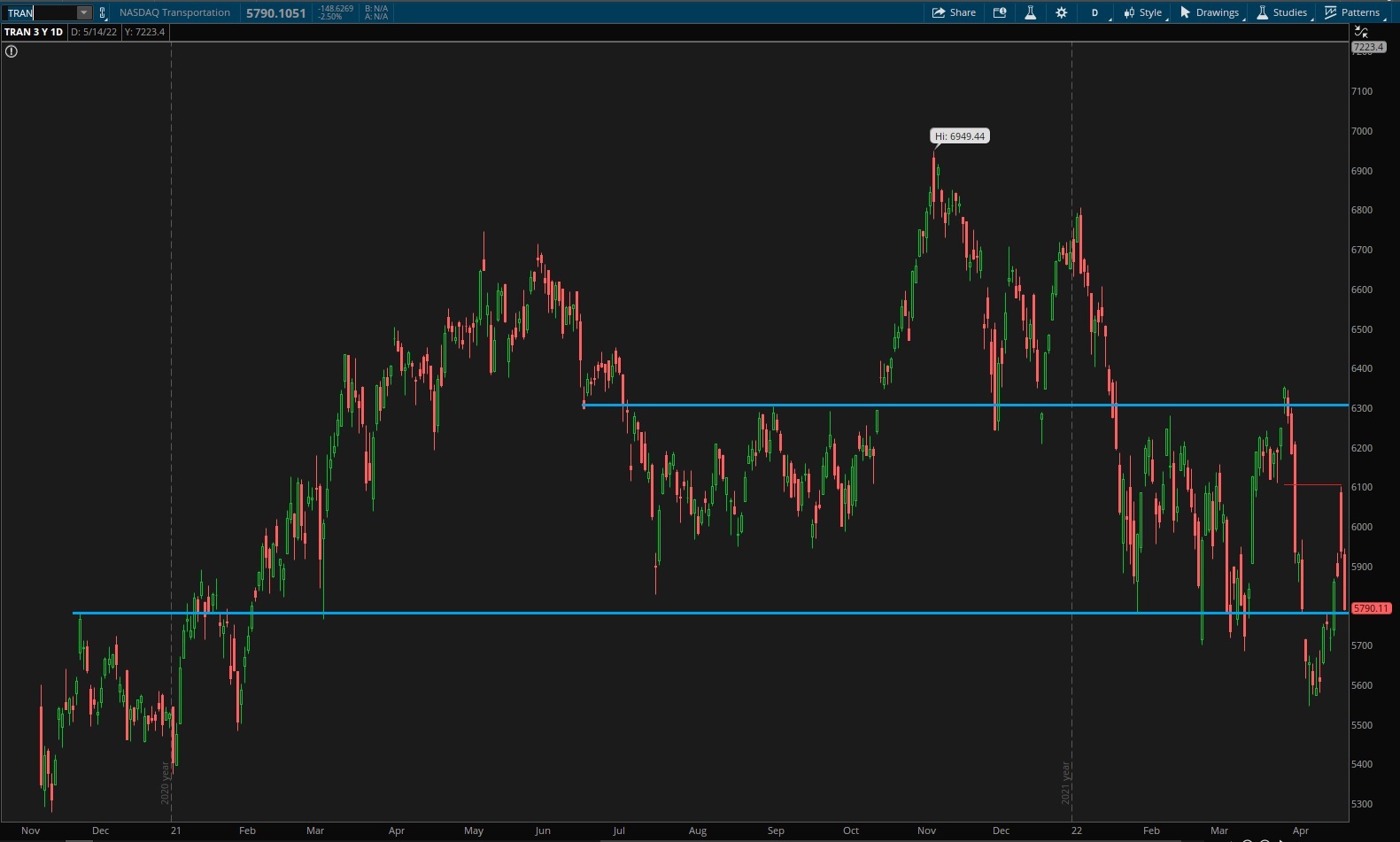 Semiconductors look really iffy. They are coming into the week with sellers in the driver's seat, pressing out of range. This chart is likely to snap back up into range at some point next week. But if it doesn't the entire secular bull market comes into question.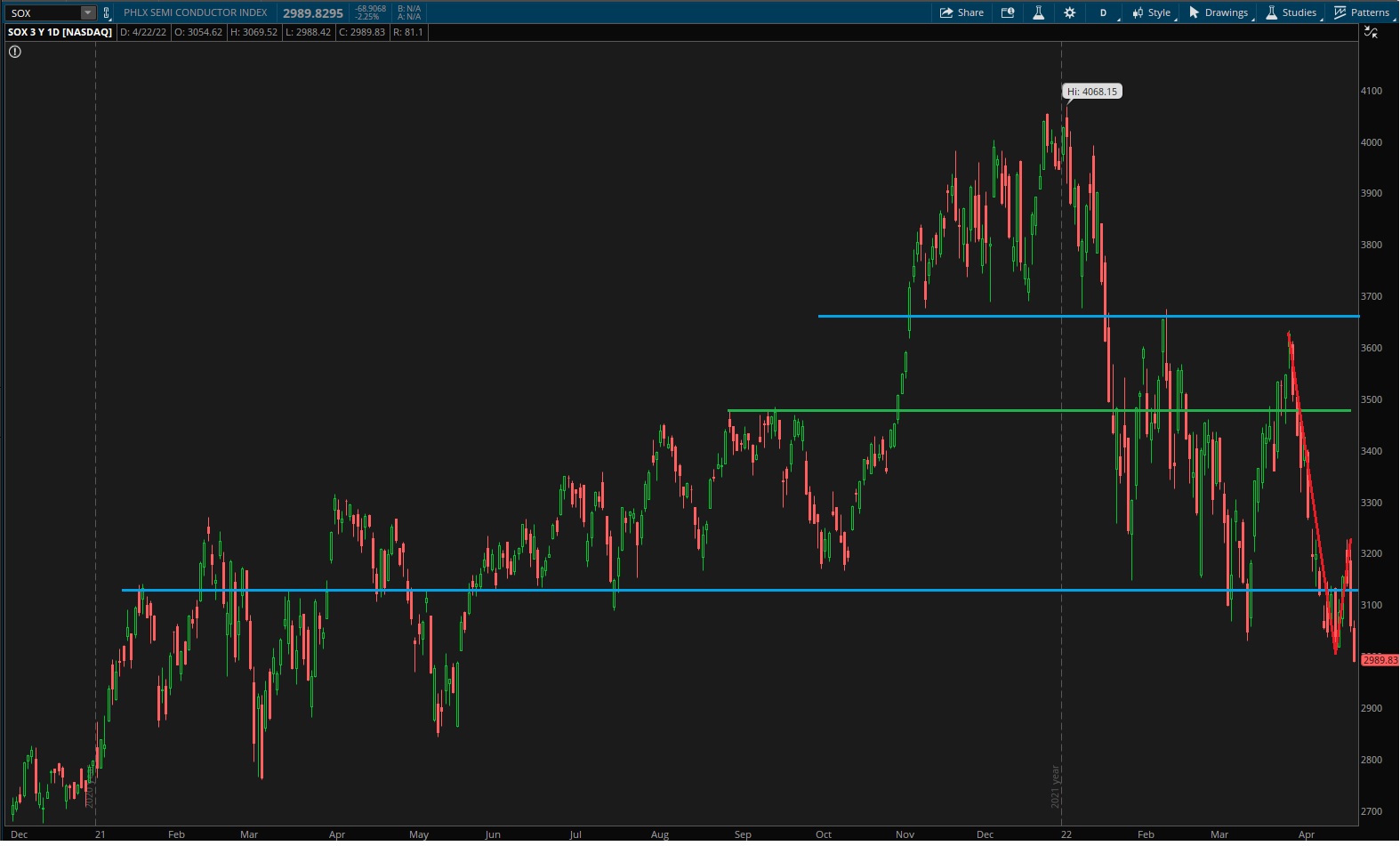 Ether still looks slightly healthier than the above two contextual charts. Interesting bullish divergence from an extremely volatile risk asset.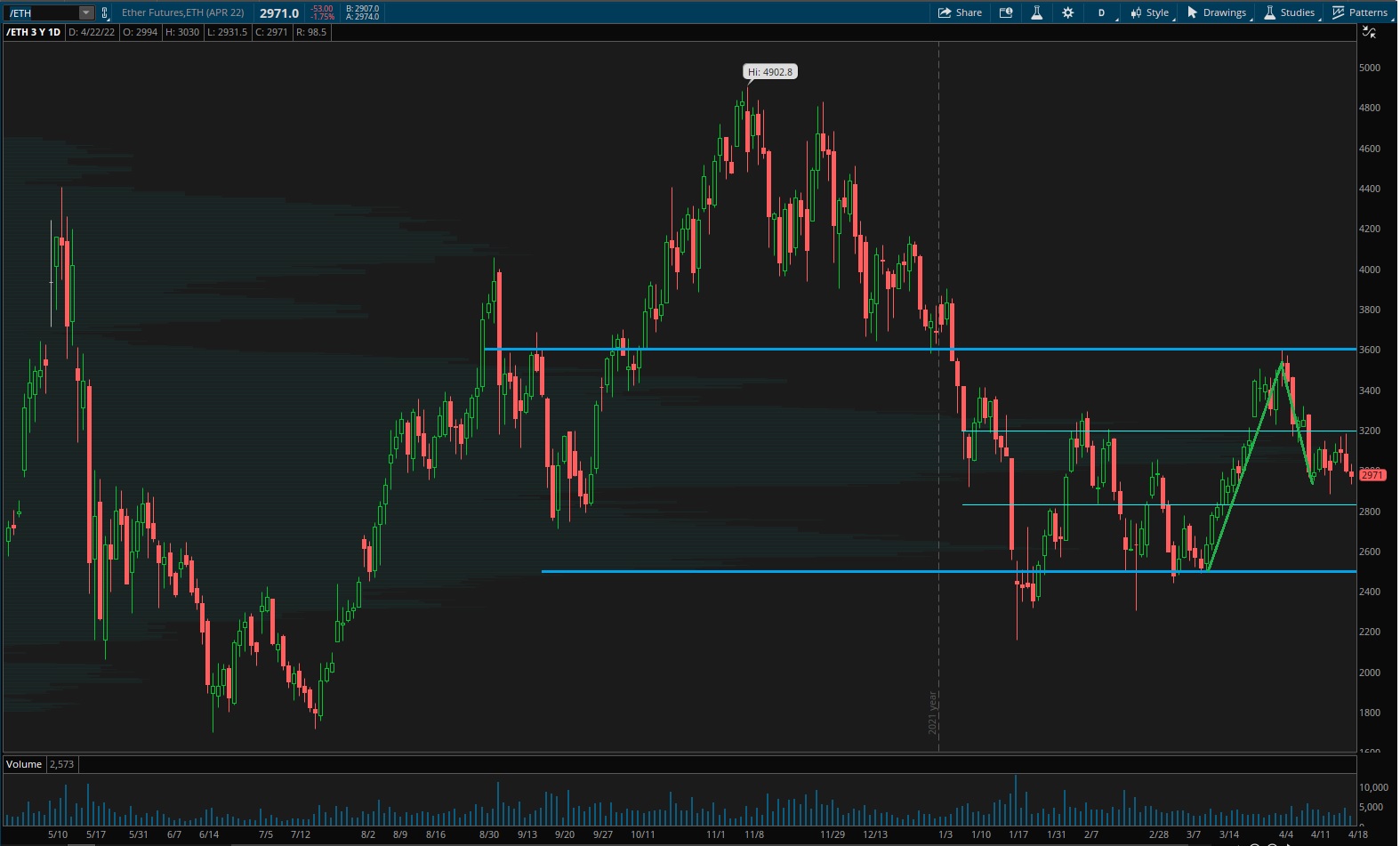 V. INDEX MODEL
Bias model is Bunker Buster after three consecutive rose colored sunglasses bearish signals after two consecutive weeks of extreme RCS bullishness.
Bunker Buster calls for an acceleration to the downside that eventually forms a sharp, excess low that holds and can be leaned upon by bulls going forward.
We were Bunker Buster thirteen reports back. This was the second Bunker Buster in recent history, with the previous one being twenty-one reports back. The Bunker Buster before these recent two was fifty-nine weeks ago.
Third time is the charm?
Here is the current spread: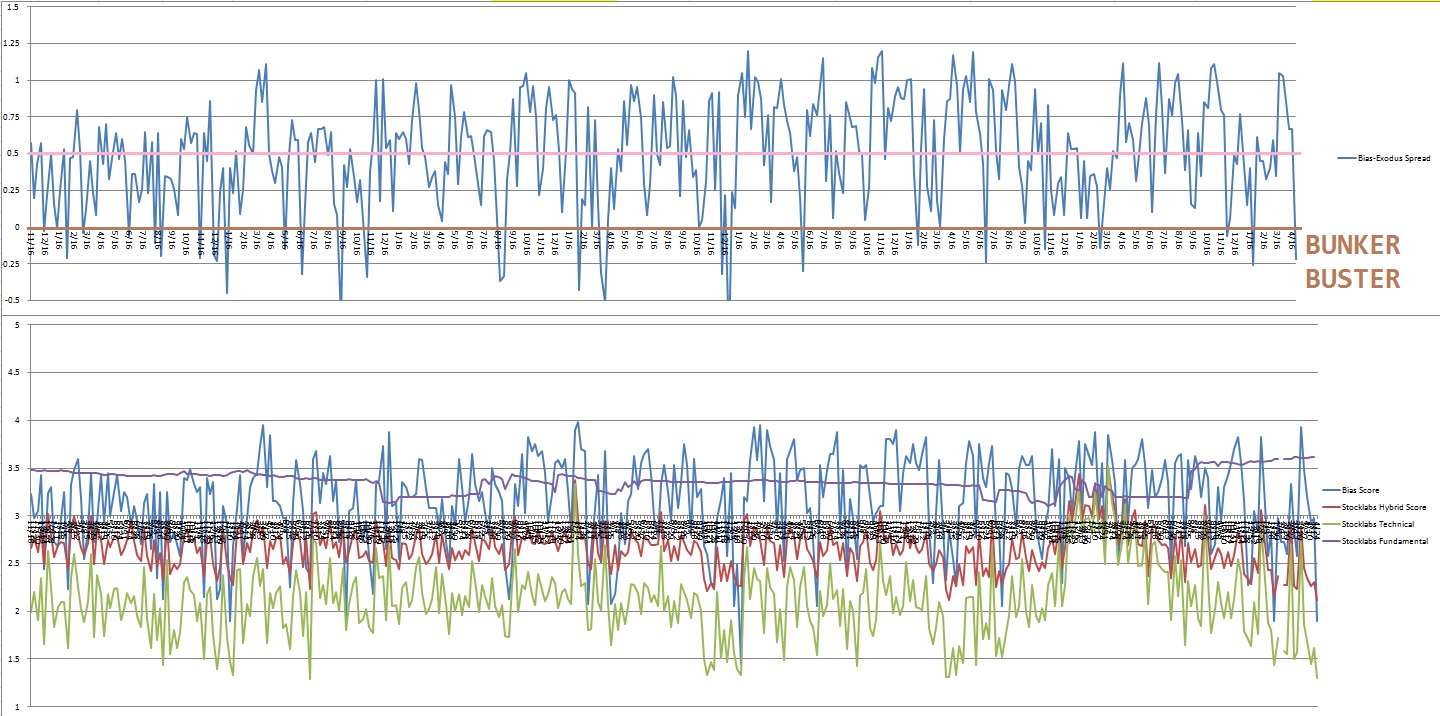 VI. 12-month Technical Oversold
On Friday, April 22nd Stocklabs signaled hybrid oversold on the 12-month algo. This is a 10-day bullish cycle that runs through Friday, May 5th.
VII. QUOTE OF THE WEEK:
"If I am not for myself who will be for me? If I am only for myself, who am I?" – Hillel
Trade simple, don't be selfish
If you enjoy the content at iBankCoin, please follow us on Twitter