I was thinking back to December today. I went down to Miami beach, to art basel, and I was actually pretty low on cash at the time what with the holidays and just the timing of life, etc, etc.
But I wanted the dang Pudgy Penguins t-shirt they were giving out, and I wanted to drink my fair share of the free gin. NFTs are not all the same. Some do their best to offer utility. I would hardly say Pudgy Penguins "did their best" but I will say that having a free party with hootch is a value to me, because I can drink like a sailor.
Meeting internet people in real life is always weird. This one dude was so hopeful for the penguins and his wife was with him and I told him with cold indifference that we were entering a bear market and it was going to last four years. I saw the fear in his eyes, and his wifes. Who was this pony tailed pretty mother lover? Talking greasy and drinking gin?
A few weeks later I hosted a meetup at the request of Stocktwits. I don't particularly enjoy hosting these events so I do my best to make it worth while for myself. I put together a presentation called Terrific Bubbles. They give me a mic, and I spent an hour talking about how we were in a raging speculative bubble, and that's fine, and investing at these levels is FINE. If, and only if you stick to quality. Basically pointing out how buying Microsoft or Apple at the pico-top of the dot com bubble was still a huge win as long as you didn't fumble the bag.
The same is true in NFT. So so many of them are worthless. Yes. But there are a select few that are absolutely not worthless and are the biggest opportunity for a normal joe to make life-changing money.
Everyone wants to invest in the next Uber or whatever. But actually doing that. In america. In 2022 is not possible. The fucking SEC puts up walls that only allow the already rich to take on these type of investments. Accredited Investors. Series A. B. C. D. Fuck you poor mother fucker you buy UBER or RIVN only when the rich fuckers are ready to cash out onto the public markets.
Serious bullshit. I'd rather spend six hundred fiat to mint a picture of a deer smoking a blunt and shooting rednecks then buying some silicon valley VCs bags on IPO day.
So a few of these NFT projects are the next Meta or Microsoft or something. And anyone can participate. And they potential payoff is massive.
The rest are going to drift very close to about 0.02eth.
My plan for the week is to press longs through Wednesday then take a defensive posture.
If we sell hard Monday-Wednesday, then I'll likely do nothing. Just sort of sit and take the beating. But if we have some strength early in the week I will look to lighten up on a few things and initiate an SQQQ position. Very slowly. I am not in a hurry to do this. There is a massive rally lurking in the shadows here. We are quite overdue. And there is nothing worse than being on the wrong side of one of those. Both for your financial well being and for emotional health.
Okay for now I have to boogie.
Raul Santos, March 06th, 2022
And now the 377th edition of Strategy Session.
---
Stocklabs Strategy Session: 03/07/22 – 03/11/22
I. Executive Summary
Raul's bias score 2.85, neutral*. Bulls put together a rally through Wednesday. Then look for sellers to step back in and pressure the tape back down to recent lows. Watch for CPI data due out Thursday morning to introduce sellers to the tape.
*Rose Colored Sunglasses bearish bias triggered, see Section V
II. RECAP OF THE ACTION
Choppy with a slight upward bias through Wednesday, then sellers pressured the tape through Thursday. Price stabilized Friday and chopped along the weekly lows.
The last week performance of each major index is shown below: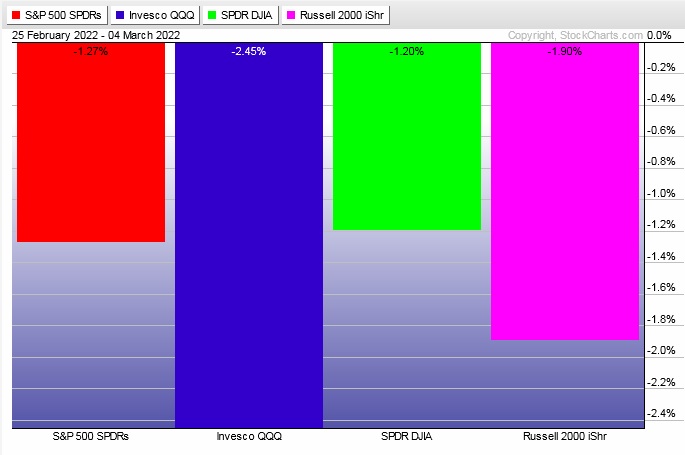 Rotational Report:
Another bearish set of weekly rotations. Energy is all over the place. Utilities are strong. Tech and discretionary are weak.
bearish
For the week, the performance of each sector can be seen below: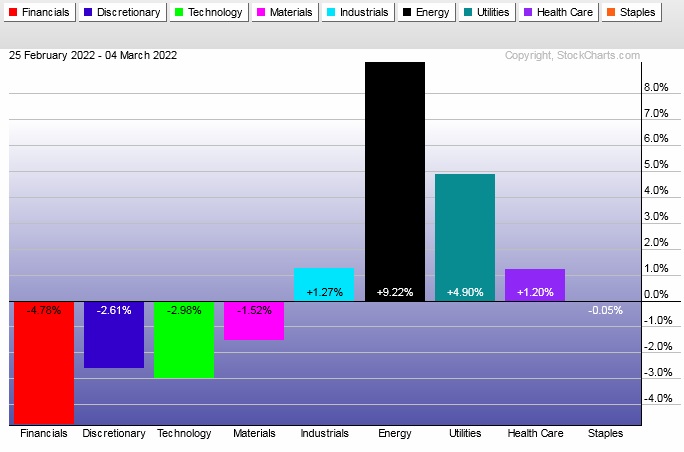 Concentrated Money Flows:
Money flows have been dominated by sellers for the last fifteen weeks.  There have been a few slightly positive skews in recent weeks but nothing strong enough to negate the selling.
Last week's money flows were again dominated by sellers.
bearish
Here are this week's results:

III. Stocklabs ACADEMY
Combining two signals into one cohesive strategy
Rose Colored Sunglasses calls for five days of selling. However, we have three days left in the Stocklabs oversold cycle that began February 23rd. These two factors are what drove me to write an executive summary calling for some strength/rally through Wednesday, then selling pressure into the weekend.
Note: The next two sections are auction theory.
What is The Market Trying To Do?
Week ended searching for sellers
IV. THE WEEK AHEAD
What is The Market Likely To Do from Here?
Weekly forecast:
Bulls put together a rally through Wednesday. Then look for sellers to step back in and pressure the tape back down to recent lows. Watch for CPI data due out Thursday morning to introduce sellers to the tape.
Bias Book:
Here are the bias trades and price levels for this week:

Here are last week's bias trade results:

Bias Book Performance [11/17/2014-Present]: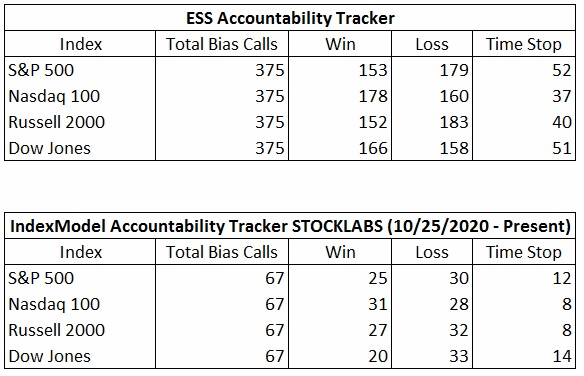 Semiconductors looking murky
Markets fluctuate between two states—balance and discovery. Discovery is an explosive directional move and can last for months. In theory, the longer the compression leading up to a break in balance, the more order flow energy to push the discovery phase.
Market are most often in balance.
Every week this newsletter uses auction theory to monitor three instruments, the Nasdaq Transportation Index, PHLX Semiconductor Index and ethereum. Readers are encouraged to apply these techniques to all markets.
Transports have a fairly clear balance inside another balance.
See below: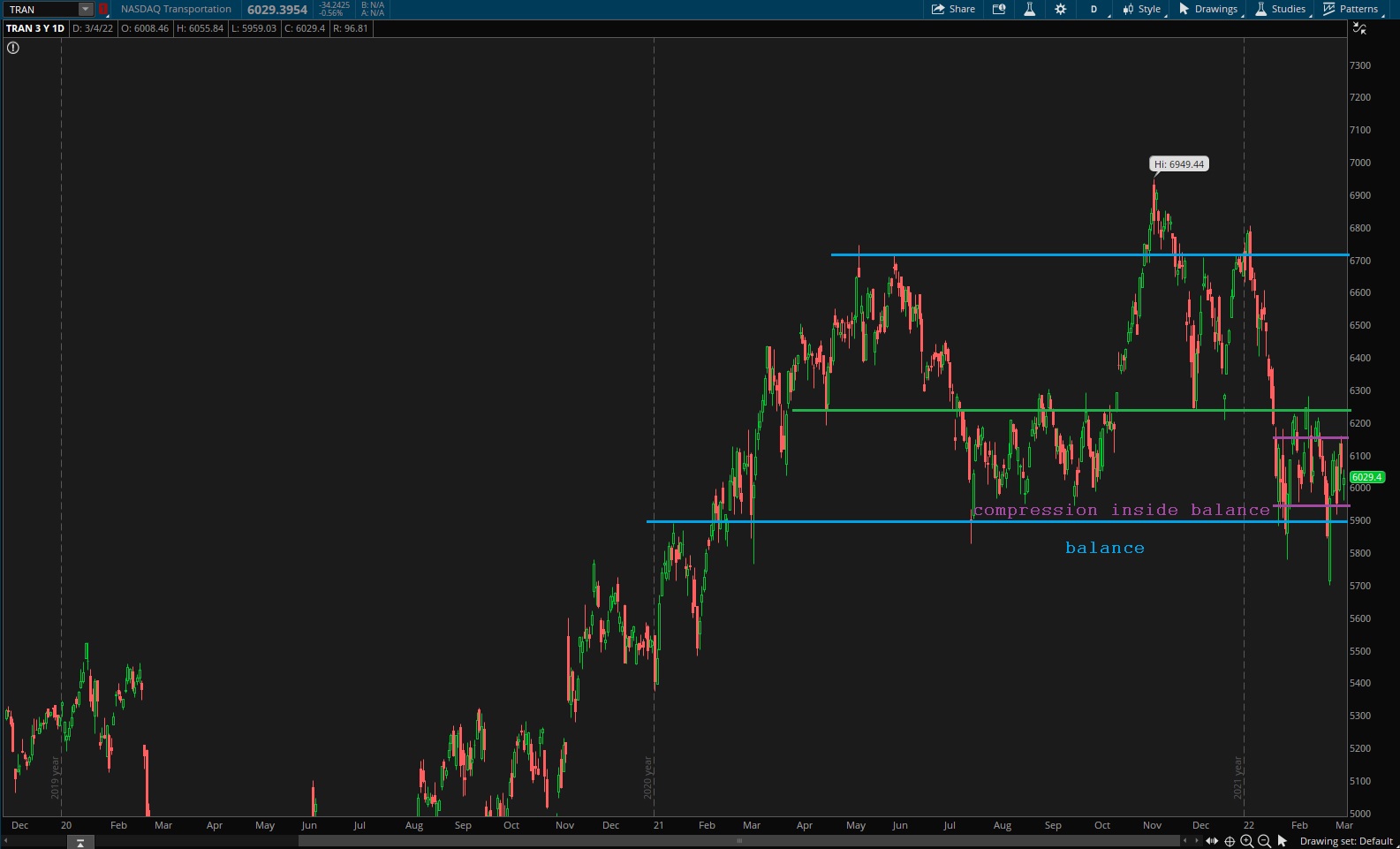 Semiconductors might have balance also, but the Thursday Friday action was seller dominated and that gives the chart a discovery down look. Hard to call it either way. Ranges tend to hold, but the current picture looks right for setting up a lower low.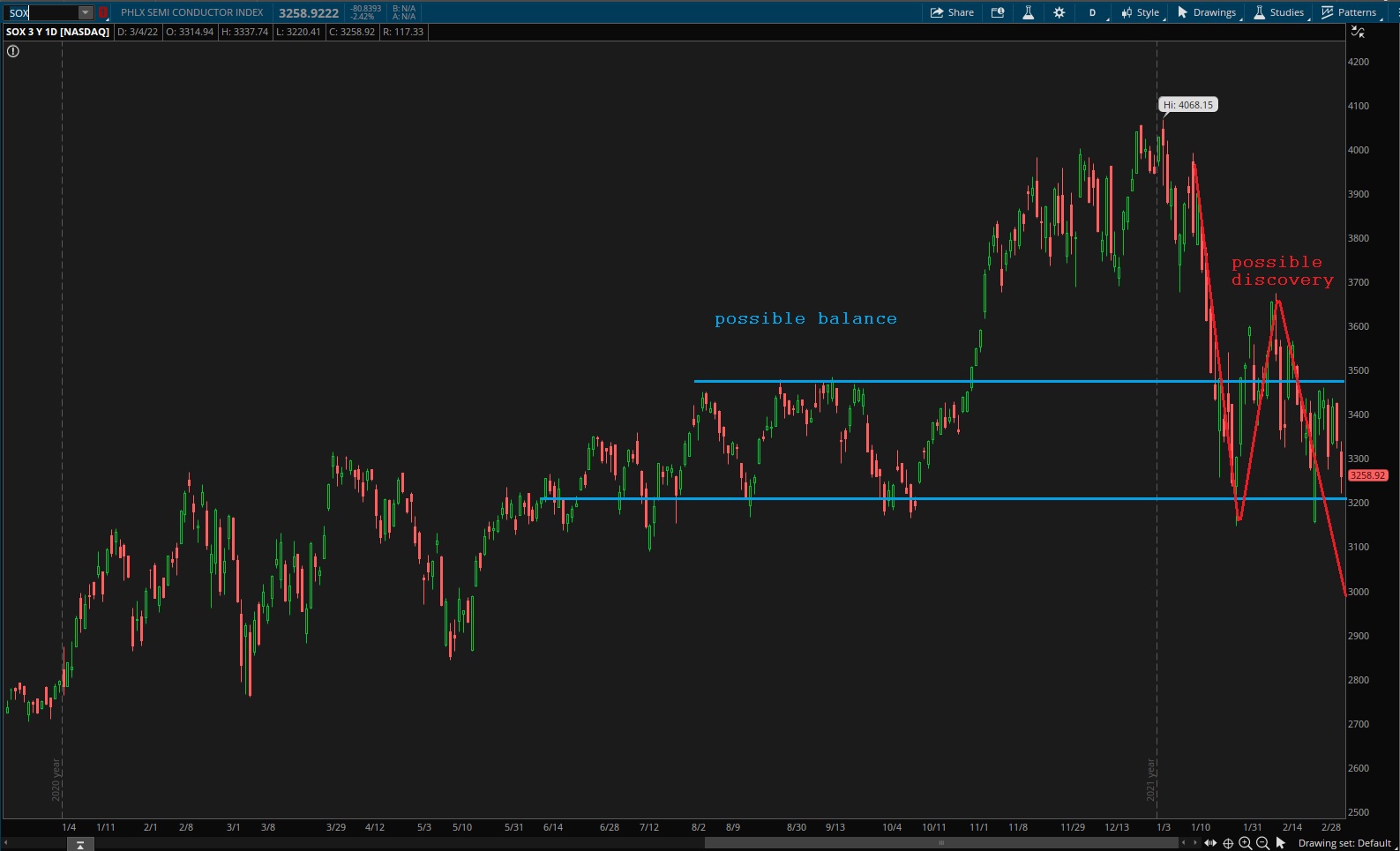 Ether is also a bit murky. Nice compression/balance. Let's stick with that until we see a major change.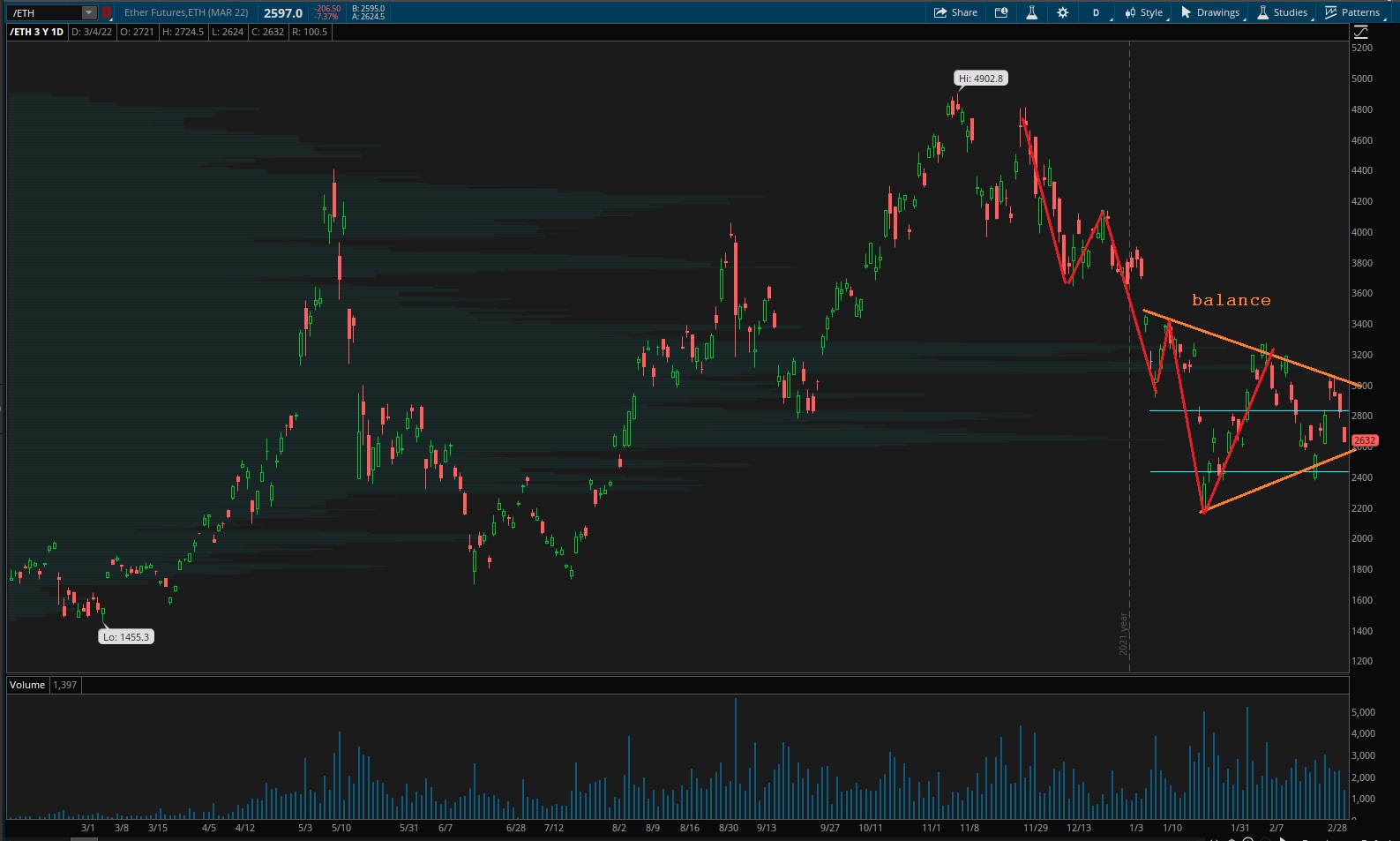 V. INDEX MODEL
Bias model is signaling Rose Colored Sunglasses bearish. The model was neutral for the three weeks prior. We were Bunker Buster six reports back. This is the second Bunker Buster in recent history, with the previous one being fourteen reports back. The Bunker Buster before these recent two was fifty-two weeks ago.
Interesting…
Model is bearish heading into next week. Calls for selling pressure throughout the week.
Here is the current spread: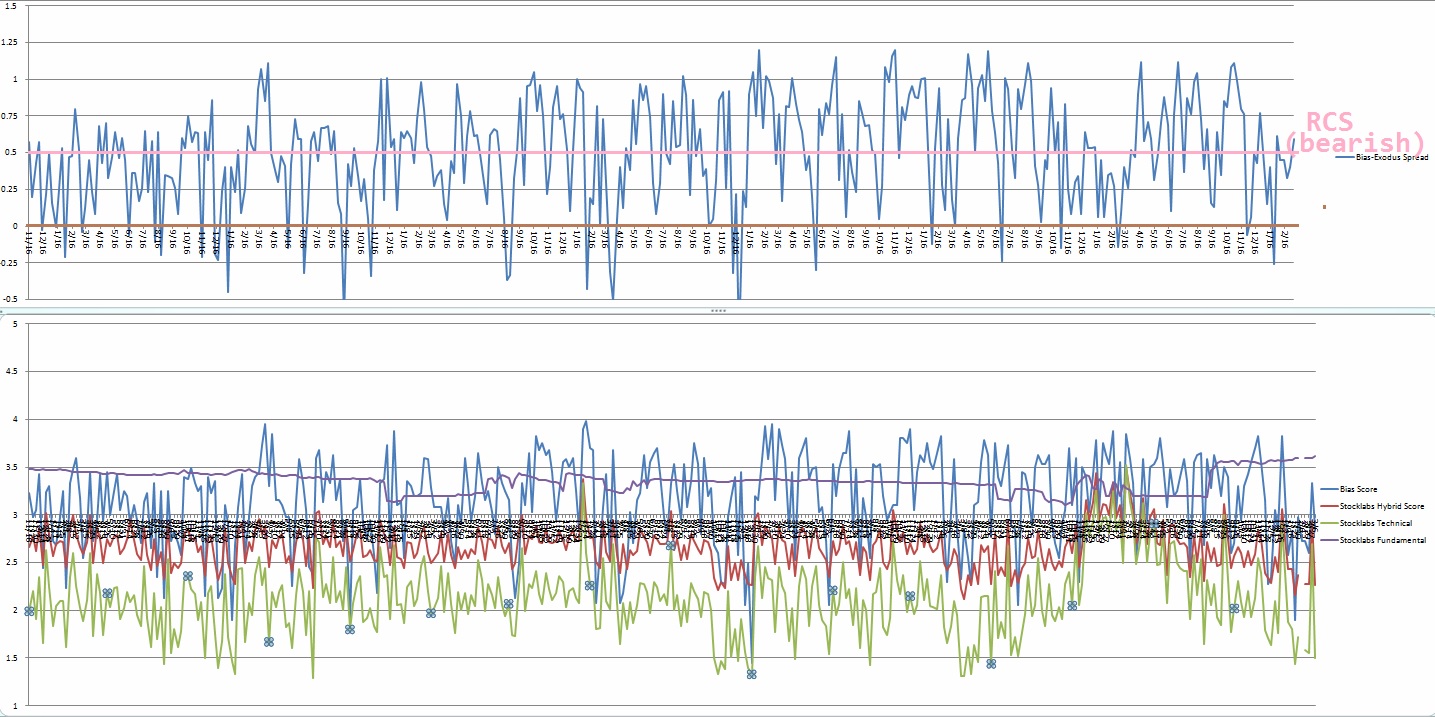 VI. 12 month Hybrid Oversold
On Wednesday, February 23rd Stocklabs went hybrid oversold on the 6- and 12-month algo. This is a ten day bullish cycle that runs through Wednesday, March 9th, end-of-day. Here is the performance of each major index so far: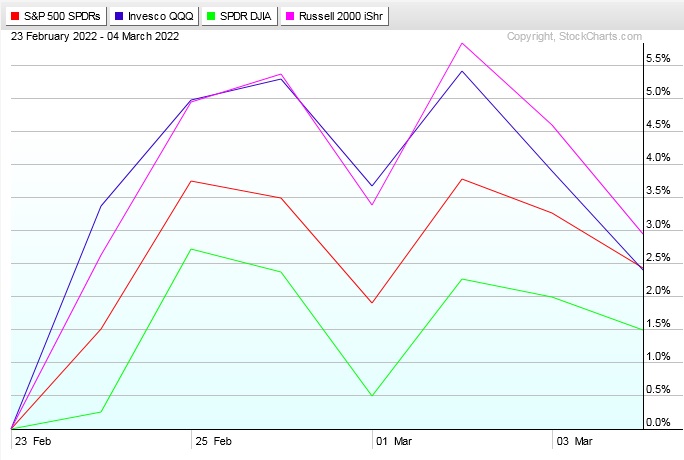 VII. QUOTE OF THE WEEK:
"One cannot discover new lands without consenting to lose sight, for a very long time, of the shore" – Andre Gide
Trade simple, explore new techniques
If you enjoy the content at iBankCoin, please follow us on Twitter