Canned water dealer Liquid Death hired a real-life witch to cast a hex on the Rams during tonight's Super Bowl match up.
How far have we strayed from the god of christian lore? Throughout the sports game a witch will be cursing those holy Rams and their Matthew Stafford, summoning the powers of bealzibub in the name of profit and marketing.
Contrary to the bets of football gamblooors, my fate rests in the hands of algorithms cobbled together by a ragtag group of online misfits. Said algos have me leaning bullish into a super intense week. When fortuna's wheel spins, I prefer to have my footing on solid ground — not superstitions. I'd rather base my gambles on whale migrations that god or the devil.
Moving on…
Some attention-hungry DC journalists starting tweeting out some real greasy INVASION tweets Friday afternoon, spooking the already spooked markets more than they already were.
NEWS: The U.S. believes Putin has decided to invade Ukraine and communicated those plans to the Russian military, three officials tell @nickschifrin. Two admin officials say they expect the invasion to begin next week—echoing what Secretary of State Blinken has said.

— Geoff Bennett (@GeoffRBennett) February 11, 2022
Tensions are running high economically and geopolitically — one in the same.
The last thing we need is a battle. What this world needs right now is calmer, darker minds to prevail. The Rasputins of the world. Folks who drink reindeer piss and wander around talking to trees.
If these power-hungry meat-hounds keep up this cock-measuring contest. We'll all be fucked. Living underground, fighting off radiation wolves and eating Raul's pumpkins.
I intend to take the week slowly.
There are hot trader accounts on twitter who swear by actively trading these highly volatile markets. I tend to step aside and let them mash each-other's books. Then, once the storm recedes, I sort of drift back in and pick up the pieces.
The nice thing is I still don't have my tools. So I don't feel pressured to take action.
I made an error last week. Shooting from the hip in the NASDAQ futures market. It worked out and I captured two stacks of fiat american dollars. That is trouble. I SHOULD not and WILL not trade like that again.
I suppose I am cautiously bullish with an eye on capital preservation?
Okay for now.
Raul Santos, February 13th, 2022
And now the 3745th edition of Strategy Session. You know it's getting dodgy when the Marcus Aurelius quotes come out.
---
Stocklabs Strategy Session: 02/14/22 – 02/18/22
I. Executive Summary
Raul's bias score 2.73, neutral. No clear bias. Perhaps a rally early in the week. Then look for the reaction Thursday morning (after Nvidia and Walmart earnings) to dictate direction into the weekend (long holiday weekend, markets are closed next Monday in observation of President's Day).
II. RECAP OF THE ACTION
Choppy through Tuesday. Rally Wednesday. Reversed lower Thursday and hard selling through Friday and into the weekend.
The last week performance of each major index is shown below: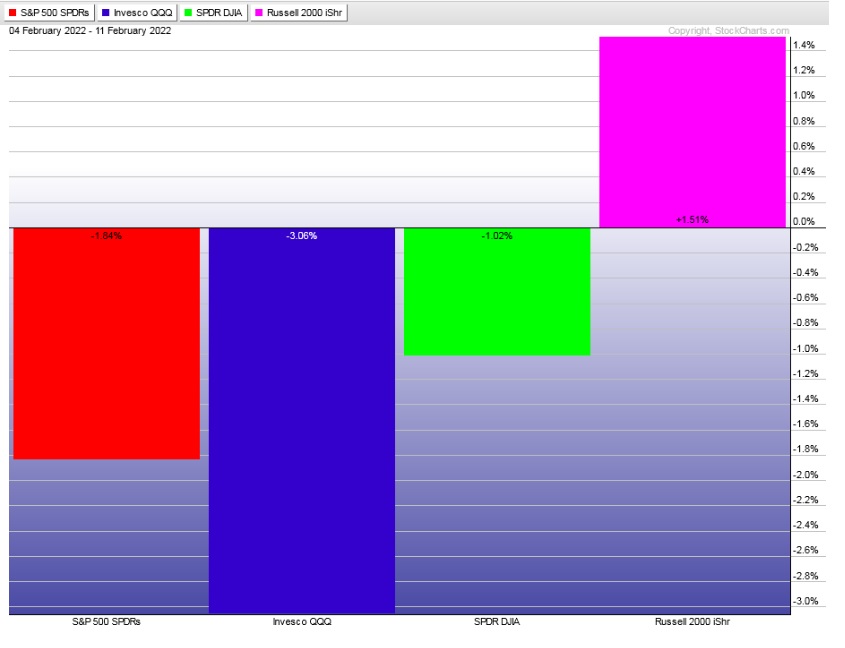 Rotational Report:
Key Tech and Discretionary under pressure. Energy continues to trade independent of the equity complex. Financials flat as investors eye rate hikes.
slightly bearish
For the week, the performance of each sector can be seen below: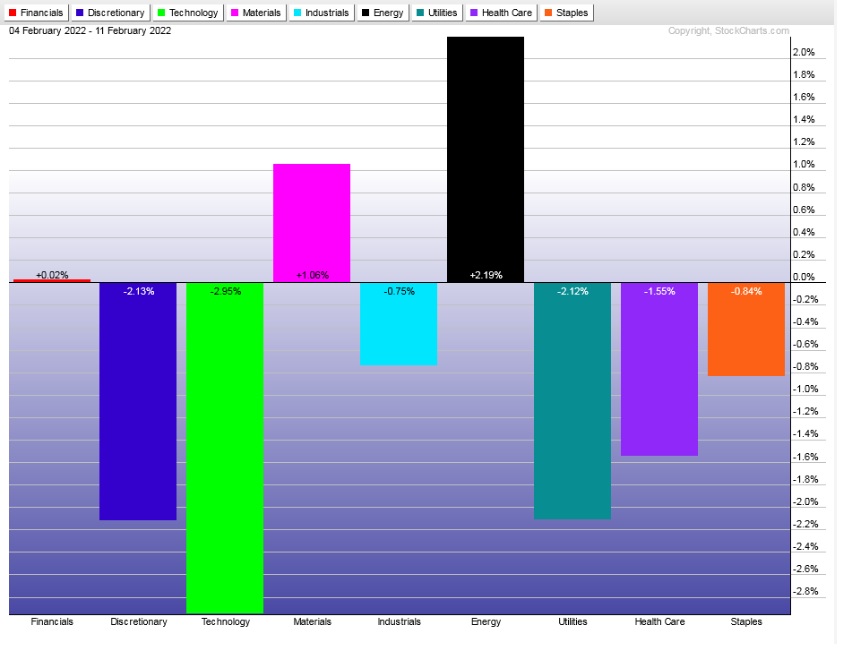 Concentrated Money Flows:
The selling skews over the last thirteen weeks have been dominated by sellers. Last week buyers skewed the ledger but these aren't really the type of industries that drive the market.
slightly bearish
Here are this week's results:

III. Stocklabs ACADEMY
Geopolitical risk elevated
We operate independent of news as much as possible. But one cannot simply ignore invasion headlines like the ones put out by DC journalists last week. We have an overbought cycle (bullish statistics) through end-of-day Tuesday. That is the only systematic signal we're working with heading into the week. I am inclined to lean on that stat as long as Russia does not invade Ukraine.
Note: The next two sections are auction theory.
What is The Market Trying To Do?
Week ended searching for buyers
IV. THE WEEK AHEAD
What is The Market Likely To Do from Here?
Weekly forecast:
No clear bias. Perhaps a rally early in the week. Then look for the reaction Thursday morning (after Nvidia and Walmart earnings) to dictate direction into the weekend (long holiday weekend, markets closed next Monday in observation of President's day).
Bias Book:
Here are the bias trades and price levels for this week:

Here are last week's bias trade results:
N/A (did not update model)
Bias Book Performance [11/17/2014-Present]: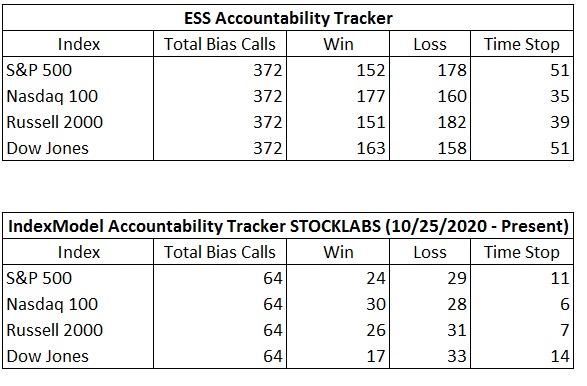 Ether discovery down matured, others not so much
Markets fluctuate between two states—balance and discovery. Discovery is an explosive directional move and can last for months. In theory, the longer the compression leading up to a break in balance, the more order flow energy to push the discovery phase.
Market are most often in balance.
Every week this newsletter uses auction theory to monitor three instruments, the Nasdaq Transportation Index, PHLX Semiconductor Index and ethereum. Readers are encouraged to apply these techniques to all markets.
Transports still look like they are in discovery down, but the long-term balance outlined below may serve to stabilize price back into balance.
See below: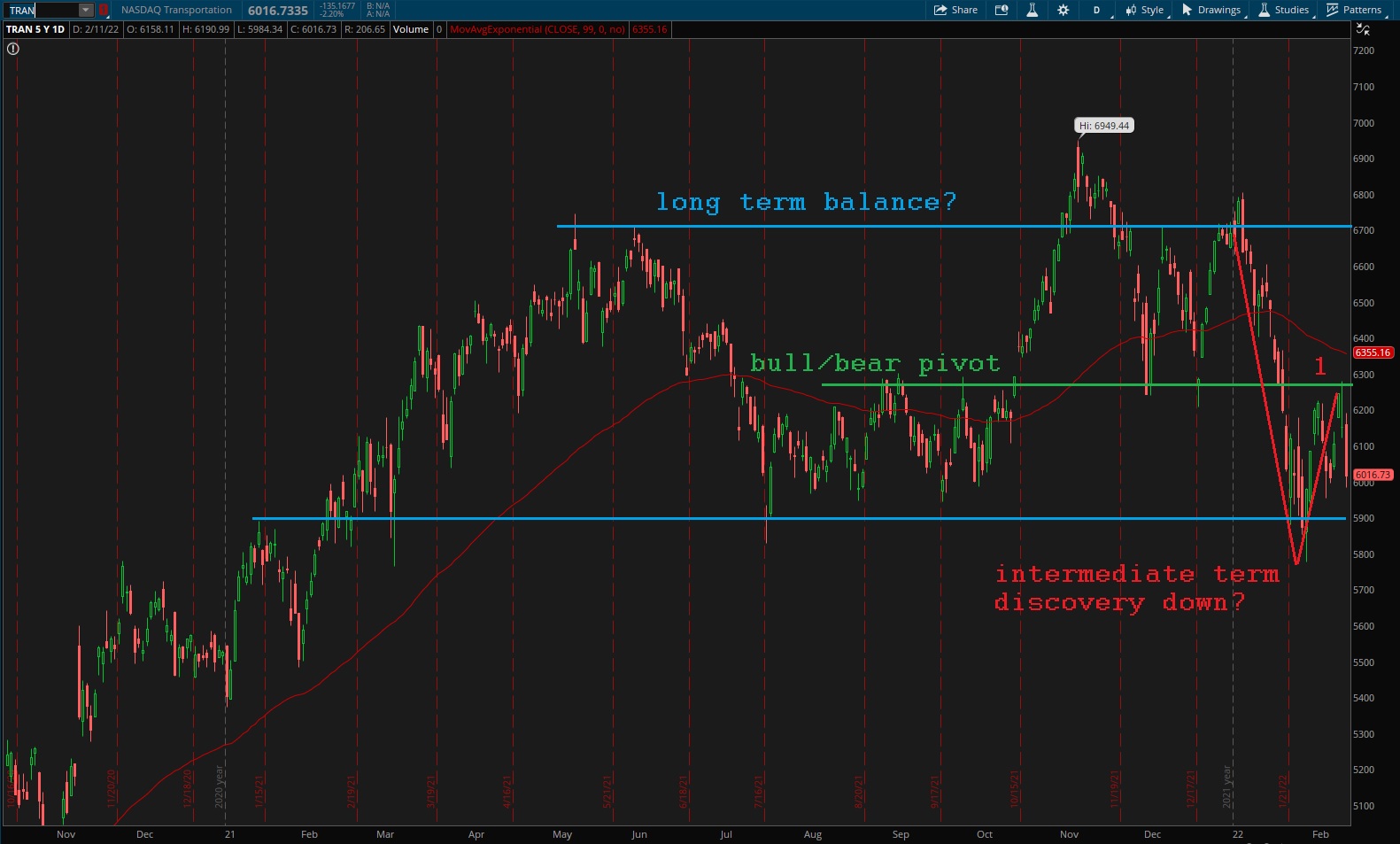 Semiconductors have that old failed auction above. Not a good look for bulls. Then last week we saw a clear conversion of support into resistance. If this chart starts to accelerate to the downside, expect the entire equity complex to follow.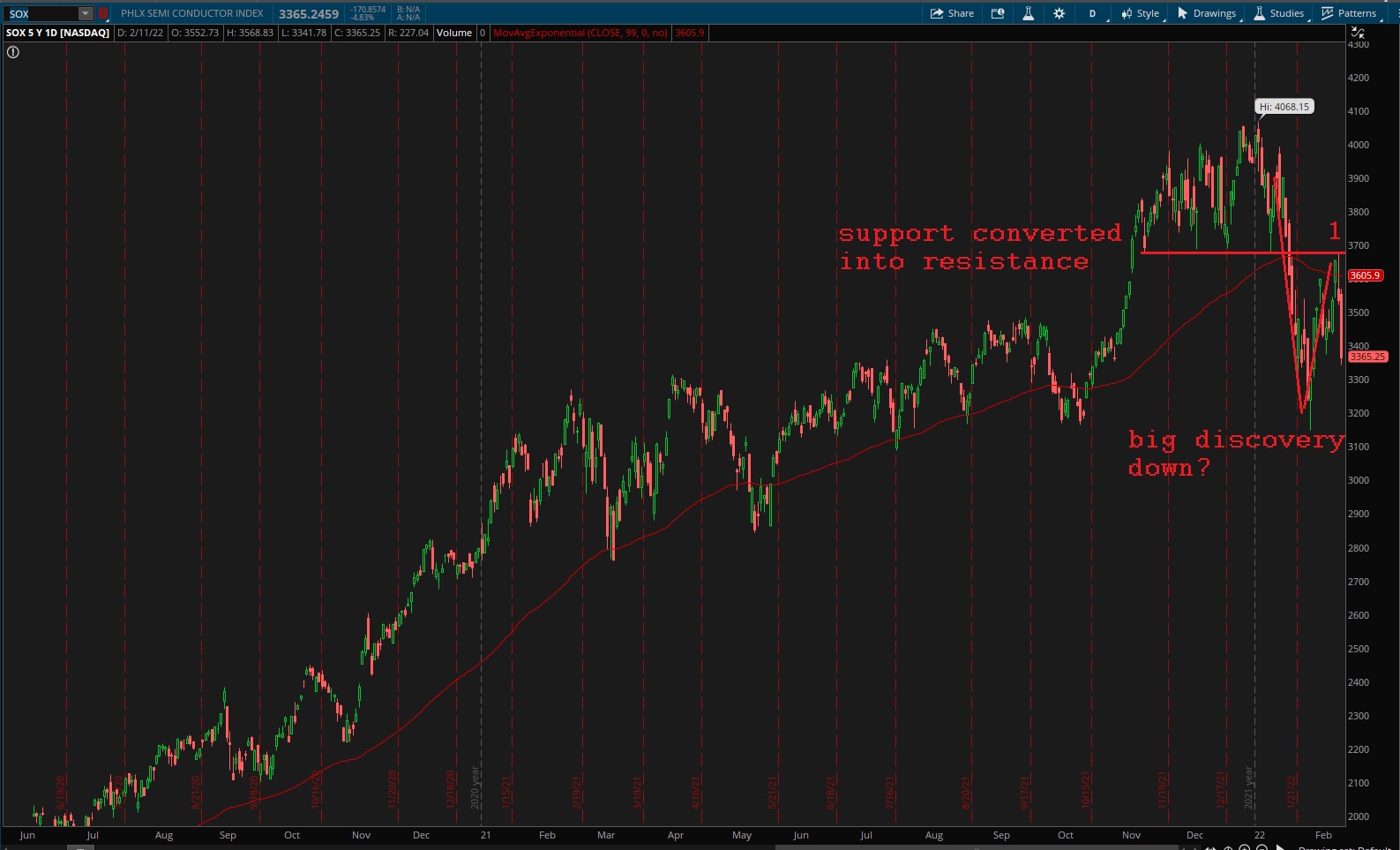 Ether appears to be in balance. Whether it can brush off the weak overall context remains to be seen. But this is definitely a healthier looking chart than the two above.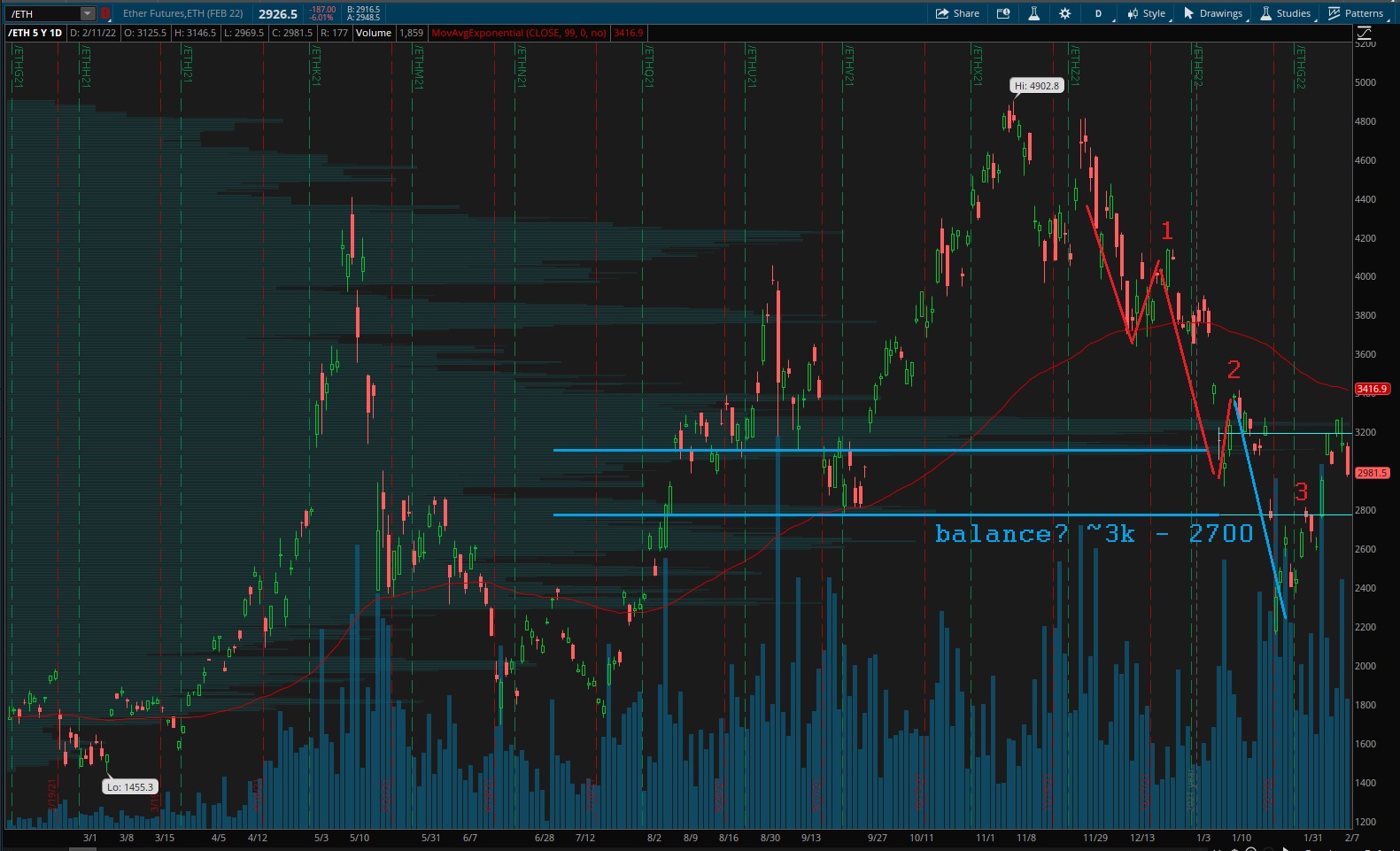 IV. INDEX MODEL
Bias model is neutral into February option expiration. We were Bunker Buster three reports back. This is the second Bunker Buster in recent history, with the previous one being eleven reports back. The Bunker Buster before these recent two was forty nine weeks ago.
Neutral heading into next week. No bias.
Here is the current spread: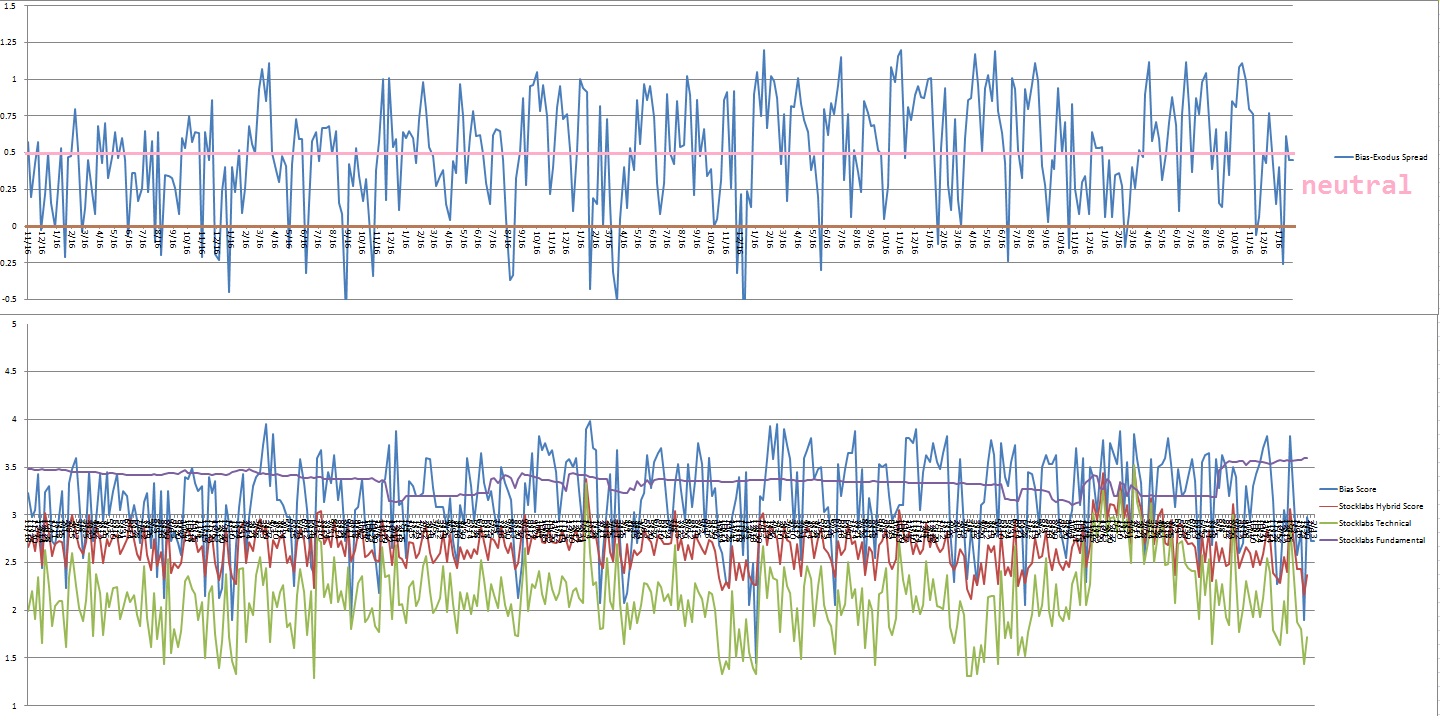 V. 6-month Hybrid Overbought
On Tuesday, February 1st Stocklabs went hybrid overbought on the 6-month algo. This is a ten day bullish cycle that runs through Tuesday, February 15th, end-of-day. Here is the performance of each major index so far: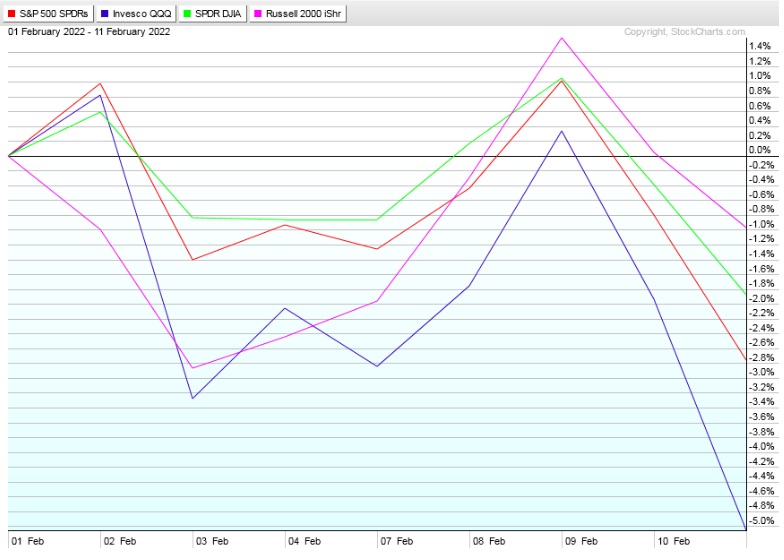 VI. QUOTE OF THE WEEK:
"You shouldn't give circumstances the power to rouse anger, for they don't care at all." – Marcus Aurelius
Trade simple, stop getting worked up
If you enjoy the content at iBankCoin, please follow us on Twitter