Really quick note and then I need to prepare for opening bell. This was my second time in Miami for Art Basel and I was again confronted by obscene crypto wealth. This time it was fewer lambos with custom bitcoin paint jobs, more chaps with jewelry. So a bit of a step down maybe. Nevertheless money was being flaunted and to be honest, being flaunted by dudes I could easily twist into a pretzel.
Note—this is not my nature. I have no interest in harming anyone. But I also couldn't care less about protecting these folks either. That is not my job.
My job is to extract as many fiat american dollars as possible from the global financial complex. Said dollars are to be converted into real goods like greenhouses and pole barns that aide me in my quest to feed as many humans as possible delicious fruity snacks.
So when a report surfaced online that two crypto bros had woken up in their hotel rooms beaten and relieved of their fine watches and other valuables by some hot Russian women (and perhaps some bowler hat wearing comrades) all I could think was, of course. Similar attackes happened in the financial markets at about the same time. The crypto futures markets were manipulated while Sam was on an airplane and many others were taking their favorite chemicals and disco dancing, liquidating many a leveraged account.
You/we could cry foul, assume a victim mentality, and ask for help from the shitheads at the SEC or some other authority assumed to be helpful. Or we can chalk it up as a learning experience and stick to the game. A game that jades sometimes but rewards humility in spades.
I'm from Detroit. The last thing we do here is show wealth. That's a recipe for having your life challenged. We drive beat up whips and wear work clothes. There is no sense standing out. Blend in. Extract wealth. And by living this way we never need to feel the like we need to keep a gun on our person like a little trashy bitch.
Alright for now.
Raul Santos, December 6th 2021
Now here is the 367th strategy session, enjoy:
---
Stocklabs Strategy Session: 12/06/21 – 12/10/21
I. Executive Summary
Raul's bias score 2.35, medium bear. Equities are choppy but stabilize early in the week, perhaps after a brief test lower and then rally into the weekend.
II. RECAP OF THE ACTION
Gap up and rally Monday all day long. Some sustained rallying early Tuesday before a sharp sell hit the tape late morning Tuesday. Wednesday sort of choppy early on, then a hard fade lower into the close. Thursday choppy before a strong trend lower Friday.
The last week performance of each major index is shown below: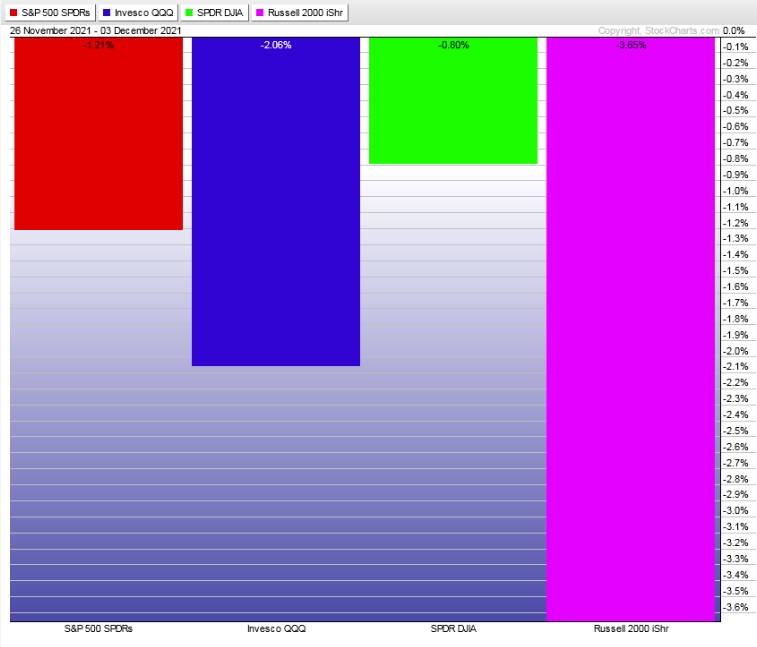 Rotational Report:
All sectors pinned lower except Utilities. Full-on risk off move.
bearish
For the week, the performance of each sector can be seen below: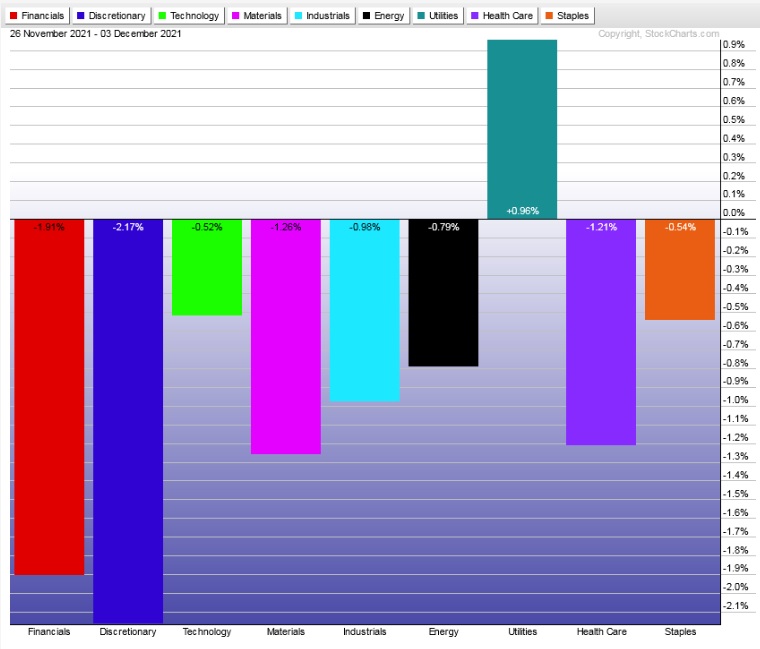 Concentrated Money Flows:
The bullish skew fourteen weeks back was negated three weeks ago. We've had three consecutive weeks of heavy sell flows, with last week's being the most extreme we've seen yet.
bearish, but nearing excessive
Here are this week's results:

III. Stocklabs ACADEMY
Enough pity, back to work
In the past I have nailed the move from RCS to bunker buster for a huge victory on a short. This time I didn't. Lessons were learned. Humility gained. Will be better for it next time. At least I'd better be.
Now IndexModel is neutral and Stocklabs is oversold. It is time to start working the long side of the tape, perhaps by Tuesday or even late Monday we could set a tradeable low.
Note: The next two sections are auction theory.
What is The Market Trying To Do?
Week ended searching for sellers
IV. THE WEEK AHEAD
What is The Market Likely To Do from Here?
Weekly forecast:
Equities are choppy but stabilize early in the week, perhaps after a brief test lower and then rally into the weekend.
Bias Book:
Here are the bias trades and price levels for this week:

Here are last week's bias trade results:

Bias Book Performance [11/17/2014-Present]: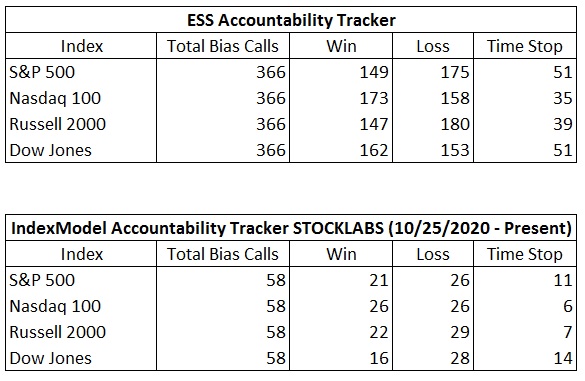 Seeing all three states at once
Markets fluctuate between two states—balance and discovery.  Discovery is an explosive directional move and can last for months.  In theory, the longer the compression leading up to a break, the more order flow energy to push the discovery phase.
We are monitoring two instruments, the Nasdaq Transportation Index and the PHLX Semiconductor Index.
Transports appear to be in a short term discovery down phase inside an intermediate term discovery up phase. The next likely thing I expect to see is a bounce, and then perhaps a new balance form.
See below: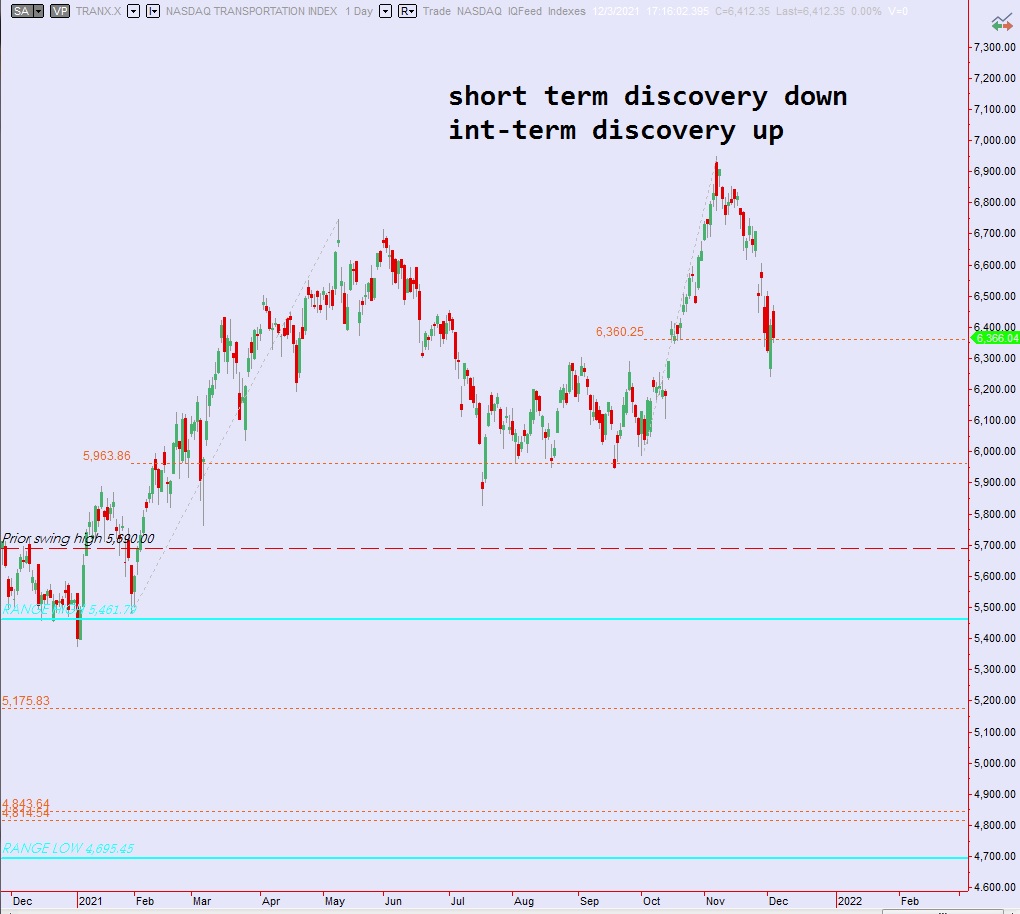 Semiconductors appear to be holding range/balance along the highs.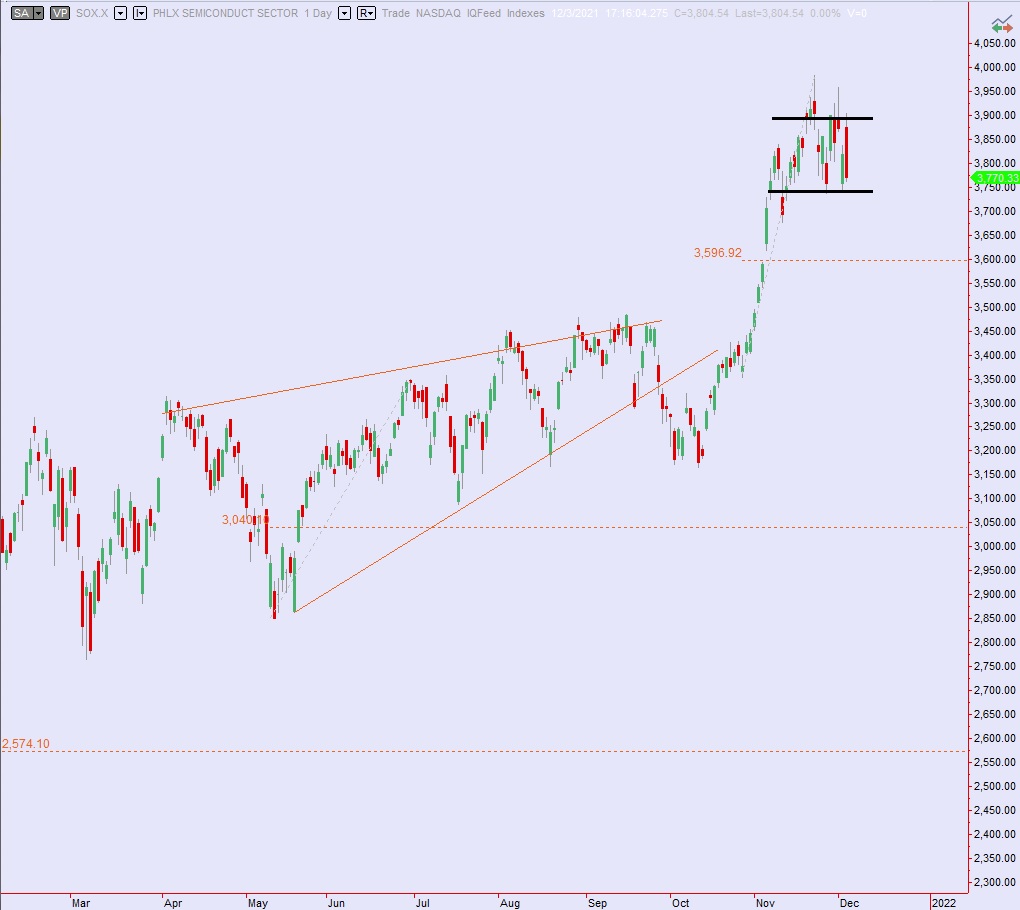 V. INDEX MODEL
Bias model is neutral after signaling Bunker Buster last week. The Bunker Buster before the most recent one was fourty weeks ago.
Heading into the first full week of December neutral. No bias.
Here is the current spread: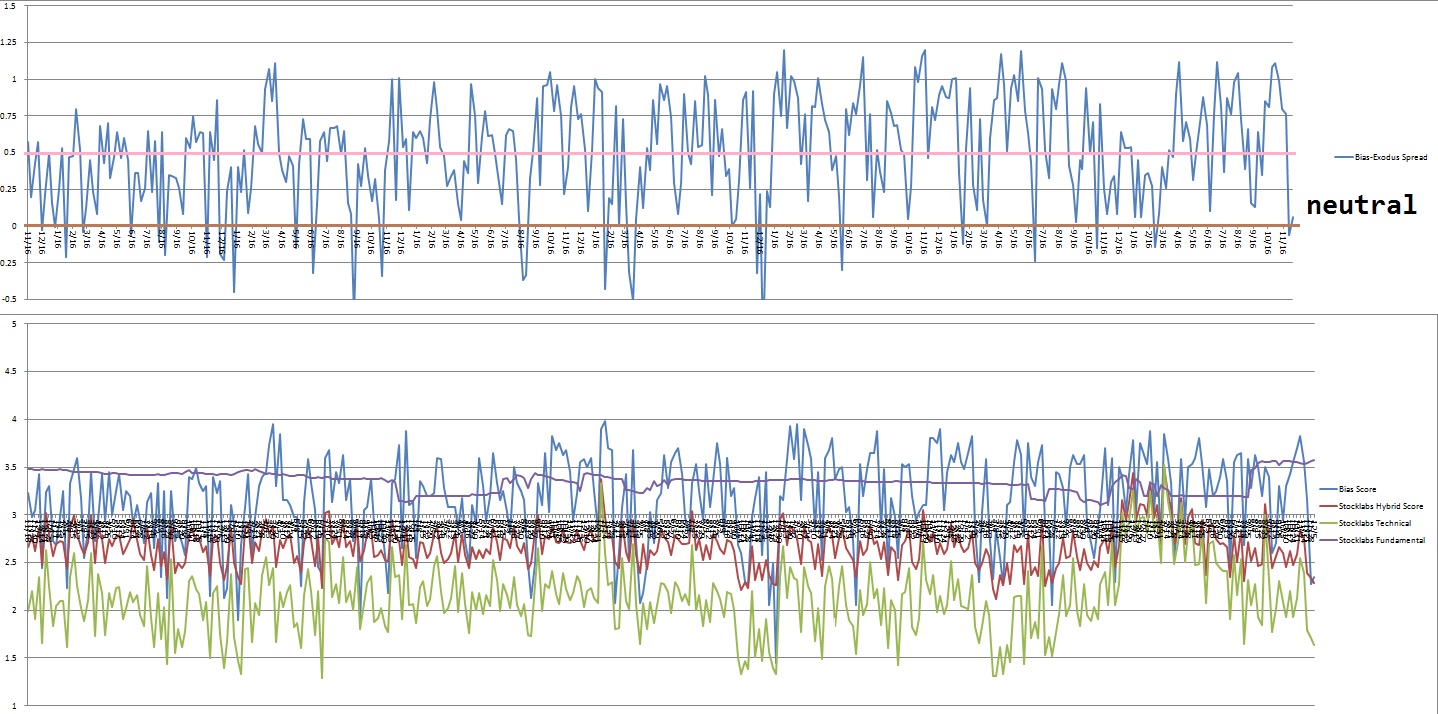 VI.12 month Hybrid Oversold
On Wednesday, December 1st Stocklabs went hybrid oversold on the 12-month algo. This is a bullish cycle that ends Wednesday, December 15th end-of-day. Here is the performance of each major index so far: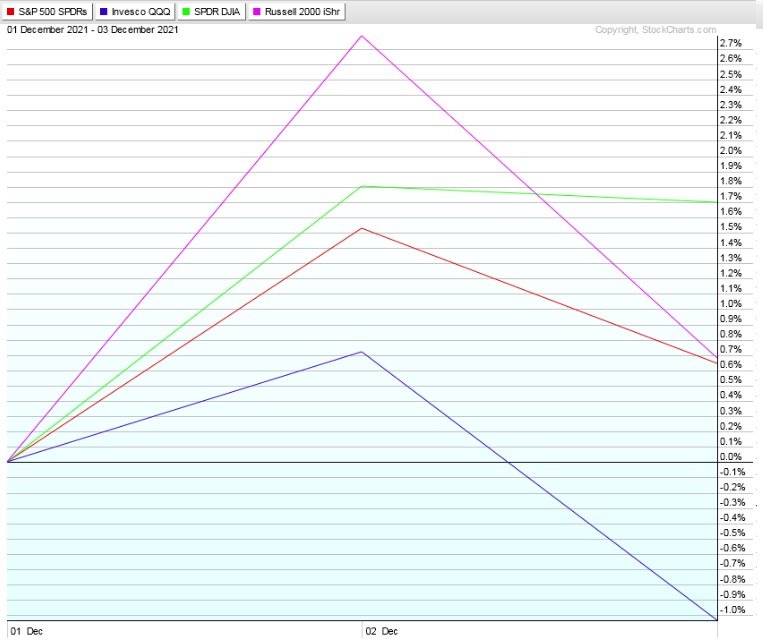 VII. QUOTE OF THE WEEK:
"It can ruin your life only if it ruins your character." – Marcus Aurelius
Trade simple, keep working
If you enjoy the content at iBankCoin, please follow us on Twitter