I was jarred awake around 3:33am by a dream about an ultra-violent storm. I've noticed the ferocity of natural disaster dreams have become more visceral as I grow older. It's funny, I often quip that elder Raul will, "put the fear of a 40mph wind in you." That surly old Italian is ornery and always looking at trees like they're gonna fall. The winds in my dream have a real pressure to them. Maybe I'm having little strokes in my sleep.
We don't know.
What we do know is early Friday morning the royal 'they' hit the newswires with a new covid-19 variant out of Africa. I am still super skeptical we needed to do all this pandemic cosplay to begin with. Before I lose you to this divisive topic, let me go back to one more fact and then I'll do one more joke and then we'll move on. Fact—Bill Gates goes on Netflix in 2019 on a show called Explained and warns that we are hella not ready to handle pandemics. And then bing-bang-boom, a pandemic whips up. Whatever.
Joke—Friday morning I was so shook, for a variety of reasons, that I was finally motivated to go have my booster shot. Pfizer. Got a 6pm appointment at the nearest CVS. Smoked reefer on the way and didn't wear a mask during the jabbing. Wore a sweater with nothing underneath so I had to reveal ma belly to the pharmacist. Because the whole thing is so absurd. I only did the original inoculation because my yoga studio required it. My favorite mountain resort (revelstoke) now also requires proof of vaccination. They got me with the passport feature. Prior to these restrictions, and mind you I life like a mad degenerate sex fiend, I didn't take any medicines. Not even a multivitamin. I grow and cook super freaking healthy food and consume a lot of it. It's like feeding a team of horses and rabbits. I eat 7-to-20 times a day, from a giant food bowl of vegetables. Lately I eat eggs like a snake, 4-to-9 eggs per week. And enough cheese and ale to make a monk blush. I haven't had fish meat in a while because I just haven't bothered to pick any up. The only drugs that make it into this body are reefer, caffeine, hootch, and the occasional LSD or mushing room.
But now my body is tainted with the covid inoculations. Made my odor shift from brine to sweet. My cock is an absolute deviant, demanding relief at least 4x per day. My hair and beard are going down past my neck like Rumpelstiltskin, and strangers on the internet are telling me my heart is going to explode any minute.
Will it? Again, we don't know.
What I do know is that dream brought me to attention, and I sat down and started looking at 30-year charts of Apple and Microsoft. I am very frustrated with myself. For weeks, weeks, 18 weeks…I waded through signal after signal from the IndexModel, which has been sending out bearish signals way more than usual since the Stocklabs fundamental score came to life. And I've been writing about it in my diary. About how maybe I need to tweak the system, but that I'd better stick with it for now. And I stuck with it, right up until last week. Last week I intervened because it was Thanksgiving. And the fucking sentiment of a big american family meal fucked me out of a good trade that I needed.
Listen, actively trading is so simple but it can be also fucked. Opportunities are slim. Over-trading is the enemy. Doubting yourself and your process is certain death.
Heading into next week we have a Bunker Buster. This signal hasn't fired in a long time but it did today. My play is to not trade these weeks. Instead I focus on accumulating my absolute highest conviction long-term investments.
What are those?
Good question. I will be asking that of myself all week. But first I will flush out some of the low-conviction stuff I've been holding. Then I will redeploy. All this whilst traveling down to Miami to nerd out with the NFT nerds.
Winter is here.
Raul Santos, November 28th 2021
And now the 366th edition of Strategy Session. Enjoy.
---
Stocklabs Strategy Session: 11/29/21 – 12/03/21
I. Executive Summary
Raul's bias score 2.28, medium bear*. Price accelerates to the downside early in the week, perhaps fueled by commentary out of Fed Chairman Powell Tueday morning. Eventually look for the markets to form a sharp, tradable low and rally into week's end. Non-farm payroll data due out Friday might be what ultimately pivots price higher.
*Bunker Buster triggered, see Section V.
II. RECAP OF THE ACTION
Early Monday rally to record highs is faded aggressively the rest of the day. Continuation selling Tuesday. Relief rally Wednesday (into Thanksgiving). Covid-variant news hits tape very early Friday morning and price trends lower into the weekend.
The last week performance of each major index is shown below: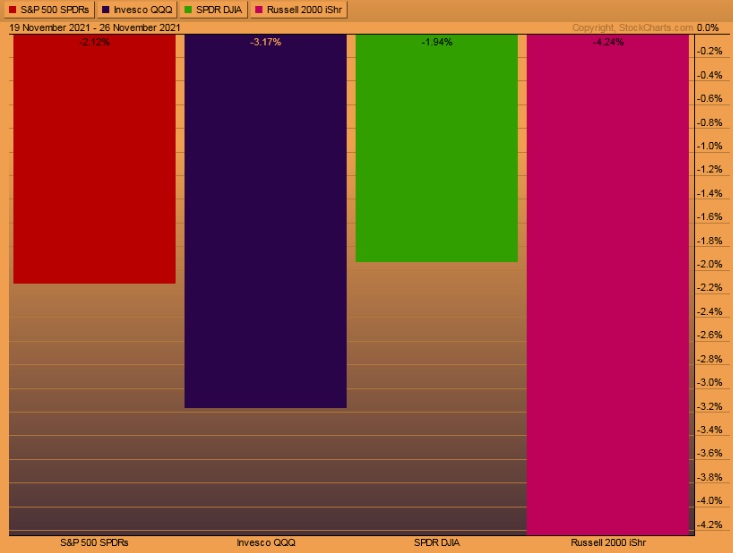 Rotational Report:
Key sectors leading to the downside.
bearish
For the week, the performance of each sector can be seen below: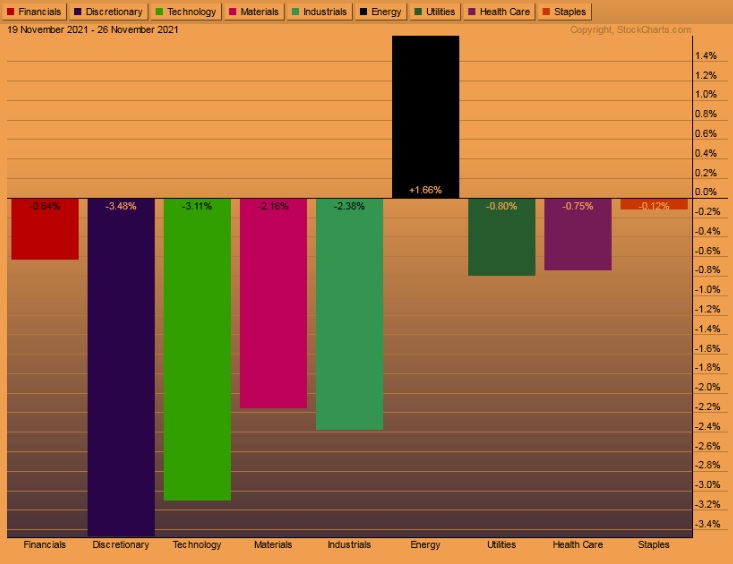 Concentrated Money Flows:
The bullish skew thirteen weeks back was negated two weeks ago. More strong sell flows last week.
slightly bearish
Here are this week's results:

III. Stocklabs ACADEMY
Absolutely kicking myself
I can be my worst critic, and rightfully so when I commit errors that jeopardize my livelihood. I have been plagued by overconfidence my entire trading career. It is most often after things go well that I lose discipline.
Change is hard. The older I become, the more empathy I have for this struggle. We switched from Exodus to Stocklabs a little over a year ago, but the real switch in the data happened August 1st. That is when the fundamental score came back to life after being pegged at 3.2 for 23 weeks.
It resulted in IndexModel generating way more bearish signals than it ever had. I am still unsure what to think, which sucks big time.
While all this data gathering and weekend researching may seem odd and low-value-added to most readers, it has been my rock. It give me the confidence to enter an arena with the most sophisticated and resource-rich competition in the world.
However losing confidence in it is a slippery slope.
I stuck to the system all the way up until last week (last week's Section III title: "human intervention"). And then last week happened, and I am absolutely furious with myself.
Something has to change. Or maybe nothing needs to change at all.
One thing is clear—emotionally I am not in the place I need to be to work with my normal risk.
I raised a bunch of cash Friday. Probably selling into the proverbial hole. I am totally fine with that. I know where I am emotionally and I need to figure some things out before I start running hot.
This week we have a bunker buster. This has always been a difficult signal for me to trade. It calls for an acceleration to the downside that eventually results in a tradeable low. I find it is best to spend these weeks accumulating long-term positions.
Therefore my plan is to retool my portfolio a bit. I have cash to deploy. I have leverage I can deploy. But first I feel the need to purge, and then I will circle the wagons around my absolute top conviction tickers.
I've never done well trading/investing in too many things at once. It's all fine and dandy until the entire risk universe goes risk off. Then you're scrambling around like a lunatic.
Fortunately I am not spread out too much right now, but I will say I am spread out too much.
Time to circle the wagons, clarify my research, and dial back into trading the NASDAQ extremely well—but no active trading this week.
Note: The next two sections are auction theory.
What is The Market Trying To Do?
Week ended searching for buyers
IV. THE WEEK AHEAD
What is The Market Likely To Do from Here?
Weekly forecast:
Price accelerates to the downside early in the week, perhaps fueled by commentary out of Fed Chairman Powell Tueday morning. Eventually look for the markets to form a sharp, tradable low and rally into week's end. Non-farm payroll data due out Friday might be what ultimately pivots price higher.
Bias Book:
Here are the bias trades and price levels for this week:

Here are last week's bias trade results:

Bias Book Performance [11/17/2014-Present]: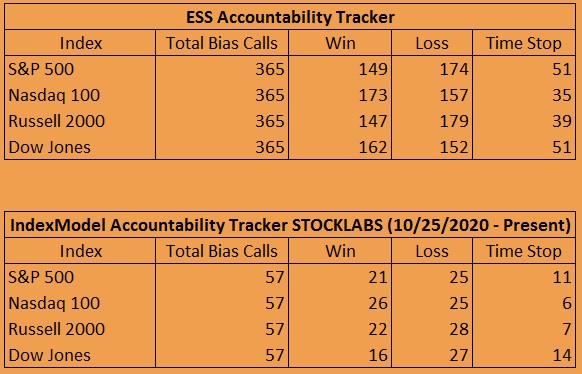 Still looks like discovery
Markets fluctuate between two states—balance and discovery.  Discovery is an explosive directional move and can last for months.  In theory, the longer the compression leading up to a break, the more order flow energy to push the discovery phase.
We are monitoring two instruments, the Nasdaq Transportation Index and the PHLX Semiconductor Index.
Transports are about -500 points off their high and coming into an old resistance zone. Primary expectation is for buyers to defend this region and for discovery up to continue.
See below: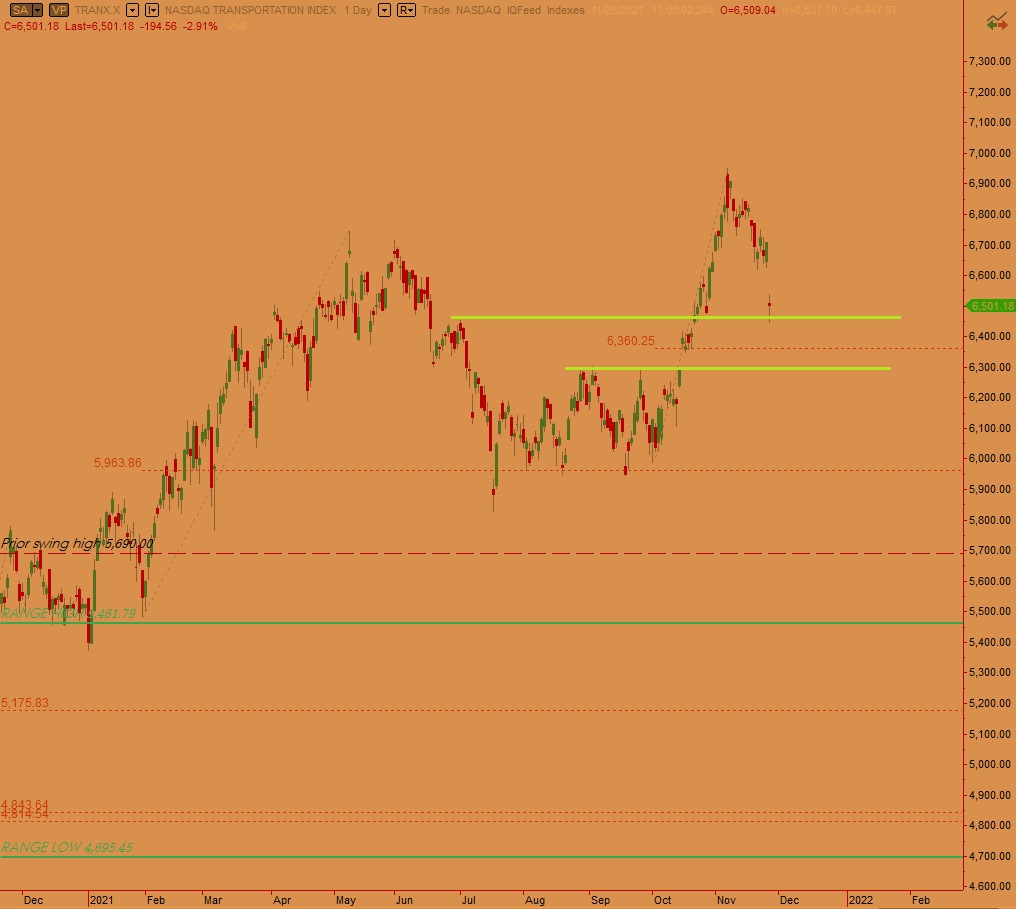 Semiconductors are off the highs but still appear to be in discover up.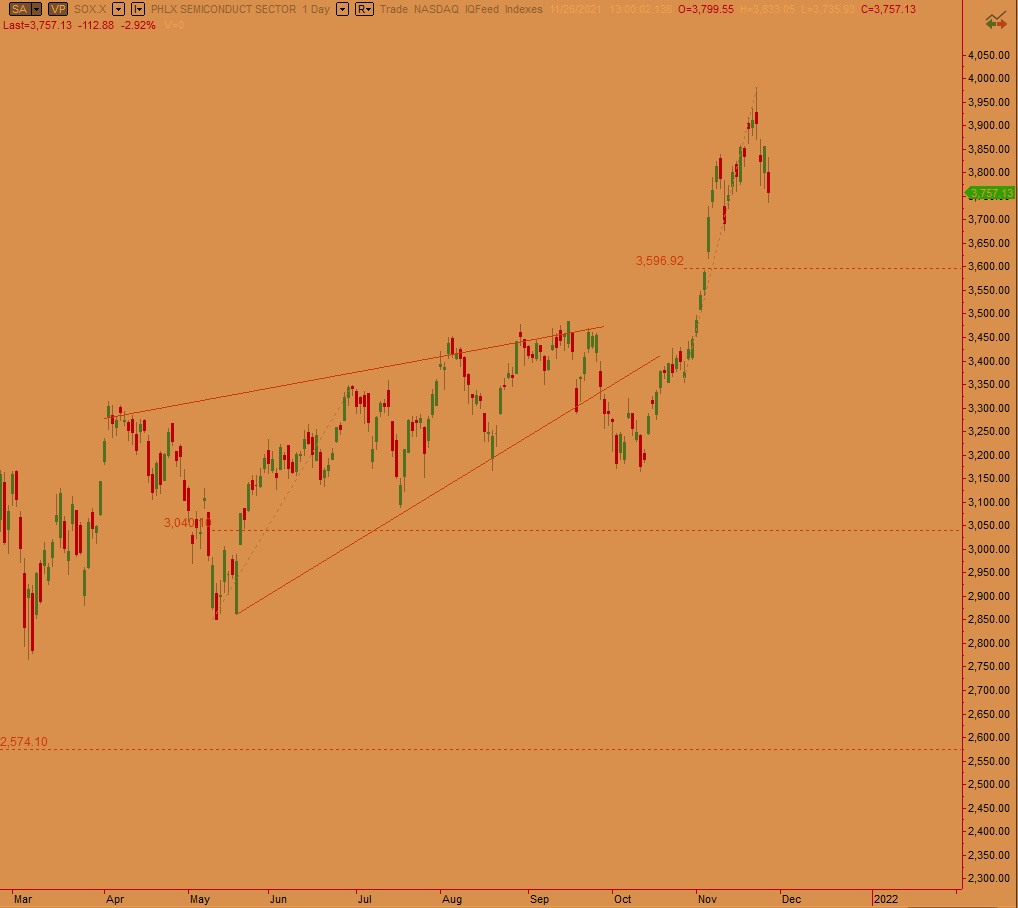 V. INDEX MODEL
Bias model is signaling Bunker Buster. The last Bunker Buster was thirty nine weeks ago.
Bunker Buster calls for an acceleration of volatility that eventually concludes with a sharp low being printed that holds for several weeks.
Here is the current spread: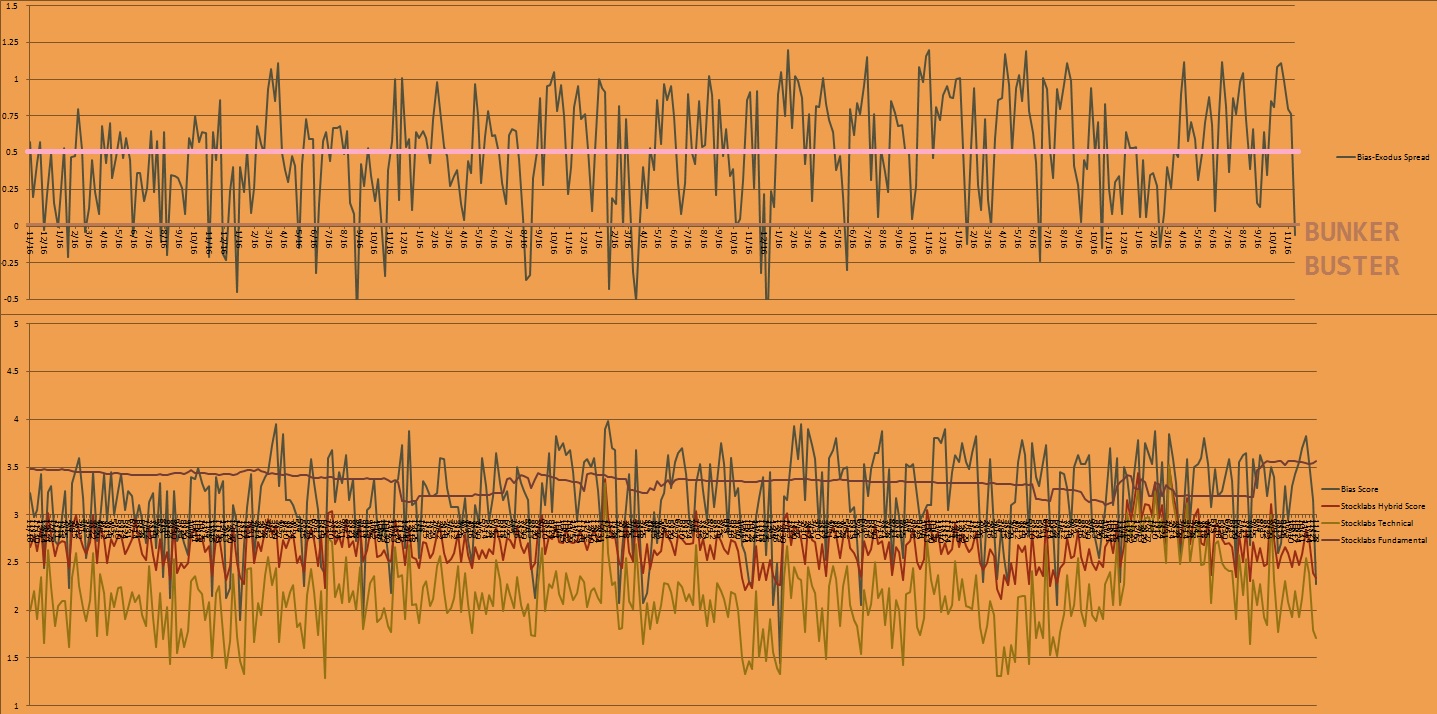 VI. QUOTE OF THE WEEK:
"What matters to an active man is to do the right thing; whether the right thing comes to pass should not bother him." – Goethe
Trade simple, trust the process
If you enjoy the content at iBankCoin, please follow us on Twitter