Hello there chaps,
I've updated the weekend research just now and was struck by a bearish signal from IndexModel. The only other bearish indication was industry flows last week, which were decidedly bearish:

Hopefully by now we all understand what is going on—there are a handful of tickers that prop up the entire equity complex. They are absolute champions of industry. Immortal giants who bestow upon us magical offerings like same-day shipping on millions of goods or free email. It takes a certain humility to only invest in these juggernauts. Everyone wants to be smart and find the next big thing.
Here's the problem with that. Most of us are medium smart at best. And that's okay as long as you don't commit the mistakes of a medium smart average thinker.
The middle of anything is an absolute trap. Middle class—assholes. Middle income—wage cucks. Mid-tier hotels—LAME.
Me I lean stupid. For example. I am headed to Miami for Art Basel. Once in Miami I am in a position of privilege. My cousin is the meteorologist there, and she has inside access to the most exclusive events.
My friends are also there. They have all the trimmings of upper-class living. Lamborghini racing cars. Condominiums with warp-around ocean and bay views.
My privilege comes in the form of being really, stupidly, extremely good looking. That trait is good as gold in a town as wonderfully shallow as Miami beach. My next privilege, and I cannot claim to understand it, is people just really like me.
I am taking steerage class airfare down from Detroit for 70 dollars (round trip) and I reserved a bed at a hostile in south beach that is 1-star rated. These accommodations are certain to expose me not only to bedbugs and the delta variant but also some real-world culture that normies will never see from there 3-starred Holiday Inn.
I will experience the lowest of the low and the highest of the high. I can assure you these are the two most exciting places to be.
Fuck the middle. The middle is a trap.
Anyhow, if you're going to be in Miami for Art Basel and want to meet up, hit me up on Twitter @vinnumbrr.
Okay for now,
Raul Santos, November 21st 2021
And now the 365th edition of strategy session. Enjoy.
---
Stocklabs Strategy Session: 11/22/21 – 11/26/21
I. Executive Summary
Raul's bias score 3.15, neutral*. Choppy sideways action, then look for FOMC minutes Wednesday afternoon to put a bid into equities during the holiday-shortened week.
U.S. markets will be closed Thursday, November 25th in observation of Thanksgiving and Friday is a half-day.
*Rose Colored Sunglasses bearish bias triggered, see Section V.
II. RECAP OF THE ACTION
Some weakness early Monday. Then a week-long rally in the tech-heavy NASDAQ while the S&P sort of drifted and the other two indices were weak.
The last week performance of each major index is shown below: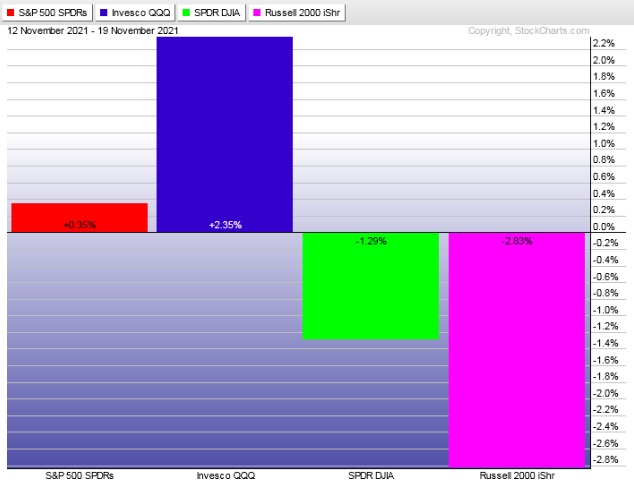 Rotational Report:
Leadership in the right places, but seeing Utilities bullish divergent suggests some risk aversion.
slightly bullish
For the week, the performance of each sector can be seen below: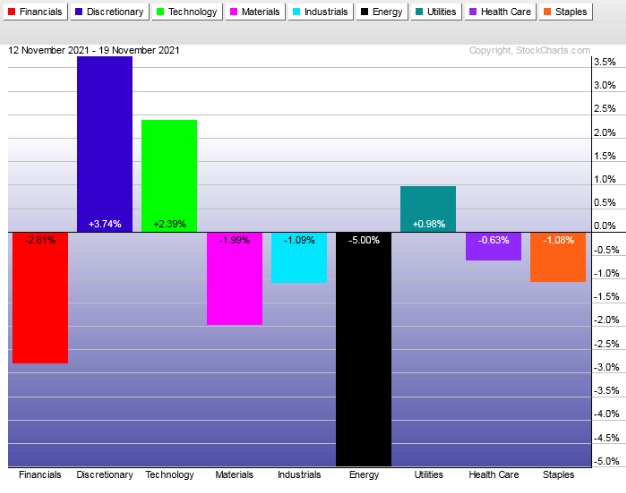 Concentrated Money Flows:
The bullish skew from twelve weeks back was finally negated by last week's industry flows. Strong sell flows last week.
slightly bearish
Here are this week's results:

III. Stocklabs ACADEMY
Human intervention
Alright lads you know I don't like to bet against my signals. Indexmodel is bearish heading into Thanksgiving week—a week that is statistically bullish. My trading will be light next week, but it certainly won't be bearish bets.
Note: The next two sections are auction theory.
What is The Market Trying To Do?
Week ended searching for buyers
IV. THE WEEK AHEAD
What is The Market Likely To Do from Here?
Weekly forecast:
Choppy sideways action, then look for FOMC minutes Wednesday afternoon to put a bid into equities during the holiday-shortened week.
Bias Book:
Here are the bias trades and price levels for this week:

Here are last week's bias trade results:

Bias Book Performance [11/17/2014-Present]: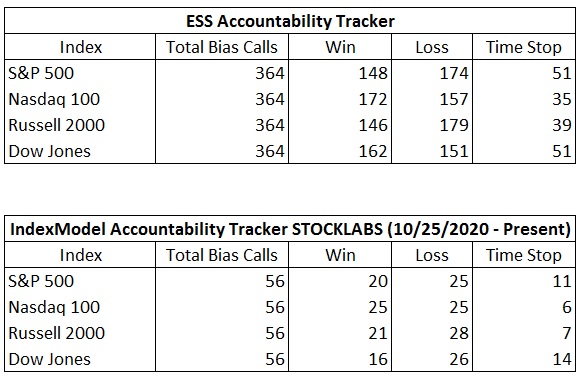 Discovery up across the board
Markets fluctuate between two states—balance and discovery.  Discovery is an explosive directional move and can last for months.  In theory, the longer the compression leading up to a break, the more order flow energy to push the discovery phase.
We are monitoring two instruments, the Nasdaq Transportation Index and the PHLX Semiconductor Index.
Transports still working on converting this old resistance into support. Unless they lose this level in a big way, this index remains discovery up.
See below: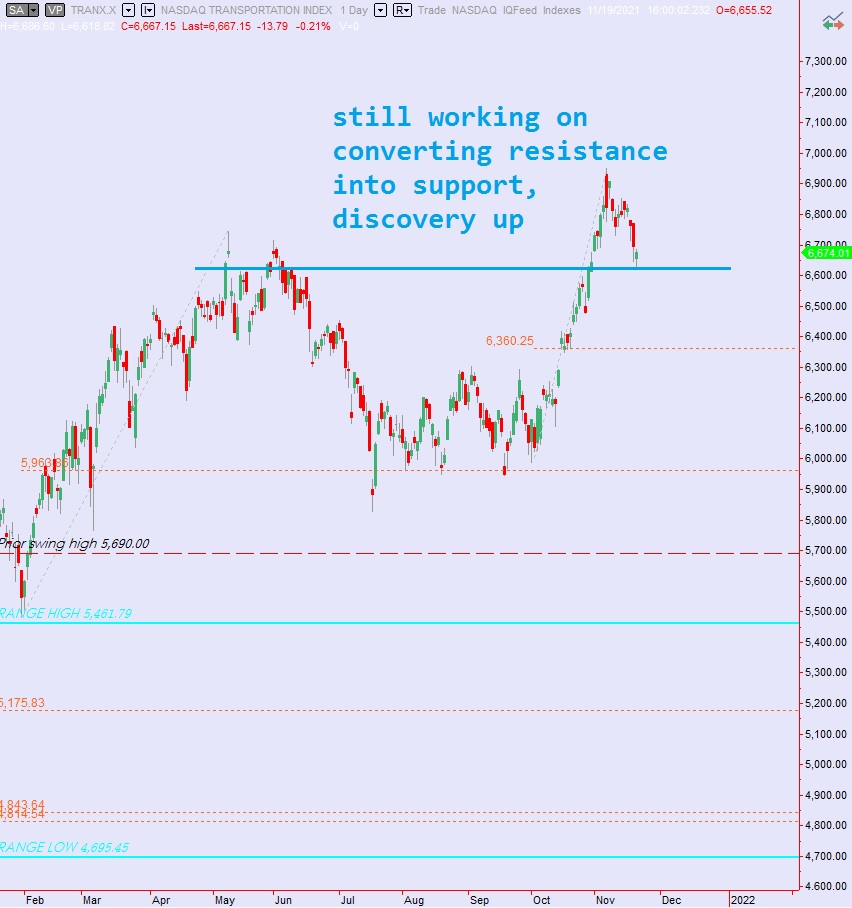 Semiconductors caught a boost from Nvidia earnings last week adding more stretch to this discovery phase. Hard to participate at these levels but overall this sends a bullish signal to the overall market. Discovery up.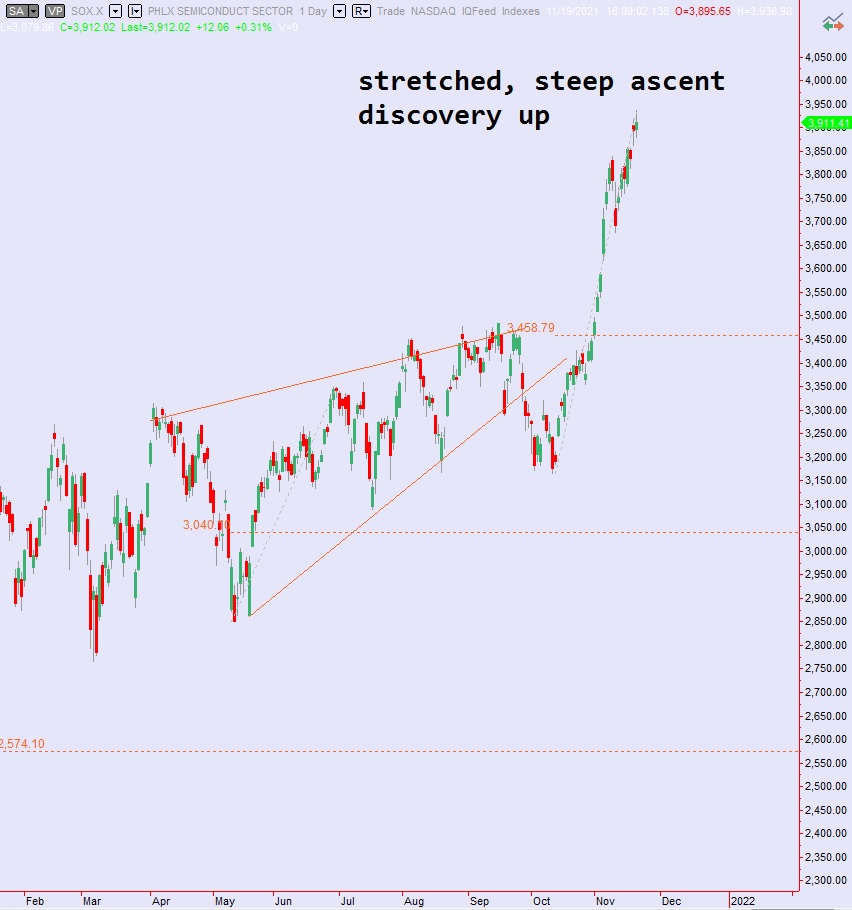 V. INDEX MODEL
Bias model is Rose Colored Sunglasses bearish this week.
It was extreme Rose Colored Sunglasses [RCS] bullish for four consecutive weeks before this after being bearish RCS for two consecutive weeks.
We had a Bunker Buster thirty eight weeks ago.
Rose Colored sunglasses calls for selling pressure throughout the week.
Here is the current spread: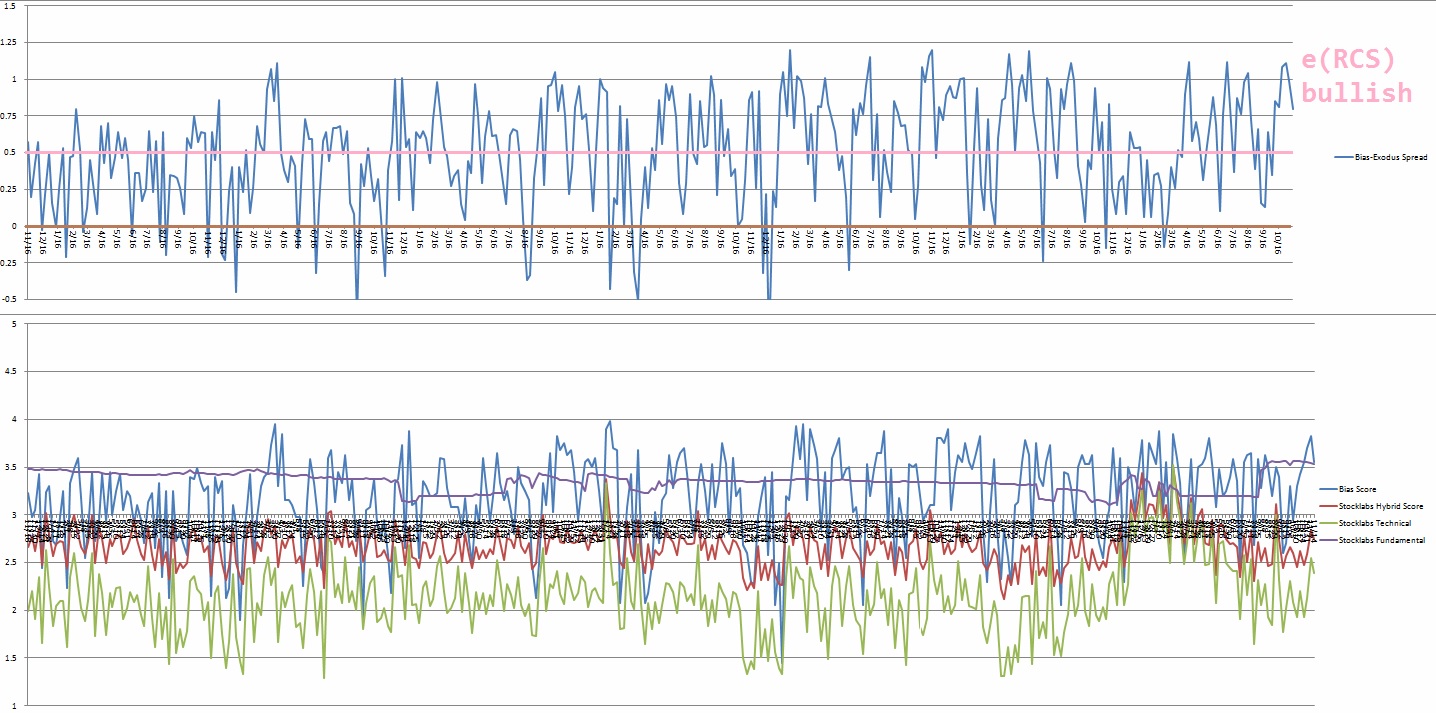 VI. Exodus 6-mont Hybrid Overbought
The 6-month hybrid algo triggered overbought Monday, November 1st. That is a bullish signal that runs through to Monday, November 15th end of day. Here is the performance of each major index so far:
HYBRID-OB0-110120210-1
VII. QUOTE OF THE WEEK:
"Whoever embraces necessity count as wise, skilled in divine matters." – Euripides
Trade simple, as necessary
If you enjoy the content at iBankCoin, please follow us on Twitter