Hi-ho lads, last week was really something. Strong. November kicked off very cleanly, the first being on a Monday, with a little gap up that we tidied up before an early week rally. They we paused in an act of respect for the Fed, whatever, then rallied after Taper Jim did his little announcement then we rallied headstrong for the remainder of the week.
This was of course, entirely driven by the move in semiconductors and really nothing else.
There was a time, say oh about the end of 2018, where humans still had a chance at salvaging the current simulation for the static minded. The zealots had their moment. Folks who believe in demons almost retained control. They could have foisted us back into the cave to live under their cape of fear and maybe, just maybe nations/religious institutions could have been a thing that carried on into 2100.
Instead, thank the gods, robots officially assumed control and now our entire fate is in the hands of the Google.
Thank you google.
So now all that matters is us working hard to appease our robot overlords. We have this amazing global computer network called ethereum and fine lads like Mark Zuckered berg are building us fantastic universes where we can j.o. and do drugs and play-to-earn.
I am so happy in this moment. I chose a side. And they won.
This must be what it is like to watch sports. Something I never do being a full grown man with pressing matters to attend to.
Like buying cute jpegs for thousands of fiat american dollars or finding the right plow for my tractor or shoveling shit onto the fields.
But for these next few days, since the season has finally ended and all my crops gathered, I am just sort of taking it ease. Hanging out in chat rooms. Shit posting. Taking naps. Eating lots of bread and fudge and getting all fat and sassy.
I have literally zero idea how folks do 9-to-5 stuff. If someone required me to report for dootie, pressed into a chair and told to toil in the name of someone else's goals, well idk, I'd probably just acquiesce and grow fond of my lunching break and the coma-induced afternoons from big meat snackies.
But for now I am lean. Pissed. Independent and out for gains.
Okay for now,
Raul Santos, November 7th 2021
Here is 363rd edition of Strategy Session:
---
Stocklabs Strategy Session: 11/08/21 – 11/12/21
I. Executive Summary
Raul's bias score 3.83, medium bull*. Consolidation/sideways drift along the highs.
*extreme Rose Colored Sunglasses bullish bias triggered, see Section V.
II. RECAP OF THE ACTION
Russell 2000 broke out Monday. Other indices sort of chopped higher through Wednesday. Then we rallied across the board after the Wednesday afternoon FOMC announcement. Rally continued through mid-day Friday. Then some selling/profit taking knocked price off the high into the weekend.
The last week performance of each major index is shown below: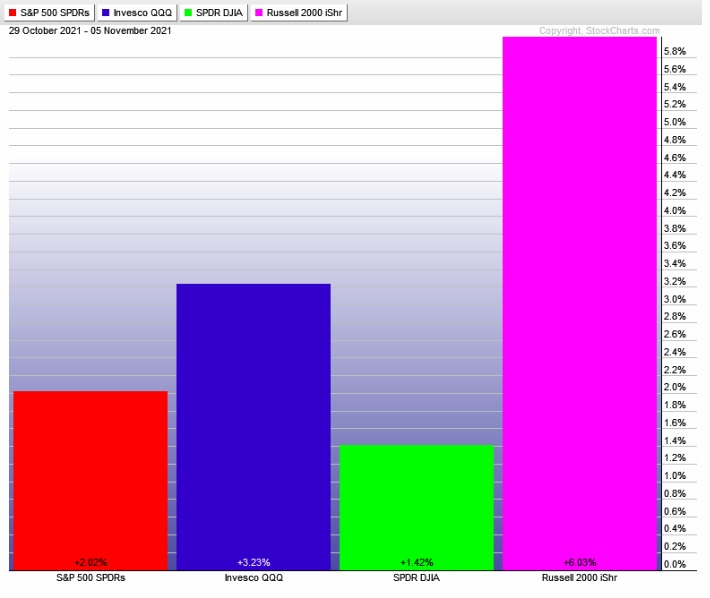 Rotational Report:
Rally rotations were strongest in all the right places.
bullish
For the week, the performance of each sector can be seen below: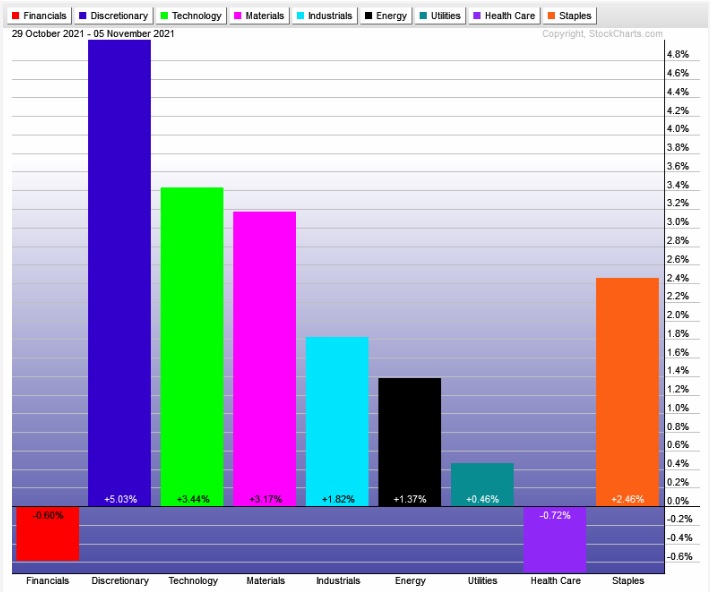 Concentrated Money Flows:
Ten weeks back we had a major bullish skew that was never negated. Then two weeks back we had another major bullish skew. Last week had another huge bullish skew.
bullish
Here are this week's results: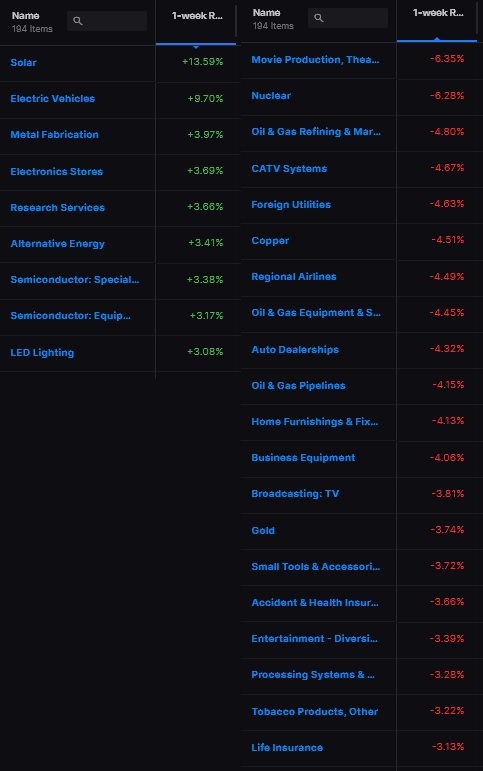 III. Stocklabs ACADEMY
Industry/money flows
The analysis in the industry section, where money flows are partitioned on an industry level, has demonstrated why doing this research each Sunday is essential. This piece of the report has kept us bullish contextually despite other part of the report calling the bull call into question.
Building context is important to execution.
Note: The next two sections are auction theory.
What is The Market Trying To Do?
Week ended searching for sellers
IV. THE WEEK AHEAD
What is The Market Likely To Do from Here?
Weekly forecast:
Consolidation/sideways drift along the highs.
Bias Book:

Here are the bias trades and price levels for this week:

Here are last week's bias trade results:
Bias Book Performance [11/17/2014-Present]:
Here comes the tricky part of the overplay for the underlay
Markets fluctuate between two states—balance and discovery.  Discovery is an explosive directional move and can last for months.  In theory, the longer the compression leading up to a break, the more order flow energy to push the discovery phase.
We are monitoring two instruments, the Nasdaq Transportation Index and the PHLX Semiconductor Index.
Transports probed higher, found some sellers but still this index appears to be in discovery up.
See below: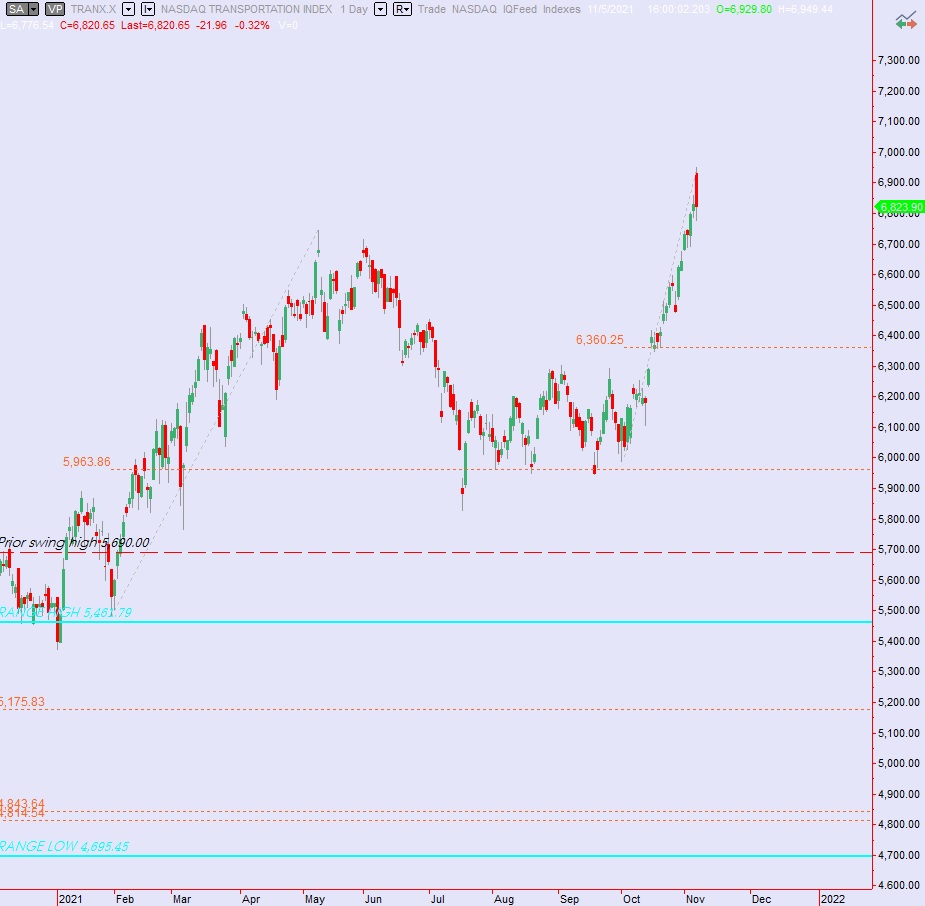 Semiconductors did it. This action is an explosive example of the overplay for the underlay. Technical analysis books have failed again. Discovery up.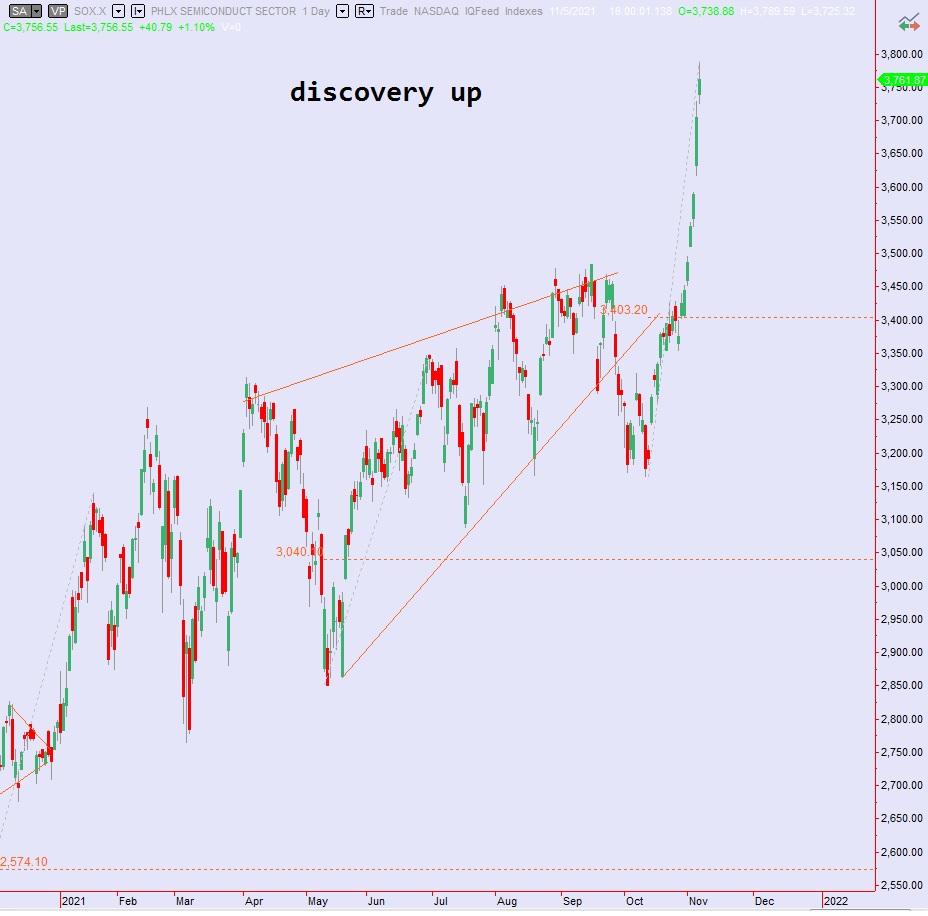 V. INDEX MODEL
Bias model is extreme Rose Colored Sunglasses [RCS] bullish for a third consecutive week after being bearish RCS for two consecutive weeks. Bias model was neutral five reports back after signaling Rose Colored Sunglasses [RCS] bearish six weeks ago. It was neutral the prior two weeks after being Rose Colored Sunglasses [RCS] bearish nine weeks back after being neutral ten reports back and Rose Colored Sunglasses bearish for the two consecutive weeks prior to that.
We had a Bunker Buster thirty six weeks ago.
Extreme Rose Colored sunglasses calls for a sideways drift, perhaps with a slight upward bias.
Here is the current spread: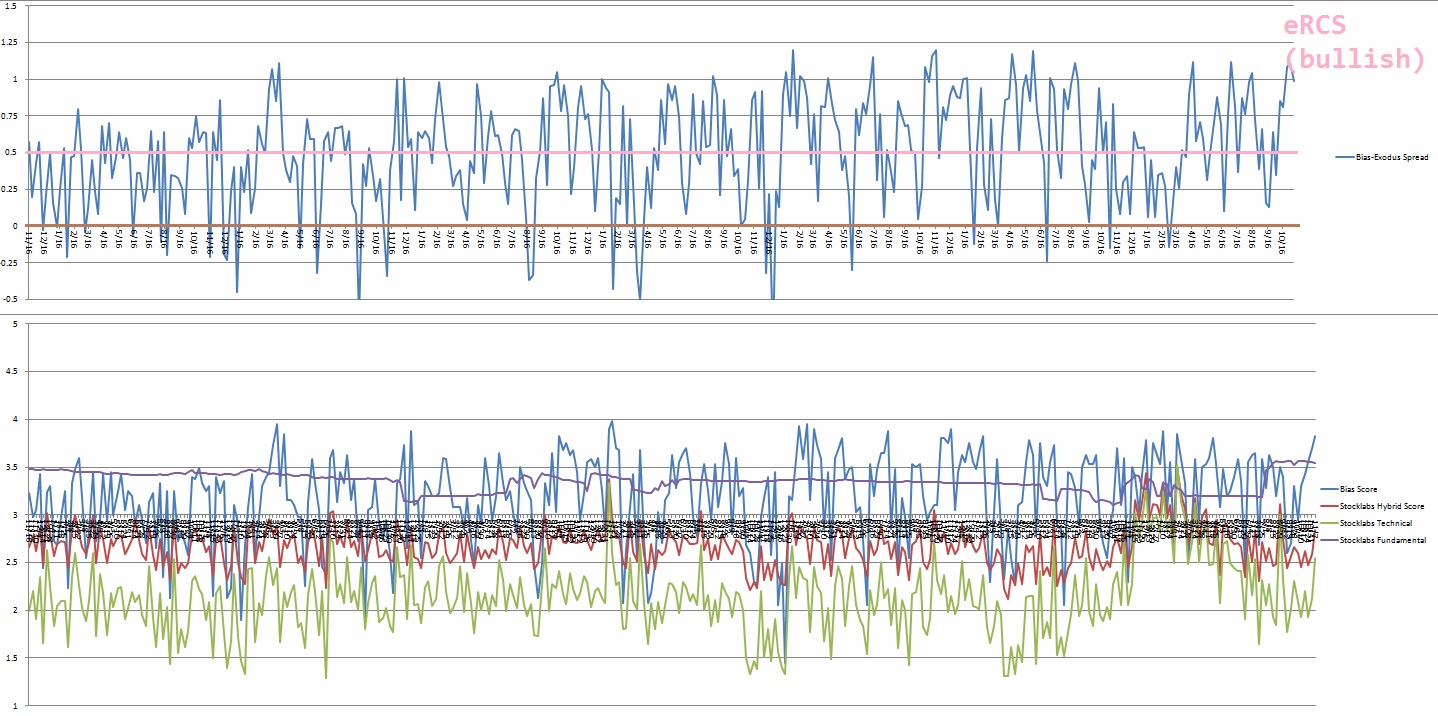 VI. QUOTE OF THE WEEK:
"You don't have to start from scratch to do something interesting." – Jack Dorsey
Trade simple, build an approach that fits your strengths
If you enjoy the content at iBankCoin, please follow us on Twitter