I am feeeeling very fragile this weekend. There are all sorts of nice folks here on the interwebs and I appreciate the interactions. I cannot describe what is going on any more than saying ma vibe is off.
I am going to be off the desk through Tuesday. Maybe by Wednesday I'll wiggle myself back into tune.
Okay for now.
Raul Santos, October 17th 2021
Here is the 360th Strategy Session. Enjoy.
---
Stocklabs Strategy Session: 10/22/21 – 10/18/21
I. Executive Summary
Raul's bias score 3.43, medium bull*. Selling pressure early in the week. Then look for markets to pivot higher either Wednesday or Thursday, perhaps fueled by Tesla and Intel earnings.
*Rose Colored Sunglasses bearish bias triggered, see Section V.
II. RECAP OF THE ACTION
Little rally Monday morning was faded through Tuesday. Choppy but up slightly Wednesday. Strong rally Thursday with some follow-through strength Friday and into the weekend.
The last week performance of each major index is shown below: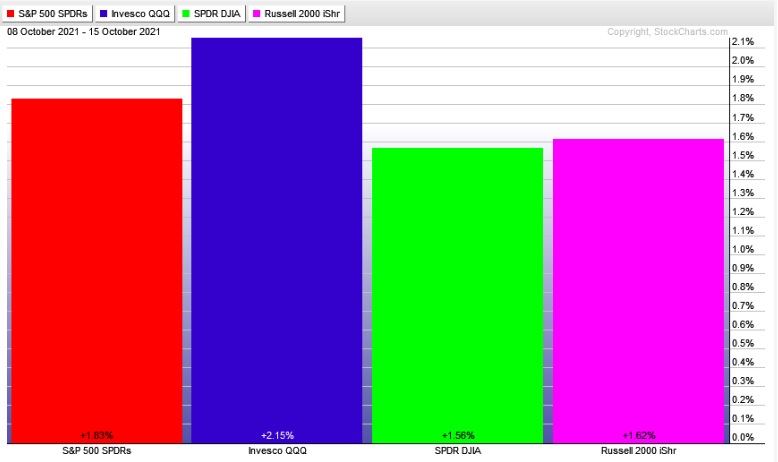 Rotational Report:
Materials lead the way. Not great. But they were flanked by Discretionary and Tech and sectors were up across the board.
slighty bullish
For the week, the performance of each sector can be seen below: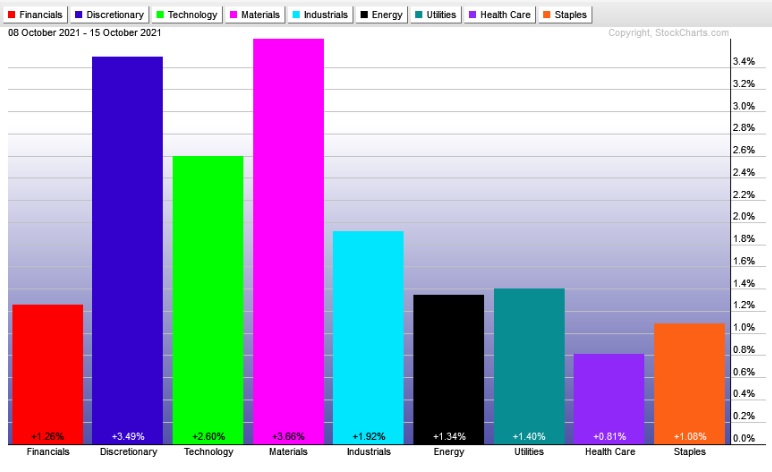 Concentrated Money Flows:
Seven weeks back we had a major bullish skew and that really hasn't been negated yet. Last week the ledger skewed slightly to the positive side but not in a major way.
slightly bullish
Here are this week's results: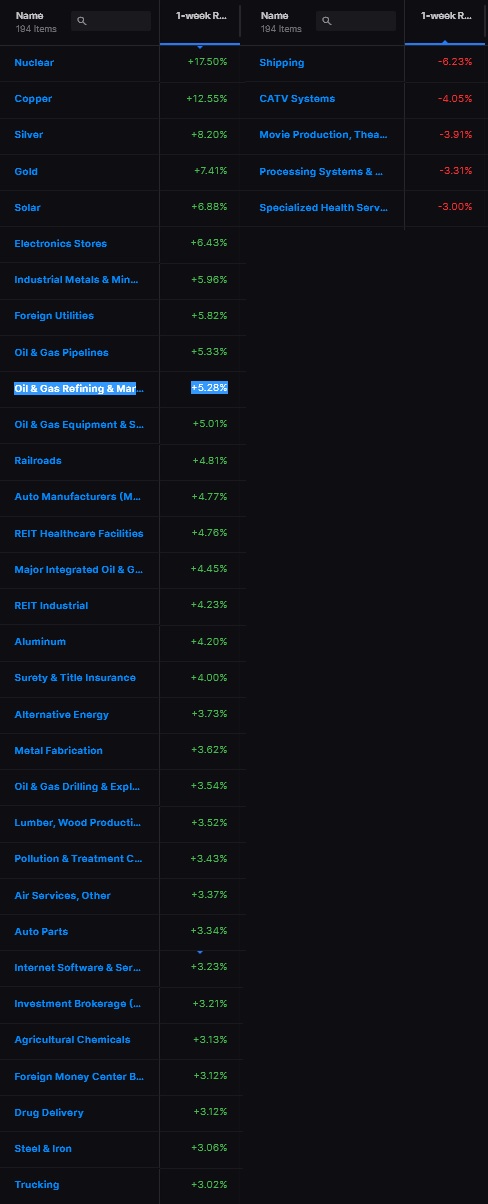 III. Stocklabs ACADEMY
Indexmodel pinned bearish?
I am beginning to wonder if the tweaks to Stocklabs algorithm are leading to IndexModel producing all these bearish biases.
I have to see how the performs these next weeks, but my antenna is definitely tingling.
Something might need to be tweaked. I will leave everything untouched for now.
Note: The next two sections are auction theory.
What is The Market Trying To Do?
Week ended searching for sellers.
IV. THE WEEK AHEAD
What is The Market Likely To Do from Here?
Weekly forecast:
Selling pressure early in the week. Then look for markets to pivot higher either Wednesday or Thursday, perhaps fueled by Tesla and Intel earnings.
Bias Book:
Here are the bias trades and price levels for this week:

Here are last week's bias trade results:
Bias Book Performance [11/17/2014-Present]: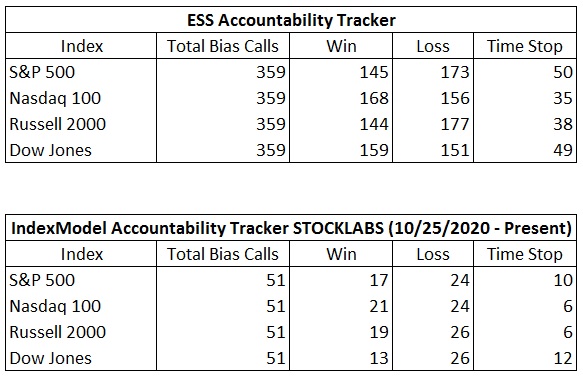 Clean levels heading into next week
Markets fluctuate between two states—balance and discovery.  Discovery is an explosive directional move and can last for months.  In theory, the longer the compression leading up to a break, the more order flow energy to push the discovery phase.
We are monitoring two instruments, the Nasdaq Transportation Index and the PHLX Semiconductor Index.
Transports might be starting a new leg of discovery. They are coming into the week right on the golden Fibonacci level from the entire down move that began in May.
See below: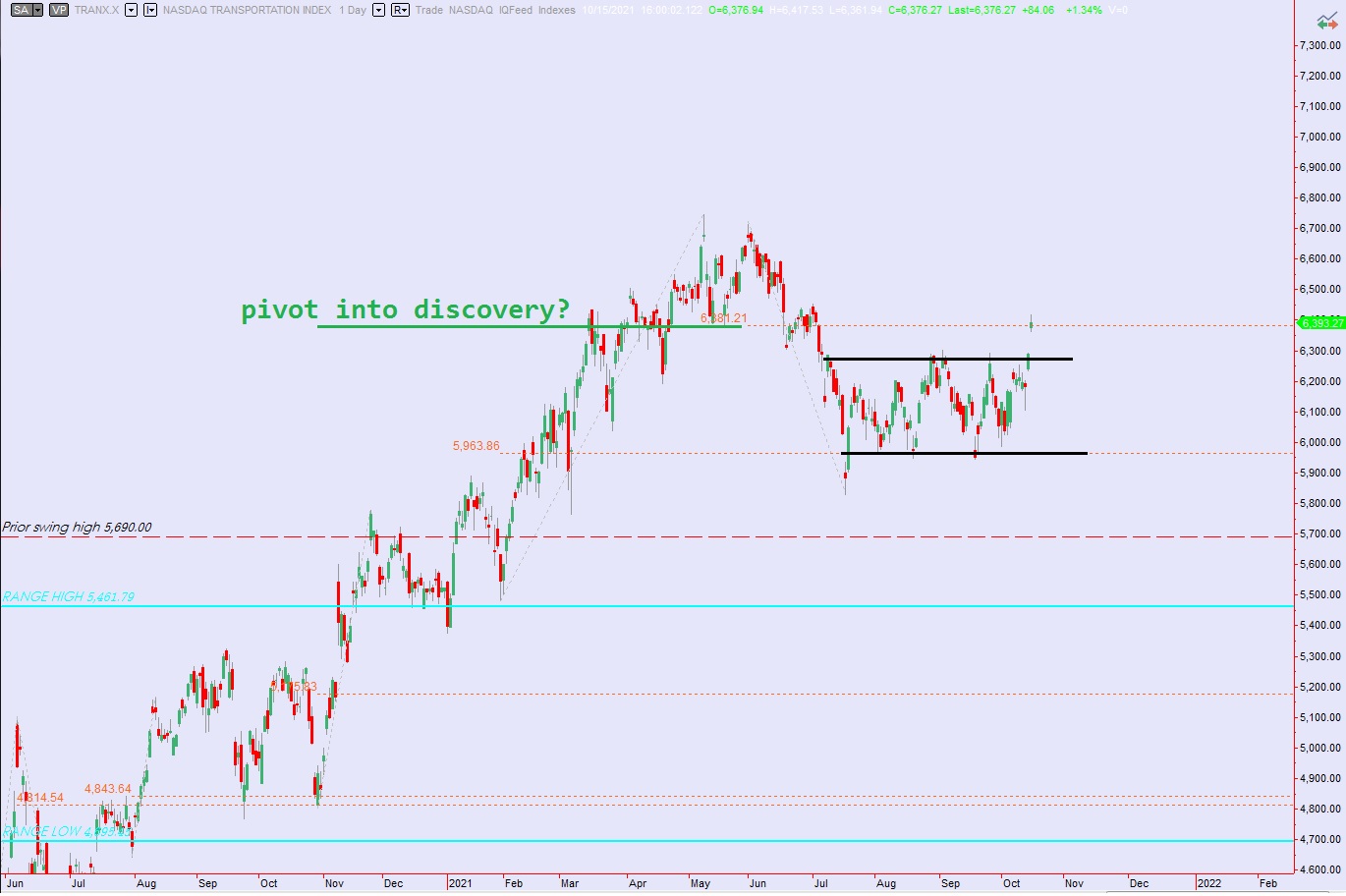 Semiconductors broke down from the rising wedge. Heading into next week price is returning to the scene of the breakdown, which aligns nicely with the Fibonacci also.
I speculate that the breakdown may have done wonders to stop out some traders and this key index may resume its uptrend.
But for now we can monitor this level and assess whether we are still in balance or instead resuming discovery up.
Intel earnings Thursday after the bell may give clarity to this situation.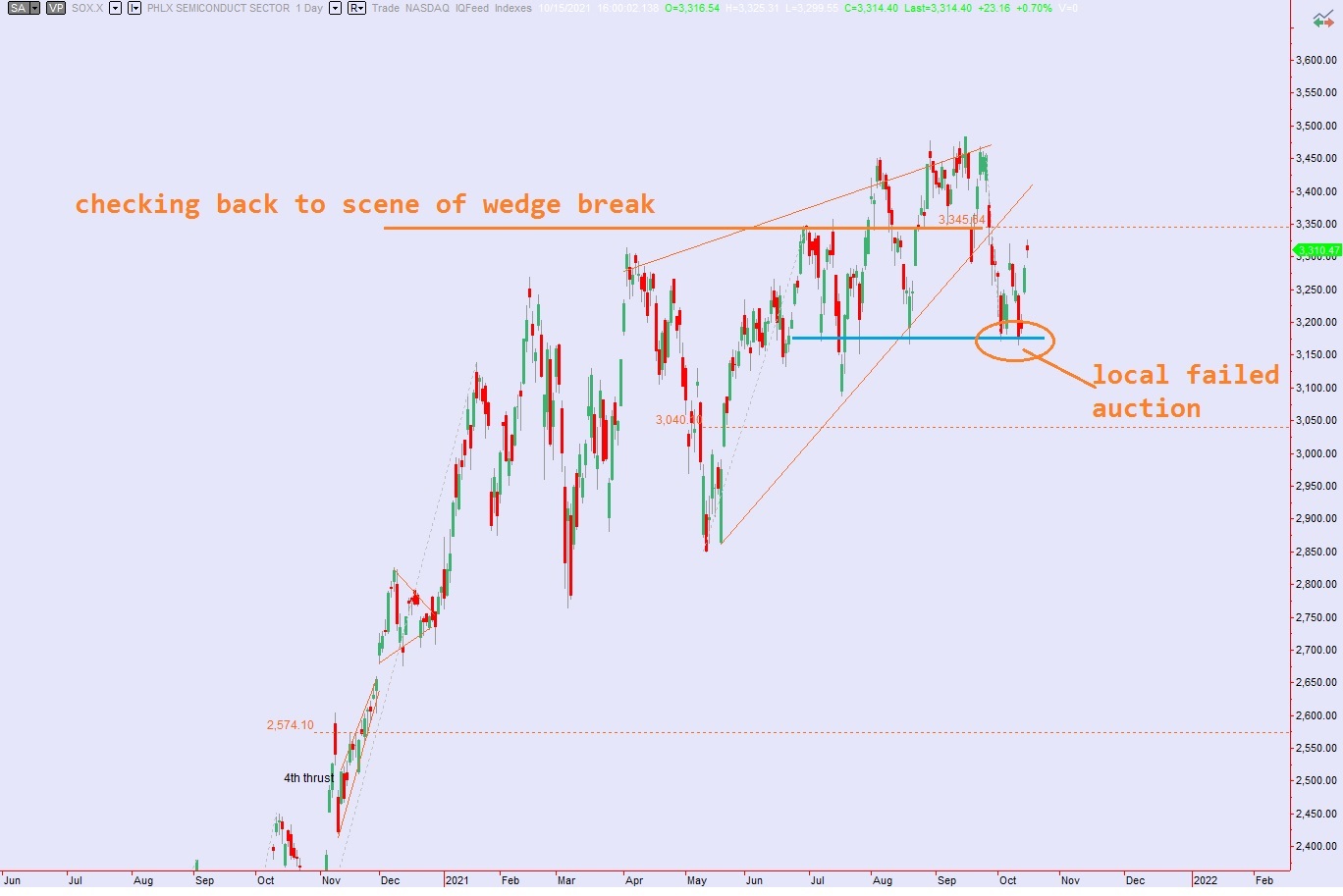 V. INDEX MODEL
Bias model is Rose Colored Sunglasses [RCS] bearish for a second consecutive week after being neutral two reports back after signaling Rose Colored Sunglasses [RCS] bearish three weeks ago. It was neutral the prior two weeks after being Rose Colored Sunglasses [RCS] bearish six weeks back after being neutral seven reports back and Rose Colored Sunglasses bearish for the two consecutive weeks prior to that.
We had a Bunker Buster thirty three weeks ago.
Indexmodel keeps flipping between neutral and bearish and I am slightly skeptical of the data.
Here is the current spread: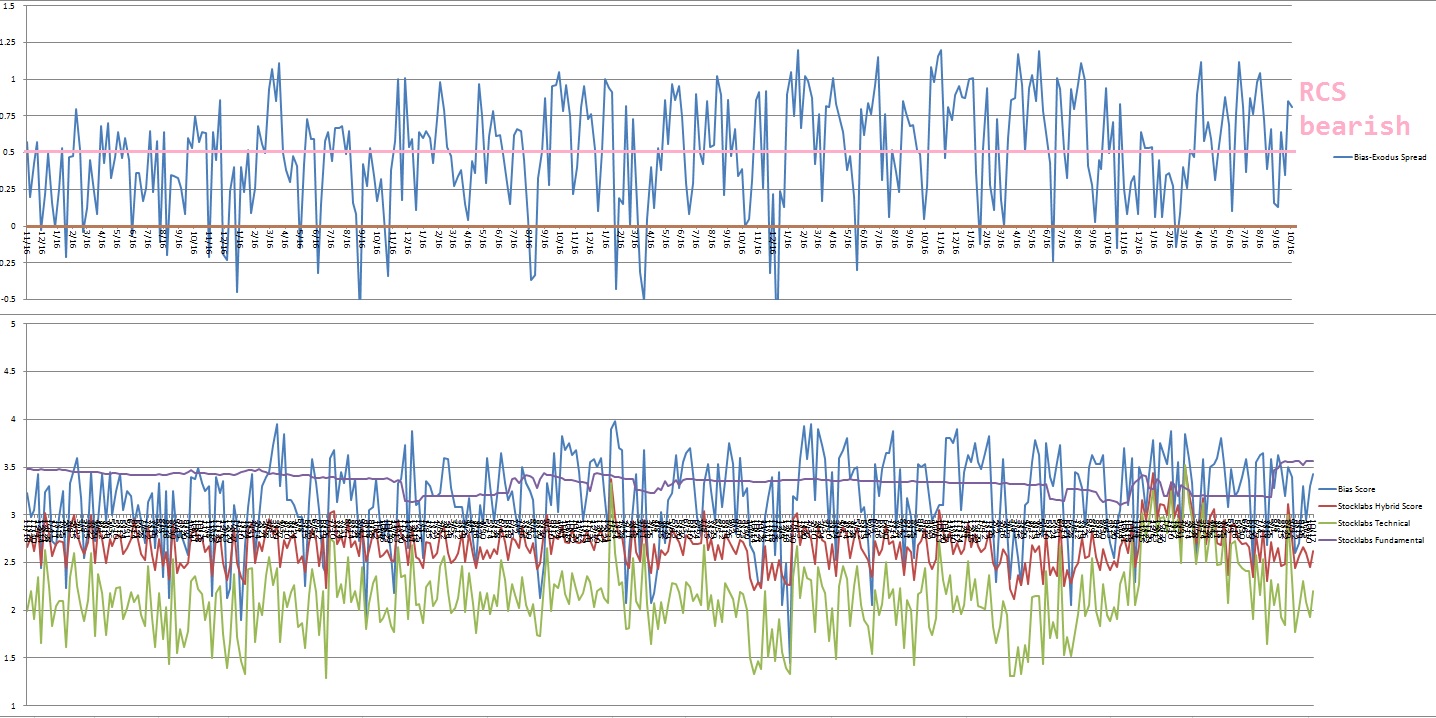 VI. Twelve Month Hybrid Oversold
On Tuesday, September 28th Stocklabs went hybrid oversold on the 12-month algorithm. This is a bullish cycle that runs through Tuesday, October 12th end-of-day. Here is the final performance of each major index: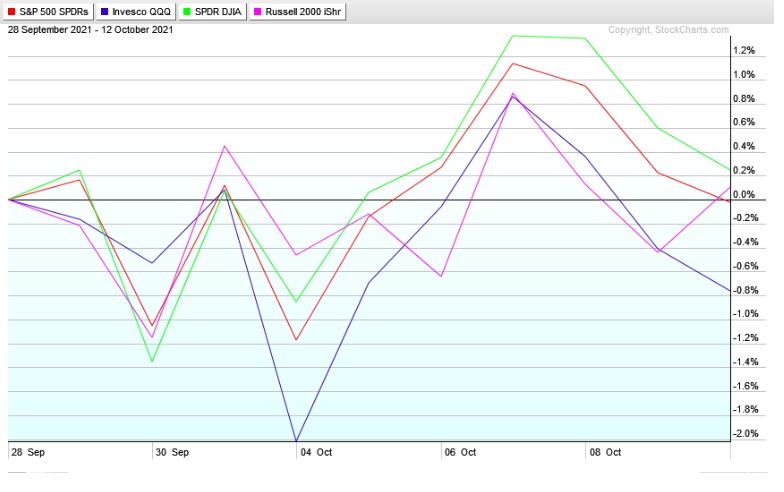 VIII. QUOTE OF THE WEEK:
"Man is not above nature, but in nature." – Ernst Haeckel
Trade simple, relax
If you enjoy the content at iBankCoin, please follow us on Twitter