Greetings lads,
We've finally rid this country of the wretched celebration of Christopher Colombo, that no good colonialist murderer. Thanks to our dear President Jimmy 'Executive Order' Biden we will now celebrate Indigenous Peoples day and I am here for it.
Italian Americans, especially on the east coast, hold Columbus as some sacred forefather, for whatever reason. I suppose there aren't many good Italians to look up to historically, so they attach their pride to some jackass who got lost on his way to India and by a sick twist of fate found the most sacred lands in the world.
Me, I have an Italian immigrant to look up to whose accomplishments are far superior. Elder Raul. A swarthy little guy. Sent away from the old country along with his brother. They were causing more trouble than their small mountain village could handle. Death threats were being made. My grandpa had six children. Three before the Great War, and three after. He was a prisoner of war in Africa for seven years and some speculate there may also have been an African Raul created during that time.
Elder and Uncle Raul were born after the war and began to cause more mischief than dear old grand papa could tolerate. Uncle Raul was a heavy smoker, drinker and gambler by the age of eight. A real unruly lad. Sharp with numbers and not afraid to stab a paisano, regardless of their connections to the cosa nostra. It was too much to bear.
So with the suits on their backs Uncle Raul and Elder Raul were sent to America. To Detroit. To live with their older sister and find their place in the New World.
Uncle Raul continued his rambunctious ways and cut a path that I forge onward today. Many the resources he accumulated along the way have been endowed to me and it is my duty to keep bringing the wrath of the old country to these soft-handed americans.
Elder Raul took a more conventional path. His first order of business was finding the biggest, blondest american woman and starting a family. By the age of 32 he had his third child, your dear and humble blogger RAUL [DaHR]. And as of last Saturday he has kept this family together for 45 years.
I find Christopher Columbus to be a real shit head. First of all what kind of an Italian name is that? It's not. It's a christian name and a weak one at that. Second, not a good human. Finally, I find indigenous people more relatable, so if battle lines are drawn I would wholeheartedly side with the brown people of america.
Any who.
I cannot continue to ignore the signals coming from IndexModel. It is bearish again heading into next week. This is an option expiration week, so the selling may not trigger a full-on liquidation but my guard will be up nonetheless.
I am coming into the week very long. By Tuesday afternoon my goal is to lighten my bag a bit and carry some disgusting fiat american cash into month-end.
So it is written. So it shall be.
Raul Santos, October 10th 2021
And now the 359th edition of Strategy Session. Enjoy
---
Stocklabs Strategy Session: 10/11/21 – 10/15/21
I. Executive Summary
Raul's bias score 3.30, medium bull*. Bounce/rally through Tuesday afternoon. Then equity markets pivot and turn lower. Watch for FOMC minutes and Treasury statement Wednesday afternoon to introduce selling pressure into the market. Then Thursday morning earnings from major banks and Taiwan Semiconductors to accelerate prices to the downside.
*Rose Colored Sunglasses bearish bias triggered, see Section V.
II. RECAP OF THE ACTION
Heavy selling Monday morning but no follow through. Then a reversal Tuesday. Bulls reversed a gap down Wednesday setting up an all-day rally. Follow through strength into Thursday morning. Then a steady rotation lower into the weekend.
The last week performance of each major index is shown below: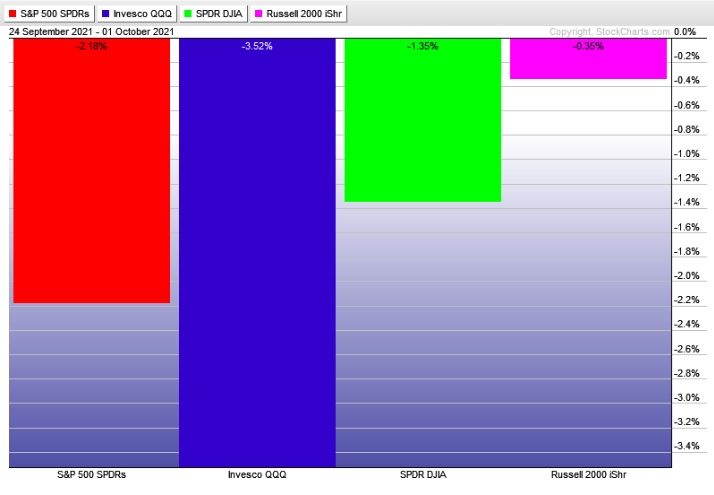 Rotational Report:
Tech lagging. So is Discretionary. Meanwhile Utilities and Staples strong
slightly bearish
For the week, the performance of each sector can be seen below: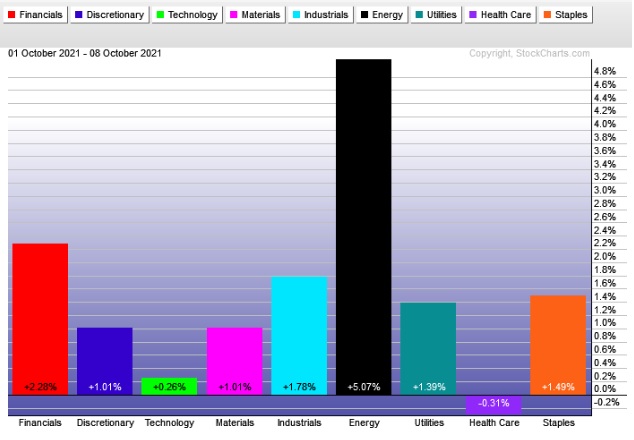 Concentrated Money Flows:
Six weeks back we had a major bullish skew and that really hasn't been negated yet. Last week's ledger is faily balanced, though the industries on the positive side of the ledger are not the type bulls prefer to see leading the market.
neutral
Here are this week's results: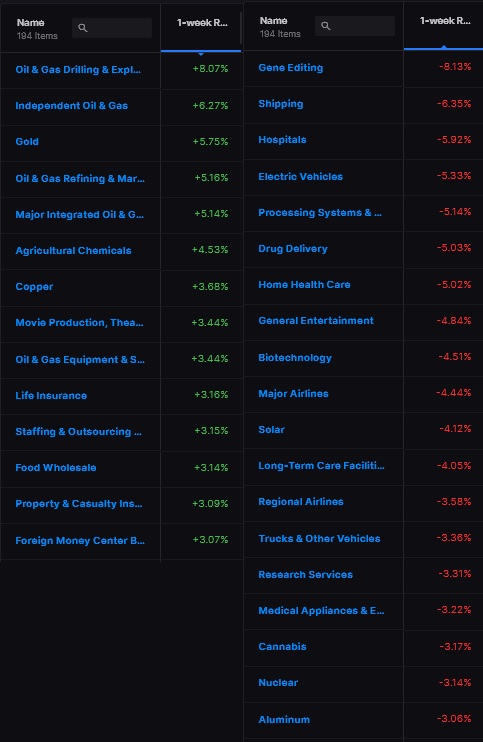 III. Stocklabs ACADEMY
bullish cycles ending, Indexmodel bearish again
Stocklabs 6-month overbought cycle ended last Thursday. The 12-month oversold cycle ends this upcoming Tuesday. As of now, after that bullish cycle ends, all we will have to work with is the RCS bearish signal from IndexModel.
This systematic framework is how the Executive Summary at the top of this report was formulated.
Note: The next two sections are auction theory.
What is The Market Trying To Do?
Week ended searching for buyers.
IV. THE WEEK AHEAD
What is The Market Likely To Do from Here?
Weekly forecast:
Bounce/rally through Tuesday afternoon. Then equity markets pivot and turn lower. Watch for FOMC minutes and Treasury statement Wednesday afternoon to introduce selling pressure into the market. Then Thursday morning earnings from major banks and Taiwan Semiconductors to accelerate prices to the downside.
Bias Book:
Here are the bias trades and price levels for this week:

Here are last week's bias trade results:

Bias Book Performance [11/17/2014-Present]: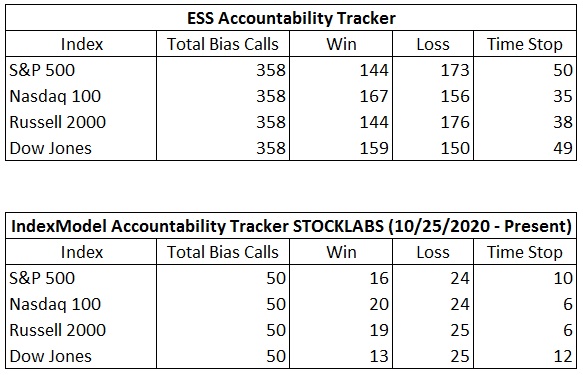 Contextual indices both neutral
Markets fluctuate between two states—balance and discovery.  Discovery is an explosive directional move and can last for months.  In theory, the longer the compression leading up to a break, the more order flow energy to push the discovery phase.
We are monitoring two instruments, the Nasdaq Transportation Index and the PHLX Semiconductor Index.
Transports have a well-established range and until this breaks we are neutral.
See below: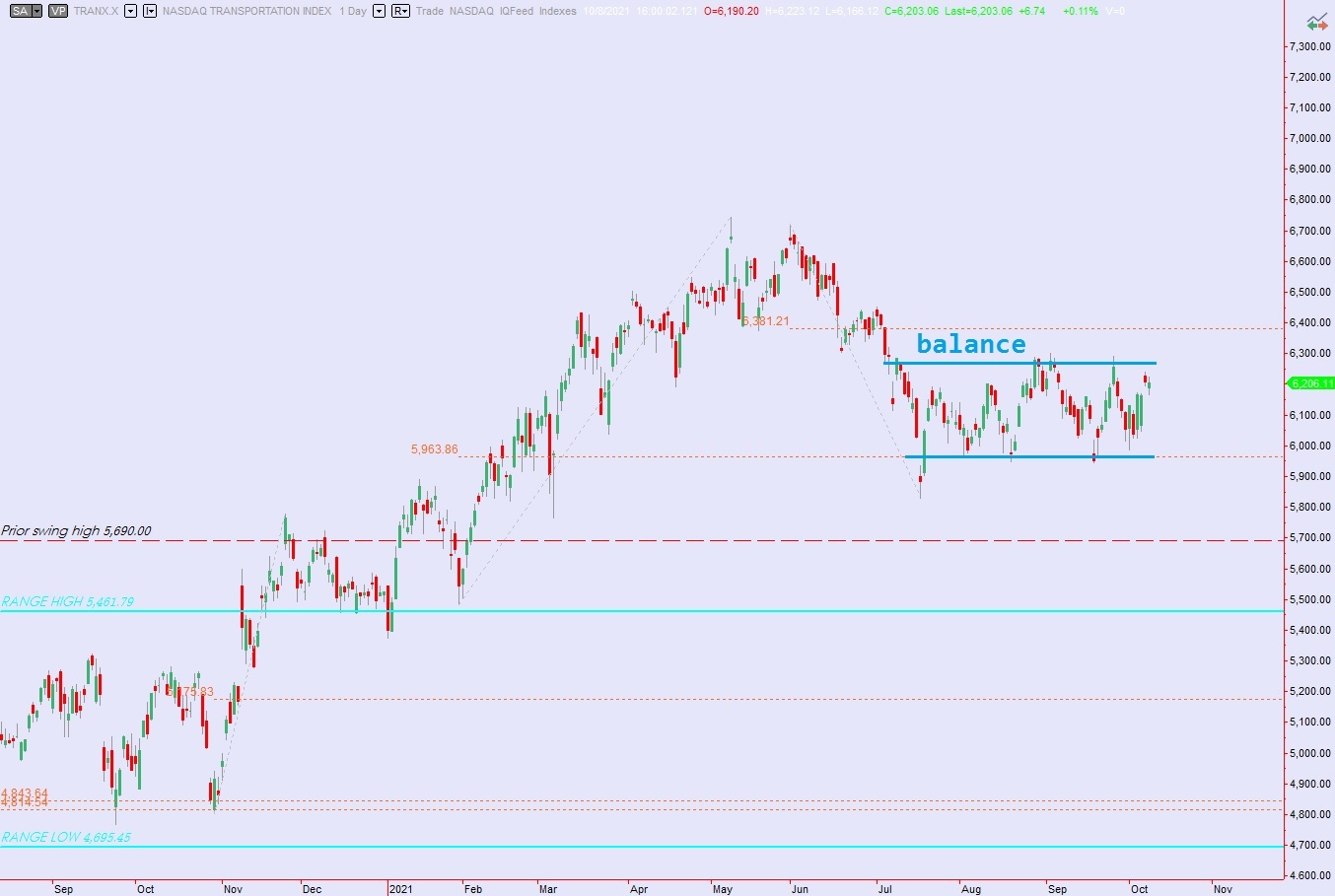 Semiconductors sort of broke a rising wedge we've been watching to the downside. But for now they appear to be in balance. Watch how this index behaves Thursday after the TSM earnings. That could be the proverbial 'tell' for the direction of price heading into month-end.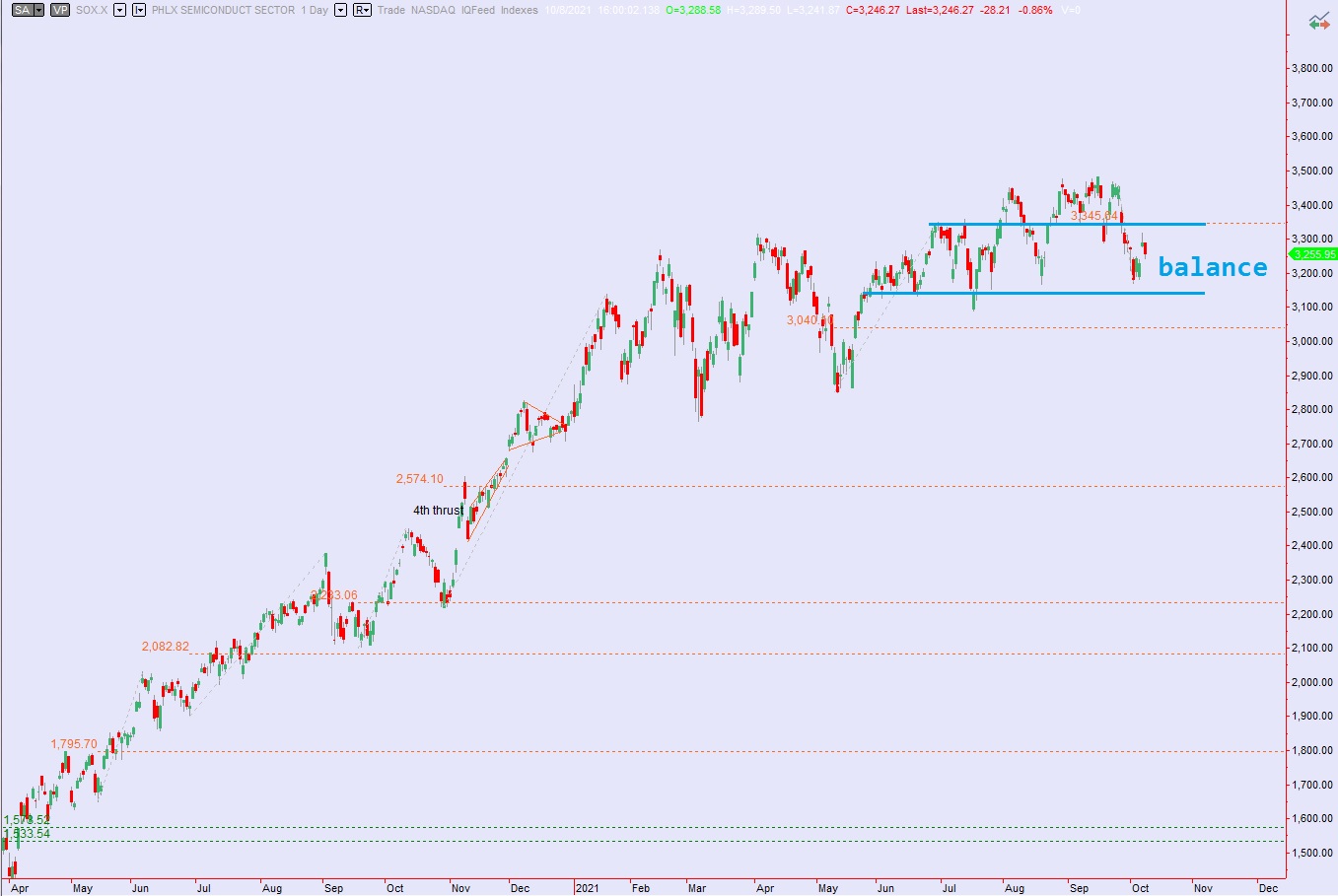 V. INDEX MODEL
Bias model is back to Rose Colored Sunglasses [RCS] bearish after being neutral on the prior report after signaling Rose Colored Sunglasses [RCS] bearish two weeks ago. It was neutral the prior two weeks after being Rose Colored Sunglasses [RCS] bearish five weeks back after being neutral six reports back and Rose Colored Sunglasses bearish for the two consecutive weeks prior to that.
We had a Bunker Buster thirty two weeks ago.
Indexmodel keeps flipping between neutral and bearish. We haven't seen a cluster like this since February-through-May when similar signals were coming through.
Here is the current spread: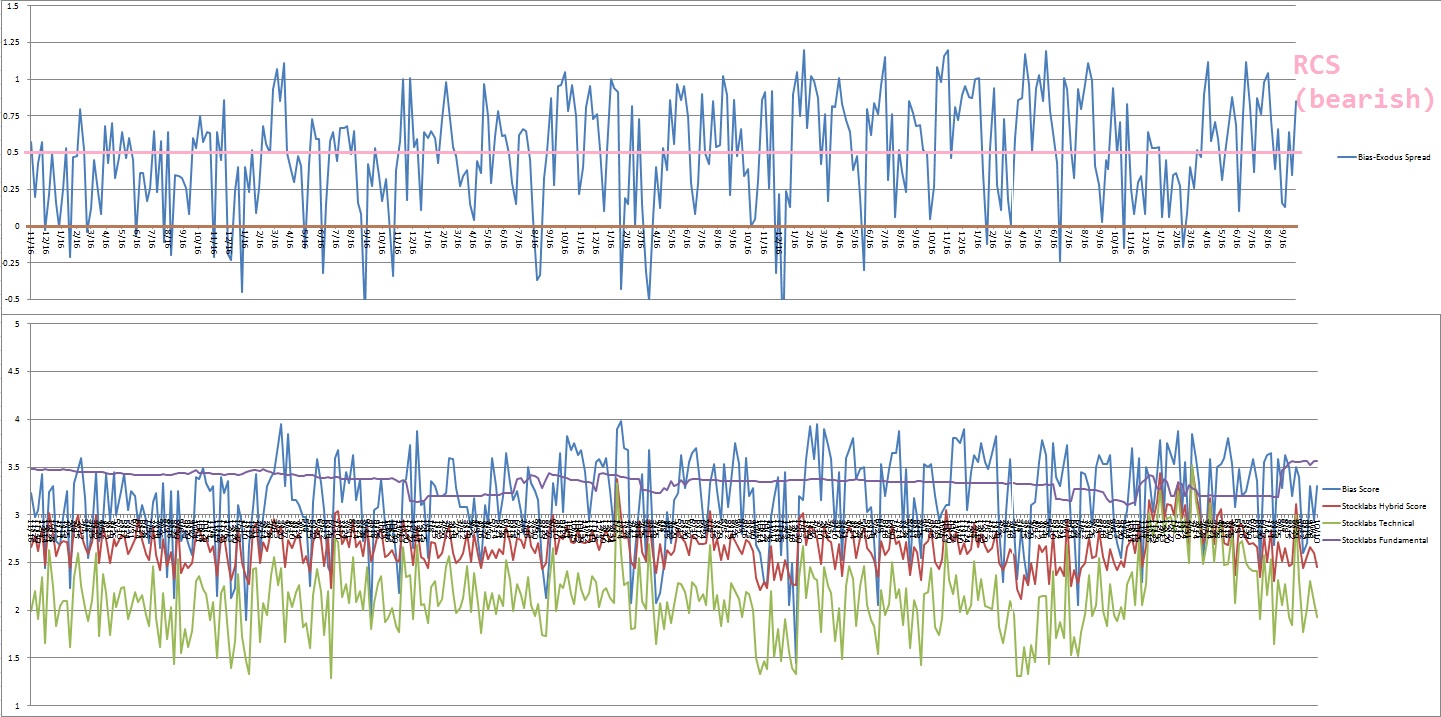 VI. Six Month Hybrid Overbought
On Thursday, September 23rd  Stocklabs went overbought on the 6-month algorithm. This is a bullish cycle that runs until Thursday, October 7th end-of-day. Here is the performance of each major index so far: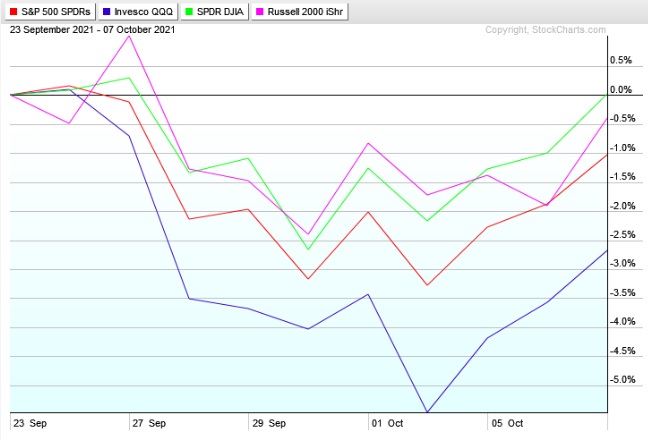 VII. Twelve Month Hybrid Oversold
On Tuesday, September 28th Stocklabs went hybrid oversold on the 12-month algorithm. This is a bullish cycle that runs through Tuesday, October 12th end-of-day. Here is the performance of each major index so far: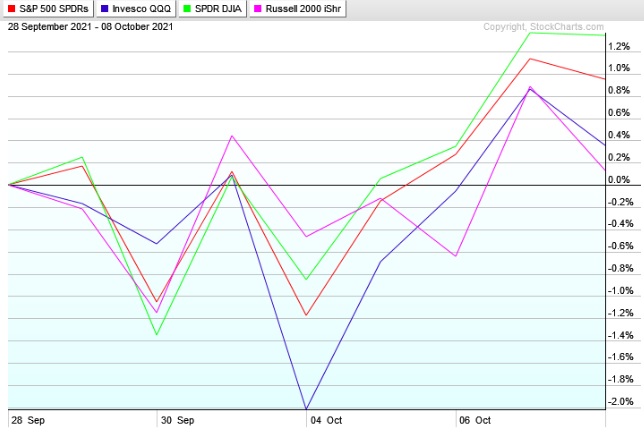 VIII. QUOTE OF THE WEEK:
"I believe the very best money is made at market turns." – Paul Tudor Jones
Trade simple, stick to the plan
If you enjoy the content at iBankCoin, please follow us on Twitter