A nice old man I understudied in my early years as a speculator used to say, "the harder I work, the luckier I am."
He may have stolen (borrowed?) that saying from Mike Jordan or something. I have no idea. It doesn't matter. Nothing matters, really. See how quickly I go dark?
Nevermind that.
Nothing matters and it's fine.
Just because something is important to my well being doesn't mean it matters. I hear dudes work themselves into a fit, full-grown 'men' mind you, over the lack of respect they perceive. From women. From kids. From peers.
Like who the fuck are you? And what makes you think you deserve respect?
And why does this perception of respect even matter? The stock market sure as heck won't respect you.
No speculative market will.
Look at Jim Powell. He heads the Federal Reserve and we care less about him then we do the latest earning's call from Tim Apple. Jim Biden? You knuckleheads don't respect the President.
The reality teevee host turned president. I suppose he brainwashed a few cucks into submission.
We're revolting against the SEC as a society. This agency, for the love of xmas, an overreaching enforcement bureau that does what? Protect the mom and pop investor? Bullshit. They are suppressing your average americans ability to participate in the greatest wealth creation scheme of the last twenty years.
All while Tom Brady is deep dickin' FTT tokens.
No respect. And that's okay friend. Dear reader you made it to this here humble Raul blog [hRb]. We know that we can make our way through the world rosy, passing out good mornin's and giving respect to all sentient beings without any expectation of it in return.
Renunciate yourself from the trapping of modern society child. Cleanse yourself of desire until all that is left is an orb of light, whichever color you choose. That's it. Then vibe with the waves of the universe.
See how quickly I go psychedelic?
Right then. Let's reign this journal entry in and send you on your way. How the fuck much can the souped up time machine Fly built point and boop and jingle-guide us along our path? On Friday, September 10th we went technical oversold on the mother algo.
What is our job when this happens? Show of hands…
We go to the stats section. We pull up the stats. We interpret the stats as objectively as one can a number chart, and then we formulate a plan. I wrote about it last week in my diary:
VII. Twelve Month Technical Oversold

On Friday, September 10th Stocklabs went technical oversold on the 12-month algorithm. This signal has bearish statistics. The cycle runs through Friday, September 24th end of day. [added emphasis]
With the 12-month technical oversold you need to broaden the sample set out to ten years have even 25 samples, which is still really a small set but better than like 3 samples.
Okay so 25 samples. Going out to day 3-through-7 it is slightly better than a coin toss (and that's pretty good, we want to be on the right side of large numbers even if the skew is slight) that the market will be lower. About 58% of the time the signal saw the S&P 500 lower by about -0.13% to -0.34%.
Since September 10th the S&P is down -0.59%. Down slightly more than past performance: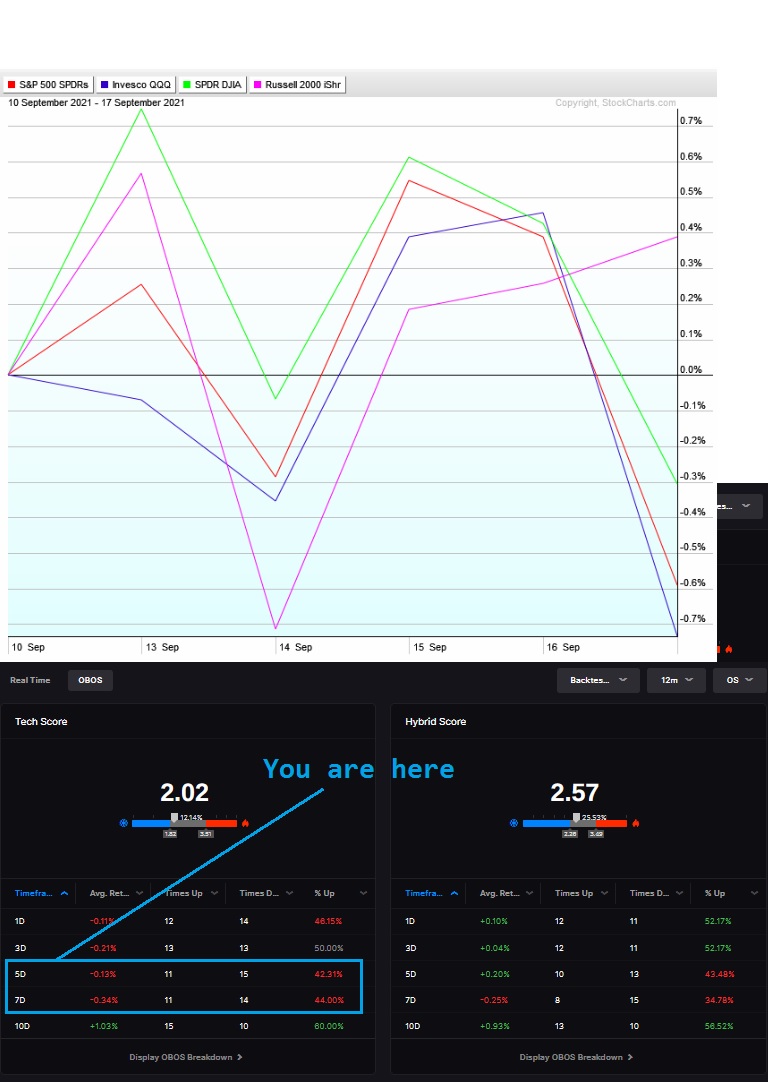 Past performance is not indicative of future returns. But what the heck else are we going to build our decision tree from? Strangers on the internet anon? Real life blowhards on the teevee?
I'd rather use the moon.
And the moon works if you wrap the right risk protocol around it.
Hey man I'm not here to tell you how to speculate. Choose whatever approach fits your sensibilities. For me I like cold, dead, indifferent data. I parse it into groups, I run little statistical analyses, I see probabilities and I write plans based off those probabilities.
When the trades work out. Great. When they fail. Fine. All mine to own.
I don't need no respect.
I need to be responsible for my actions and a decent human.
Okay for now.
Raul Santos, September 19th 2021
And now the 356th edition of Strategy Session. Enjoy:
---
Stocklabs Strategy Session: 09/20/21 – 09/24/21
I. Executive Summary
Raul's bias score 2.70, medium bear. Chop along last week's low through Tuesday afternoon. Then a pause ahead of the Wednesday afternoon FOMC announcement. Then look for third reaction to the FOMC to dictate direction into the second half of the week.
II. RECAP OF THE ACTION
Choppy volatility that gradually drifted lower while chopping along. Strong selling action into the weekend. The Russell 2000 was bullish divergent.
The last week performance of each major index is shown below: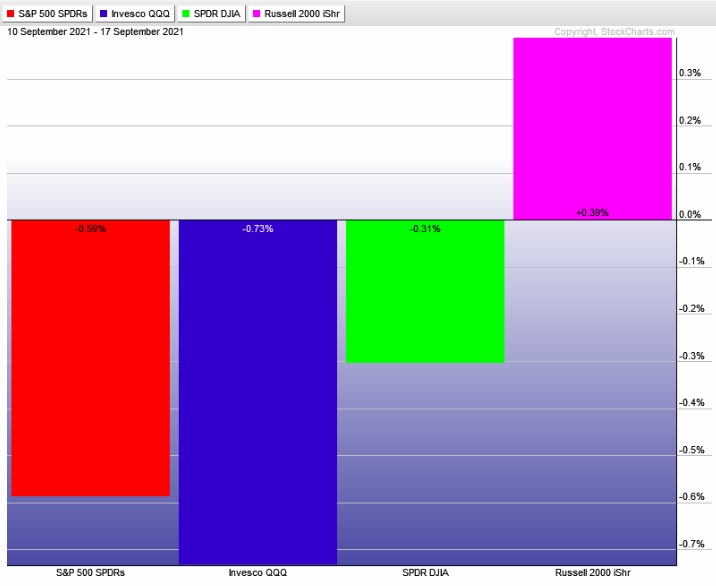 Rotational Report:
Interesting bullish divergence from Discretionary. Rotations slightly negative on the week but the worst hit sectors are some of the least desirable places to see strength. Energy continues to trade on its own planet.
neutral
For the week, the performance of each sector can be seen below: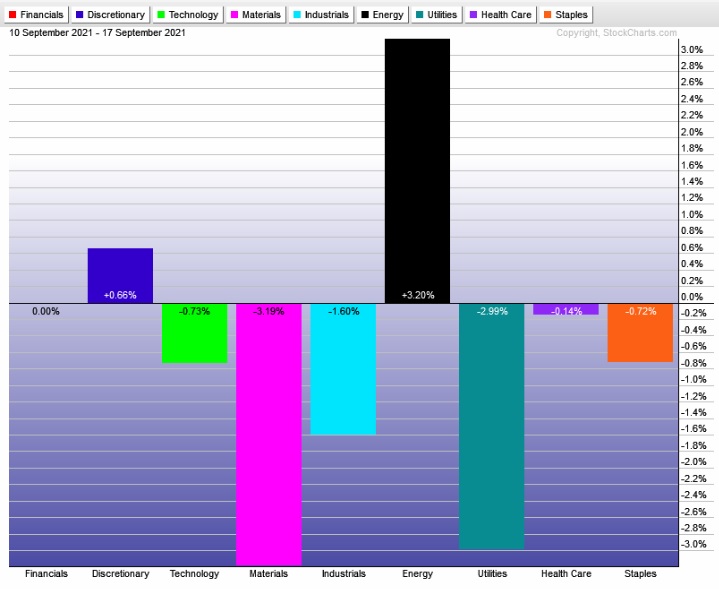 Concentrated Money Flows:
Money flows slightly negative after a big bullish skew three weeks back. Not really seeing any important industry groups populating either side of the ledger.
neutral
Here are this week's results: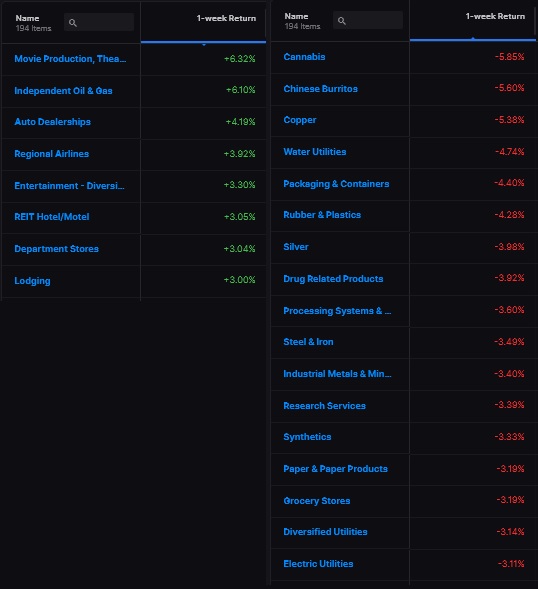 III. Stocklabs ACADEMY
Keep an eye on risk
More than a few lads I interact with have expressed frustration with recent market conditions. What we need to be aware of at all times is two things—market behavior can shift at any moment and that is completely beyond our control and secondly the only thing we do have control over is our risk.
Having solid risk management in place is the only thing that will save the independent trader during cold streaks. There is no manger keeping an eye on the independent. The independent is the operator and the manager. No one's master. No one's slave. Without the discipline to make a real risk plan, something written down outside the heat of battle, and stuck to with militant dedication, the independent will soon find themselves bust.
Ironically enough, the path to freedom requires discipline.
I do my best to keep it light, even when I want to go dark. All we can do is take it one day at a time. If it feels like I am pushing too hard, forcing, attempting to exert my will on something far greater than me, the market, that is a good indication to step away.
The markets were here long before us, they'll be here long after we're gone.
Right now the conditions may not suit a given approach. That is fine. All the big hitters are back on their desks after the summer, ready to make their nut.
Keep in mind who else is participating in the markets we trade. The most sophisticated and resource rich institutions in the world. The only thing we can manage is our own plan and our own risk.
Note: The next two sections are auction theory.
What is The Market Trying To Do?
Week ended searching for buyers
IV. THE WEEK AHEAD
What is The Market Likely To Do from Here?
Weekly forecast:
Chop along last week's low through Tuesday afternoon. Then a pause ahead of the Wednesday afternoon FOMC announcement. Then look for third reaction to the FOMC to dictate direction into the second half of the week.
Bias Book:
Here are the bias trades and price levels for this week:

Here are last week's bias trade results:

Bias Book Performance [11/17/2014-Present]: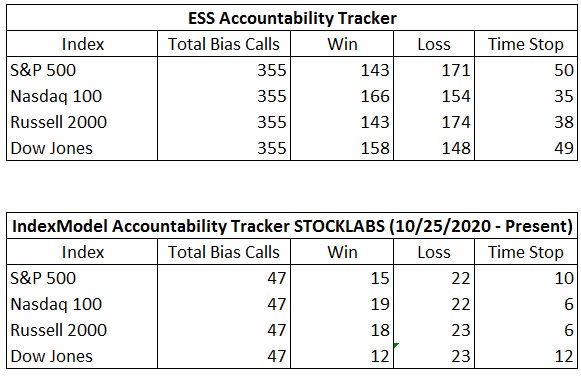 Semiconductors still telling the whole truth
Markets fluctuate between two states—balance and discovery.  Discovery is an explosive directional move and can last for months.  In theory, the longer the compression leading up to a break, the more order flow energy to push the discovery phase.
We are monitoring two instruments, the Nasdaq Transportation Index and the PHLX Semiconductor Index.
Transports continuing to hold range.
See below: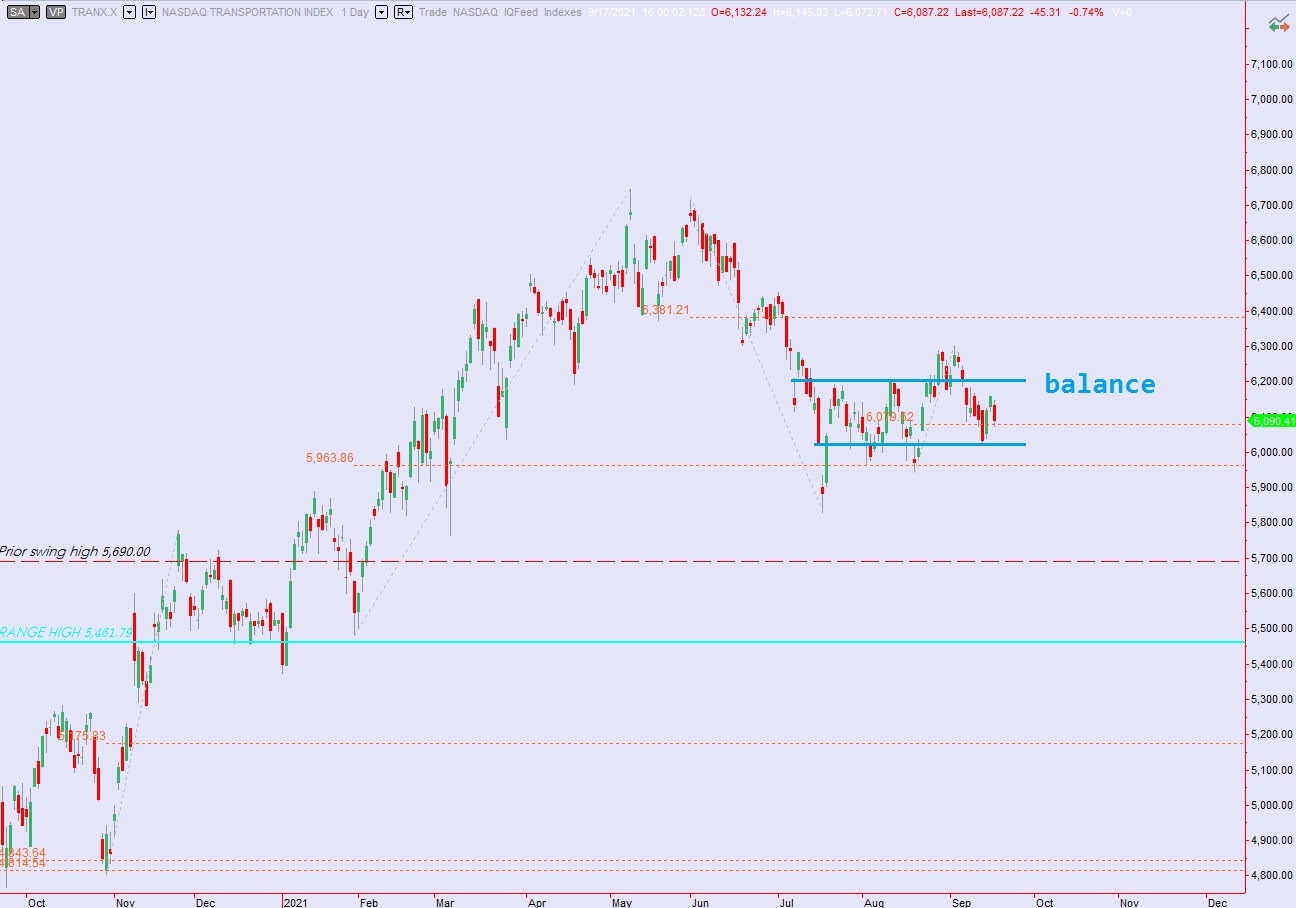 Semiconductors probed recent highs and sharply reversed. In auction theory this is referred to as a failed auction. They can pivot the market. The longer the duration between the prior swing and the failed test, the more ominous the signal. The instance noted below is a bit less drastic, the prior swing and the failed auction were only 13 trading days apart, but it merits our attention nonetheless.
This index has guided us throughout the entire secular bull run that kicked off back in July 2016. The long term chart is practically bull porn: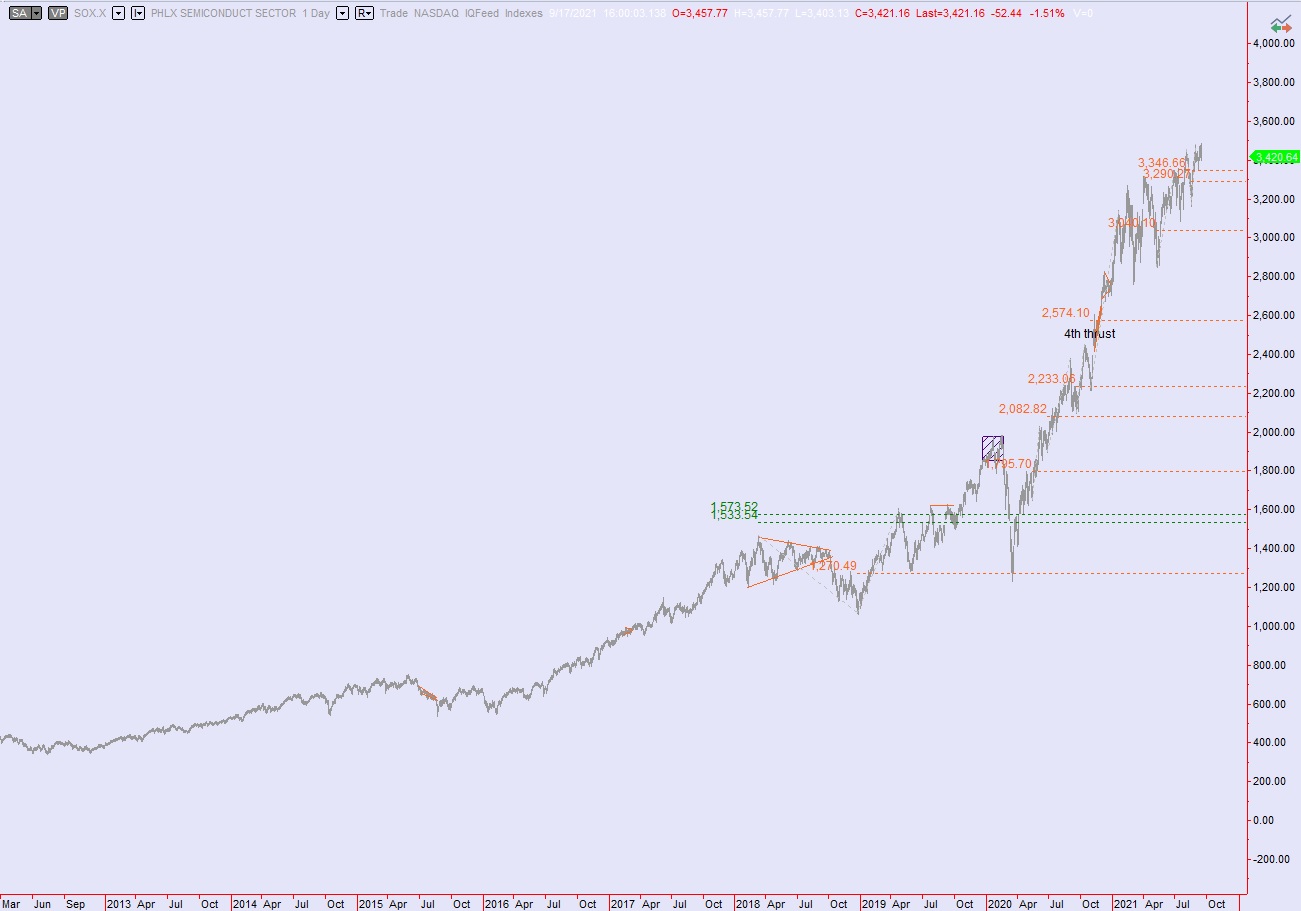 Focusing back in. This chart has continued to make higher highs and lows. That could change at any time but for now it is difficult to become overly bearish until we see this index break down.
See below: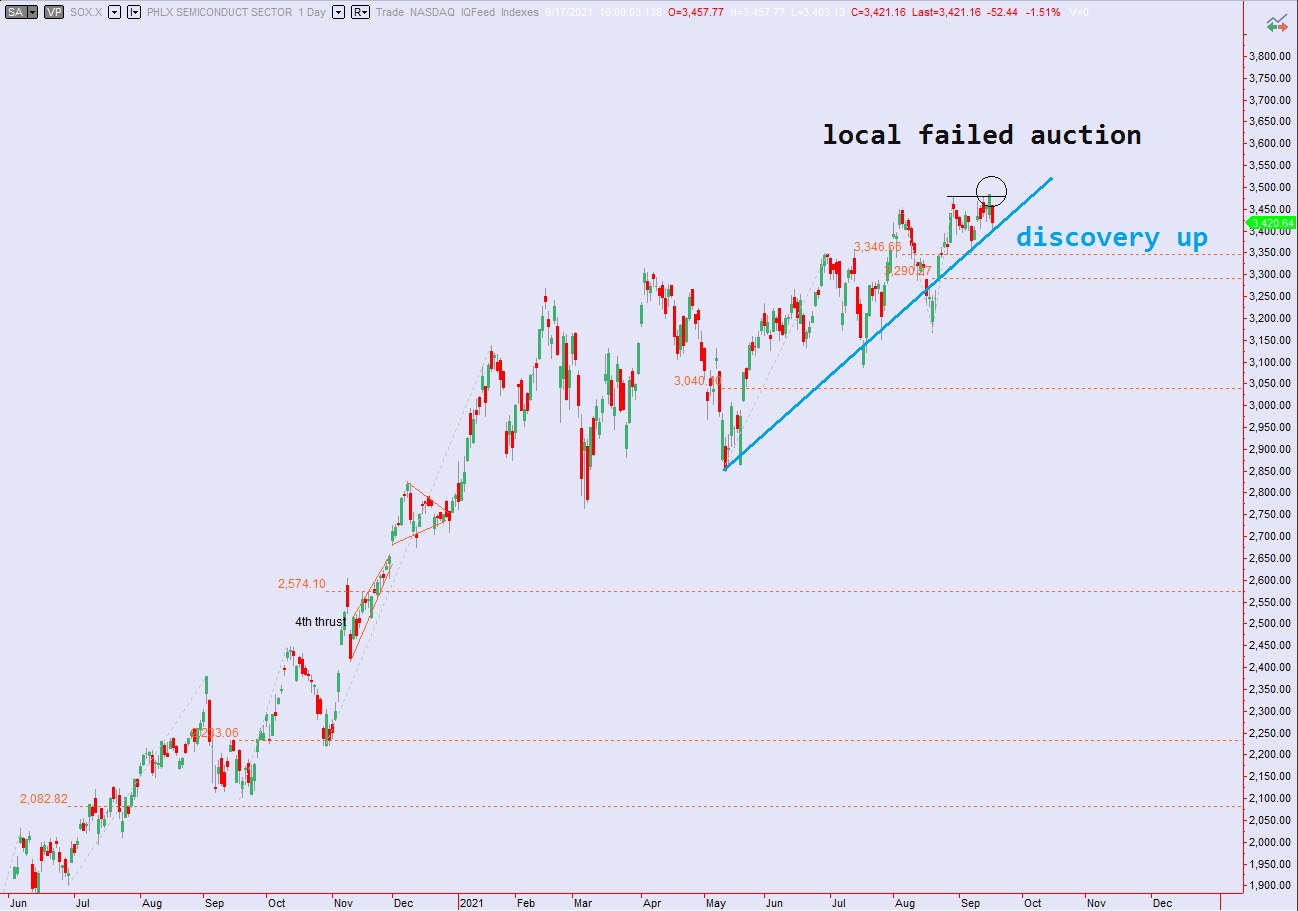 V. INDEX MODEL
Bias model is neutral for a second consecutive week after being Rose Colored Sunglasses [RCS] bearish two weeks back after being neutral three reports back and Rose Colored Sunglasses bearish for two consecutive weeks prior to that.
We had a Bunker Buster twenty nine weeks ago.
Neutral heading into next week.
Here is the current spread: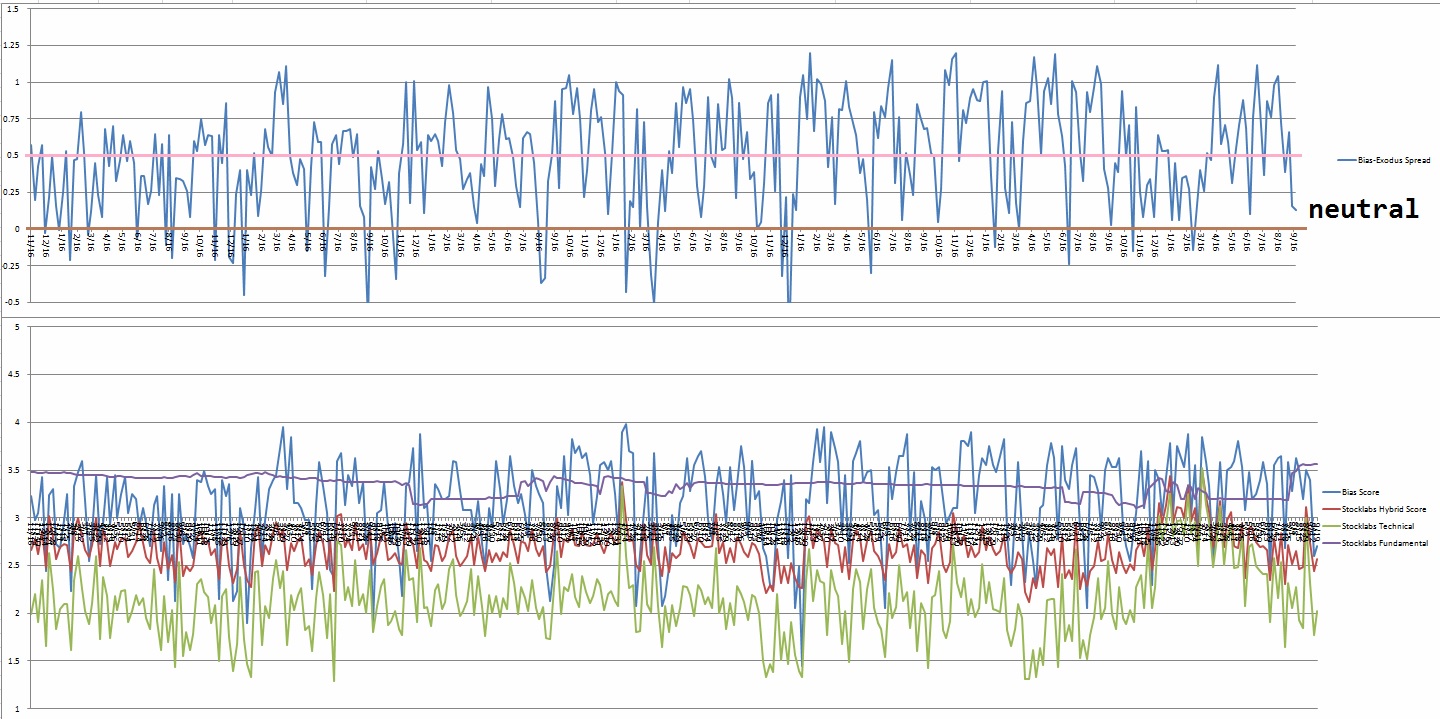 VI. Six Month Hybrid Overbought
On Friday, August 27th  Stocklabs went overbought on the 6-month algorithm. This is a bullish cycle that runs until Monday, September 13th. Here is the performance of each major index so far: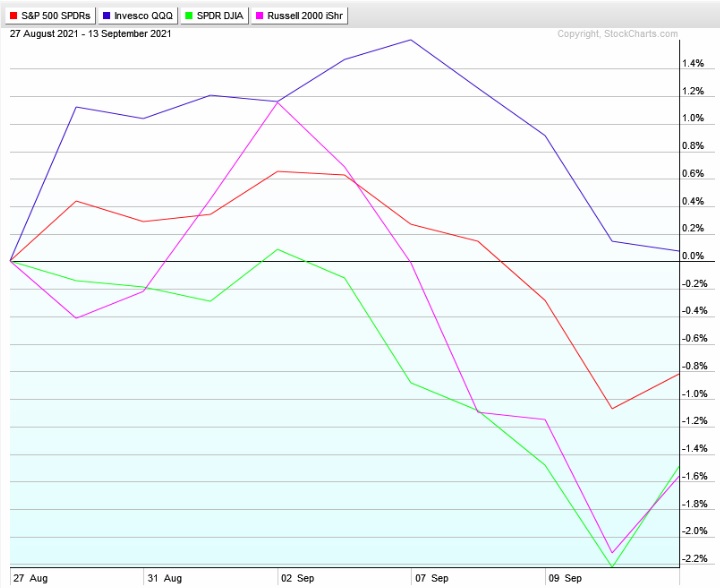 VII. Twelve Month Technical Oversold
On Friday, September 10th Stocklabs went technical oversold on the 12-month algorithm. This signal has bearish statistics. The cycle runs through Friday, September 24th end of day. Here is the performance of each major index so far: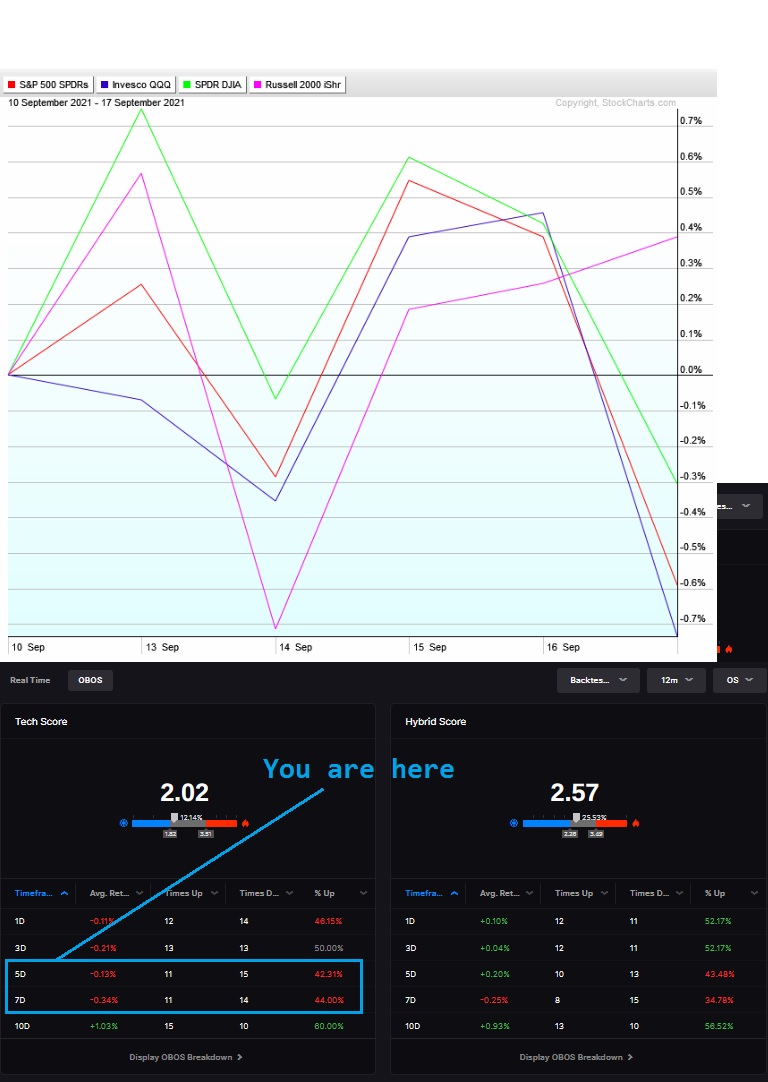 VIII. QUOTE OF THE WEEK:
"When a man cannot choose, he ceases to be a man." – Stanley Kubrick
Trade simple, make sound choices
If you enjoy the content at iBankCoin, please follow us on Twitter