I did a bit of inspired writing this morning. Both on Twitter and in my private captain's log. I raved. I gardened. Had breakfast and then updated the Sunday research. I suppose I should say thank you. The city inspires me of course. My little oasis from the mundane norms of society and I am building a farm right there in the thick of it.
What a time to be alive.
All the big hitters are due out with earnings next week. Breadth on last week's rally was real narrow. On the wings of Big Tech just how we like it daddy and now it is time for them to show up and deliver robust 10-k forms.
Powell and the Fed team have a message due out Wednesday afternoon but this is of little importance. Jim Powell's Fed has taken a back seat in economic policy talks ever since Janet "the queen" Yellen took the helm over at Treasury. Master of Coin.
I will wait until word comes down official word comes from the Queen and make a small note of Jim Powell's low-impact chatter while remaining reverent to the tape.
The fun kicks of Monday afternoon with none other than the dogefather himself daddy elon love you long time yes. I like buying Tesla before and after earnings. I like it both times and then doing nothing. Maybe gardening or something, whist waiting for the Cybertrucks to deliver.
I learned something curious about trucks last week. Those ram 1500s you see folks across america driving are only rated to hold about 500lbs in the bed. WTH is 500 pounds? Nothing. I put two tonnes in the back of an eleven-year-old 250 diesel last week and the ride home had me shook.
Anyhow truck-life hoe. I am hardt on things. Not just trucks but everything. I had the whole inside of Mothership painted white. The trim. Doors. Everything. Now I am walking around, strong cocked, every last bit of 5'11" 185lbs of labor-hardened-shit-kicking-vegitarian mass, doing my best to not scuff the walls like an idiot.
Using the handles and hardware to open and close things instead of just bashing them with my hips or ripping open like bear.
Okay for now.
Raul Santos, July 25th 2021
And now the 348th edition of Strategy Session. Enjoy:
---
Stocklabs Strategy Session: 07/26/21 – 07/30/21
I. Executive Summary
Raul's bias score 3.58, medium bull*.  Major event-heavy week ahead. Expect elevated volatility as we drift sideways, perhaps with an upward bias. Watch for the markets to pivot Wednesday afternoon after the FOMC announcement. Late-week earnings from Facebook and Amazon may serve to accelerate or reverse the prevailing price action before month-end.
*extreme Rose Colored Sunglasses (e[RCS]) bullish bias triggered, see Section IV
II. RECAP OF THE ACTION
Pro gap down Monday. Choppy Monday featuring selling pressure until late in the session. Conviction buying Tuesday set up a strong rally for the rest of the week. We ended the week at record highs.
The last week performance of each major index is shown below: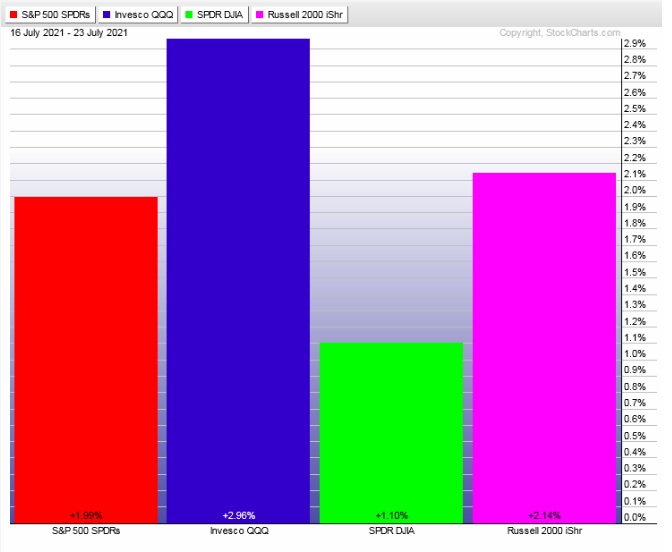 Rotational Report:
After two weeks of poor leadership, last week featured leadership from key Tech, Discretionary and Health sectors.
bullish
For the week, the performance of each sector can be seen below: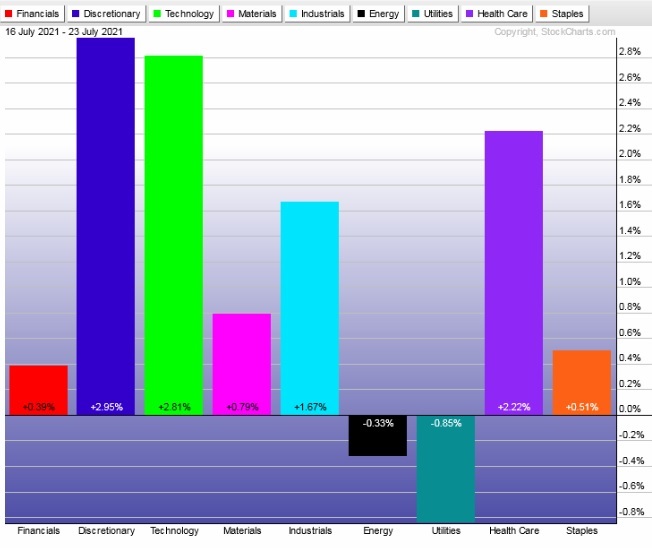 Concentrated Money Flows:
The heavily-skewed flows featured in the prior two-weeks of report was not negated last week. The breadth of money flows was fairly balanced. The slight edge goes to buyers on the week but until we see a major push featuring a majority of the industries with +3% gains on the week the slight edge goes to sellers.
neutral
Here are this week's results: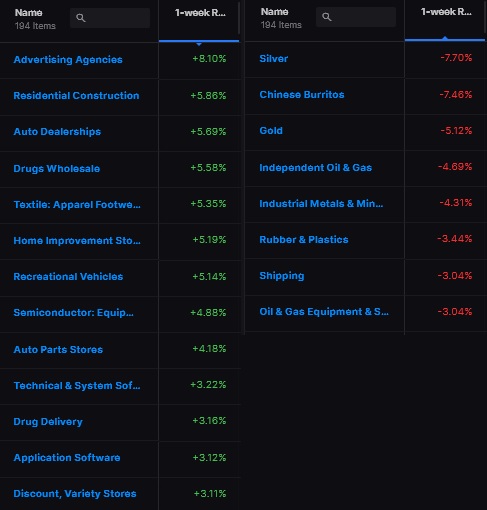 III. Stocklabs ACADEMY
SETTING ANOTHER RULE
Make sure to read last week's entry to 'STOCKLABS ACADEMY'. In it I outlines to protocol I will follow when a 12-month oversold signal triggers while I am trading the 6-month oversold signal.
I am writing another rule today to address an important happening that sometimes happens that I want to have a rule for. It may seem like I am making these rules up on the fly. I am.
I am learning how best to utilize Stocklabs live. Just like all of yous. Which is fine.
The overbought signals have been my favorite to trade for many years because they give me the conviction to press momentum and the rules to keep me from making errors.
My favorite set-up is when we swing from oversold to overbought and I want a rule for how to proceed if this happens midway through an oversold signal so here we go —
When we go overbought mid oversold cycle I will restart the 10-day counter on HALF of my original position. Closing the other half at the completion of the 10-day oversold cycle, whichever one I am working with at the time.
Right now I am working with the 12-month oversold signal that fired on Friday, June 16th. This signal cleanly carries risk up until the final day of July, this upcoming Friday, the 30th.
That means I will be at my desk (or phone) Friday afternoon, closing half of my position. The other half I will risk until Wednesday, August 4th, because the overbought signal I am working with fired on the 21st.
Simple rules. Simple to follow no matter what external forces are assaulting my person. Simple. But not easy.
Note: The next two sections are auction theory.
What is The Market Trying To Do?
Week ended searching for sellers
IV. THE WEEK AHEAD
What is The Market Likely To Do from Here?
Weekly forecast:
Major event-heavy week ahead. Expect elevated volatility as we drift sideways, perhaps with an upward bias. Watch for the markets to pivot Wednesday afternoon after the FOMC announcement. Late-week earnings from Facebook and Amazon may serve to accelerate or reverse the prevailing price action before month-end.
Bias Book:
Here are the bias trades and price levels for this week:

Here are last week's bias trade results:

Bias Book Performance [11/17/2014-Present]: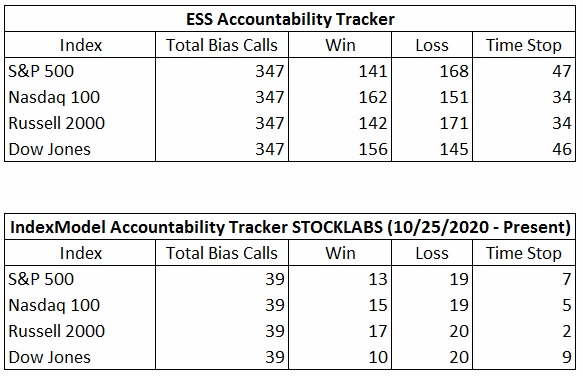 Key off semiconductors
Markets fluctuate between two states—balance and discovery.  Discovery is an explosive directional move and can last for months.  In theory, the longer the compression leading up to a break, the more order flow energy to push the discovery phase.
We are monitoring two instruments, the Nasdaq Transportation Index and the PHLX Semiconductor Index.
Transports caught a bounce and may still be in discovery down. I drew some broad lines of where we may see a new balance form.
See below: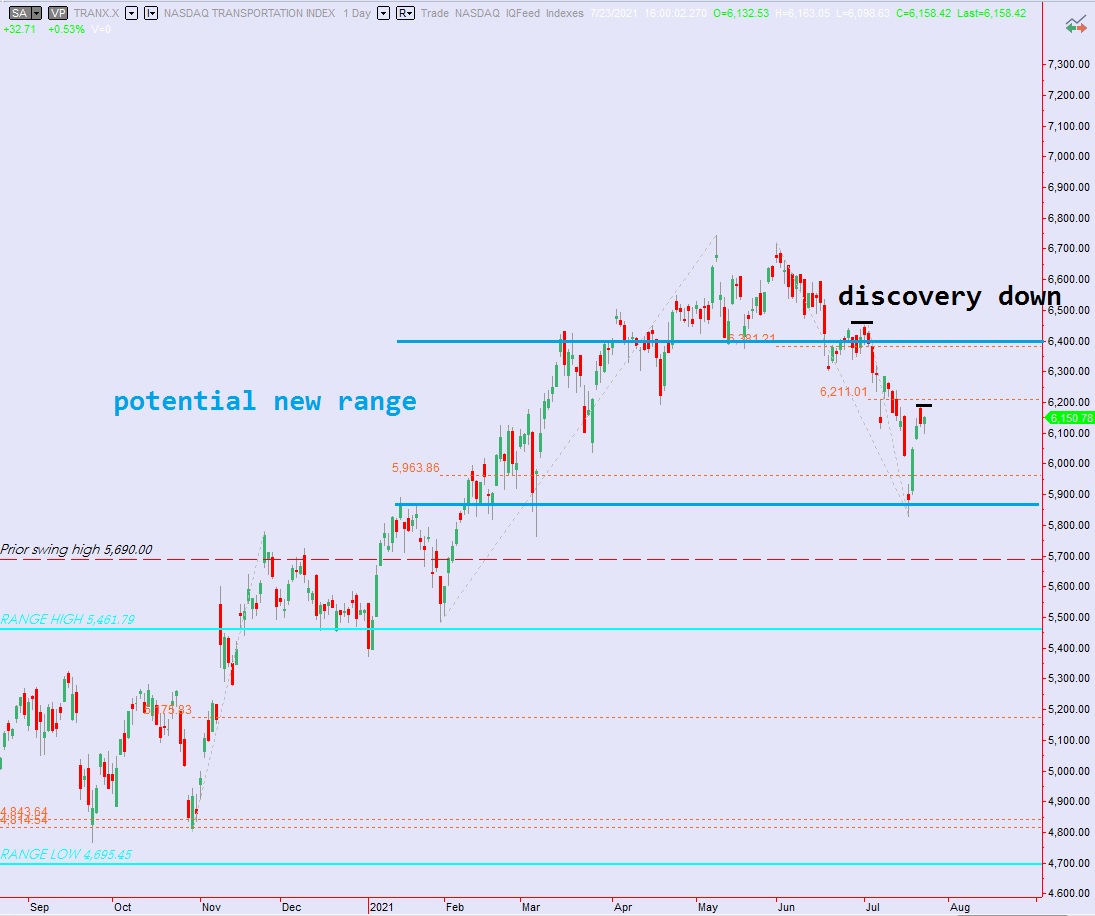 Semiconductors have a slightly more clear picture. We are inside the established range. There was a local failed auction but then buyers reclaimed the local Fibonacci which we can key off of with reasonably tight risk. If price pivots off the top-side of the fib we're likely entering a fresh leg of discovery up. A push down from the fib sets up a traverse of the old range.
See below: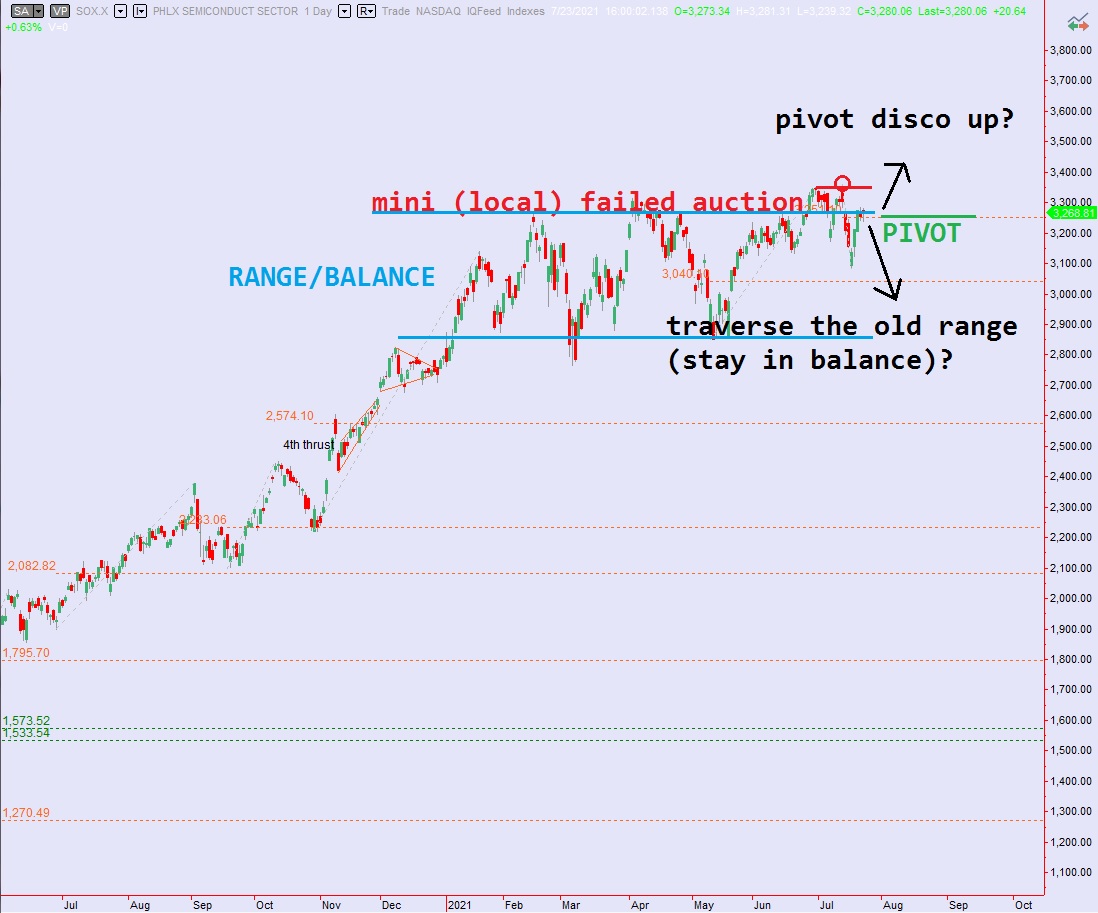 V. INDEX MODEL
Bias model is extreme Rose Colored Sunglasses bullish after being neutral last week after being extreme rose colored sunglasses bullish for the three weeks prior. Bias model was neutral five weeks back after being extreme Rose Colored Sunglasses bullish bias for three consecutive weeks prior after being neutral for the two weeks prior to that after being e[RCS] bullish eleven weeks back and RCS bearish twelve weeks prior.
We had a Bunker Buster twenty one weeks ago.
Here is the current spread: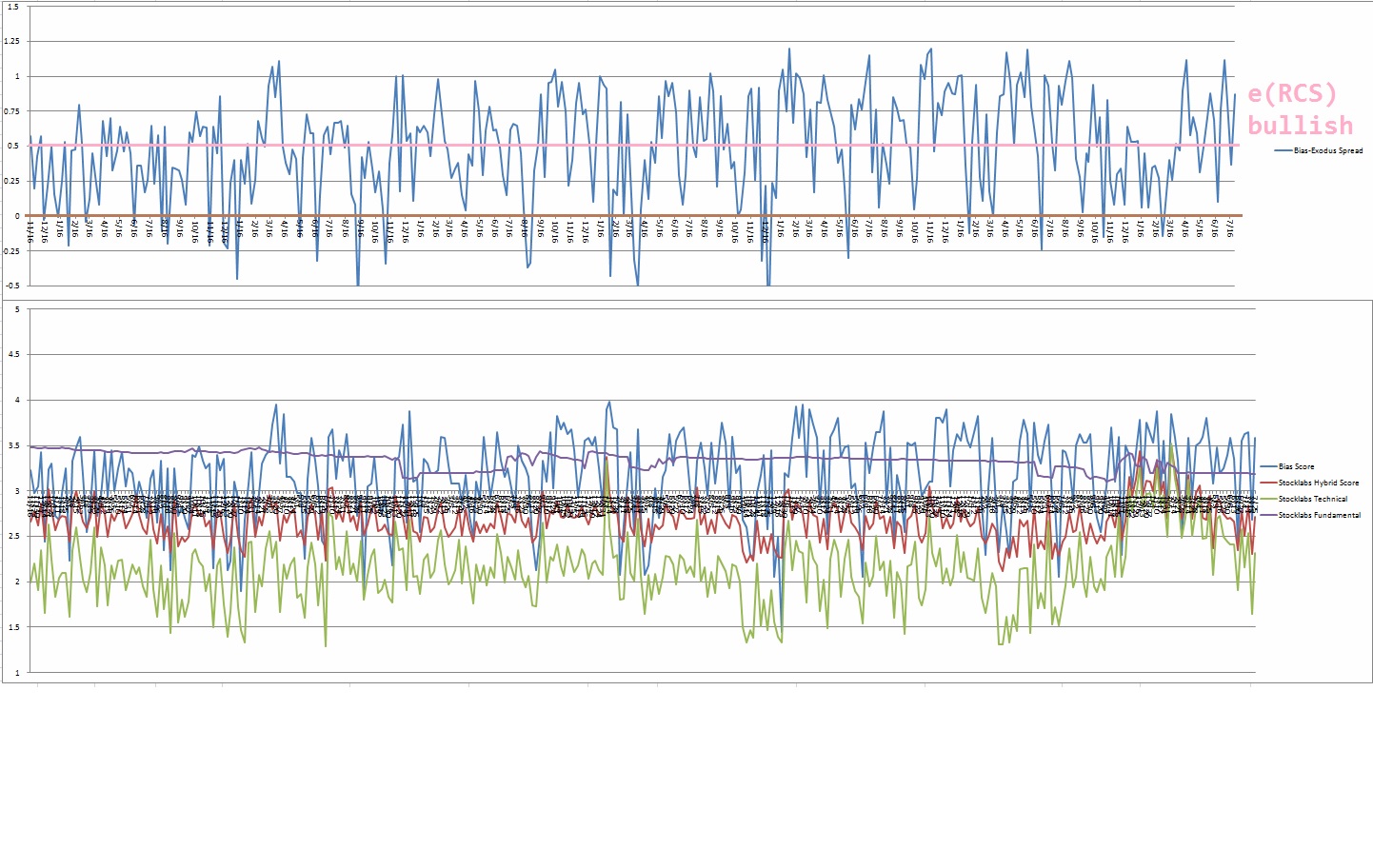 VI. Stocklabs Hybrid Oversold (12-month)
On Friday, July 16th the 12-month algo went technical oversold. This 10-day bullish cycle which runs through Friday, July 30th end-of-day. Here is the performance of each major index so far: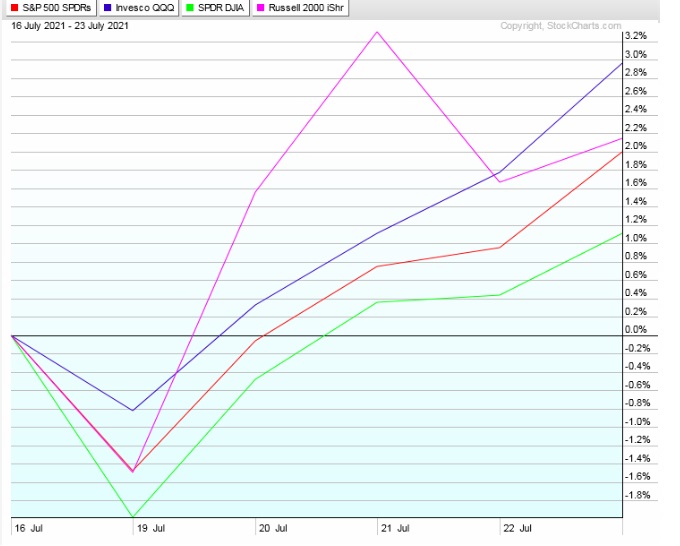 Here is the performance of each index since the original 6-month oversold signal:
VII. Stocklabs Hybrid Overbought (3-month)
On Wednesday, July 21 the 3-month algo went technical overbought. This 10-day bullish cycle that runs through Wednesday, August 4th end-of-day. Here is the performance of each major index so far: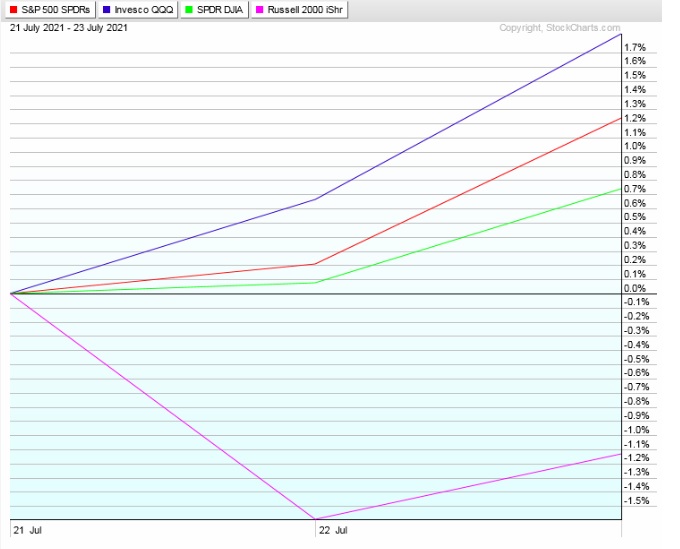 VIII. QUOTE OF THE WEEK:
"The ideal building has three elements: it is sturdy, useful, and beautiful." – Marcus Vitruvius Pollio
Trade simple, build simple processes
If you enjoy the content at iBankCoin, please follow us on Twitter