Nothing surprises me anymore. So like water starts dripping from the ceiling, my first instinct isn't to fall on my knees and wave my hands around saying, "Why? Does this? Happen…to me?" like I witnessed today. I just think for a minute, then grab a bucket and make a good guess of the tools I'd need to stop water from leaking thru the ceiling. Then go in the attic and take a look around.
Watch my big dumb head on the roofing nails that often pepper attic ceilings like some kind of medieval rack. Shine around looking for water then stop it. If a part is needed, run up to the heckin' nearest hardware store and buy it.
They don't have it? What DO they have that can stop the leak, even if only temporarily? Adapt.
The line is long as heck. An excellent opportunity to check in with your posture and breathing. Even easier now because nobody can see if your lips pucker when you draw your abs in (they won't if you're shwifty). The total is $11.76. Pay $12. Cashier not used to making change, doesn't give a quarter back but two dimes and four pennies. No problemo. It all goes in the coin jar next to the key hook anyhow. Create efficient systems for everything.
It is hardt coming from a formal accounting education, accumulating tons of street smarts along the way, to being a man who live in a van down by the river. Yet, over time, when convictions and cock remain strong, it become immediately apparent that shit is destined to be handled if you're around.
Take it as it comes. And for the love of vanity keep it sexy.
All that 'how to be a they/them' guff aside, in fact casting aside all human reason aside, these new heckin' algorithms I am privy to thru my early access to Stocklabs are whispering bullishly in ma'ears. Who am I to question the cold, dead truth of an algorithm? A bird?
I am most certainly not a bird. I'm a man. I shore up shelters and clear dead trees and wrestle alligators. I read fiction and non-fiction and feel empathy for others. I gather nutrition from Costco and cook badass meals 2-3 times a day. I extract fiat american dollars at a steady clip from the global financial complex then convert said fiat into real assets like power tools and steel. Not the kind of they/them you'd ever consider trifling with, if seen IRL.
While I can almost always be seen carrying a sunny disposition and a fat stack of green rags, there's a sparkle in my left eye that warns passerbys that I might could just make to kill.
She/hers regularly tell me I look like their favorite teevee cereal killers. Which physically, I don't, but I get it. It's the way I wiggle my words.
Best you queue up a Lyft when I arrive, lest your she/her find herself caught up in some RAUL prose of the persuasive variety. Things get awkward. But what's to gain?
Not much.
I am supes bullish into the Fed Minutes. Into Thanksgiving. And clean into December.
Ciao,
Raul Santos, November 22nd, 2020
And now, the Weekly Strategy Session. Enjoy.
---
Stocklabs Strategy Session: 11/23/20 – 11/27/20
I. Executive Summary
Raul's bias score 3.03, neutral. Watch for markets to drift higher into the holiday week. Watch for Fed Minutes out Wednesday afternoon to accelerate whatever price action is prevailing prior to the release.
U.S. Markets will be closed Thursday in observation of Thanksgiving.
II. RECAP OF THE ACTION
Choppy week. Little directional discovery from equity indices. The bullish divergence by the Russell 2000 suggests risk tolerance is running high.
The last week performance of each major index is shown below: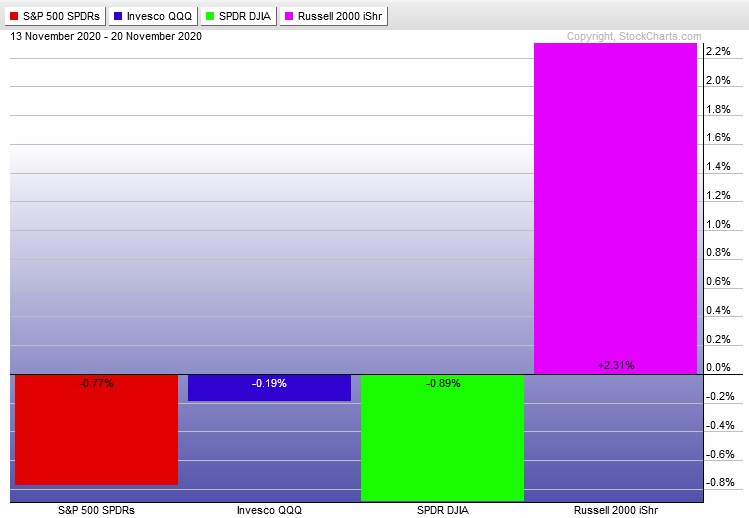 Rotational Report:
Energy continues to trade on its own planet—way out in front last week. Utilities and Staples weak is a good indication that investors are not taking a flight to safety. Bulls however would like to see the key Tech sector a bit stronger.
neutral
For the week, the performance of each sector can be seen below: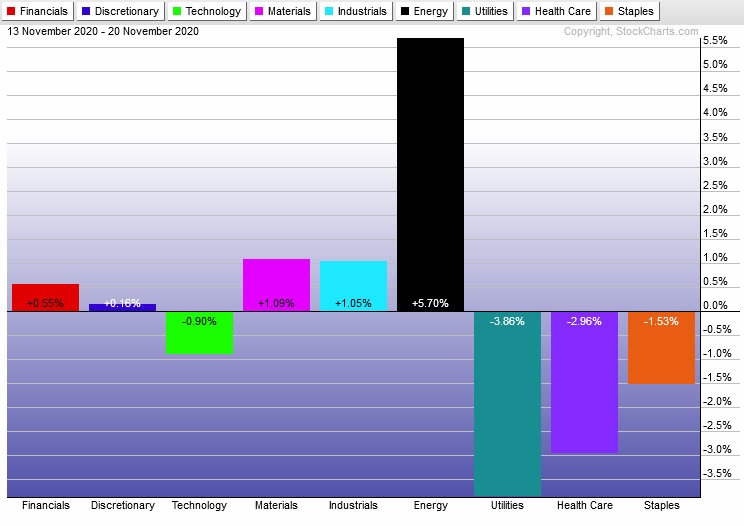 Concentrated Money Flows:
Industry flows muted for a second week. No major skew.
slightly bullish
Here are this week's results:

III. Stocklabs ACADEMY
Working the hybrid overbought signal
Stocklabs flagged hybrid overbought on Monday, November 16rd at the end of the day. That signal runs until close of business Tuesday, December 1st.
I am sticking with the 12-month algo.
Taking a look at the past performance, we can see that this signal has been slightly bullish, historically: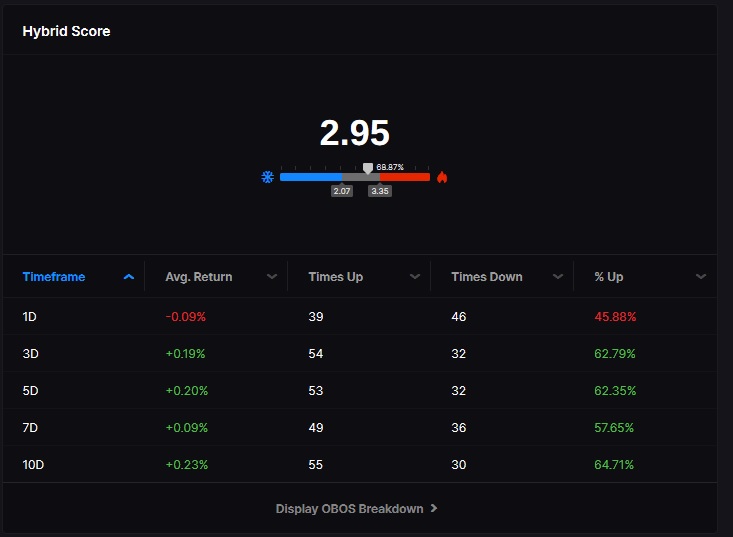 With 85 samples, the signal has an average return of nearly 0.25% and nearly a 65% win rate.
Since the signal fired last Monday, markets have drifted a bit lower. If SPY reverts to its old statistics, we are looking at 2.25% worth of upside between now and the end of December 1st.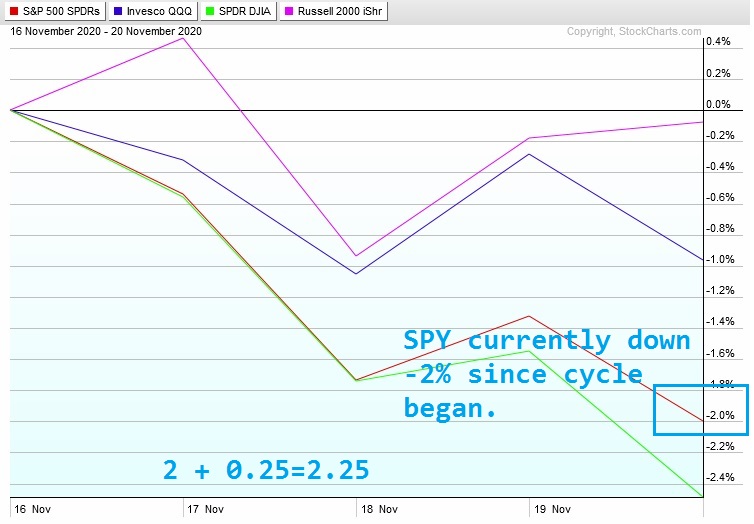 These stats have me bullish heading into month-end.
Note: The next two sections are auction theory.
What is The Market Trying To Do?
Week ended searching for buyers.
IV. THE WEEK AHEAD
What is The Market Likely To Do from Here?
Weekly forecast:
Drift higher into the holiday week. Watch for Fed Minutes out Wednesday afternoon to accelerate whatever price action is prevailing prior to the release. Then expect a choppy, low volume session Friday.
Bias Book:
Here are the bias trades and price levels for this week:

Here are last week's bias trade results:

Bias Book Performance [11/17/2014-Present]:
Semiconductors choppy on the highs, Transports flirting with a breakout
Markets fluctuate between two states—balance and discovery.  Discovery is an explosive directional move and can last for months.  In theory, the longer the compression leading up to a break, the more order flow energy to push the discovery phase.
We are monitoring two instruments, the Nasdaq Transportation Index and the PHLX Semiconductor Index.
Transports are lingering up beyond their multi-year range a bit. The longer price can hold up here, the more likely a break-out becomes. However, our primary expectation is for sellers to defend the top of range and eventually begin working price back down into balance.
See below: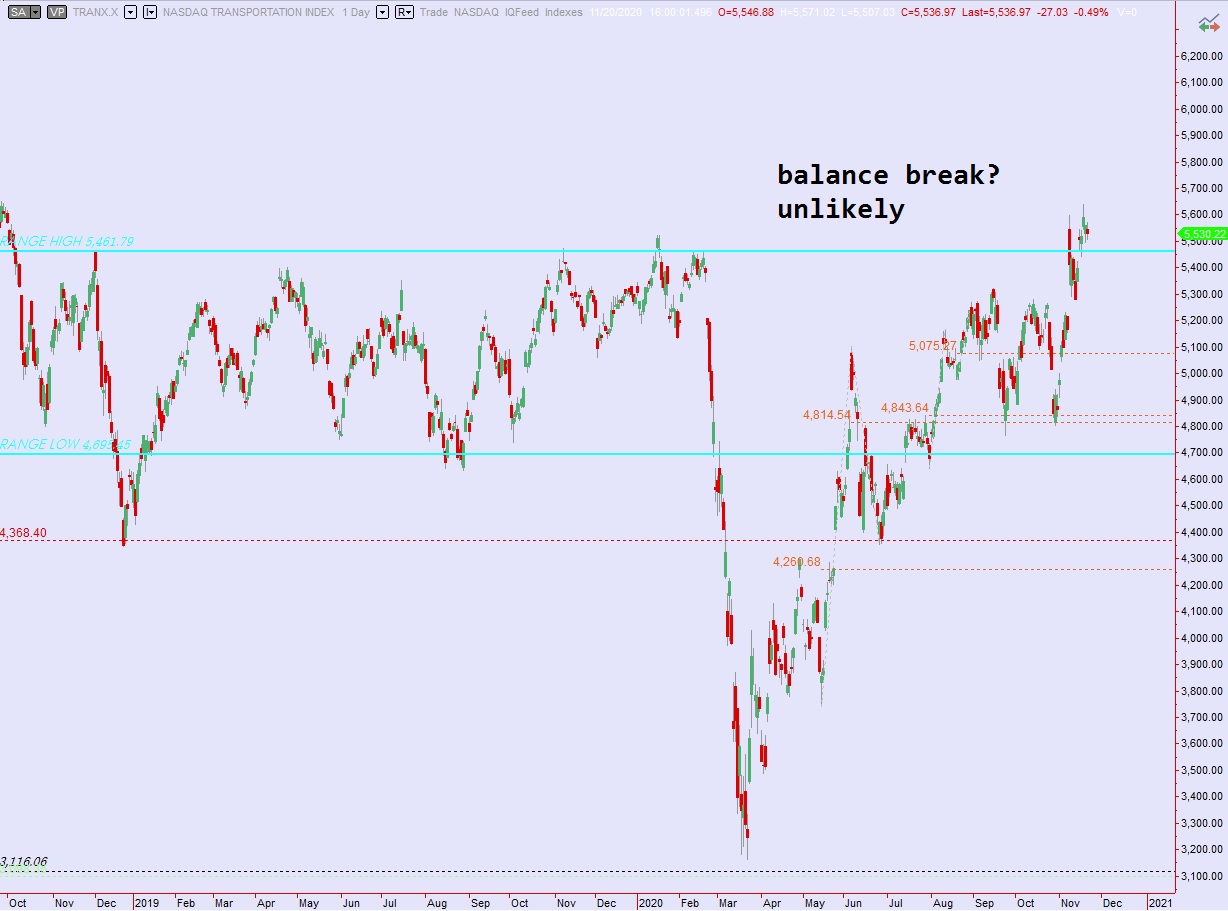 Semiconductors are sort of chopping along in big ranges up near all-time highs. It is difficult to say whether they are currently in a discovery up phase. It could be a mini balance. The longer time frame definitely continues to be discovery up. However, this being the 4th leg of the phase, it can become a bit tricky up here. A fresh leg higher could be the start of something much bigger, or we could be close to an intermediate term top.
We don't know.
See below: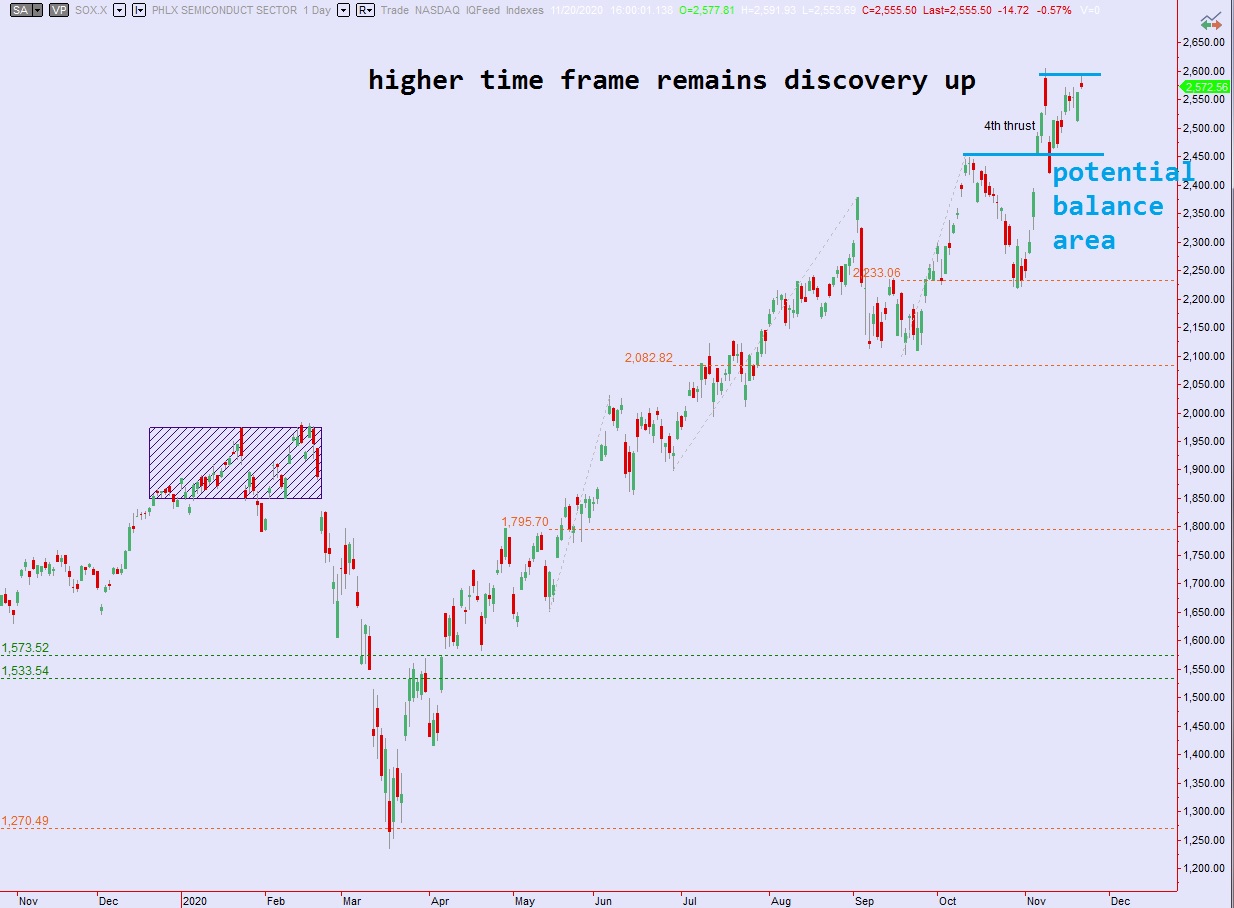 V. INDEX MODEL
Bias model is neutral. No bias.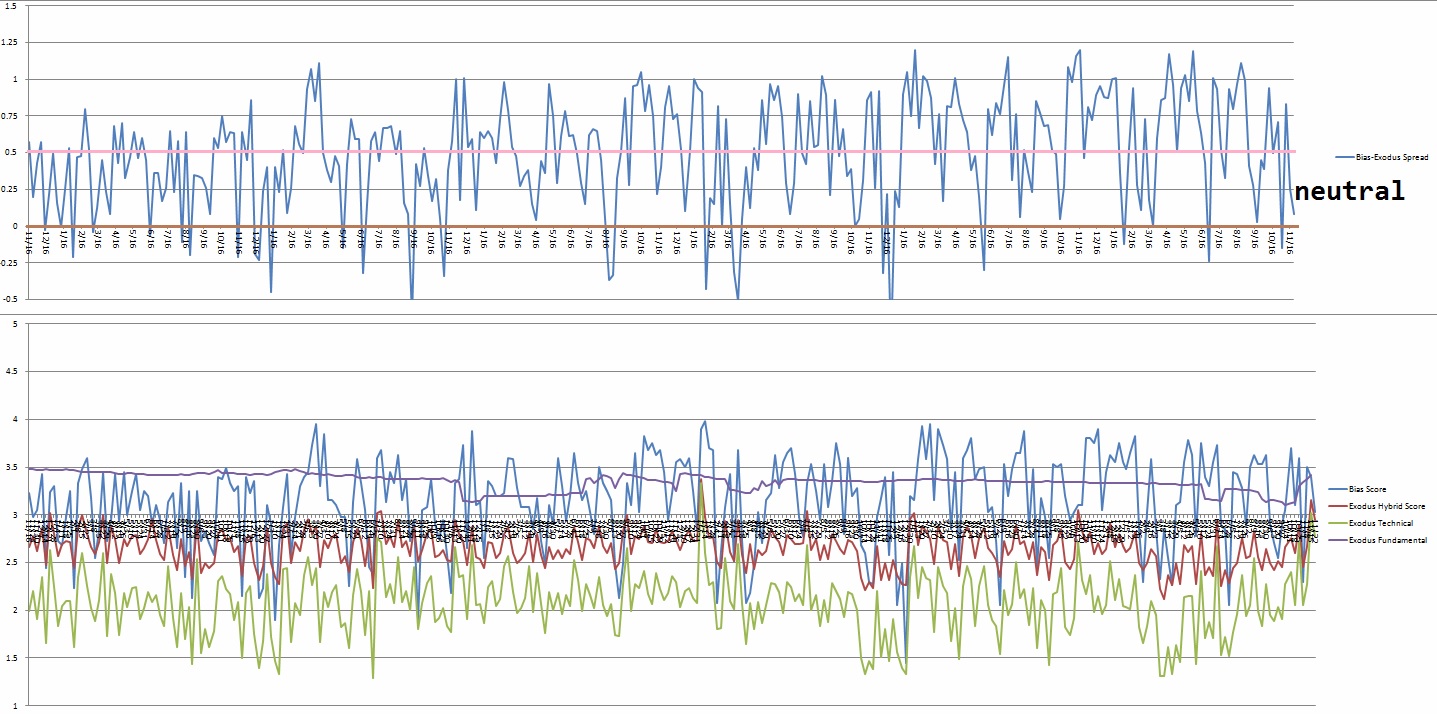 VI. Stocklabs HYBRID OVERBOUGHT
On Monday, November 16th Stocklabs signaled hybrid overbought. This is a bullish cycle that runs through Tuesday, December 1st, end-of-day. Here is the performance of each major index so far: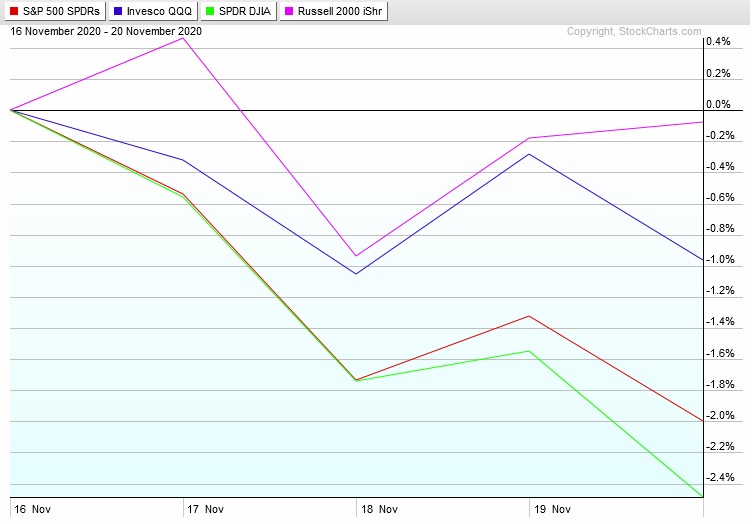 VII. QUOTE OF THE WEEK:
"Don't be distracted by emotions like anger, envy, resentment. These just zap energy and waste time." – Ruth Bader Ginsburg
Trade simple, cultivate visceral indifference
If you enjoy the content at iBankCoin, please follow us on Twitter