Listen lads, I haven't had the best go at things when I rely solely on my intuition.  My intestinal fortitude is perhaps too strong from a childhood spent eating spoiled meats and other fermented oddities.  The wiggly worms of my past must have infiltrated my DNA and mutated it to make me some kind of man-wolf-beast who regularly craves ultra-violence and extreme risk.  Year-after-year of hitting my head on cement or lopping off tens-of-thousands of dollars from my trading accounts broke me of my disgruntled ways.  Eventually I became a beta human, submitting myself to the will of my robot overlords and listening to their commands without question.
The result? I consistently make money trading.  Hallelujah.  I am more empathetic to elderly and unattractive humans—two human sets I used to run circles around in a sometimes cruel manner.  I think aggressive white men are a pox on society and deploy a krav maga approach to demeaning them both physically and mentally.  Waiting slowly, until the absolute necessary moment, then causing grave harm to their person.
I trade in a similar fashion.  Every trade is precluded by a Weekly Strategy Session to form bias, a morning report to build context and define working price levels, an algorithm to signal ideal entry conditions, and a special software to display order flow on the fly.  Wait, wait, wait.  Then attack with the ferocity of a crocodile.
Apex predator flow.  Crocodiles haven't evolved in 3 million years.  They can sit in a puddle of mud, rarely ambulating, for as long as four years.  Waiting for an unlucky cloven-hoofed beast to slip into the kill zone that WHACK! ROLL! Feast.
Anyways, I have reasons to be bullish until November 1st.  The contextual overlay I have after preparing the Exodus Strategy Session has me feeling like this cycle will be a test of stoic grit.  That being said, there are a few contextual caveats that may bode well for the bulls.  Namely the semiconductor index.  It sure seems like this vital piece of the rally pie is coming into the week on the low-end of an established range: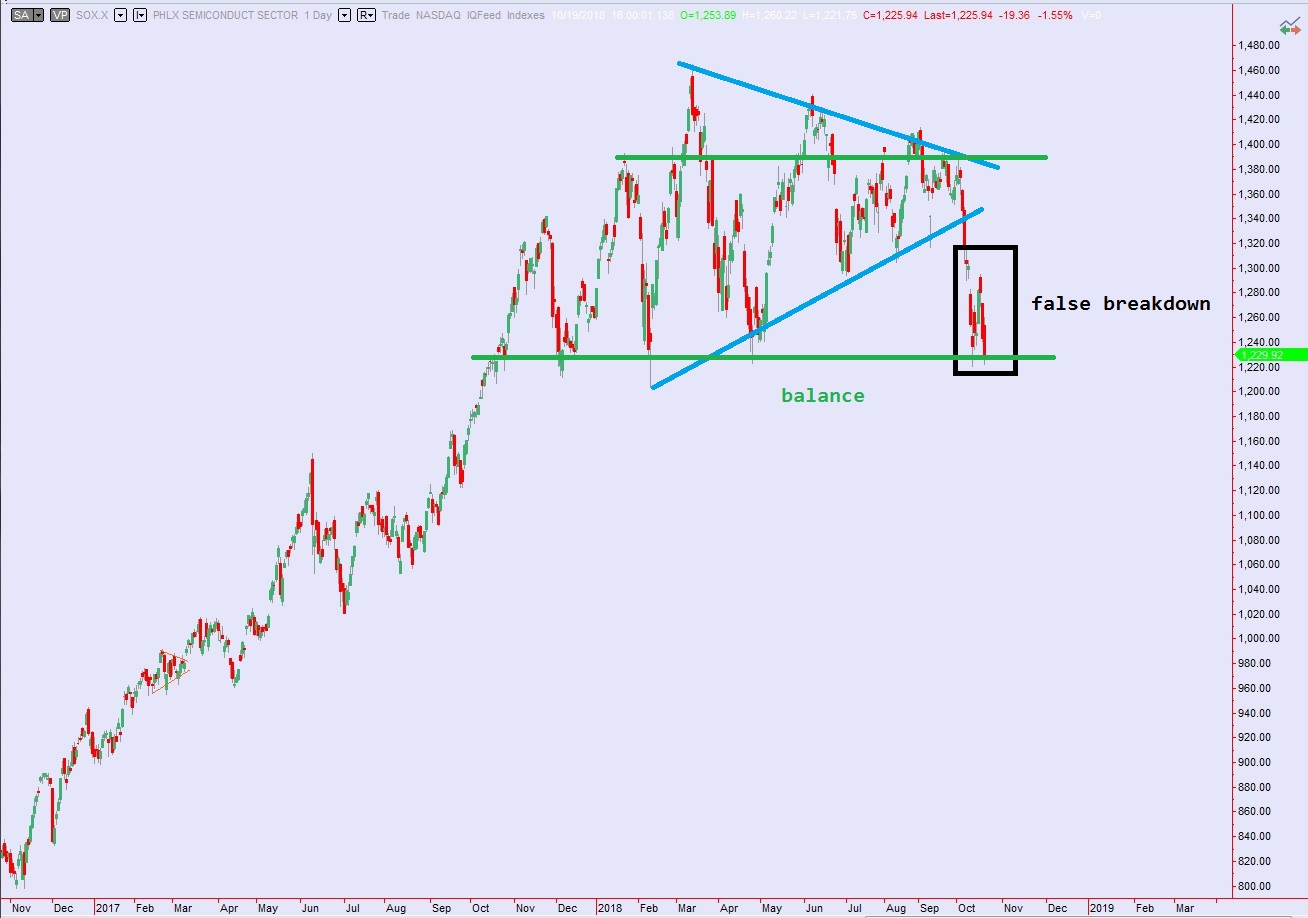 If 'the market' still believes in the valuations we've enjoyed for much of 2018, then this level is likely to be defended.
I am going to be bullish this week until otherwise noted.  Whether or not this is the right side of the tape to be on, as always, is tbd.
Exodus members, the 205th edition of Strategy Session is live, go check it out!
If you enjoy the content at iBankCoin, please follow us on Twitter