This is what I was talking about Sunday when I said 'where the rubber meets the road'.  Unless you held a position in the futures over the weekend, that 50 point gap up on Sunday evening was useless to you.  And if you appreciate your sanity then you probably don't want to hold futures into the weekend.  For most of you the weekend is the only time you live your best life before returning to the servitude of your employer.
Being bearish into the week has had its perks thus far.  If you were trading Sunday evening the best rotation was down.
When cash session rolled around 9:30am New York bulls drove higher.  It was an impressive showing right off the rip and was cause to stand aside until we saw sellers of a comparable size and resource step in:
Buyers drive higher off the open doing their best to abandon this profile before it has a chance to fill in. Not stepping in front of this drive up https://t.co/Q94IBQtTwL

— RAUL (@IndexModel) May 21, 2018
It was sort of looking like a more aggressively bullish version of hypo 2.  Here is the text form this morning's report:
Hypo 2 buyers defend ahead of overnight low 6898.75 setting up a move to take out overnight high 6947.75.  Look for sellers up at 6963 and two way trade to ensue.
We never made it to 6963 and by 11am were off the high and forming a mini-balance, which eventually broke lower and created the biggest rotation of the day.  Resourced sellers rejected a move out of a huge balance that has been building since last Tuesday.  Sellers then defended the daily midpoint setting up another hard rotation lower.
I did not trade the 'throwback to the mid' which I normally do, but I held a runner in hopes we would make a new daily low.  This was ultimately closed out right here at the close for a much smaller win.  Holding that intra-day runner is me being more aggressive.  This is what I was talking about Sunday, about pressing my bias.
Today my aggression did not pay.  Bulls pinged a few of the big names right at the bell and we spiked.  Look at 5 minute bars in names like Apple, Amazon, and to a lesser extent NVIDIA.
I was sending cryptic messages through StockTwits and Twitter, hoping to stoke some social tracking algo in my favor.  Aggressive desperation.  It should be noted I ate a small amount of pork yesterday. Sister RAUL prepared a shredded loaf of pig flesh and I had to try it.  I may have absorbed some of the rage and desperation the animal felt before its murder when I consumed its flesh.
Anyhow cash session was a draw.  If the recent history of bulls dominating GLOBEX continues, it is likely we drift higher overnight.  The picture over on the S&P is anything but bearish.  Bulls held their breakout: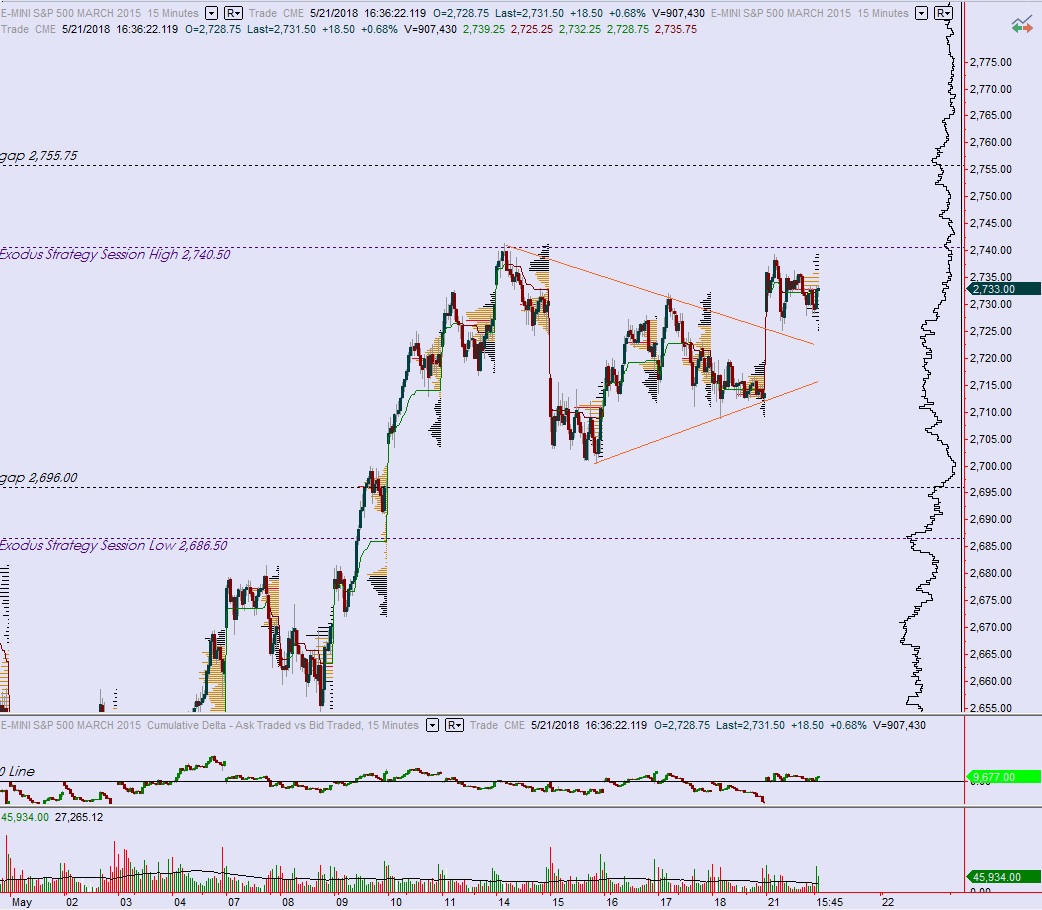 But no matter how you observe it, the cash session was a draw.
Tomorrow's cash session is, as always, TBD.  And you know which side I will be working at some point tomorrow morning.
It really feels to me that we are entering a holding patter ahead of Wednesday afternoon's FOMC minutes and Friday's Fed chaiman talk from Jerome Powell.
The excitement over 'trade wars' ending is a loose footing for making an argument, either way.  It is a mound of sand in comparison to the rock that is the Federal Reserve.
Look at the current /NQ profile.  You see what I'm seeing?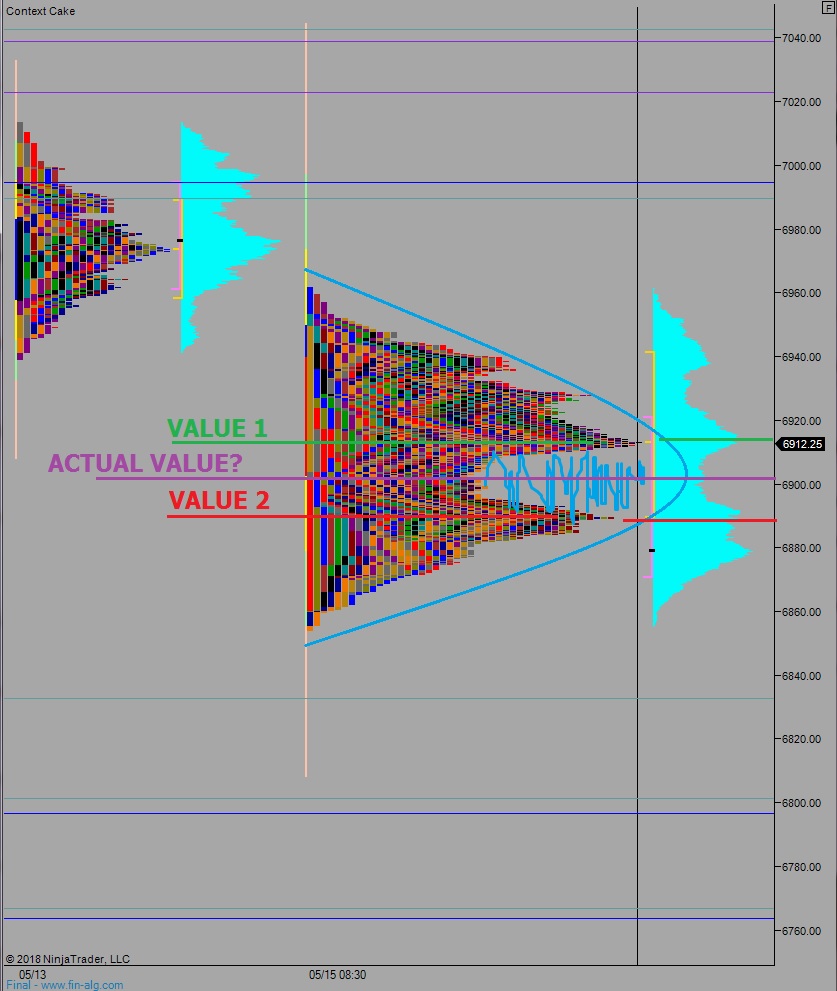 KEEP TRADING SIMPLE.  DISCOVER VALUE.  SELL ABOVE IT, BUY BELOW.
Selling is being absorbed and so far the buying is too.
trade accordingly
If you enjoy the content at iBankCoin, please follow us on Twitter