As members of Exodus are well aware, we completed our first 10-day bullish cycle of 2018 last Thursday, March 15th at the close-of-business.  It was another successful signal from the mother algo.  The performance of each major index during the cycle is shown below: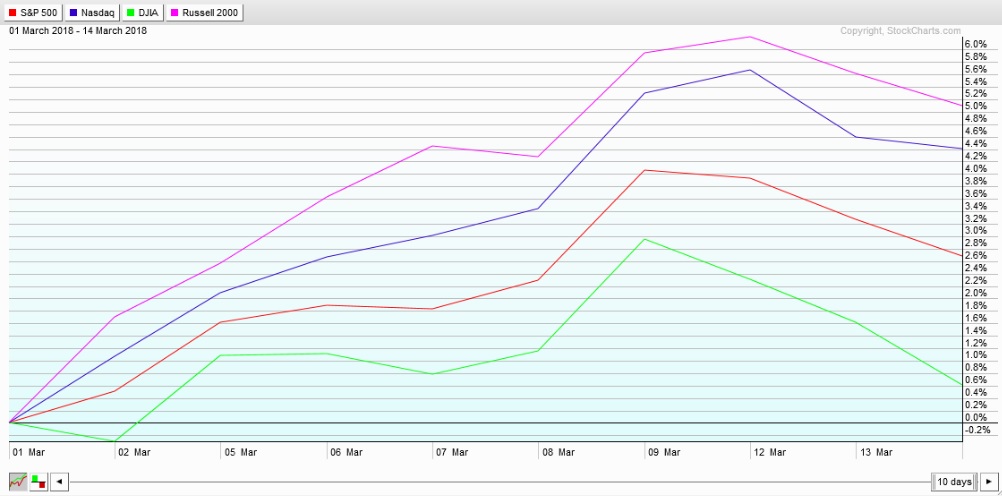 What does the chart tell us, besides Exodus wins again?  The Russell 2000 performed the best over the cycle.  That tells me we are reaching the late stages of our current bullish cycle, which dates back to November 2016 when our authoritarian leader won the US elections.  Investors start to 'reach for risk' as a run matures, pushing them higher-and-higher up the risk ladder until they ultimately fall down.
Which is fine.  Falling off the top of the risk ladder is part of the game.  Ideally, you have ridden the market high enough that your fall leaves you at a higher point than when you began climbing, and in a position to succeed when the next climb begins.
The NASDAQ made a new record high again last Tuesday then reversed.  The S&P ascended to new highs alongside the tech-heavy NASDAQ, but the Russell never made it.  The Dow was nowhere close.
It still looks like 'buy-the-dip' conditions, and we have a really useful piece of compression context to watch in the upcoming weeks—it is happening on the Dow, and when this breaks it is likely to dictate overall market direction.  Check it out: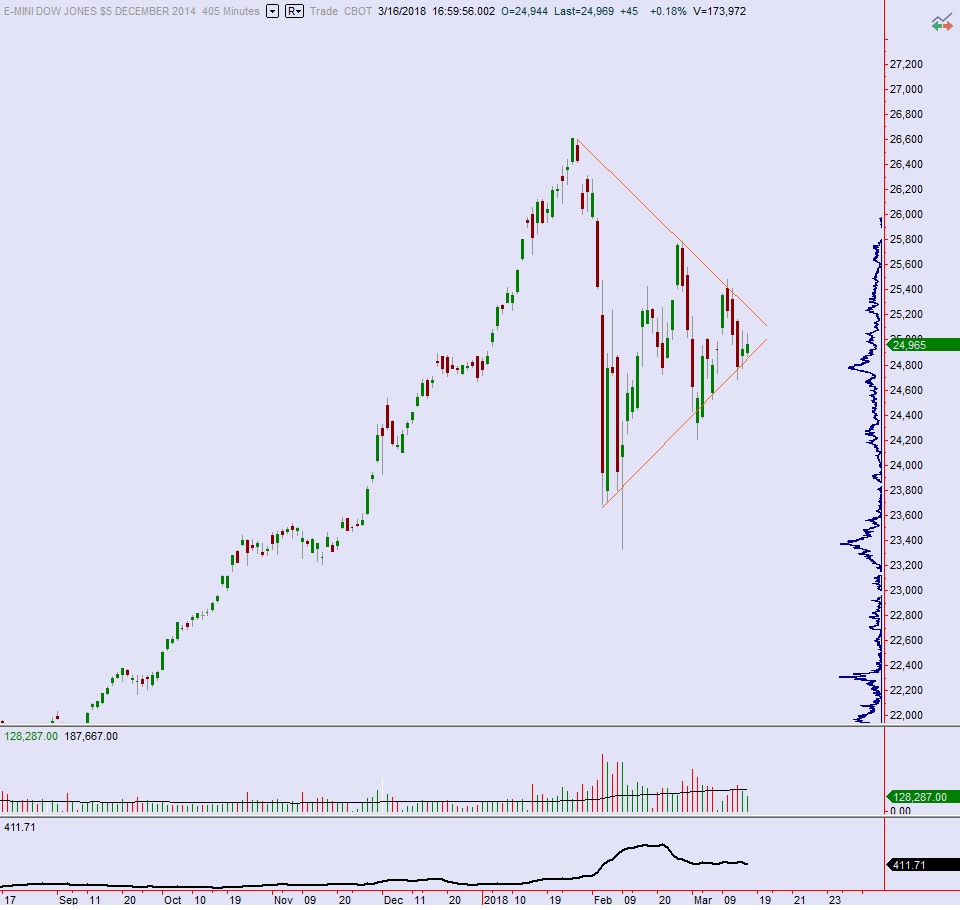 We have a Fed meeting this week and a rate decision on Wednesday afternoon.  This is a live meeting, with the gambling halls in Chicago are currently placing a 94.4% probability of a 25 basis point hike.  These are still extremely accommodating rate conditions, and quite frankly it surprises me they are lifting rates so slowly.
The March futures contracts are officially finished and active traders will all be trading the June contracts starting this week.  This could be a pivot week, but for now we do not have much objective data to base our bias on.  So we favor the prevailing trend (up) and patiently wait for more actionable quantitative signals.
Patience.
If it is thrills you're after, I am told there is plenty of excitement to be found in watching college basket ball.  There is a team whose mascot is a golden retriever, the friendliest of breeds, that seems to personify the never-say-never American mentality.  You are better off gambling on them than forcing trades into the market.
Finally, I am part of a panel this month on premarket trading.  The event is free as is the food and drink.  I am told there will be craft beer on tap from two kegs and also high octane energy drinks.  If you are in the Detroit area come hang out.  We will be down in campus martius aka the heart of downtown.  Here is a link to the event and where you can RSVP: https://www.meetup.com/Detroit-Investors-Traders-StockTwits-Meetups/events/248652154/
Models are neutral heading into the week.  Best trading opportunity is Wednesday around 2pm eastern.  Trade accordingly.
Exodus members, the 174th edition of Strategy Session is live, go check it out!
If you enjoy the content at iBankCoin, please follow us on Twitter