For a few years I blogged in full anonymity.  This afforded me very little feedback.  As I began to introduce my work to more real-life people who were less intimidated to pipe up, a frequent comment went something like, "well you sound smart, but I have no idea what you are talking about tbh."
So I have been doing my best to make what I know more consumable to people who aren't hardcore traders and wall street junkies.
Case in point: I pinned this tweet to my profile so people know exactly where two of my biggest investment beliefs stand: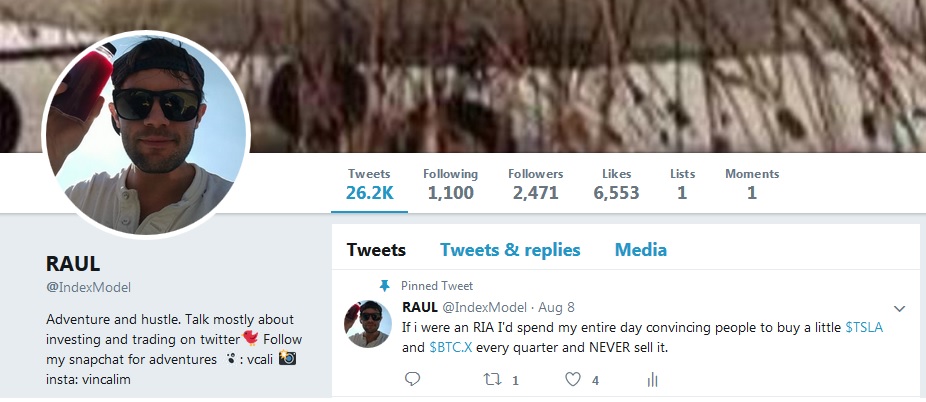 In case that tweet is still confusing, here is some clarification.  An 'RIA' is a registered investment advisor.  I do not envy them.  Their job seems pretty boring.  $TSLA means Tesla stock.  We use '$' which is called a cash tag because it then puts the tweet into a conversation with anyone else talking about Tesla.  Some of my tweets go into Stocktwits and come through to Twitter.  The cash tag is used much more on Stocktwits and puts you into a conversation with many more people actually interested in the stock market.  '$BTC.X' is Bitcoin.  'every quarter' means every three months.
Moving on.  I cannot, cannot, and will not broadcast my specific entries and exits in public forum.  Despite a measurable reduction in my paranoia, it still irks me to put specifics out there.  What if some well-shoed villain decides she want to make to kill me?  Perhaps they could.  But I do my best to inform the people who I truly care about, the hardcore traders, of my intentions.  Hence this tweet:
I'm not going to tell you where I'm heavy bid Bitcoin, heavy bid Bitcoin. But I hope to add some into quarter-end. LOWER. HINT 61.8🇮🇹

— RAUL (@IndexModel) September 14, 2017
61.8%  is Leonardo Fibonacci's 'golden ratio'.  It explains a whole bunch of seemingly random stuff in nature.  For the purpose of trading, it is a great way to manage risk.  Listen, I want to trade alongside whichever party is punching harder.  That means I want to trade in the direction of the biggest 'rotations' or what others call 'uni-directional moves'.  Basically vigirous thrusts in one direction without pause or hesitation.  Like the strike of a crocodile.
When I see a big rotation, I draw a Fibonacci retracement onto it.  Sometimes the golden ratio (61.8%) just happens to line up well with some other logical level.
Logical level?
Yes, please try to keep up.  The best forms of 'support' are old areas of resistance.  The best forms of 'resistance' are old areas of support.  It comes down to auction theory, dammit.  Imagine being some big dicked owner of bitcoins, and deciding you want to sell some at $3,000 fiat dollars (USA dollars).  So you do.  You sell 300 a whole bunch and your sell orders overwhelm demand and price begins to go lower because the selling is more aggressive than the buying.  Then, little fucking sharks, short-term speculators catch wind of you and they too begin selling, but they are doing it 'naked'.  They are short selling.  They are selling bitcoins they do not even own with the expectation that they can buy them back in the future for a lower price.  Real greasy sons-of-bitches.
So they are proven wrong by the market before they have time to cover and make a profit.  Listen, now they are under water.  If/when price finally returns to the area they were short selling, they will be motivated to buy back their coins to break even on the whole mess and walk away with their testicles still in one piece.  They create natural demand.  That old resistance now has a natural demand baked into it.  This is a logical level of support.
When a logical level of support lines up with a nice Italian's golden ratio, a magical number that explains nature, NATURE, that is a good place to participate in the market. LOOK: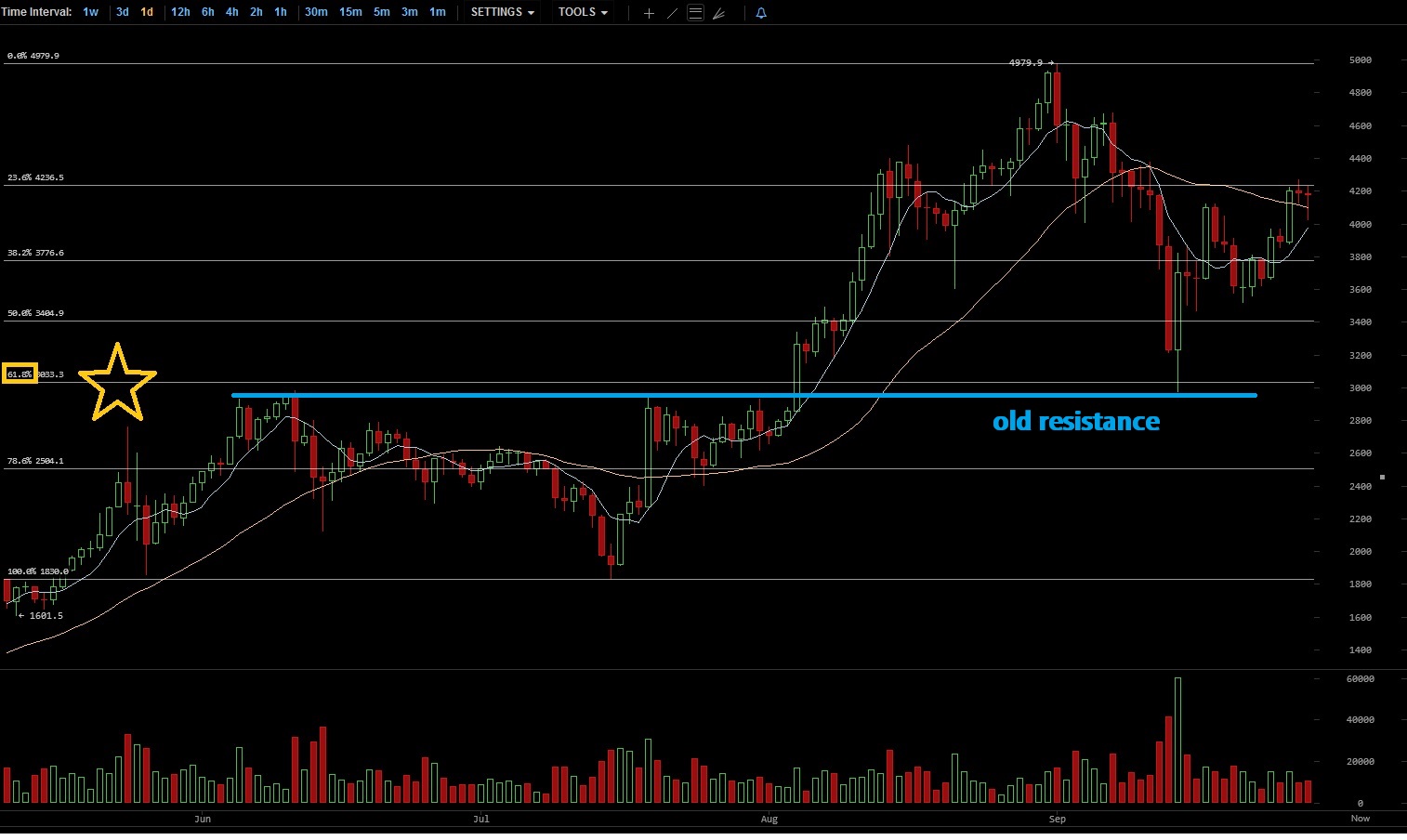 This is about as simple as I can explain how I used an Italian mathematician's findings and auction theory to pick up some bitcoins nearly $1000 USA fiat dollars ago.
I hope this explanation was helpful.  If it was, I insist you share this post with your children and your neighbor's children and perhaps also with your wife.  If you have an intelligent dog, give the dog a little scratch on the head and let them know they're a good pup.
I use simple tools to trade.  I hack away at the nonsense as much as possible because when markets are moving fast I need to know how, when, where, and why to act.  For something to become a foundation stone of my trading, it must withstand the tests of stoic philosophy.  Does it stand up to, and support the ability to adhere to Marcus Aurelius's three core principles?
objective judgement, now at this very moment
unselfish actions, now at this very moment
willing acceptance, of all external events, now at this very moment
If it does not, then cast it aside because it is a DISTRACTION.
ciao
Still here?  Great, you must be some kind of masochist.  Good people.  Why don't you come to my investor conference next Tuesday?  It is free and I am close to landing a very underground chef to cater the entire event.  All vegetarian.  No fucking around.
here is a link with details to the event
If you enjoy the content at iBankCoin, please follow us on Twitter