If you have been around these parts a few years, then you know Zillow was one of my favorite stocks to go long. It was a momentum darling. The company is a social beacon of top-notch mobile phone capabilities. As a bonus kicker, their hands are in the real estate cookie jar, a jar being nursed back to health by record low interest rates.
I used it extensively while I hunted down my first home. I would sit in the third stall of my corporate bathroom and thumb through listings. If I found something my agent overlooked I would pace the hallways of my mouse maze accosting his oversight. Zillow was showing me more than the agent. So cool!
Today is different. Today Trulia is public too. Today Zillow is stuck at $100/share after being a dog for half of 2014. Today they have a looming lawsuit over their "frat house" culture and a delayed merger with, um, Truila.
Anyhow, it has a few catalysts and I present the short-selling case first from a longer-term then from a short term trade management chart. Like any idea, it could be wrong, and we want to have some risk in place for when it is.
That way, if it flips back to totally awesome frat dude with "bros and hoes" tattooed on its back then I can calmly walk up to their beer keg and fill my cup.
Other shorts of interest are MANU vs $16.15, AMZN vs. $313, BBBY vs swing high, GILD vs $97, and WFM back below $50 vs $52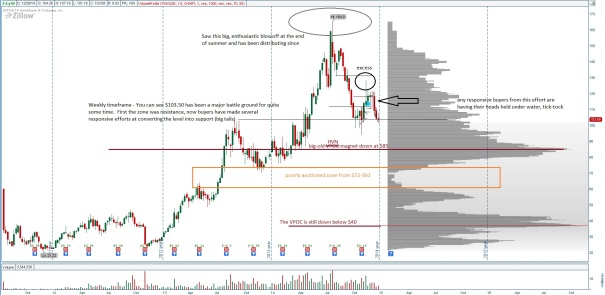 If you enjoy the content at iBankCoin, please follow us on Twitter