Let's look at how simple trading can be if we remove the noise.  Below is a weekly chart of Zillow.  You do not need any indicators except price bars.  Even price bars have their limitations.  All we attempt to glean from a chart is the behavior of supply and demand.  This is a very physical force in nature that drives movement.
The physiological $100 print was the scene of sellers for quite some time.  They sat there, on the offer, absorbing the demand of buyers.  Their staying power was enough to cause a correction nearly 30% lower.  This was not just longs taking profits. The short float is reported to be over 30% in this stock.  There are short sellers who live at $100, and they took $60 dollars worth of heat in 2014.  Some of them might have some lingering traumatic stress from the event and seeing price return to this level allows them to scratch their idea.
Others, who sold their $40 shares at $100 only to see price rocket to $160 now can jump back on where they left off.
These are just hypothetical characters to envision when wrapping your mind around how prior resistance is converted into support.  Markets are the net of all interacting humans' behaviors.  Nothing more.
I have no Z position, but I love it right here, especially if we see another dip that lets me in next week: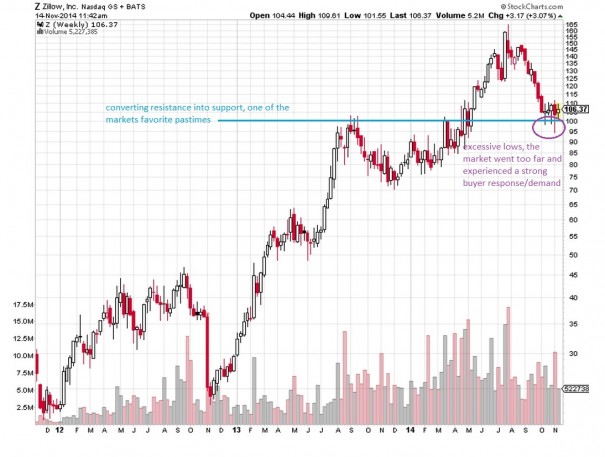 If you enjoy the content at iBankCoin, please follow us on Twitter