Insanity is doing the same things over and over again and expecting different results.
-Albert Einstein
In case you think this is yesterday's performance chart, think again!!!!  Your boy is losing it.  I will save you all the torturous introspective, just know the lunatic escaped from the asylum today and traded like it was groundhog day for fuckssake.
Highlights—a consolidation formed, consolidations "aren't my thing", I took 49304u45 trades inside of it, breaking all kinds of rules, and stopped myself just before hitting the old daily loss limit.  Then I sat in the woods and observed the squirrels and willfully allowed the mosquitoes to consume my flesh while I watched FB earnings.
Now I am off to scour craigslist for a physiatrist.
BUT FIRST, A PERF CHART FOR YOU COOL DOODS: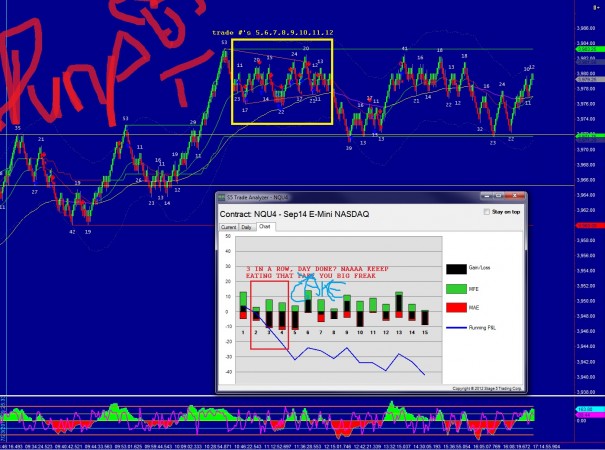 Let's see if my homie Marc over at FB is going to save my week tomorrow.  I am long of TWTR calls, next week expiry of course, because momo trading is PLUM SLOW.  TSLA calls too, GRPN calls ALSO.  Cool.
Good night
http://youtu.be/x4e53wnInX4
If you enjoy the content at iBankCoin, please follow us on Twitter