I had a fairly strong bias to the downside this morning when I wrote my morning piece.  The symmetry of intermediate term balance was telling me a story, as were two enticing overnight gaps below.  My poor execution started at trades 4&5.  When I took that error and missed the first big thrust, I think my focus was disrupted.  It was my first error on the week and aside from trades 8 & 10 I spent the rest of my day fading moves which is a much more mentally difficult trade for me.  By the time trade # 12 rolled through I had enough and turned my attention to stocks I could buy on the dip.  I managed 8 wrong, stopping out before I normally would, and 10 was a poor trade contextually.
Having a strong read on context is only half the battle.  When trade is as fast as today it is better wait for a slow in the pace before participating because the speed can create edginess and make me lose sight of the bigger picture.  I could have just rode trade number 1, a short a few ticks off the high of the day right down through the gaps and made a killing, but that is not how I trade.  One day perhaps, when I can advance to my scale out method.
Anyhow, here is a chart of my performance and trades: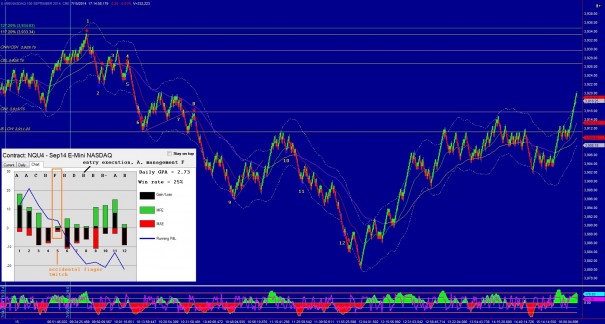 I was a buyer of risk during much of the lunch hour, putting some calls in the book and joining the Pelicans on a few longs.  Most notable are August calls in GRPN and TSLA, two stocks Aunt Yellen may have on her kill list, thus the leash is short.
LO was smoked but GPRO found a buyer keeping my long term investments slightly green.  I like the idea of WFM very much and have it on my stalk list.
If you enjoy the content at iBankCoin, please follow us on Twitter