Index futures are flat to slightly down overnight as the market begins finding buyers and forming a balance.  As the USA warms up we are set to open inside of yesterday's value.  This is a lower risk/reward opening position, however we are still in an overall riskier environment.
I continue to focus on my market profile which is a footprint of the short term auction.  The NASDAQ is coming into balance on a ledge.  If go back to the auction that occurred in early February last time we traded at these levels, then you can see a series of single print TPOs.  These signal two things: first there was very strong demand at these prices last time they traded.  Second, the thin volume is slippery and price can slide right down it.  Often times a legitimate volume pocket holds as support on the first test.  It is each subsequent test that weakens its defenses until finally a swift move zips right down it.  I have highlighted this level on my market profile chart.  It looks to be holding this time around: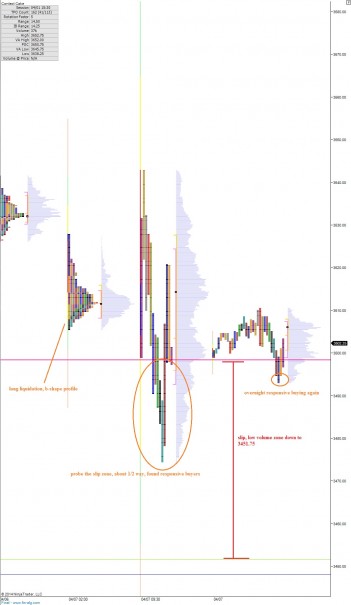 A short covering rally starts to make sense with FOMC minutes out on Wednesday.  A short seller who has made a profit from this recent move down may seek to lock in some of that profit ahead of a Fed meeting because as traders we have been conditioned to expect market movement during these times.  The intermediate term is very stretched too, which means the snapback becomes more likely as time progresses.  Have a look at the zoomed out intermediate term.  Note we also cleared an open gap dating back to February 6th.  Remember, gaps always fill, but timing is key.  Can you imagine waiting through all of February and March for this gap fill?  You would be insolvent.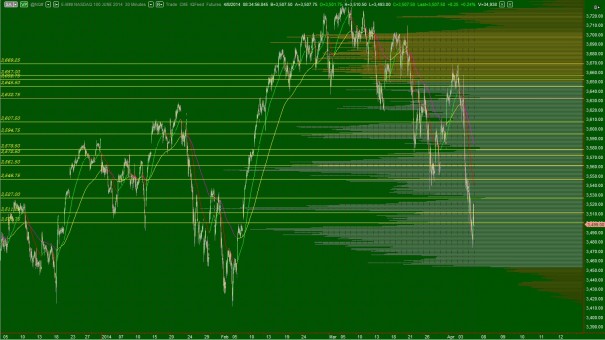 The long term auction is starting to look balanced.  It has been buyer controlled for a very long time and today is the first day I am changing my perception of the long term auction.  It is in balance.  My expectation now is for the long term auction to go range bound.  That means it is time to start trading futures again.
In summary, balance on the short term, seller controlled and stretched on the intermediate term, and the long term auction is coming into balance.  I am cautiously looking to build longs here for a snap-back higher as the long term auction settles into bracketed, balanced, range trade.
If you enjoy the content at iBankCoin, please follow us on Twitter