Index futures are down overnight as the selling which quickly began mid-last week spilled into the globex session.  The entire move was quite exhausting as the USA comes online we are seeing some early buying interest.
My main focus today is on the short term auction.  Price has come down to a very interesting level on my market profile.  We are reaching a level where demand was once very high for equities.  I can tell this by the dynamic footprint which was left behind as a long and thin single print of TPOs.  As we come into it from above, the risk is slipping down the4 viscous slope where demand once existed.  The contrary move would be for us to not breach the upper reference point just before the slip zone.  I have highlighted where this slip zone begins and ends on the following market profile chart.  Should we not breach this level, I may be a buyer early on:

The intermediate term is seller controlled after briefly coming into balance.  The market was able to make a higher low, higher high briefly before the big liquidation snap Thursday and Friday.  For a moment we came into balance but when price travelled into overhead supply the market became overwhelmed with sell flow which was abundant compared to demand which was nearly non-existent for the two days.  Since then we have made a lower low putting sellers in control.  I suspect a revision trade will take hold at some point this week and return price to my EMAs.  I have highlighted a few key price levels on the following volume profile composite.  We are set to open nearest to 3511.25: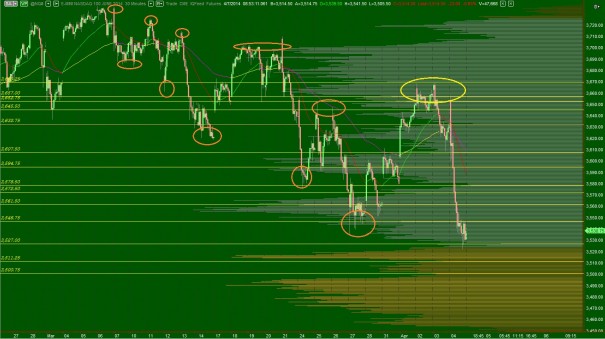 The long term auction is certainly in question.  One could perhaps make the case for buyer control based on the February low being below here.  I am not quite as clear on the long term.  I will call it buyer controlled with a 50% chance of balance taking hold.
If you enjoy the content at iBankCoin, please follow us on Twitter