NASDAQ futures drifted higher overnight and as of this blog are set to open inside of yesterday's balance and range.  Opening inside of prior day range presents a lower risk/reward environment.
The composite index gapped higher Monday morning and was mostly able to sustain the gains.  We did see heavy selling into the bell which carried over into the post market settlement period.  However, this selling was not able to achieve even a half gap fill.  As we progress through this week, we must keep this gap context in mind and how the market ultimately handles it.  Do we leave this gap behind?  Does it half fill then find buyers?  Or do we close the entire gap and then ignite selling momentum again?
Standing between us and the above gap fill scenario is a volume cave on the intermediate term.  The cave spans roughly from 3590 – 3565.  We entered the cave yesterday but sellers ran out of time.  With the overnight inventory long, I suspect we may see sellers present themselves after the opening swing and attempt to stimulate liquidation through the cave.  Whether or not they succeed will be interesting because they still retain control on the intermediate term timeframe.  I have highlighted the intermediate term volume cave on the following volume profile chart:
However, this is the first of the month, the first day of a four day period where buyers have a slight edge in the SPX.  Whether this strength finds its way into the NASDAQ is to be determined.  The short term auction is balanced.  We are trading inside of a large distribution formed yesterday with clear signs of responsive buying and selling.  The break from here will give us guidance into whether either party is able to gain control in the short term.  I have highlighted your key levels to monitor for short term control on the following market profile chart: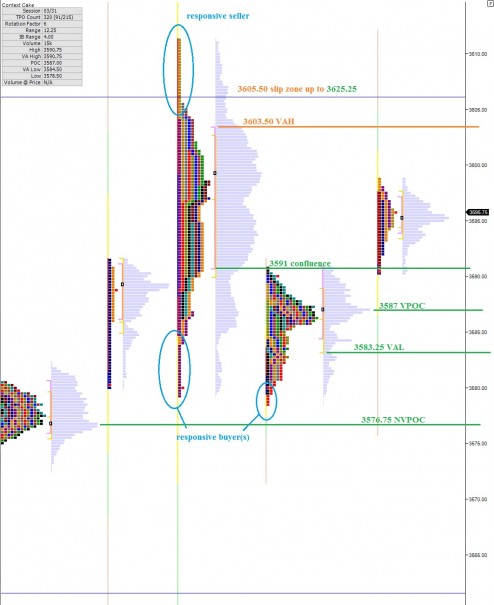 The long term auction is still buyer controlled, it is the beginning of the month and quarter, and we are priced to open inside balance and inside range.  This seems like a great day to fade early price level extremes (extensions from the opening swing) and go with and buy flow trend intraday.
If you enjoy the content at iBankCoin, please follow us on Twitter