Index futures gapped higher Sunday evening and did little else for the remainder of the globex session as price chopped sideways and formed balance.  As we approach USA cash open, the NASDAQ is currently up about 0.50 percent.
The long term auction is still buyer controlled and we are near an area where I expect to see signs of buying.  Keep in mind however, this is only an expectation.  If instead I see heavy selling pressure throughout the week, then we may see buyer control on the long term come into question.
The intermediate term is seller controlled but showing an attempt to balance.  The selloff on Friday afternoon printed a neutral print which suggested slight indecision but an overall directional confidence from the sellers.  Now that price has reverted back to the mean overnight, it will be interesting to see if the NASDAQ futures can stabilize above Friday's low and consolidate before moving elsewhere.  A consolidation would be a welcomed break for stock traders, perhaps even more so then a strong rally.  I have highlighted the intermediate term on the following volume profile chart: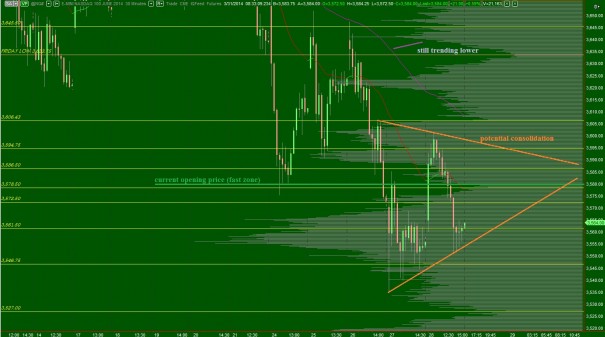 Bear in mind today is month-end and statistically the first four days of the month favor longs which could skew the picture we see develop today and throughout the early week into a very interesting picture.
The short term auction is balanced.  After forming a large-balance distribution through Thursday's trade, we printed a P-shaped short squeeze and a b-shaped liquidation profile.  We are now trading in the middle of these two profiles.  Let's see which breaks and whether it sticks to see where the control is early on: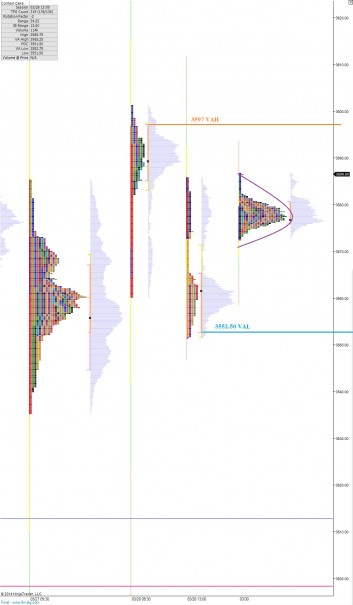 If you enjoy the content at iBankCoin, please follow us on Twitter