Equity futures printed an abnormally large range overnight, one that began with a selloff before finding strong responsive buying activity which triggered a rally in the Globex hours.  As of this post, the NASDAQ futures are set to open inside of Friday's range but outside of the value area set Friday.  These conditions are slightly out of balance and present an elevated risk/reward environment.
The long term control of the auction is buyer controlled.  This can been seen on a weekly chart of the COMPQ, however the daily chart is not as clear.  The daily chart still presents a picture of buyers in control, however that control is being tested as we made a slight lower low on Friday verses March 1st.  This week we will be closely monitoring any sort of bounce that materializes and the potential of price to form a lower high.  This would change the character of the long term auction from being buyer controlled to balance.
The intermediate term timeframe is seller controlled.  We have seen prices make a series of lower highs and lower lows dating back to March 7th.  The price action has been fast and choppy with the momentum edge favoring selling.  Price slid out of balance Friday and closed near the lows.  Above we have a large overhang of supply.  How the market reacts to this supply will be telling this week.  I have highlighted the intermediate term volume composite on the following volume profile chart: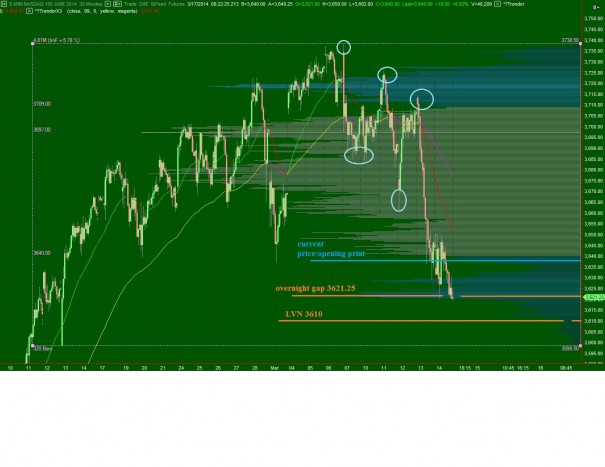 The short term auction is balanced.  We have overlapping value areas and price stabilizing inside of these value areas.  The overnight inventory is long, thus I am looking for prices to press into these overnight longs.  Early on, I will be on watch for a gap fill trade back down to 3621.25.  If you refer to the intermediate term profile above, you can see we are set to open on top of a volume cave.  Price can quickly move through this area which would aid sellers in pressing for the gap fill down.
I have envisioned a scenario for today on the following market profile chart: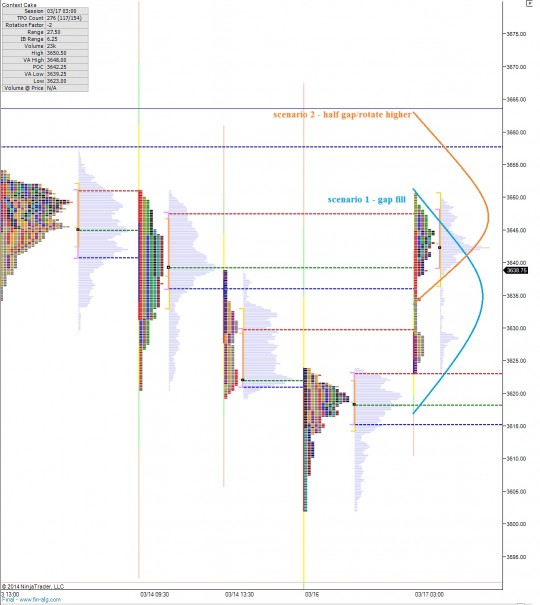 If you enjoy the content at iBankCoin, please follow us on Twitter