The speed of the NASDAQ market has picked up, but given the uncertainty of trading at these highs as we approach the end of the quarter it makes sense.  They key is a thorough analysis of exactly where we are in the context of time and auction.  The first quarter is nearly over, with many traders already rolling forward to the June contract in index futures.
I will be watching both contracts today to see which has more volume before changing my analysis over.  For today, the prices mentioned are in reference to the March contract.
The long term auction continues to be controlled by the buyers.  They managed to snap their four day losing streak in a session yesterday that had buyers starting from behind.  However when the day was complete and the daily candle printed, a higher low was put in place.  We now have an excellent reference point going forward.  The COMPQ also managed to recapture the 9 period exponential moving average, giving them an even more firm grip of the long term auction.
On the intermediate term, we are still in balance.  This balance dates back to February 24th and is still filled with plenty of actionable caves and low volume nodes.  There is no clear victor in this balance, although we are now trading above the midpoint which should be considered more of a selling opportunity then a buying opportunity on the intermediate term.  We are currently trading at 3712.25 which is just above the mouth of a volume cave down to 3708.  A complete gap fill would be trade down to 3706 and that should be an easy task for the sellers given the cave.  I have highlighted the intermediate term balance on the following volume profile chart: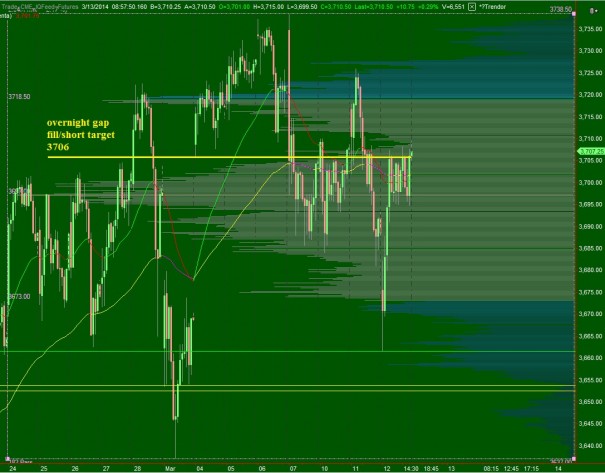 The short term swung back into buyer control.  This is a result of a strong responsive buy occurring off an NVPOC dating back to 03/03.  Interestingly enough, if you understand splitting relevant distributions, there is another naked VPOC which is likely to eventually be tested from the morning of 03/03.  However, this is a discussion for another day.  Buyers pressed value higher yesterday and built on the strength overnight.  Given the overnight inventory is long, it would make sense to press into that inventory with sell flow and see if it cracks, especially with the volume cave (gap trade) intermediate term context.
However, it never is quite as simple as just selling the opening print and waiting for a gap fill because it may not happen until the afternoon or it may not happen at all.  The current distribution has a slight upside imbalance that may hash out before we attempt the gap trade down.  I have highlighted this short term imbalance on the following market profile chart: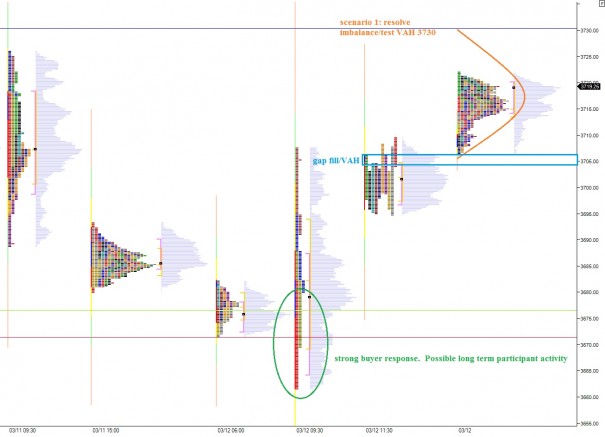 If you enjoy the content at iBankCoin, please follow us on Twitter