The first day of the month is statistically favorable to the bulls in both the SPY and the QQQ.  People have written entire books about this stat, divulging in great detail all of the first day of the month scenarios and holding periods.  One of the findings of the study [spoiler alert!] is when the first day of trade for a new month falls on a Monday, the upside results are greatest.  The study also showed a 4 day holding period from the close before month end yields the most favorable results.  This is why you likely saw many traders pressing their longs into a cold war weekend.
Thus, to come to market this morning with price trading out of range, out of value from last Friday's action puts the market dangerously out of balance.  We still have an hour and 20 minutes to at least return inside yesterday's range which would slightly reduce the risk/reward environment, but as it stands we are set to open out of balance.
This presents a unique opportunity situation for the intraday trader.  The volatility will allow a disciplined trader to either end their day rather quickly or see several high probability trade setups during the day.  Either way, this type of environment gives much quicker feedback as to whether your trade choices are right or wrong.  As for existing positions, it makes sense to give more weight to the close than the open.  Let the imbalance get slugged out for several hours to allow some signal to show up through the noise.
Context is more important than ever in this environment, as we do not want to lose sight of the big picture.  The long term is still controlled by the buyer.  This can be seen as a series of higher highs and lows on a daily chart of the NASDAQ composite.  Buyer control of the long term was questioned by the market in early February.  The outcome was a sharp, snapback rally which affirmed demand to be strong and pressed prices to new highs.  A new test of this control would be price trading to 4100 on the $COMPQ index.
The intermediate term is in balance.  This balance spans 75.5 hours of regular trading hours which dates back to the afternoon of 02/13 when we blasted out of prior balance and went exploring higher.  A series of higher highs and lows degraded into balance ahead of last Friday where we attempted to move up and out.  After a failed auction at the new highs, price aggressively reverted back into the intermediate term balance.  After such a move, my expectation is for price to test the lower extreme using the velocity of the failed move to propel us lower.  I have highlighted this action as well as some key levels inside balance on the following volume profile chart: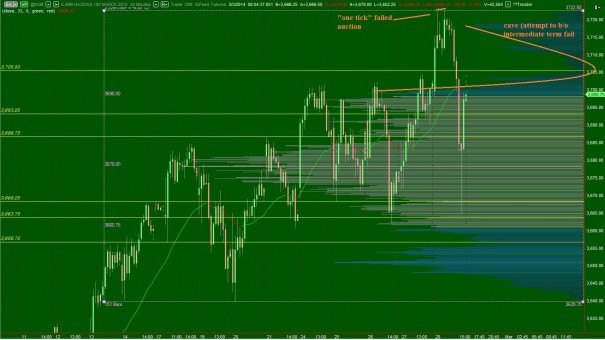 In the short term, sellers are pressing value lower of the last two distributions.  Their most recent thrust lower was rejected and a bit of a snack back rally has shown up in the early hours.  I have highlighted a few scenarios for this morning, one which sees sellers retaining their grip of the market via being the only active participant (orange) and another potential scenario which sees more balancing occur via a two timeframe marketplace (green).  I have highlighted these observations and a few more on the following market profile chart: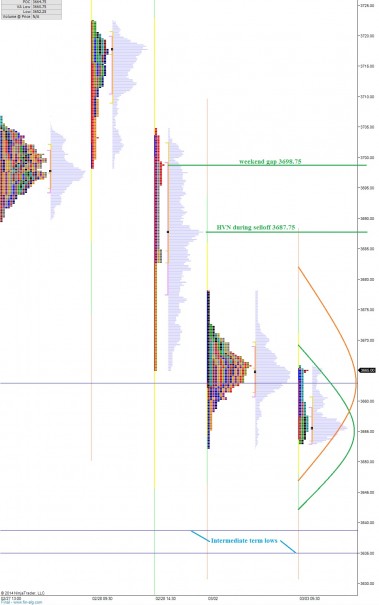 If you enjoy the content at iBankCoin, please follow us on Twitter