The NASDAQ futures went for a bit of a ride, trading 18.5 handles worth of range while we celebrate Presidents Day.  The futures were working lower this morning until eventually reaching some oversold conditions.  At this point a bit of responsive buying entered and sparked a squeeze.  This action resulted in us first breaking down from the uppermost profile distribution to now retesting that uppermost distributions value area low.
The question now becomes, do the sellers continue to assert their control of the short (overnight/day) timeframe by rejecting a move back into upper value, or do we see the intermediate term long waking up and making things a little less clear for the auction?
The long term timeframe is still nestled in the controlling hand of buyers.  Intermediate term, we continue seeing value migrate up with little in the way of a pullback.  The rally is becoming a bit aged, but one would be taking a difficult trade to attempt fading it before seeing sellers retain their early control.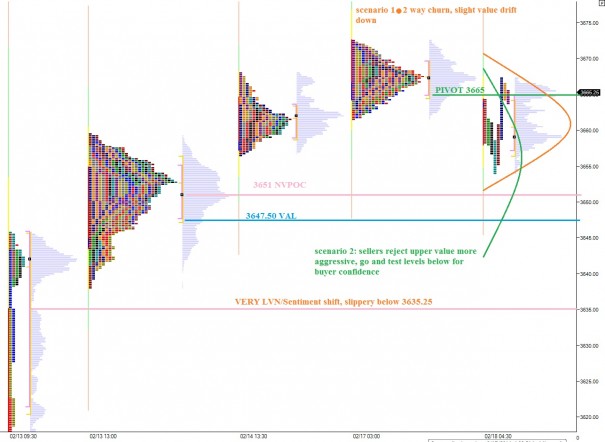 If you enjoy the content at iBankCoin, please follow us on Twitter