Yesterday's profile was interesting to watch develop because if one had not clearly identified the opening drive-type action from the buyers, they may have hypothesized the action was only a temporary phenomenon known as a short squeeze.  Value was slowly migrating lower all week and we came into the morning with a sharp gap lower which suggested something overnight had changed the market's dynamic.  When the second leg higher erupted at high noon, it signaled a fresh batch of initiating buyers had stepped in and put fresh money to work.
In short, a squeeze may have been the spark, but an authentic accumulation occurred throughout the rest of the day.
Trend days are considered risk-free entry point in Market Profile theory which suggests that buying any time during a trend day will allow you to exit at higher prices, eventually.  The "eventually" is one of the greatest qualities of market profile I have come to learn.  They are not a very effective timing tool.  Instead, they are fantastic for framing a day, estimating range, and locating key event points in the tape.  Timing is best achieved with the bar charts.
I'm going to keep our attention on the /NQ because I am actively trading it and most of my stocks are nestled in its electronic bosoms.
Weakness crept into the overnight session, whether it was profit taking or short sellers is not material, it was sell flow.  The action was able to recapture the upper quadrant of the second leg higher in the index, which is the area I envision us spending our day.  Best case scenario for the longs is a consolidation along the upper quadrant of the trend distribution.
Should the selling pick up and press us below 3382.75, this would suggest a significant sentiment shift, and would merit caution before initiating any new long exposure.
I have highlighted this level, as well as drawn out a few scenarios on the following market profile charts: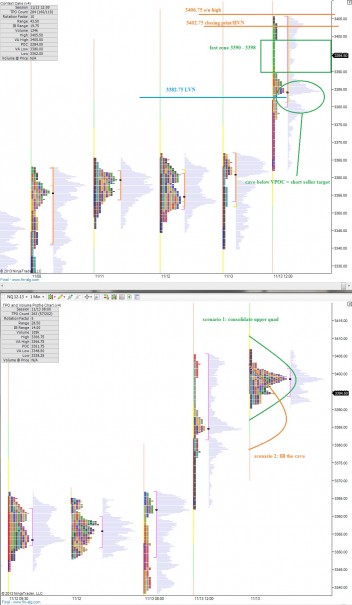 If you enjoy the content at iBankCoin, please follow us on Twitter