The /NQ traded rather choppy early on before deciding to rotate lower.  I attempted to trade the first two rotations, first short then long, and had to scratch both.  Then the third rotation came, again to the short side, but I had little-to-no conviction in the short so I had a high offer.  The result was me not getting filled on the first real rotation of the day.
I don't overly mind because soon thereafter we printed a nice buying tail in the /NQ which affirmed my low conviction.  Even though the scalp I was attempting to work on would have been a winner, I could see my sentiment and lack of conviction was fitting when the buying tail printed.  I have highlighted our aggressive buy3r on the following market profile chart: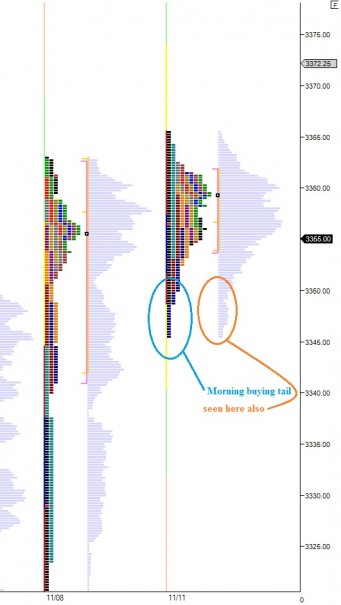 Generally, the longer the tail, the greater the conviction behind the move.
After the swift rejecting price went sideways with a slight bullish bias on the indices in a low-volume holiday trading style.  Under the surface, the hottest of momentum stocks are ripping the sheets off naked shorts and exposing their pasty skin to frozen ice rain (extra redundantly).  TSLA continues its resurrection campaign, GOGO threw down a big beat that has all the home girls going crazy, and the boat trade is back en vogue.   IPOs (sans TWTR of course) are making silly gains as the market absorbs the new equity supply with swagger. Check out WIX and WUBA, awesomeness. WUBA sounds like dubstep music, that's bullish.
I do say good people, we may be setting up for something rather randy into the holidays, something to get everyone loosened up for the spending season.  Nothing says indulge this xmas like a 401-k printing all-time highs.
Obviously it is only Monday and we have in fact seen only ONE day of terror this month.  Any honest speculator in the QE realm knows you get TWO days of sheer terror per month.
I sold a little ONVO today.  3d printing stocks have voyaged far from the vortex and gravitational pull is losing its effectiveness as hot names like DDD and SSYS go parabolic.  I shouldn't have sold any today because this very well could continue into tomorrow given the steam.  But, like an honest trader, I see this 9 handle on ONVO as a logical level to scale some profits.  Therefore I did.
I do not have much cash on the books, but the 10% I do is eagerly seeking a home.
Top picks this week: TSLA, GOGO, and AMBA….there is nothing old man about that.
If you read this and decide to procure any of the above names without providing them a solid risk profile and moderate vigilance, then you are asking for a corrective swipe to one of your appendages.  Keep your guard up because we are not out of the woods yet.
http://youtu.be/yuR1rVVf358
If you enjoy the content at iBankCoin, please follow us on Twitter