The futures opened for trade Sunday evening mostly flat, and spent the overnight session basing sideways in a balanced manner.  The /NQ, our futures contract for tracking the NASDAQ, is currently trading 2 point below Friday's close of 3361.25.
The sharp rally on Friday was effective at moving price higher and closing near the height of the session, but value failed to migrate to the uppermost distribution on the day.  Instead our VPOC printed at 1756.25, almost 10 handles below the closing print.  Early on this week, it will be interesting to see how this relationship plays out and whether price migrates back to value or conversely value migrates higher.
A key level to monitor while determining whether price will revert back to value is the low volume node at 1757.75.  Low volume nodes represent moments where prices moved rapidly and little volume was traded at a given price.  It suggests strong conviction transactions occurring by a longer-term timeframe trader.  If price were to cut through the low volume mode and then spend time trading below the level, it would suggest a sentiment shift.
Traders will be keenly observing the low price level on the S&P this week as we attempt to determine whether the market is in fact setting up for a performance chase into year end.  If we cannot hold the lows, we may roll over into year end.
1750 is another key level of support  to watch if the market begins heading lower and is one of the last defensive lines for the buyers.
I have highlighted the above price levels as well as two important resistance points on the following volume profile chart: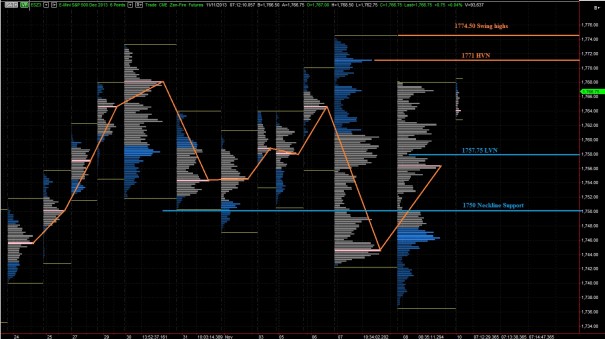 If you enjoy the content at iBankCoin, please follow us on Twitter