As quiet as today seemed, I was able to advance my portfolio by over 1 percent today.  Leading the way were my LED players, RVLT, CREE, and AIXG.  This basket of securities currently represents 23 percent of my portfolio and I intend to make it much larger, perhaps even as large as 50 percent of my book.
That's how much conviction I have in lighting grade LEDs.
I intend to make a very concentrated bet and advance my family to the next level of society, top hats.  If anyone can present one iota of evidence contrary to the eventual 100% adoption rate of LEDs in the United States, please do so now.  And don't feed me that plasma light bullshit, I've tested these things and I'm wholeheartedly unimpressed by both the performance and the economics.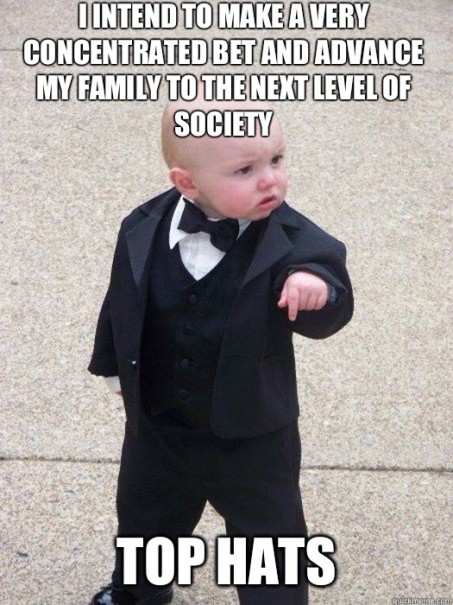 I'm slowing my swing portfolio down a bit, instead focusing on building into names I believe add value to society, which is why I started buying cigarette marker LO into the bell.  I'm essentially parking money in the Newport Cigarette maker, planning to earn the very handsome coupon while they add value to the smoking community.  How?  The Blu eCigarette.  When LO took over Blu and rolled it out to every convenience station from here to California, they earned the early mover seat in this space.  I like to imagine they have teams of behavioral physiologists and scientists working around the clock to sell more of these disposable vaporizers.  My game plan on LO is to buy weakness, time and time again, and allow the eventual growth from eCigs to buoy the share price enough for the coupon to make me profit.  Fun stuff, I know.  I'm sleeping on some Ford(s) shares the same way.
I have a heterogeneous mixture of other stocks kicking around in the old portfolio, mostly names where I've taken the lion share of profits and left a runner on for sport.  Stocks like O, BPZ, ONVO, and IMMR.  I really only see reason to sell BPZ but the others I keep, like collecting baseball cards.
I still have a decent hunk of FB, about 35% of what I consider full size.
I bought more OCZ today.  This is my aggressive pumper.  I'm having a hard time accepting a double top at two bucks.  I've questioned this proposition by increasing my size in the name in search of a short term pump.  I'm playing PBF in a similar manner although it has different chart logic.
My other aggressive trade is YGE, which is still huge.
That makes 14 longs, 0 shorts, and 25% cash.  Just writing that out makes me want to sell something and concentrate my eggs…
If you enjoy the content at iBankCoin, please follow us on Twitter