The /ES printed a balanced overnight session in a quiet manner.  We have WFC and JPM earnings on tap here shortly which may get the market moving.  The 24 hour profile suggests we may see some back-and-fill action, rounding out the bell-curve and taking us back down to around 1664.  The order flow as we approach cash open however, suggests we could be setting up for another ramp higher.
I suppose we'll have a better sense of the market's early direction once we hear from these two large banks.
Two key levels of support today are 1667.50 and 1660.75.  The latter level marks the upper bounds of the big after hour's short squeeze that occurred when Chairman Ben said what needed to be said.  Losing this level could result in a liquidation snap, at least 50 percent of the way, down to 1654.
Above on the S&P, we still have the high water mark, 1680 to shoot for.
After a strong week, how the market goes into the weekend will be interesting.  Will we see profit taking and consolidation?  Or will the market continue to press the accelerator into the floorboards?
I've attached the following 24-hour profile chart to give you an idea of the consolidation context I initially wrote about: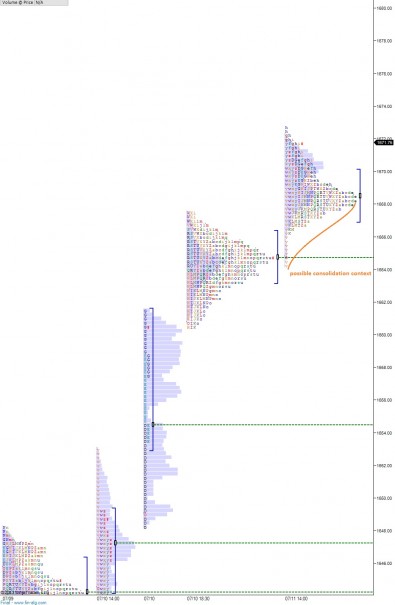 If you enjoy the content at iBankCoin, please follow us on Twitter