I took extra care and time preparing my profile analysis this morning, savoring it like peppercorn duck paired with a well concentrated Chianti.
Enjoy,
There were major implications surrounding 1623.75 as it pertained to the proclivity of providing directional bias.  I worked diligently to keep this level in your mind and more importantly mine to ensure appropriate steps were taken to adjust equity exposure according to the market's treatment of the key level.
I've split Friday's profile open so we can more clearly see and discuss the auction that took place.  Before the open, the market traded just above 1623.75 and churned the level rabidly during the monthly Employment Data drop. The first two paragraphs featured here provide blow-by-blow commentary.
We lost 1623.75 before the cash market opened and experienced a subsequent drive lower fueled by a large burst of sell orders.  After an hour of trade, buyers perceived the market's current pricing as a discount, and swiftly auctioned price back into the opening range, then again rotating up to 1623.75.  Their actions left footprints initially at 1609 where a single print buying tail printed, then at 1613.50 where they rejected the seller's attempts to again rotate lower.
Overall, the day flashed of neutrality, mostly, when we saw the range extension higher get faded back to the mean at 1619.25.  Only at this very moment, a very powerful move higher, nearly 10 handles occurred.  I've separated said move away from the primary body of Friday's profile and made it independent.  That's because at that very moment something changed and it needs to be treated as independent from the primary session.  Independent like a good American, USA.
Overnight the ramifications of the above accomplishment played out, and now we're coming into the week with a large gap up, over 10 handles above the cash close.  Today may be particularly difficult to trade, especially if the market doesn't establish a clear vertical trend in either direction.
Up above, you'll notice large gaps between my reference points.  That's because we're nearing the upper mouth of a huge long liquidation.  However, these levels are all huge accomplishments for the bulls, and acceptance of any one of them should add conviction to the long trade.
Weekly upside targets in the S&P futures are:
1639.50
1646.25
1649.00
I've noted these levels, and other key reference points in the following profile chart.  You should click to enlarge this image, and keep it open on a tab: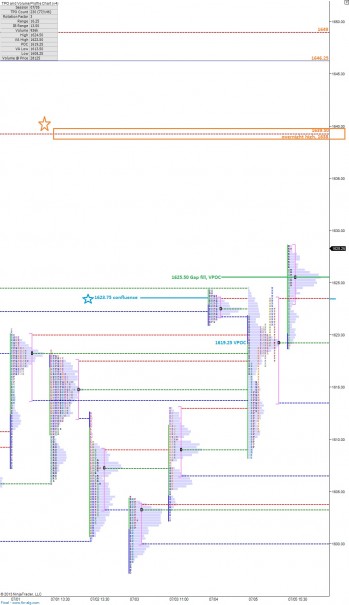 If you enjoy the content at iBankCoin, please follow us on Twitter