The behavior of Japanese leadership sounds very similar to the game plan used only a few years back by our bearded leader and his manipulation crew.  The same behavior that in fact has driven party boy Scott Bleier to perma-disgust after years of watching the "can't lose" #costanza market game is being implemented by Japan.
Sure it has its differences in rhetoric, but the end goal is the same, inflate.  Since they're stealing a page from our playbook, and since I'm only a lowly chart trader, I thought we could glean some insight into the situation by templating today's action in the $NIKK to the $SPX QE2 announcement.  Why QE2?  Well, the action is playing out in a similar fashion.
Check out the chart comparison click to enlarge: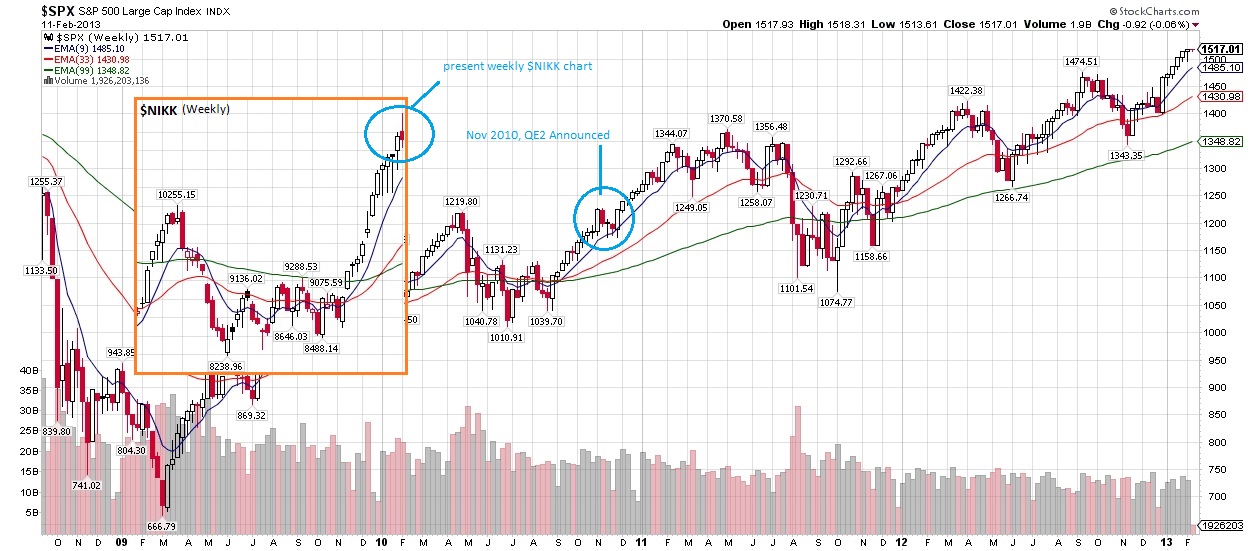 This isn't actionable information.  It's more an exercise in interpreting a market's reaction to a similar event.  After QE2 was announced, we had a modest pullback and then it was off to the races.  Maybe we didn't understand the can't lose implications at first.  Or remember how people insisted the Fed's actions to be "firing blanks" and other hillbilly talk?  Should we see the Nikkei experience a mild down draft any time over the next 3-6 weeks, and buyers remerge, the play is to get long and see if they'll rip like we did.
However, their market has been running much hotter than our own and could continue to do so, leaving us behind.  That would tell us the cycle is occurring faster than our own, and may continue to do so.  In this scenario, we try and grab hold to what we can, and hope to bail before things get too freaky.
Either way, the charts and agendas suggest we could see a big, sustained run.
If you enjoy the content at iBankCoin, please follow us on Twitter