Whether or not you consider our current market to be weak is heavily dependent on the individual names making up your portfolio.  For example, the relative strength of the finance sector continues, but high flying tech longs are getting their clocks cleaned.  The energy complex was strong yesterday, but refiners are getting lit up today.  We're operating in a mixed bag of sorts.  I highlighted 1.3000 in the Euro dollar future a few weeks back and the price level is also still a place where I lean on my bias.
Taking to the S&P via the SPY ETF, we see the financials buoying the market decently, and looking at the momentum divergence on my CCI, if we see buyers begin to assert themselves later into this week, they could really get things moving to the upside:
As for the NASDAQ via the QQQs, the index is trading below the 33 EMA, and although it's sporting a similar CCI divergence as the SPY, the "wormed apple" and other names have put the QQQ bulls on their heels, and they have much work ahead of them if they want to regain the edge: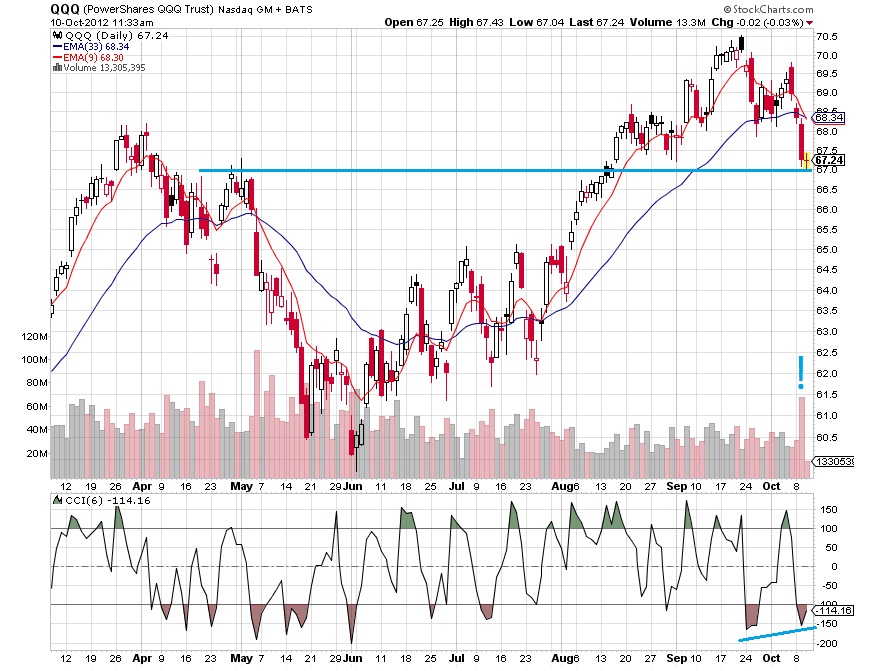 Finally, the demand for risk free Treasuries remains high.  The short duration (3 year) auction that took place yesterday pushed yields below 40 basis points.  The longer duration Treasury ETF TLT could be forming a right shoulder here, and bond bears could be backing off a bit:
All these cross currents have me considering raising cash, but I'm waiting for one of the above instruments to "tip their hand" and confirm.  Until then, I will practice patience and eating sandwiches.
SIDE NOTE: COST showing us how you really do the $100.00 dollar roll.
If you enjoy the content at iBankCoin, please follow us on Twitter