I purchased next week's 450 calls at a price of 3.50.
Will be posting a chart in a moment.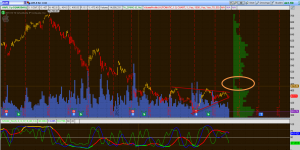 I am a dip buyer here in this name. I took a swing and missed this week, but took another long looking for some strength next week.
Here's the deal; there is one good trade left in AAPL this year. Just one.
When the stock clears $460, it will trade almost immediately to $500. After that, it is over.
I am going to selectively start buying dips in AAPL til this happens. I got fortunate and happened to buy this, during a recorded presentation that I will post later today, which also explains my short term views on the market.
Mind that volume pocket in AAPL. When prices trade through it and hit $500, quickly forget about this stock. That will be the easiest money left in it this year.
OA
If you enjoy the content at iBankCoin, please follow us on Twitter