"This week has not been sleepy when it comes to the news. It feels like a firecracker out there just waiting for a match in my opinion. There have been too many issues to cover them all but here are a few TedBits for you:
Surrender
GDP collapse
Explosive divergence between volume and price
MORAL HAZARD written large
Leverage peak in stocks?
SOME People aren't DUMB
EU elites pull another FAST ONE   
Surrender
One hundred years ago this week World War I commenced and the specter of World War III is at our doorstep. Secretary of State John Kerry unilaterally surrendered to ISIS in Iraq by stating unequivocally to regional powers that the conflict will not be solved by military means. The very idea that ISIS will sit down at any table and peacefully resolve any issues is a fairytale. The ISLAMIC Caliphate is on a mission from GOD and will not be dealing with infidels in any manner other than their demise or the threat of their own demise. It is as simple as that. As I have said previously: World War III has commenced, it just hasn't been publically admitted yet. Kerry's statements are the height of irresponsibility to the American people.
GDP collapse
Yesterday's revision to GDP was a nightmare on Main Street both on the headline number and internally looking at its components. Originally called at up 2%, then the first report of up .1%, first revision was down 1% and this revision taking it to down 2.9%. We were told over and over it was the weather. NOPE.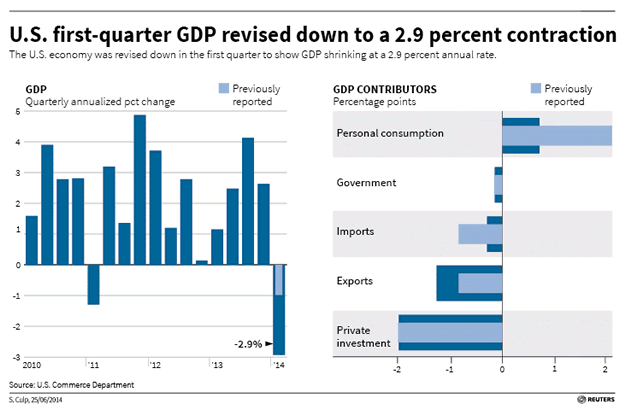 Look closely at the HORROR show the revision has been. It was a collapse in healthcare spending as a result of OBAMACARE (healthcare spending down over 6%), a collapse in private investment, a surge in imports (surge in liabilities) and a collapse in exports (collapse in income and sales). FOUR knock out blows to Keynesian linear thinking and highly questionable projections of a recovering economy. The economy is real terms is not recovering, in nominal terms the piles of debt and leverage keep expanding and then called GROWTH.
This is tens of billions of dollars economic activity that has disappeared. It foreshadows the coming bailout of the health insurance industry as its business is collapsing from the GOVERNMENT MANDATED policy cancellations in 2013 that HAVE NEVER RETURNED. Obamacare is higher priced and delivers much less services. Private sector investment will not return as there is no reward for doing so. Why would a company or individual invest when there is no INCOME GROWTH after real inflation? Incomes and revenues must rise for investment to become attractive. It's why M&A is on FIRE, it is easy to buy existing business and customers rather than BUILD NEW ONES. Why would an entrepreneur risk his hard earned dollars, blood, sweat and tears to get to a level of success over $250,000 dollars a year when he or she can expect the taxman to confiscate it as soon as he reaches success? Washington has removed the incentives to produce. We are its vassals not its master.
Add to this, Dodd Frank restricting credit to the private sector, mandated health care benefits, EPA attacks on affordable energy and the hoax of climate change, the affordable care act and its 20 new taxes, runaway regulations of the small business sectors. Most readers don't understand the damage done by the regulators. As Cicero once said:
"The more corrupt the state the more it legislates."
You can extend that to regulation which is a result of the laws. This administration learned its craft at the knee of Richard Daly and the Chicago style of POLITICS. Everything in the United States has been on sale to the highest bidder for the last 6 years since the chosen one was elected in 2008 with supermajorities in Congress. Pay the right price and that business becomes the turf of the crony capitalist who PAID UP. The regulations regulate the demand to their cronies and place impossible hurdles in the path of the entrepreneurs who wish to knock off the crony's by providing more for less. People aren't stupid contrary to Washington's belief. They can spend their money, choose what's right for themselves and their families in a far wiser manner than a bureaucrat or would be mandarin in the District of Corruption.
So they try and pass a law or regulation removing your ability to choose for yourself. It is an epidemic of INCONSTITUTIONAL government.
The world is unraveling at an astonishing pace. Today I will call it chart porn day. That is a day when we look at charts. Make brief comments and thoughts about them and move on to the next thought and chart.
Explosive divergence between volume and price
The first chart is brought to us by www.Zerohedge.com and it is an overlay of the vix gauge which has become totally disconnected from an perception of risk by options writers and investors complacency levels about negative events impacting the stock market such as the rise of the caliphate in Iraq;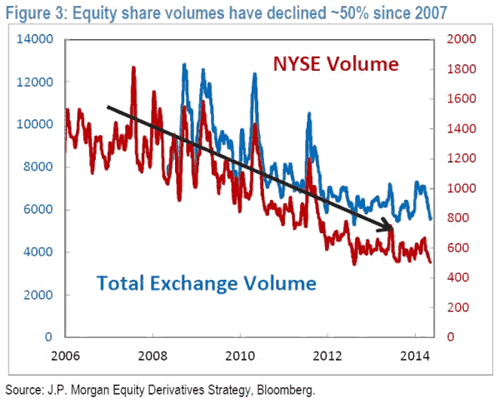 Talk about a bear market in trading volume since the peak before the financial crisis commenced. It should also be noted that as bad as the collapse in participation has been in reality it is much worse as High Frequency traders account for 50 to 70% of the trading on any particular day. I promise you that if the markets start to crash those programs will stop trading and liquidity will be reduced accordingly (50 to 70%). A mighty small door for weak handed investors that have entered late to exit. It doesn't matter whether it is the bond markets or stocks the exits in event of a moment of panic appears very very small to me.
MORAL HAZARD written large
Moral Hazard and Complacency is at epidemic levels. Investors and Markets are TOTALLY DISCONNECTED from reality and potential risks in the global markets. They believe central banks will do anything NECCESARY to support asset values and stock markets. It is actually a correct assumption in my opinion. This is why the Middle East and ISIS taking over IRAQ dealt no blows to the markets? Let's keep in mind that between the Federal Reserve and the Bank of Japan 110,000 million dollars is being printed each MONTH. QE is, has and will be the dominant investment theme for the foreseeable future from one central bank or another.
"The best way to destroy the capitalist system is to debauch the currency. There is no subtler, no surer means of overturning the existing basis of society than to debauch the currency. By a continuing process of inflation, governments can confiscate, secretly and unobserved, an important part of the wealth of their citizens. The process engages all of the hidden forces of economic law on the side of destruction, and does it in a manner that not one man in a million can diagnose." – John Maynard Keynes, 1920
The BIS has reported that Thirty Trillion dollars of new debt (30 million million) has been created since the Global Financial Crisis struck in 2008 and this is a picture of it in ACTION. Powerful medicine for insolvent sovereigns, financial and mortgage markets and that money now sits in accounts around the world looking for YIELD and opportunity. All in short supply in a world where growth is OUTLAWED by socialist governments disguised as DEMOCRACY.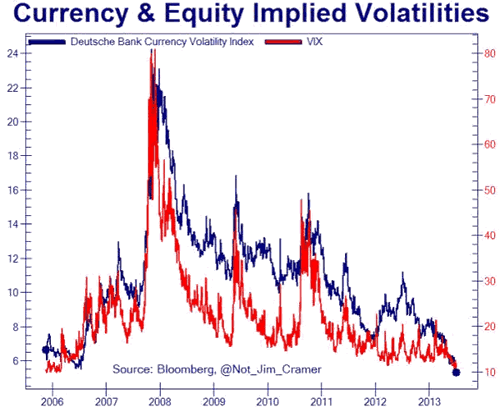 The Federal Reserve has gone to great lengths over the last 3 years EMPHASIZING that financial system stability is firmly one of their mandates along with unemployment and inflation. We inhabit asset backed economies with Reserveless banking systems. A move similar to 2008 will BANKRUPT the biggest financial players in banking, institutions, pensions and insurance. This anomaly and perception of a goldilocks economy and market will get eaten by the three bears before this latest episode in runaway leverage resolves itself. When this leverage fails…. THEY WILL PRINT THE MONEY.
Leverage peak in stocks?
Margin debt has always peaked before major market tops and we are now into month five since the margin peak was seen. This chart was done bywww.dshort.com;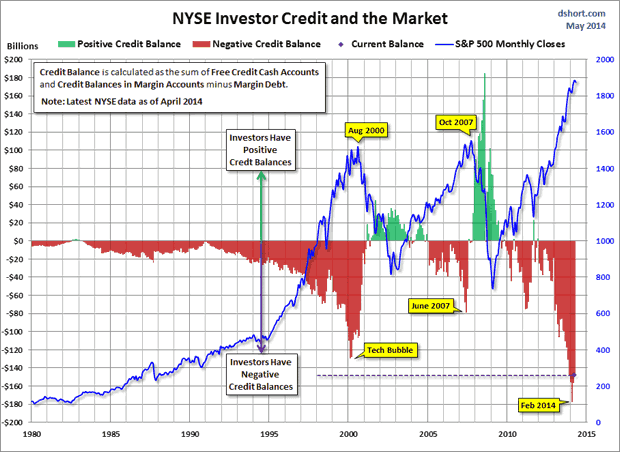 Using data compiled by Lance Roberts of STA wealth advisors. Lance and Doug are some of the finest chart makers on the web and their work must always be kept in mind. Both are Keynesians and accept official numbers as accurate. The message at this time; be afraid, be very afraid….."
If you enjoy the content at iBankCoin, please follow us on Twitter