"As stocks returned a whopping 30% in 2013, there have been growing concerns about a stock market bubble. Especially considering that the rally supported by only meager earnings growth.
While many have made comprehensive arguments showing why stocks are not in a bubble, Marc Faber, author of "The Gloom Boom And Doom Report," continues to argue that we're in a bubble that'll pop as we head for a financial crisis.
In an interview with Bloomberg TV, he says we are in a "gigantic financial asset bubble." He also thinks the bubble could burst at any moment.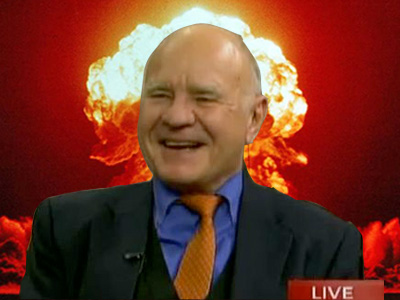 "I think we are in a gigantic financial asset bubble. But it is interesting that that despite of all the money printing, bond yields didn't go down. They bottomed out on July 25, 2012 at 1.43% on the 10-years. We went to over 3.0%. We're now at 2.85% or something thereabout. But we're up substantially. Now, this hasn't had an impact on stocks yet. In fact, it pushed money into the stock market out of the bond market. But if the 10-years goes to say 3.5% to 4.0%, then the 30-year goes to close to 5.0%, the mortgage rates go to 6.0%. That will hit the economy very hard."
"[The bubble] could burst before. It could burst any day. I think we are very stretched…."
If you enjoy the content at iBankCoin, please follow us on Twitter