"…….And what effect did this fast-and-loose money-printing bonanza have? The big banks were able to recapitalize their damaged balance sheets while continuing to pay themselves record bonuses. Commodities, priced around the globe in U.S. dollars, became much more costly as many more dollars competed for the same amount of real assets. And financial assets, like stocks and bonds, marched upwards, raised by the unrelenting rising tide of Fed liquidity.
Notice however, that the economy itself did not fundamentally improve in the way the Fed had hoped it would. While a collapse of the system was averted (delayed?), economic growth has remained sluggish, unemployment high, and real wages stagnant or worse.
Of course, the reason for this is simple. Money is not wealth. It is merely a claim on wealth.
You can't print your way to prosperity. History is abundantly clear on that.
With the clarity of hindsight, it's now obvious how the Fed has now painted itself into a corner. Here's how the stock market has fared during the Fed's rescue efforts: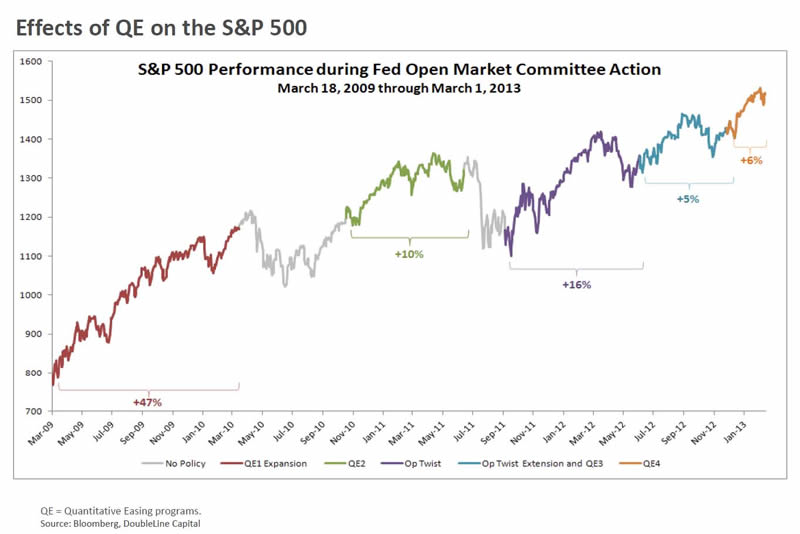 They say a picture is worth a thousand words. In this case, the picture above is worth several trillion dollars (some would argue as much as $9 trillion).
The financial markets have become dependent on new Fed dollars. If you look at the few gray segments of the chart, the stock market swoons nearly immediately once the Fed halts its balance-sheet expansion.
For whatever reason (perhaps because it's owned by banks?), the Federal Reserve has chosen to use the price of financial securities as the signaling device that its efforts are yielding results. But the markets, like any junkie, demand greater and more frequent infusions to reach new highs. Note how the trend of successive Fed programs yields smaller and shorter-lived boosts.
The Fed lives in fear of re-entering recession while unemployment and wealth inequality remain stubbornly elevated. With so many families teetering at the edge, things could get ugly very quickly if a fall in asset prices were to create a "reverse wealth effect" that triggered another recessionary slowdown. So as long as low single-digit GDP growth persists, the Fed's hands are tied. It must continue to print.
No matter that the rising price of financial assets grossly benefits the top classes – namely the 1% who on 40% of the entire nation's wealth. In stark contrast, the bottom 80% of Americans own only 7%.
No matter that the Fed's money tsunami is creating asset bubbles (again) in stocks, bonds, college tuition, housing, commodities, etc. – further eroding that bottom eighty percent's ability to form capital to fund its future.
The Fed has gone "all in" here. There is no Plan B….."
If you enjoy the content at iBankCoin, please follow us on Twitter