Now +1.25%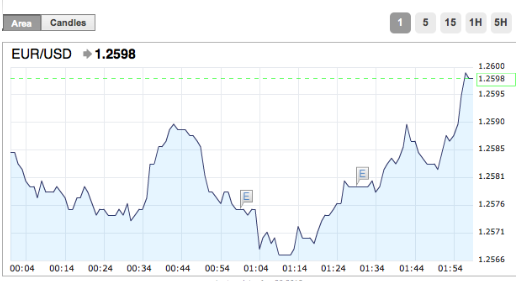 ECB to be agent for rescue funds in operations-Van Rompuy
* ESM's lack of preferred credit status to Spain cheered
* Agreement upends expectations for no progress at EU summit
* China PMI on Sunday, U.S. jobs next week will be in focus
By Antoni Slodkowski
TOKYO, June 29 (Reuters) – The euro surged 1.1 percent, poised for its biggest daily jump in eight months, after European leaders agreed on Friday to emergency action to lower borrowing costs of Italy and Spain and to create a single supervisory body for euro area banks.
A summit of the 17-nation currency zone agreed that its rescue funds could be used to stabilise bond markets without forcing countries that comply with EU budget rules to adopt extra austerity measures or economic reforms.
"If what he (European Council chairman Herman Van Rompuy) said was indeed agreed by EU leaders, that would clearly go beyond market expectations and should be enough to stop risk aversion in financial markets," said Hiroki Shimazu, senior market economist at SMBC Nikko Securities.
The common currency soared more than 1.2 percent on a flurry of stop-loss buying to as high as $1.2628, pulling away from a low of 1.2407 marked on Thursday. It later settled around 1.2573.
The leaders also agreed that the bloc's future permanent bailout fund, the European Stability Mechanism (ESM), would be able to lend directly to recapitalise banks without increasing a country's budget deficit, and without preferential seniority status.
The preferred creditor status of the ESM worried markets, piling pressure on Spanish bonds, because investors were concerned that if Spain were to default, the ESM would get paid back first and there would not be enough money left to repay private bondholders.
"Because market expectations on the summit were so depressed, it was a bit like there was a drop of rain in the desert," Ayako Sera, senior market economist at Sumitomo Mitsui Trust Bank.
"Van Rompuy suggested that the EU is considering direct bank recapitalisation of banks through the ESM. It seems like the summit is moving in a favourable direction for markets," Sera said.
Chartists pointed out, however, that the euro failed to decisively move above the immediate resistance at 1.2617 – the 61.8 percent retracement of its slump over the past two weeks. A clear break above the resistance and then 1.2630 would pave the way for a return to last week's high at 1.2748.
Countries that request bond support from the rescue fund would have to sign a memorandum of understanding setting out their existing policy commitments and agreeing on a timetable. But they would not face the intrusive oversight of a "troika" of international lenders to which Greece, Ireland and Portugal have been subjected, Italian Prime Minister Mario Monti said.
Spain and Italy had earlier withheld their agreement to a growth package at a European Union summit to demand emergency steps to bring down their spiralling borrowing costs, which threaten to force the third and fourth largest economies in the euro zone out of the capital markets.
If you enjoy the content at iBankCoin, please follow us on Twitter