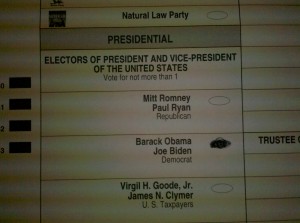 Yes. Celebrate. Be drunk and happy. You do not see the noose around your necks yet, but you will. When it is too late, you will…
At around seven of the clock tonight, I cast my ballot – the very one you see above you. I told you exactly what I planned to do months ago.
In the background of the 9th floor, I hear the voices of Ed Schultz and Rachel Maddow and Al Sharpton talking stupid. I've left them on, because it amuses me hearing them contradict themselves. Their voices carry talk about the need to heal the rift in this country and how Republicans should begin to compromise on, oh…all sorts of issues. That's cute.
I'll tell you what they're not saying. Last I checked, Romney is winning the fucking popular vote.
WHERE IS THE GOD DAMNED OUTRAGE? Hmmm. Mind you, I'm not outraged he's losing the electoral college because I like the electoral college.
But to all you little fuckers who were screaming in 2000; I'm waiting.
Elsewhere, the GOP is taking full control of the House of Representatives. They maintain a filibuster in the Senate. Do I care about anything else? The local elections, mostly. I want to see conservative principles slowly push on the ground. That's what will let business really advance in this country. It's not about the guy upstairs. It's about the men and women wielding the rubber stamps. They're the ones you need. Fuck the presidency.
Besides that, I am concerned about the Supreme Court. Conservatives have held that institution for a long time. But I need to trust in the vehemence of the elderly conservatives to keep those bastards alive.
I am elated that Michigan has completely shut down the Union's pet proposals. These assholes were trying to enshine supra-legal powers for themselves in the constitution. They just helped sink more than $150 million into these initiatives. I'm sure declining membership will help pick up that tab…
The next 4 years are going to be a severe disappointment. The talking heads behind me are chatting like we're in a recovery.
We are not.
The debt issues that Europe is mired in are not trivial. They are presently witnessing a great claim against their civilization. This claim – this entitlement – is tearing them apart at the seams. And it is coming for us.
When that happens, it may yet be that the talking heads behind me eat their words. With a side of peas…
Because when it comes, they are taking the fall.
If you enjoy the content at iBankCoin, please follow us on Twitter