This post shall address the state of global wheat prices and how I intend to take advantage of them.
Firstly, let's look at some global data to get a feel for the market.
This graph breaks out global wheat production in million metric tons or million hectares, versus its domestic disappearance (consumption, processing, spoiling, etc.) and ending stocks: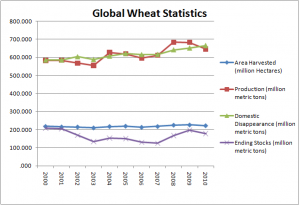 (You can get this data at http://www.ers.usda.gov/data/wheat/WheatYearbook.aspx)
Incidentally, global exports of wheat are coming off of all time highs of 2008 and 2009, and 2010 numbers were still well above 2007's export data.
As a side note, notice how the production yield has been slowly stone stepping higher, despite the fact that harvest area remains relatively unchanged? That is a direct bit of evidence as to what the Fly was talking about earlier, with regards to potash producers being at work.
Meanwhile, wheat futures are soaring higher, as indicated by the front month spot price: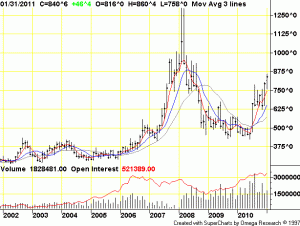 Needless to say, such an opportunity for growers and supply chains cannot be ignored.
I turn my attention then to Bunge Ltd. (BG), a company that specializes in South American agricultural operations, including wheat harvesting.
At first glance, I thought I must be mistaken, as BG was holding a book value I would put at around $77, as of September. However, I re-ran the numbers and cross checked them with The PPT. Some of the specific convertibility issues make it difficult to pinpoint the exact number, but it is generally correct. So how is it that this company is now trading at a discount to its value? This actually worried me, so I began reading the entire SEC document on the company.
There is presently a grain strike in Argentina which is crippling a part of BG's operations. They are unable to ship products through Argentina ports, which I would assume has something to do with this. I hate Argentina, and the worthless Fernandez family. However, as long as the issue gets resolved, their disgruntled countrymen could well be providing the perfect entry point.
I couldn't find anything in the filing that really distressed me. No ominous writing or similar, except for the fact that the company is trading so cheaply. There are several risk factors with the business, however, stemming from their extensive use of derivatives and being sensitive to changes between the Brazilian real and US dollar.
In general, the dollar weakening against the real has given the company a huge boost.
BG has a well managed balance sheet, and they break down their business into five basic segments: Agribusiness, Sugar & Bio-energy, Fertilizer, Edible Oil, and Milling. Agribusiness is most pertinent to this discussion, followed by milling.
Although not of interest to me, their Sugar & Bio-energy division has also been growing by leaps and bounds, probably thanks to Brazilian clean energy efforts. I hate that shit, but who can scoff at free money?
Meanwhile, the company has also been engaging in the act of extinguishing debt earlier than expiration, an act which I fully support. Their debt appears to be well managed and under control.
There are some other issues in the works, like a Brazilian tax law change. However, there is nothing so obviously terrible that it stands out at me in the reports. I am not necessarily ecstatic with the amount of derivatives they employ (they could very well end up APCing themselves and miss out on much of the profits from higher grain values) but in general, given the environment I'm seeing, I can get over it.
Actually, the biggest question mark is under the segment of their operations called Moema. It is an extension of the Sugar & Bio-energy division, and seems to be a sugarcane operation. The problem with it is two parts:
1. The company claims the thing is a gigantic target for lawsuits, which spells prior labor law violations, in my eyes, knowing what it is and that it has been acquired.
2. The operation was completely opaque, and no financial information apart from general asset and liability assessment is provided. However, since I deduct goodwill from my analysis anyway, the core of the conclusion is held in tact.
Therefore, I will be moving to add BG to my portfolio, likely sometime today.
Incidentally, other grain operations should also do well in the current climate, and I encourage others to investigate and pursue those venues, as well as this one, before making the purchase.
If you enjoy the content at iBankCoin, please follow us on Twitter